If you've not heard of Recruitment Marketing, are you even in recruitment? As the race for top talent gets increasingly competitive, those getting their name out there into the world are seeing the most success. Don't believe us? Here are some stats to back it up:
81% of job seekers want more job opportunities listed on Facebook 👋
Social media was used by 79% of job seekers in their jobs search in the last year 📱
Candidate application rate goes up by 34% when a job post includes a video 📹
Interesting stuff, right? If you think so, then you're in the right place. In this article, we'll be looking at all things recruitment marketing, including what it is, the value it can bring your company, what makes a great recruitment marketing exec, and how to get started straight away!
That's a lot to cover, so let's get into it.
Quick Links:
First, What is Recruitment Marketing?
Put simply, Recruitment Marketing is all about using marketing channels, such as social media, to attract, engage, recruit and retain talent while boosting the overall employer brand.
While primarily aimed at job seekers, it's a key part of a long-term talent acquisition strategy for passive candidates and promotes employee benefits to internal staff to reduce turnover.
Like traditional marketing, this communication can be delivered through a wide range of channels, including email marketing, paid media marketing, content marketing, and social media marketing.
In short, recruitment marketing is just like normal marketing, except it focuses on delivering better recruitment outcomes rather than sales outcomes.
Is Recruitment Marketing Part of Recruitment or Part of Marketing?
Given the many crossovers between traditional marketing and recruitment marketing, many people wonder where a recruitment marketing team sits in an organization.
In most instances, recruitment marketers work within the talent acquisition crew, essentially forming their own 'mini-team' within the recruitment function.
This gives them autonomy over their strategies, allowing them to deploy their own marketing tactics to manage the overall recruitment marketing funnel.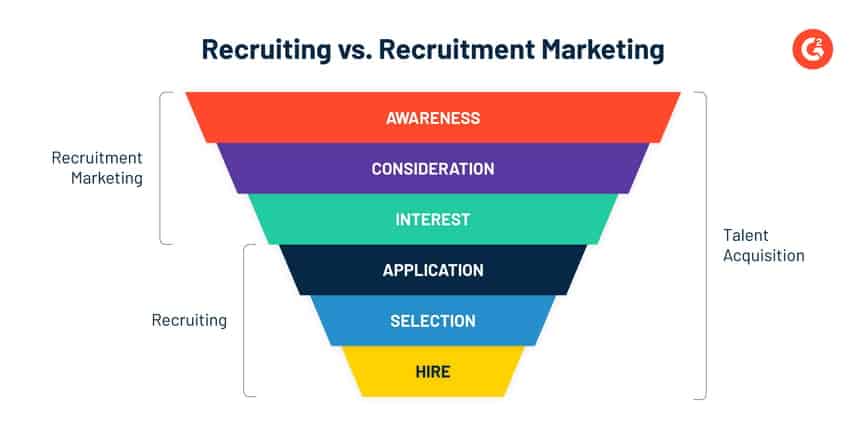 But, you might be wondering 'is recruitment considered marketing? Aren't outbound recruitment comms just part of recruiting?'
The diagram above perfectly demonstrates where recruitment marketing fits in and how it helps attract top talent. Recruitment marketing slots in ahead of the traditional recruitment journey, helping to build awareness, consideration, and interest over the long term.
This structured approach helps attract candidates to the organization before a suitable job comes live.
What's the Value of Recruitment Marketing? Better Candidates, Stronger Employer Brand & More
Like everything in business, recruitment marketing offers a particular value proposition. Here are some ways recruiters deliver value to their organization through recruitment marketing.
More candidates per role – Long-term marketing techniques help build and nurture an audience of future employees. That audience is then primed and ready to apply for roles, driving the number of applications up and increasing the chances of finding top talent for open jobs.

Better quality candidates – A larger talent community to choose from inherently increases the overall quality of the applicants applying to roles. Get your recruitment marketing right, and the quality of candidates will rise in line with the volume.

Higher candidate engagement – When it comes to recruiting, the worst thing in the world is a flaky candidate. Recruitment marketing helps you build relationships with candidates over time, meaning that when they apply for roles, they're far more invested in the company and exploring future career opportunities. As a result, your hiring pipeline looks healthier, moves faster, and yields better results.

Stronger employer brand – Especially with content that's created with current employees, recruitment marketing can lead to a tangible improvement in employer brand as well as employee referrals. This uptick in employer branding helps you find and engage the best talent before converting them into future employees that fit into your culture and drive a real competitive advantage.
The 5 Skills of a Great Recruitment Marketing Executive
Whether you're a hiring leader looking to make a start in recruitment marketing, or a recruiter looking to move sideways, here are the top 5 skills awesome executives needs.
Copywriting – To maximize the effectiveness of your recruitment marketing efforts, you need to be great at using the written word to sell why your company is a great place to work. From social media posts to compelling job descriptions to internal communications – great copywriting skills will help you achieve your goals faster.

Design – It's a competitive world out there, so you need to be able to create something that demands attention for your career site and draws attention to new jobs. Having an eye for modern design and a taste for aesthetics will enable you to create more appealing employer branding content.

Content Marketing – Copy and design are just part of the puzzle. To stand out, you need to master the art of content marketing across social media, search engine optimization, and job boards. From staying on top of new content trends and formats to being able to pull it all together – words, visuals, video – into a cohesive brand story will serve as a superpower.

Data Analytics – Marketing is becoming more and more about data, insights, and analytics, helping you refine and optimize your strategy. Most importantly, the ability to translate recruitment data into marketing insights will help you fine-tune your talent acquisition strategies, optimize channel performance and negotiate better budgets.

Project Management – Especially if you're starting up your recruitment marketing capability from scratch, you need to be able to plan, track, and progress new initiatives as part of your content schedule. As an executive, you'll likely be spinning many plates at the same time, so great time and project management skills will help you keep your sanity.
Where to Start With Your Recruitment Marketing Strategy?
If you want to kickstart your marketing efforts, here's a simple 5-step process to help you start engaging more candidates.
Step #1 – Set The Foundations
Before you blindly rush into marketing your business, you need to set some foundations. This starts by auditing your recruitment plan to understand the potential talent you'll be looking for in the short, medium, and long term.
Think about the following areas to create some candidate personas:
What roles do you need to fill in the next 3, 6, and 12 months?
What do the job descriptions look like for those candidates? How can you make yours stand out?
What type of top talent do you want to attract? How will they fit into the company culture and align with the employer brand?
What are they looking for during the candidate journey?
Step #2 – Ramp Up The Content Production
With your candidate personas locked down, it's now time to start creating content that can attract, engage, and nurture potential talent for your organization.
The content you create should clearly showcase your employee value proposition (the unique benefits an employee gets by working for you). You can do this through various mediums, including articles, recruitment videos, podcasts, or reviews.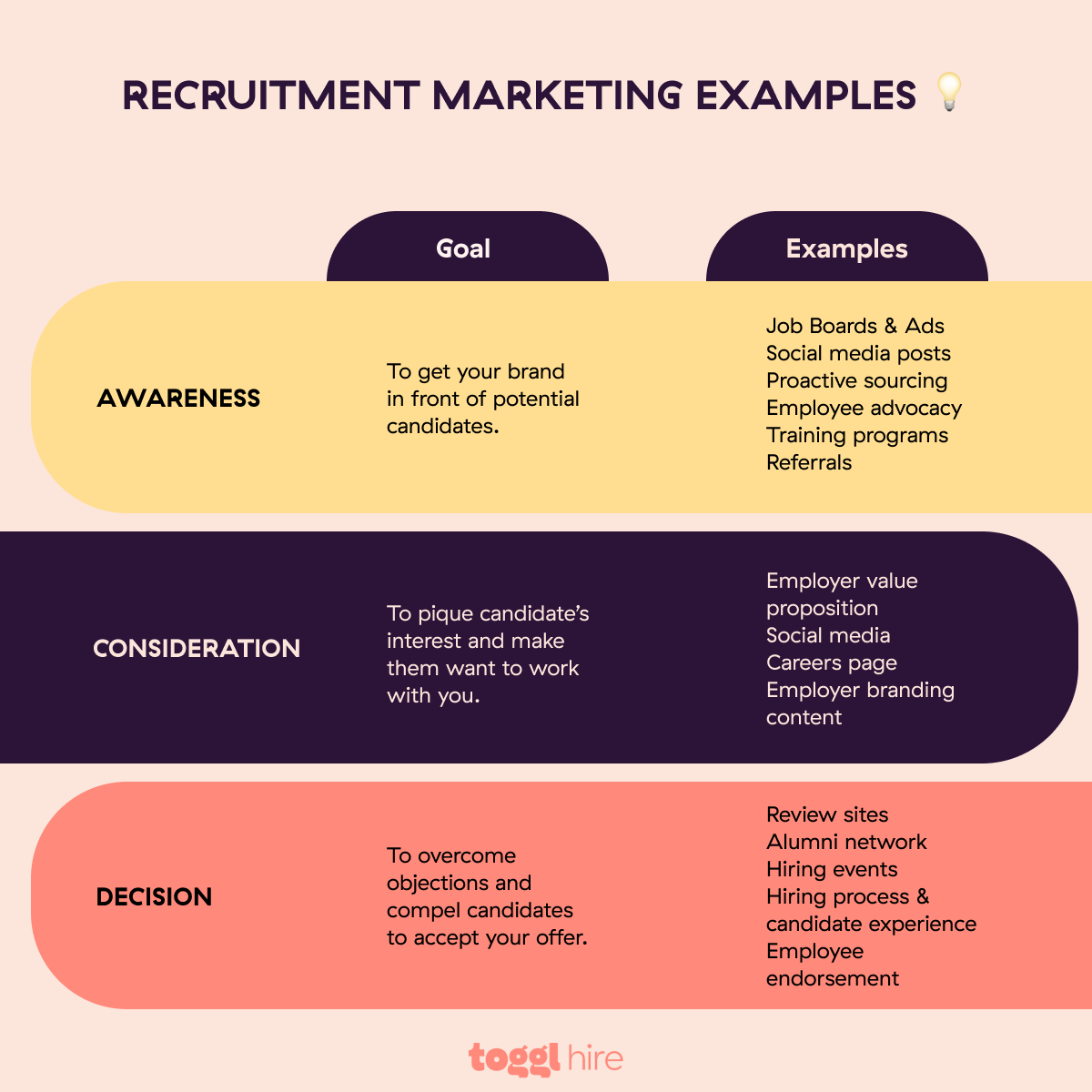 What looks good for you will be different to others, but here are some inspiring online examples from Devbridge, Chili Piper, and Stripe.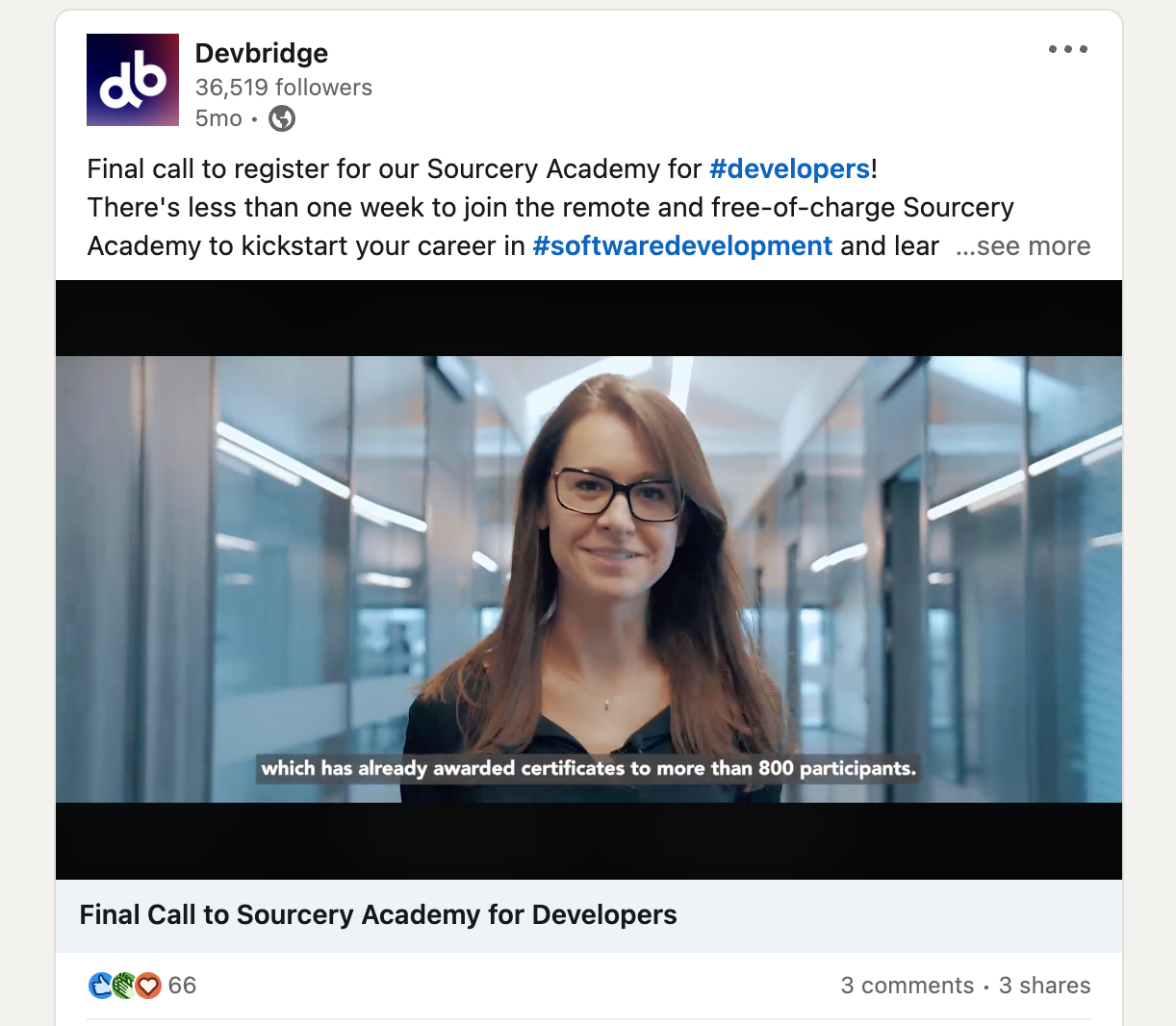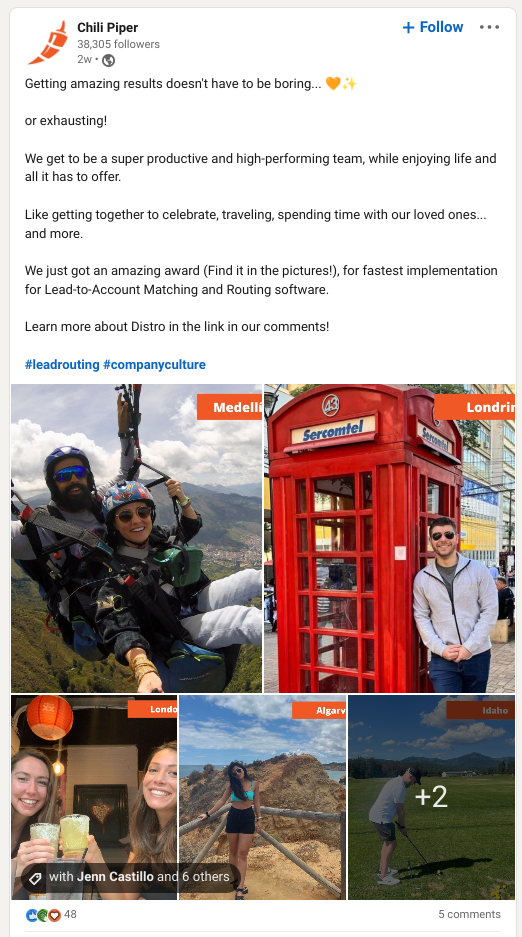 And lastly, remember that it's no good having amazing content if no one sees it. From your candidate personas, understand where your target audience hangs out and promote yourself there.
Step #3 – Rethink Your Process to Boost Candidate Experience
Once job seekers start engaging with your content, you want to ensure the barriers to applying are as low as possible.
As recruiters, you should continuously track and refine the candidate experience to ensure potential candidates become actual candidates.
An example of this is in the application/screening process, where large volumes of applications slow everything down, leading to candidates moving on to explore other options.
Replacing CV applications with a Skills Assessment is a great way to solve this problem, improve the candidate experience, and boost your employer brand.
Check out how we do it below 👇👇👇
Step #4 – Get Friendly with Your Data & Analytics
As a marketer, it's all about analyzing your data to understand how applicants interact with your content, careers page, and application software to improve their experience going forward.
Over time, you'll understand the channels and sources that perform best for your business and your recruitment funnel. As you optimize, deploy tailored marketing tactics to target those channels to boost your applicant rate, candidate quality, and ultimately your marketing ROI.
Ultimately, data informs your entire strategy, including the channels to focus on, the content you choose, and which areas to scale further.
Step #5 – Build a Small Team and Scale
As your capability grows, your team should grow with it, too. As you start to see success, invest in building a team with different skills and specialism that allow you to diversify your strategy.
This takes time, effort, and money, so be prepared to invest going forward if you want to do the best job possible for your company.
Wrapping Up
Traditional recruitment is slowly falling out of favor, with strategic talent acquisition replacing it as the way to hire the best new employees. A big part of that is recruitment marketing, with a focus on creating early awareness and engagement with future talent to highlight the careers and opportunities on offer in your company.
If you're new to recruitment marketing, the good news is that it's easy to get started, with benefits such as an increase in applicants per role, an improved employer brand, and a smoother candidate experience on offer for those who take the plunge and incorporate it into their hiring.
James Elliott is a Strategy Manager and Writer from London, UK. When not working on the day job, James writes on a variety of business and project management topics with a focus on content that enables readers to take action and improve their ways of working. You can check out James' work on his website or by connecting on LinkedIn.