eCommerce sales are projected to cross the $6.169 trillion mark in 2023 – and then keep trending upwards.
So does it surprise anyone that eCommerce managers are in demand?
Didn't think so.
But running a successful eCommerce business is a 24/7 kind of commitment. Not to mention the wide range of skills a great eCommerce manager must bring to the team to make a real impact.
So not only does this mean eCommerce skills are in demand, but finding exceptional eCommerce manager candidates in a sea of mediocre applicants will be challenging.
That's where we can help.
In this article, we'll:
Nail down what e-commerce managers do
The key responsibilities of a successful e-commerce manager
The must-have skills for e-commerce managers
And how to hire exceptional e-commerce managers
Let's dig in!
When Is an eCommerce Manager Necessary?
How long is a piece of string? Figuring out when it's the right time to hire an e-commerce manager is tricky. But we can look at a few scenarios to help you assess your situation:
When your online store shows clear signs of growth, and you anticipate more work coming your way. If you're the founder, COO, CMO, and CTO of your online business, it gets overwhelming pretty quickly. So act before it's too late!

When you need specialist skills, such as search engine optimization, digital marketing, social media marketing, technical SEO, email marketing, or any other. Don't leave the success of your eCommerce site to chance – hire an e-commerce manager with the right skills.

When you think your online store is underperforming. Maybe your sales or conversion rates aren't where you'd like them to be, and you need help boosting those numbers. E-commerce management is a complex area – it's not always wise to tackle it alone.

When you have ambitious growth goals and enough capital to hire a new person for the team. If that's the case, distilling requirements and important skills for the ecommerce manager will be critical. Map out the key projects for this role before crafting the job description.
What Is an e-Commerce Manager?
An e-commerce manager is heavily involved with the business's website, especially the marketing, advertising, and content elements.
E-commerce managers are responsible for developing and carrying out online marketing plans. They also watch over your e-commerce website optimization, online sales, product selection, and customer experience – or possibly run the entire thing. They collaborate with web agencies and in-house specialists as needed—especially web developers and marketing professionals.
How much responsibility an eCommerce manager has will depend on the business they're working for and who else is on the team.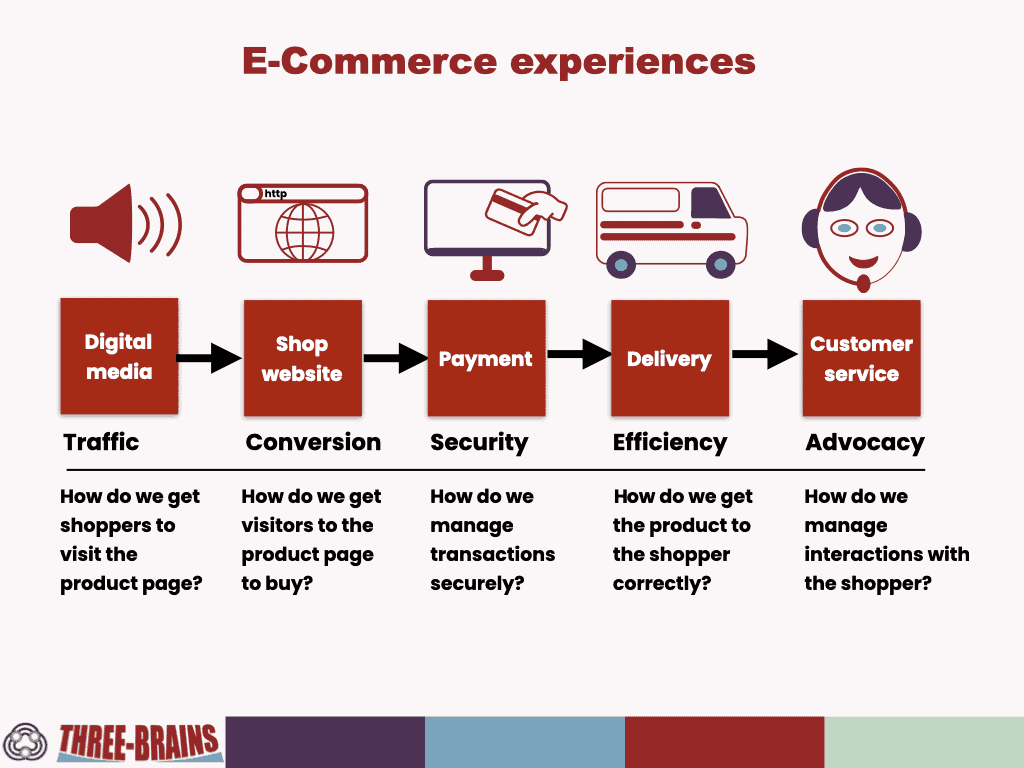 What does an eCommerce manager do?
E-commerce managers oversee the entire online presence of an eCommerce site. They manage the online marketing channels and promotional campaigns, take care of customer order fulfillment and direct the activities of web developers, copywriters, and other specialists. The ultimate goal of an e-commerce manager is to drive growth for the online store through a combination of product, customer experience, and marketing strategy.
Examples of common day-to-day tasks of e-commerce managers
As they say, our days make our lives.
So let's look at what an e-commerce manager might be up to on a regular day at work.
Common tasks that fall under this role:
An e-commerce manager will work closely with a graphic designer and a copywriter to craft creative digital marketing and email marketing campaigns, website banners, and social content.

They will analyze website data to identify areas needing optimization, paying particular attention to conversion rates, time spent on a page, drop-off rates, and cart abandonment rates.

They will analyze traffic acquisition channels and strategize how to drive more people to the online store. This could be through search engine optimization, social media marketing, influencer marketing, pay-per-click advertising campaigns, email, or other means.

e-commerce managers will also regularly analyze market trends and assess competition to identify new business opportunities.

They will collaborate with programmers on web development projects to optimize ecommerce website speed, launch new products, or improve the site's UX.

They will strategize and implement customer retention and loyalty programs to drive repeat sales and increase customer satisfaction.

An ecommerce manager will own the fulfillment process, removing barriers to purchase as much as possible.
And the list goes on… A great e-commerce manager is a leader with many talents!
What Are Some eCommerce Manager Job Responsibilities?
An eCommerce manager you hire should be flexible and able to keep up with market trends and shifts.
Part of this is knowing how to conduct market research and then being able to leverage the latest innovations and adapt your current way of working to fit the latest trend.
Market Research
Knowing how to conduct market research is a skill you probably picked up when starting your business. It's simply being able to really understand your target market and their needs and confirm the validity of your product and/or service.
The goal of your product is to fulfill a need in the market. That's how you know that it's going to do well.
Web Design
Now, the e-commerce manager you hire shouldn't need to be a coding expert (that's a different job), but some insight into website design is enough to keep your business's website flourishing.
It also helps with content layouts and planning. eCommerce comes with jargon, and if any potential new hire doesn't understand it, they may not be the best fit for your company. Having a bit of web design knowledge helps e-commerce managers avoid costly mistakes and better manage development teams.
Presenting Project Designs
While an eCommerce manager may not work on project or concept designs all on their own, they're probably going to be the ones to present them to you or your team.
There are a few things an eCommerce manager should target in these presentations:
Project goal
Outcomes, objectives, and/or deliverables
Risks, constraints, and assumptions
Budget
Approval and monitoring processes
Project design documents
A good way to know whether or not a potential new hire already knows these things should be included is simply by asking in the interview. (Keep reading for a list of interview questions.)
Overseeing Your eCommerce Department
No matter how big your business is, the second you hire an eCommerce manager or hand off the responsibility of that part of your business to someone else, you have an eCommerce department.
Whether there are other people within that department will depend on your business, but they are still responsible for this area running smoothly.
6 Must-Have eCommerce Manager Skills
Like any job position, an eCommerce manager will need a certain skill set.
A number of these hard skills will fall directly into the job responsibilities we just talked about, while others might be classified as soft skills, yet nonetheless as crucial.
Identifying these skills in your potential eCommerce manager will help you decide if they're a good fit for the position.
1. Knowledge of eCommerce Platforms
An eCommerce manager must know the ins and outs of eCommerce platforms, whether that's Shopify, 3dcart, Magento, or Squarespace. Technical knowledge comes in handy in all sorts of projects – from updating the store design to adding new capabilities to ensuring it's optimized for search engines.
Why hire someone who doesn't understand the platform your company runs on?
2. Automation
The eCommerce manager should also understand how to use technology to automate various eCommerce processes.
As a broad concept, e-commerce automation spans customer service, order tracking, inventory management, personalized customer experiences, and other business areas.
And it can help businesses reduce costs and increase employee productivity.
The skills needed to set up and manage automations through third-party vendors will ease the day-to-day schedule of your e-commerce manager. So if they're familiar with process optimization, it's already a big plus!
3. Marketing
Bundled together, marketing includes everything from content strategy to advertising on social media. An ecommerce manager plays a key role in growing an online business – and you can't achieve growth if you don't understand marketing.
Breaking this down into the main areas of marketing could help:
Customer acquisition. If this is the main focus of your business strategy, you'll look for someone with advanced on-page SEO and social media platforms knowledge, content creation, and influencer marketing.

Customer engagement. If your eyes are set on website optimization, you'll need someone with a good eye for design and aesthetics and an understanding of conversion rate optimization, testing, and landing pages.

Customer retention and loyalty. If you're planning to increase sales by leveraging customer data, reducing friction, or increasing the average order value, you'll need a different type of e-commerce manager profile. The key skills to look out for will be email marketing, pricing strategy know-how, and CRO.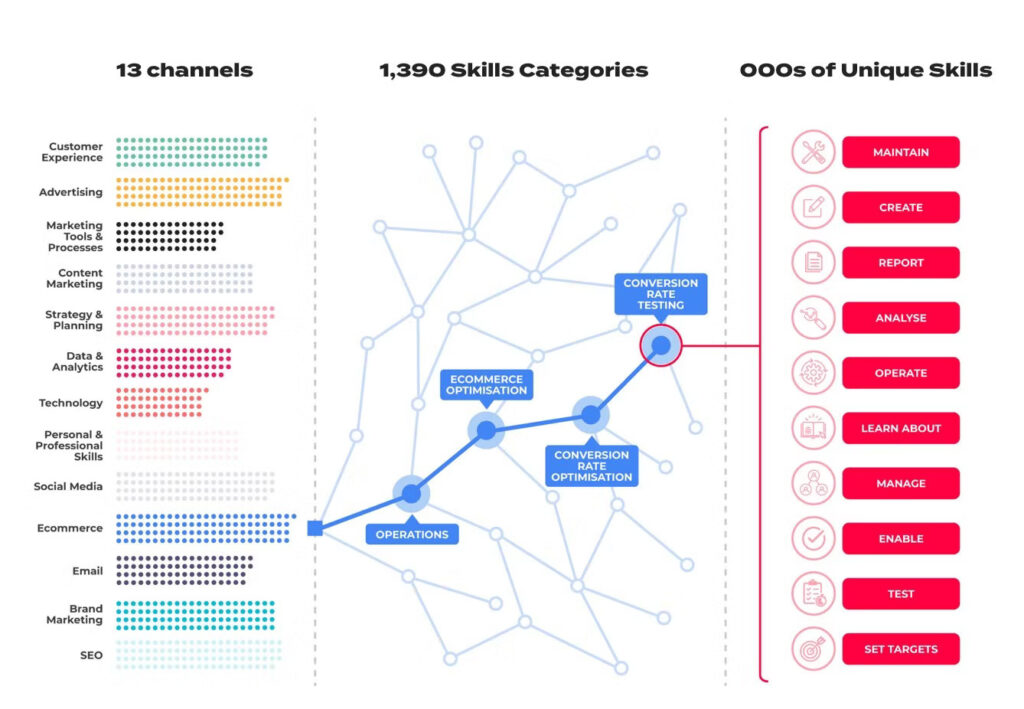 But if you haven't thought so deeply about the marketing skills for ecommerce manager, at least make sure your new hire is familiar with search engine optimization (SEO), digital marketing strategy, and CRO tactics for online stores.
And remember, you should not be the one educating your eCommerce manager on marketing.
4. Analytics and Conversion Rate Optimization
There's an entire screening process you can go through to hire a conversion rate optimizer, but the eCommerce manager you hire should be able to do this themselves.
Conversion rates and analytics are crucial to knowing whether your advertisements or social media posts are gaining the results you want.
If an eCommerce manager can't read and translate these numbers into insights, then your business has already failed. On the other side, they have to know how to optimize these numbers so your business can reach its goals on all sides of the spectrum.
5. Project management skills
Since e-commerce managers juggle multiple projects simultaneously, excellent project management skills are essential.
What's more, ecommerce businesses are incredibly seasonal and time-sensitive: Christmas, Black Friday, or Singles Day campaigns might account for half of the annual product sales.
From briefing cross-functional teams and keeping all projects on track to meeting deadlines – whoever takes on the responsibilities of a commerce manager will benefit from prior project management experience.
6. Communication skills
Assessing communication skills is no simple feat. But skipping this step could cause major issues down the line.
Ecommerce managers operate at the intersection of many disciplines, working closely with other departments and managing multiple projects. Their ability to communicate clearly and concisely, no matter the topic, will determine what gets done and to what standard.
Most employers brush over the so-called soft skills. But evaluating more intrinsic e-commerce manager qualities like teamwork, time management, and collaboration skills will give you a more complete picture of your candidates.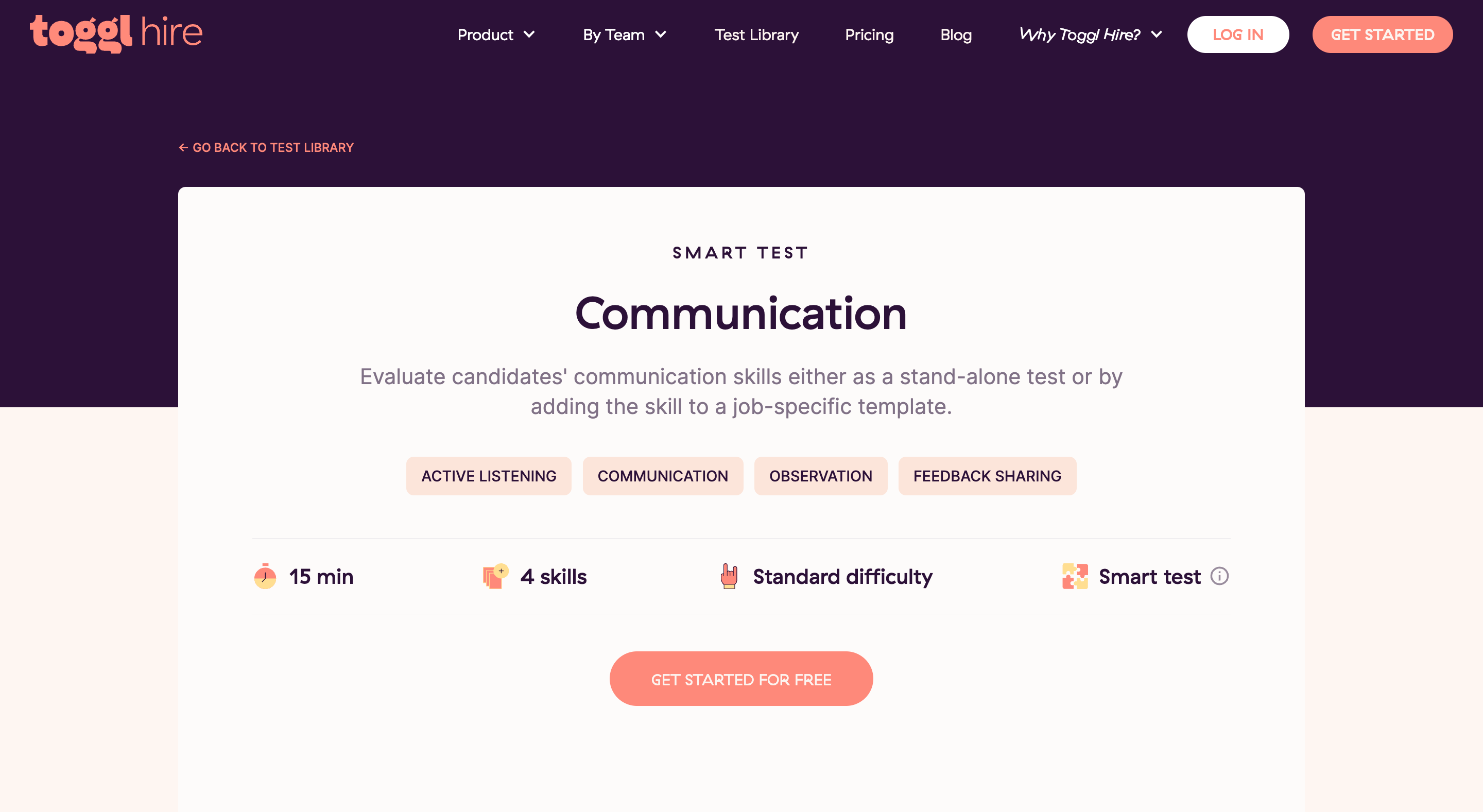 Tips for Hiring an eCommerce Manager
Like any job position, there are certain things you should know before beginning the hiring process. Here are a few tips.
Set Specific Goals
There is a hole you need to fill in your business. Allow them to fill it!
Create a checklist of specific goals you'd like to achieve by hiring this person, and then hire them based on their ability to achieve them.
Now, this aspect of your hiring process is possibly the most important (it's the reason you're bringing another person onto the team), so you shouldn't base any choices on claims a person makes.
You have to ask for and seek out proof to back any claims that a candidate makes. If they come with an entire portfolio and can give you detailed accounts of times they have addressed situations similar to yours, then they're probably a safe bet.
Ask the Right Questions
Address the goals you have in your interview questions.
Here are a few examples:
How would they address the challenges you're currently facing?
How would they analyze data or analytics to achieve the goals you've set?
What aspects would they cover when presenting a project or concept design?
What do they like about this business/industry? What do they dislike?
What do they think are the most important skills to succeed in this role?
Is there anything they would change about how this business is run?
Where do they see eCommerce tech innovation trending?
Do they have any questions for you?
The last one is a big one.
Not only does it make the interviewee know that you care, but it also lets you know how much research they have or have not done.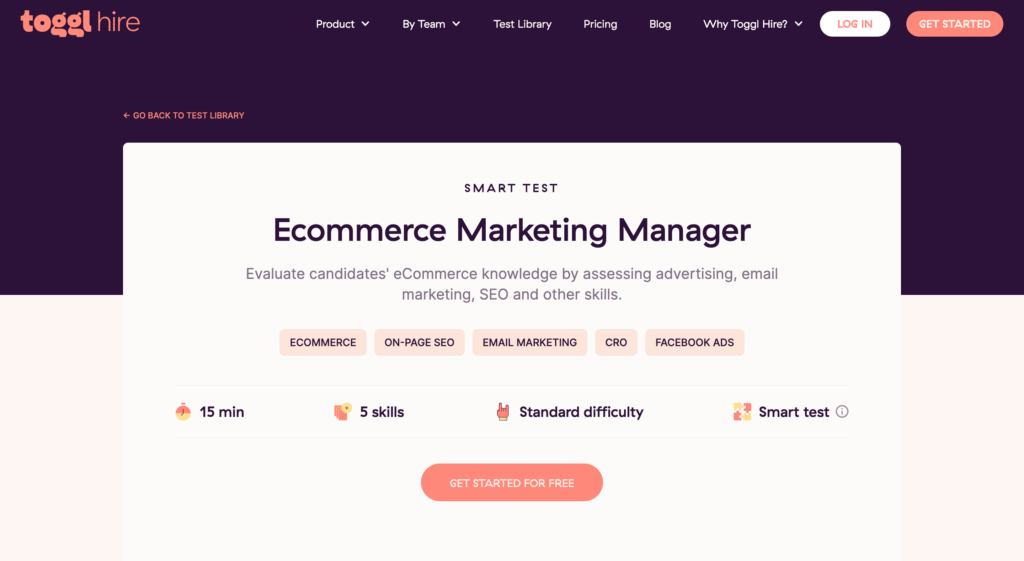 Don't Settle for Your Niche
Here's the thing about an eCommerce manager. They may not come with the experience of working in your niche, but if they meet all your other qualifications, then are you sure they're not going to be a good fit for your company?
eCommerce managers must know how to adapt to fit into areas of the industry. That's literally what they do to keep up with the market.
And most of the skills e-commerce managers possess are transferrable. So if you need to spend a week bringing them up to speed with the quirks of your niche – so be it!
Look at Their Online Presence
This means everything. Their social media, LinkedIn profile, portfolio, previous places they've worked, etc.
At a minimum, you should Google your potential new hire. Social media screening can reveal many things.
Whether or not you care about their Instagram page is up to you, but you need to be able to see tangible evidence of their abilities, and that will be present in any work they've published.
Identify These e-Commerce Manager Skills to Ensure Success
Identifying these eCommerce manager skills before hiring anyone is going to make your life a lot easier and bring your business that much closer to success.
Key takeaways:
E-commerce managers are responsible for driving business growth. They own marketing strategy and all marketing initiatives, website design and performance, data analytics, and e-commerce platform management.

Before hiring an e-commerce manager, write down the key projects and responsibilities they'll take on. Armed with this knowledge, you'll know what skill set to look for.

Remember that all successful e-commerce managers possess both hard skills like search engine optimization (SEO) AND soft skills like communication. You need both.
Bear these things in mind when hiring an eCommerce manager, and you're bound to succeed.
And if you want to make the hiring process easier, our skills assessment platform will help you identify the best candidate for the e-commerce manager role.
Wonder how it works? You can sign up for free.
Juste loves investigating through writing. A copywriter by trade, she spent the last ten years in startups, telling stories and building marketing teams. She works at Toggl Hire and writes about how businesses can recruit really great people.