71% of US hiring managers believe that social media screening is a good way to filter out quality candidates, and the practice is now commonplace.
Many hiring teams will look at what candidates post on their social media accounts to get a more in-depth look. But, and it's a big but, there are growing legal and ethical concerns, from how it relates to the protection of peoples' personal information to practices of non-discrimination.
To ensure a fair hiring process, more and more hiring teams are starting to reconsider this practice, and we're here to explain why that's mostly a good thing.
TL;DR — key takeaways
Social media screening is a way of learning more about a candidate through their social media profiles. Creepy? Maybe. Yet, 70% of US hiring managers support screening ALL of a candidate's social accounts.

The main reasons why social media background checks are included in the recruitment process are to get a better idea of a candidate's personality and how they think (insights you might not gain from other pre-employment steps) and to save on hiring costs.

However, there are some big risks with this type of screening, such as the impact of global data privacy and discrimination laws and possible mega-fines if an organization screws it up!

Fear not! We'll help you out with a few tips if you're planning to go down the social screening road — from creating a social media screening policy to why you shouldn't use this HR tool as the first step in your recruitment process.

Need to get a clear picture of a job seeker's abilities without being creepy? Try Toggl Hire's skills tests today.
What is Social Media Screening?
Social media screening is a process recruiters use to learn more about a candidate by reviewing their social media activity during pre-employment assessments.
Recruiters may look into all the social accounts applicants have, but they typically focus on LinkedIn, Facebook, and Twitter. LinkedIn is the most relevant for understanding a candidate from a professional point of view, as the platform is primarily for business and employment interactions.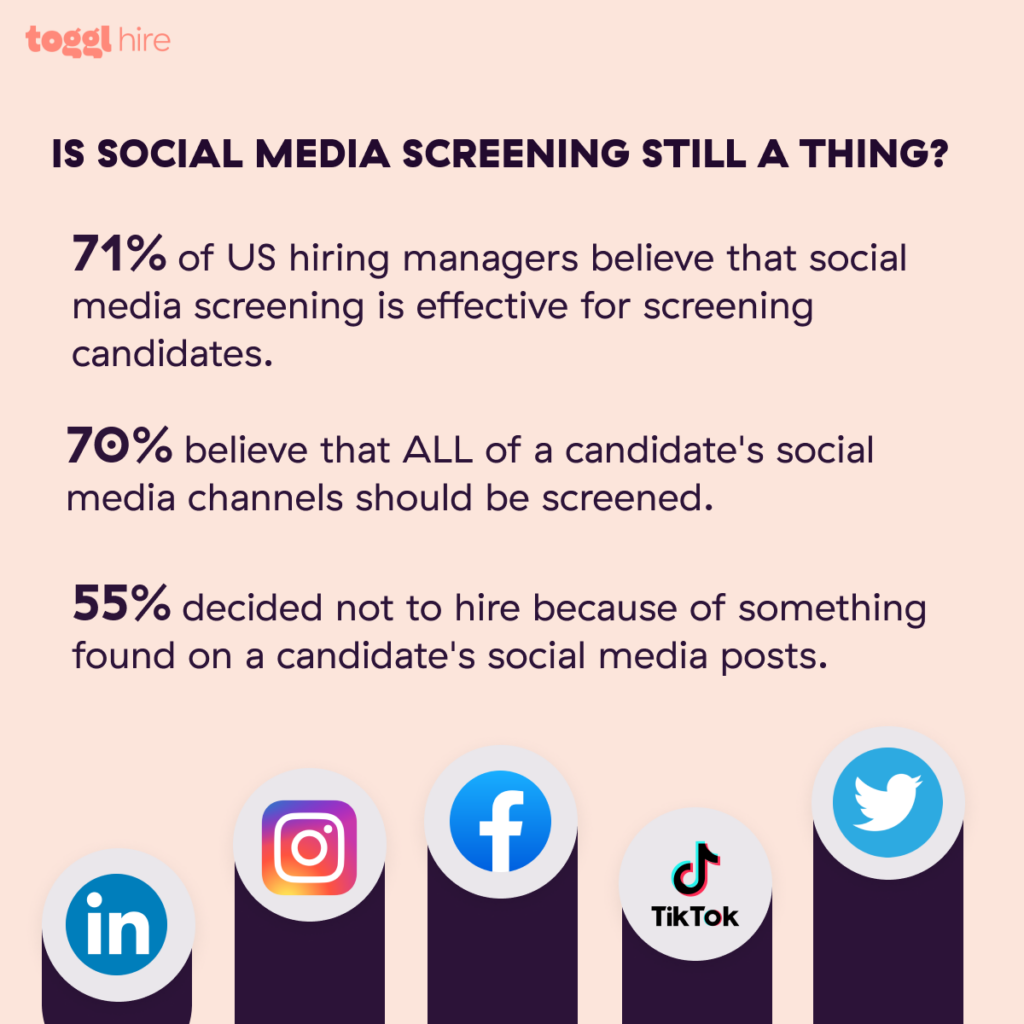 Why are recruiters using social media screening to assess candidates?
Since candidates' CVs are not always a reliable indicator of how they'll perform in a particular job, recruiters may use a social media background check to get a clearer overall picture of their personality, ways of thinking, and capabilities. Reviewing the person's social media activity or public posts can potentially provide more insight into a candidate beyond their work or professional persona.
Plus, this type of social media monitoring can also help with:
Learning more about a candidate's personality outside of the stress of an interview situation.

Saving on hiring costs, from background check costs to reducing disciplinary or termination costs, by identifying any red flags in the pre-employment screening process.

Verifying a candidate's core details, such as employment history, education, or professional endorsements.

Identifying any passive candidates that may be worth reaching out to before beginning any official talent acquisition process.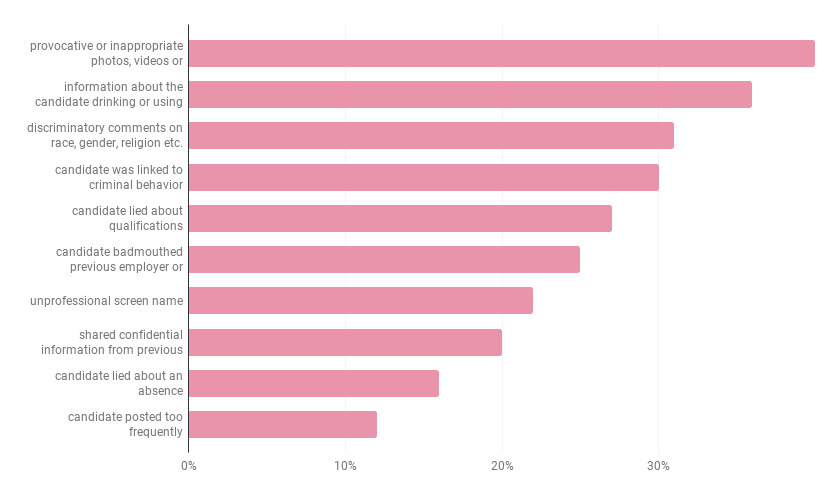 However, if you think about it, recruiters may get a bit more info on a candidate this way, but they can also get the same insights in other ways that are less intrusive, such as asking a candidate to create an intro video of themselves.
The risks of using social media screening for employment
While many HR or recruiter teams use social media background checks as part of their screening process, the downside of this monitoring is not something that can be overlooked.
For instance, a practitioner might see an inflammatory post (like one that alludes to violence, excessive alcohol consumption, or politically incorrect jokes, for example) on a candidate's Facebook or Twitter account, feel offended, and then decide not to hire the person based solely on that post.
In fact, a report by The Harris Poll shared that 55% of employers decided not to hire a particular candidate because of something found on the person's social media.
And it's those types of hiring decisions that could affect the fairness and transparency in recruiting.
Global employment laws
Since many companies these days employ remote employees or contractors based in other countries or continents, it can open up a can of worms when it comes to applicable employment laws.
Recruitment practices that may be ethically dubious — such as gathering personal information on potential employees from their social media — are not worth the risk of potential legal issues if things go wrong.
Hiring bias
Typically, a person reviewing a candidate's social media accounts can access data that is not available to them in the normal course of hiring. This includes personal data,such as:
Age
Gender
Sexual orientation
Religion
Race
Personal interests
Gathering this personal information through social media monitoring could open candidates up to discrimination and unconscious bias.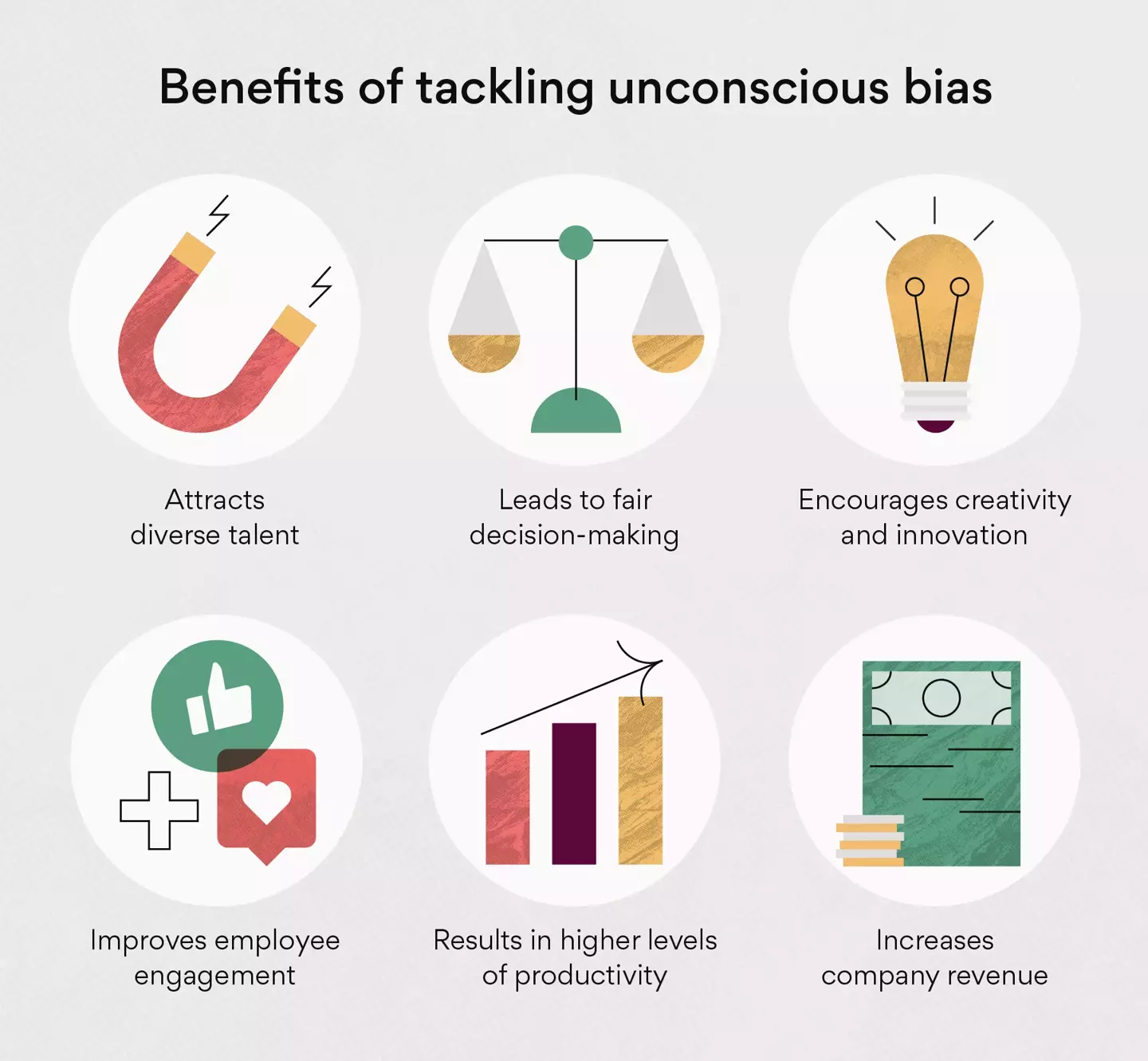 You can see why many recruiters love social media—it allows them to discover all the information they aren't allowed to ask about during an interview. But that's a problem, because one of the hallmarks of legal hiring practices is that they focus on behaviors within the work context. There should be a clear distinction between what people do during work and what they do outside of it.

Chad Van Iddekinge, Professor at the University of Iowa | HBR
Discrimination and protection of personal data
From a legal perspective, in the US, the U.S. Equal Employment Opportunity Commission is a federal body that enforces laws against discrimination. And while the US has no singular law on data protection, four states will be following California's path with state data protection laws in 2023.
In Europe, social media screening does fall under GDPR legislation, and infringements could result in mammoth fines! Plus, the European Union also protects workers with official directives against discrimination.
📚 Want to learn more about how to perform GDPR-compliant background checks? Check out this article.
Inconsistency of information
Another issue that organizations face with social media background checks is the inconsistency of information available on social platforms. Not everyone is crazy about social media, and there are even applicants who don't use social media at all (I know, shocking! 😉).
Plus, some candidates may have profiles on social media sites but rarely update them. And finally, some candidates might enter false information on their profiles or posts.
Tips for conducting a social media background check
While using social media as a screening tool may sound like less of a good idea now, done right — it could still help you gather some more context on a candidate.
Here are a few tips to help you stay on the straight and narrow.
#1 – Create a policy for social media screening
This will help keep the process consistent, fair, and legal. It could include things like:
Sticking to what's relevant to the candidate's professional life
Double-checking all findings with other assets like their CV or references
Abiding by laws governing discrimination and data privacy
What specific social media channels you'll use
The list of other tools you'll use to screen and assess the candidate, such as skills tests

Top tip:
Social media screening can be a compelling addition to the hiring process. But if you want to optimize your screening process by reviewing only the top candidates, we recommend using skills tests to gain deeper insights into a candidate's real abilities first. No snooping required! Browse our test template library here.
#2 – Know the law
Depending on where you are located, screening candidates through social media platforms could get you in legal trouble.
Make sure you know the laws governing hiring in your country and theirs and ensure there's strict compliance with your processes. Or outsource to a background screening company if you want to play it safe.
There's lots of data that you can use to compare candidates, such as test results, work experience, education, or portfolio examples.
All of these are way more relevant to the position than assessing the candidate's social media profile. So, leave social media screening (if you have to do it) for the very end of the hiring process.
#4 – Don't make assumptions
You can only get a certain amount of information directly from social media channels, but you won't be able to get the full picture every time.
Combine those insights with the broader pre-employment data you gather, and you'll get a pretty good idea if your candidate is a good fit.
And whether any red flags you noticed (such as alcohol or drug use) in that post seem to be valid.
#5 – Don't use LinkedIn only
While it's the best for professional use, LinkedIn is definitely not the only platform for screening.
For example, you can look up developers on GitHub and StackOverflow, learn more about writers on Medium, or check out designer portfolios on Dribbble and Behance.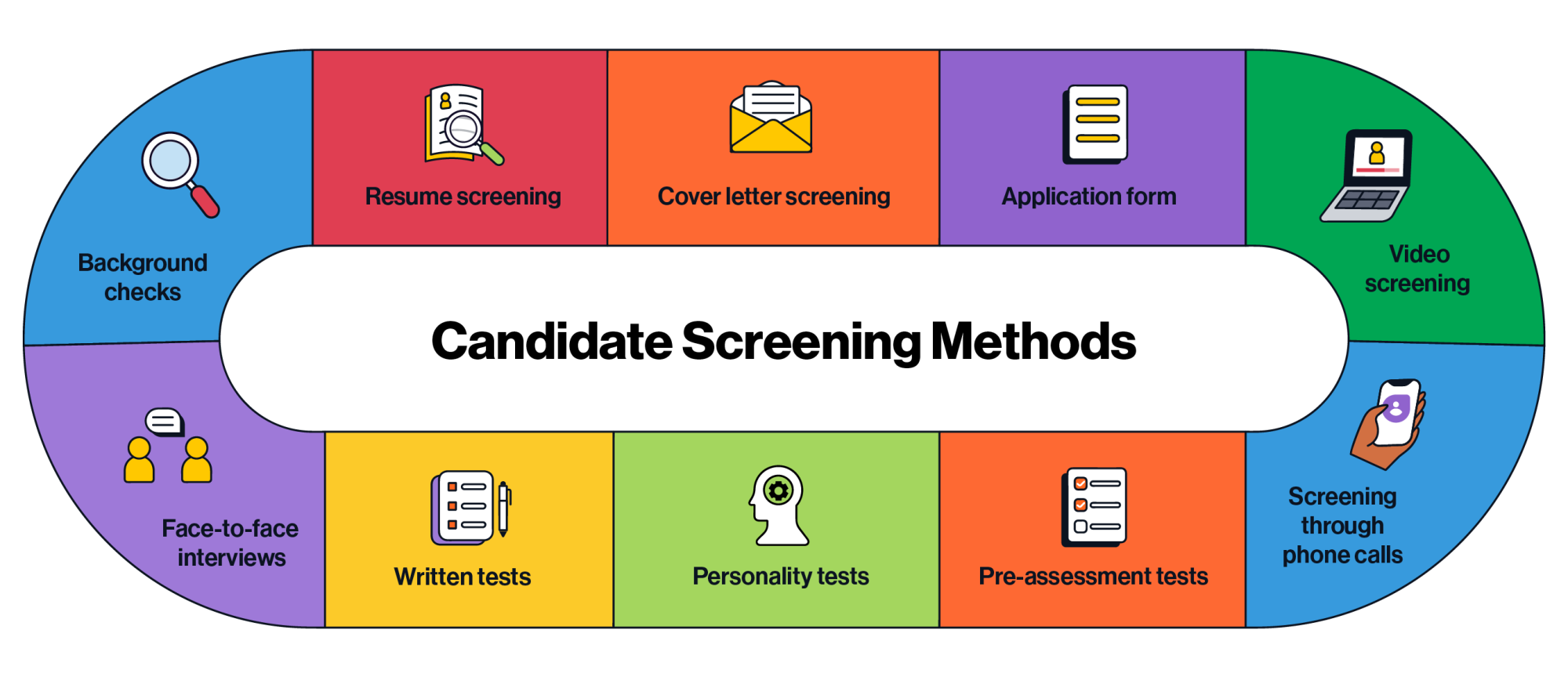 #6 – Bonus tip
As a potential employer, sending friend requests to job seekers is a) weird, and b) just a sneaky way to get more intel on them — so DON'T do it!
Stop social media screening and start skills testing
Think how you would feel if people were snooping around your social media profiles. Not so cool, right?
And while it may help you learn more about an applicant, there are way more effective screening tools you can use. Yes… skills testing is at the top of our list!
With Toggl Hire's skills assessment platform, candidates can demonstrate they've got the right stuff — rather than just bragging on their CV or in an interview. With Toggl Hire you can:
Test a candidate's skills and knowledge with role-specific skills tests
Better predict behavior on the job and candidate success
Also, assess soft skills to see whether they're a good culture fit
Reduce bias and help organizations hire quality candidates with the right skills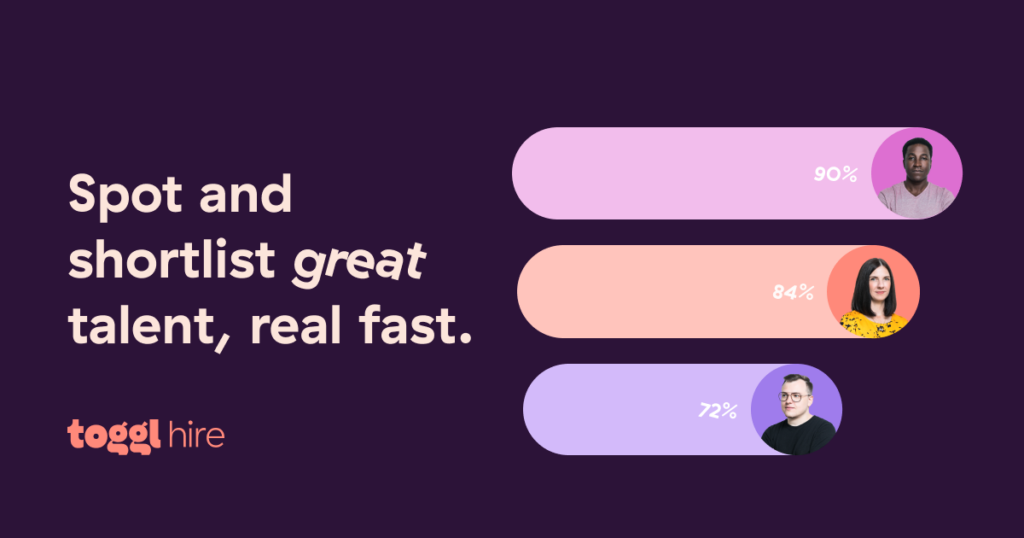 Toggl Hire's skills tests are fast, automated, and easy to set up (way faster than doing a social media background check one by one. Or sending a random stranger a friend request!).
Juste loves investigating through writing. A copywriter by trade, she spent the last ten years in startups, telling stories and building marketing teams. She works at Toggl Hire and writes about how businesses can recruit really great people.