While recruiting techniques vary from company to company, recruitment best practices are almost universal, acting as high-level guidelines for great recruiters to follow.
From a well-planned and documented candidate screening process to a strong employer brand and a data-backed approach to candidate shortlisting, here's what smart recruiters are doing in 2024.
12 best recruitment practices to implement in 2024
Improve your entire recruitment process by trying out these best practices:
Align with the hiring manager

Conduct talent gap analysis

Determine key recruiting metrics

Work on employer branding

Market to active and passive job seekers

Set up a talent pool

Screen for the right attributes

Improve candidate experience

Venture into social media recruiting

Automate some workflows with Gen AI

Build an internal mobility program

Identify opportunities for upskilling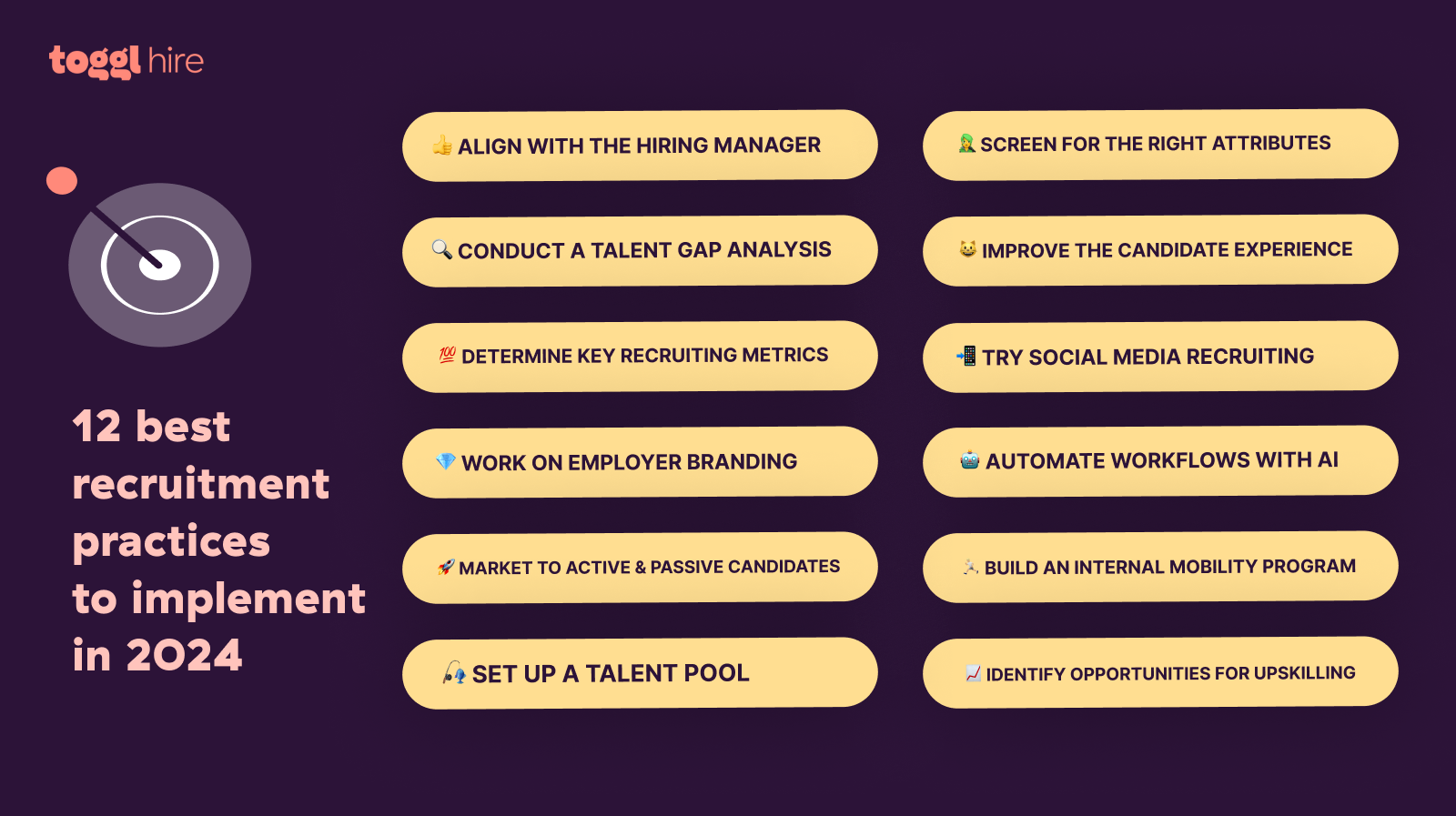 1. Always align with the hiring manager
Talent shortages have been a pervasive trend in 2023, and experts predict 2024 will look similar. The number of new job openings and resignations remains low as employees are more reluctant to leave their current roles, meaning there will be fewer great candidates on the market.
Hiring managers often make matters even worse by looking for a "purple squirrel" — the mythical candidate who ticks all the skills and cultural fit boxes and is ready to settle for below-average compensation.
Clearly, none of those candidates are on the market (sometimes leading us to postulate to some hiring managers, "Is the purple squirrel in the room with us right now?").
To properly manage expectations and still attract several great candidates, do the essential grunt work:
Conduct a job task analysis to hone in on key tasks for each role and the respective competencies of an ideal hire.

Keep a looser list of minimal job requirements and list more items as preferred to attract a wider candidate pool.

Communicate what the job entails on a daily or quarterly basis, rather than only listing examples of candidate requirements and preferred qualifications (i.e., let candidates know what their life at your company might actually look like).

Create skills tests to quickly evaluate each candidate's job-specific skills to eliminate the bulk of the under-qualified candidates — and not let the right candidates slip through the cracks.
Present the final results to the decision-makers and tweak the job opening assets (job listings, ads, etc.) based on their feedback.
By doing the prep work in advance, you reduce the odds of "missing the mark" on the role requirements and presenting candidates who are amazing in general but are ultimately a mismatch for your company culture.
2. Use talent gap analyses to inform your recruiting process
AI adoption, sustainability-related transformation, labor productivity increases — every company has ambitious goals for 2024. While they might all be necessary to stay ahead of the curve, many of these growth initiatives also require a new caliber of talent.
To figure out which skillsets and capabilities you should prioritize for hiring in 2024, conduct a talent gap analysis.
Start with a general workforce assessment to get a snapshot of the employees' talents, skill levels, and capabilities. A good assessment should include a mix of quantifiable methods like skills assessments, job simulation tests, and competency models.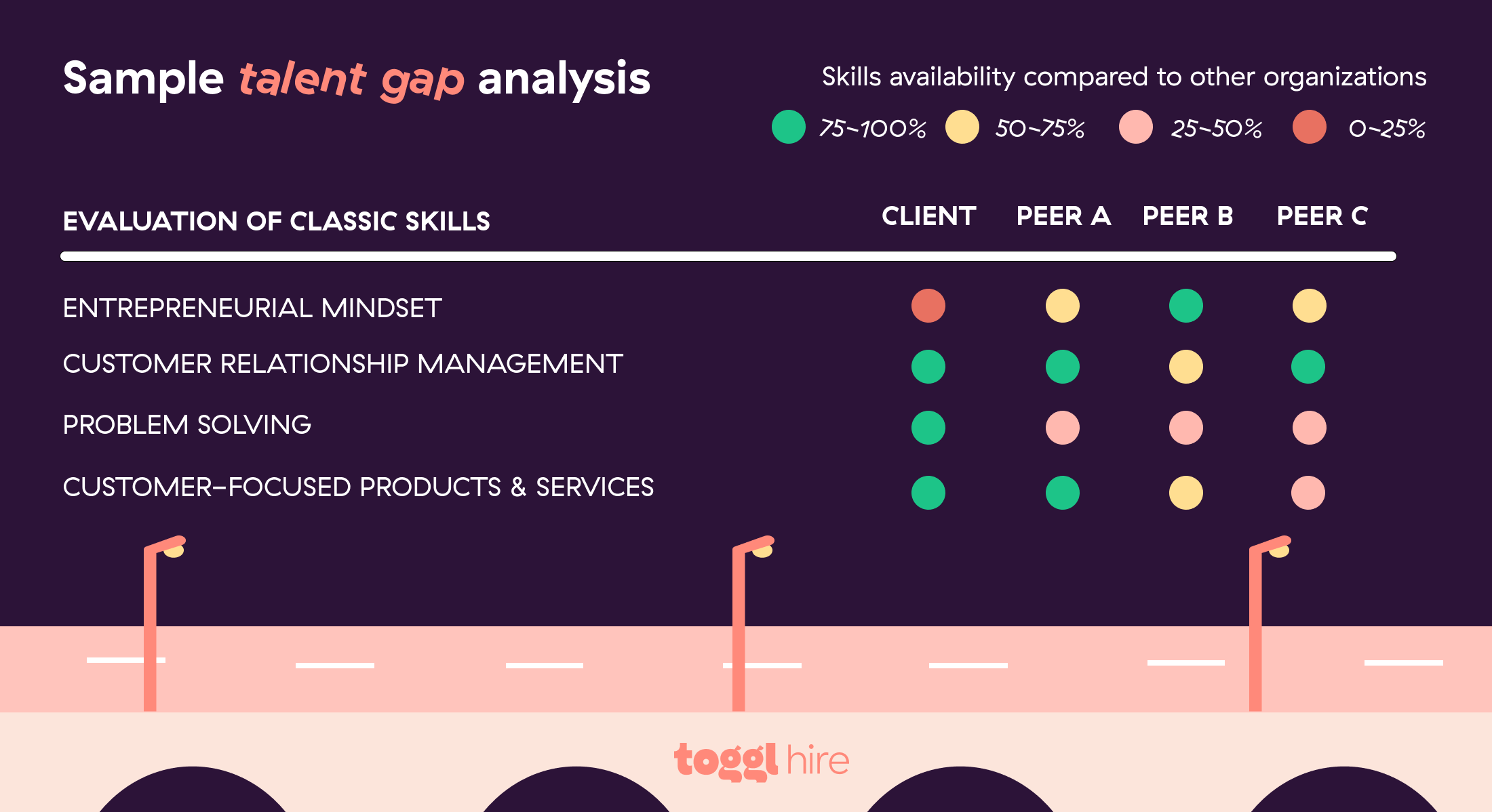 You can use these talent gap assessments to help you build better candidate profiles. Let's say you're hiring a sales development representative for a team with strong prospecting practices and negotiation skills but somewhat lacking sales analytics capabilities.
The top candidate for this position would be someone with stronger analytical skills and, for example, good knowledge of data analytics software like Power BI rather than just strong interpersonal skills.
3. Figure out your priority recruitment metrics
To arrive at the right destination (hiring top candidates), you need to know where you're heading. Recruiting metrics act as beacons on the journey that is the entire recruitment process, directing your recruitment efforts toward the right targets.
Important recruiting metrics to track as you build out a recruitment strategy include KPIs like:
Percentage of open positions

Average number of applicants

Sourcing channel cost and efficiency

Qualified candidate rate per channel

Cost per hire and time to hire

Candidate net promoter score
Most modern recruiting software helps you track an array of KPIs for talent acquisition, but keeping all metrics in the green is almost impossible.
For example, the tradeoff of having a lot of interested candidates may be a higher cost per hire (due to more money spent on job ads and candidate interviewing). So, smart recruiters align the KPIs with the top hiring goals.
A company struggling to find people with the right skills may focus on increasing the number of "qualified candidates rate per channel" or "quality of hire." Businesses focused on improving their employee engagement levels, on the other hand, may be more concerned with KPIs like "first-year attrition" or "candidate net promoter score."
4. Polish up your employer brand
Employer branding, which refers to the type of perception prospective applicants have about your company, is a pillar of a successful recruiting strategy. After all, it's not just you who's looking for "red flags.
Over 60% of job seekers globally name "good reputation" as the key assessment criteria for a job, alongside high job security, decent compensation, pleasant work atmosphere, and healthy work-life balance.
A strong employer brand is a collection of materials and daily actions you take to continuously attract a high caliber of potential candidates — people who are skilled and slot well into your company culture.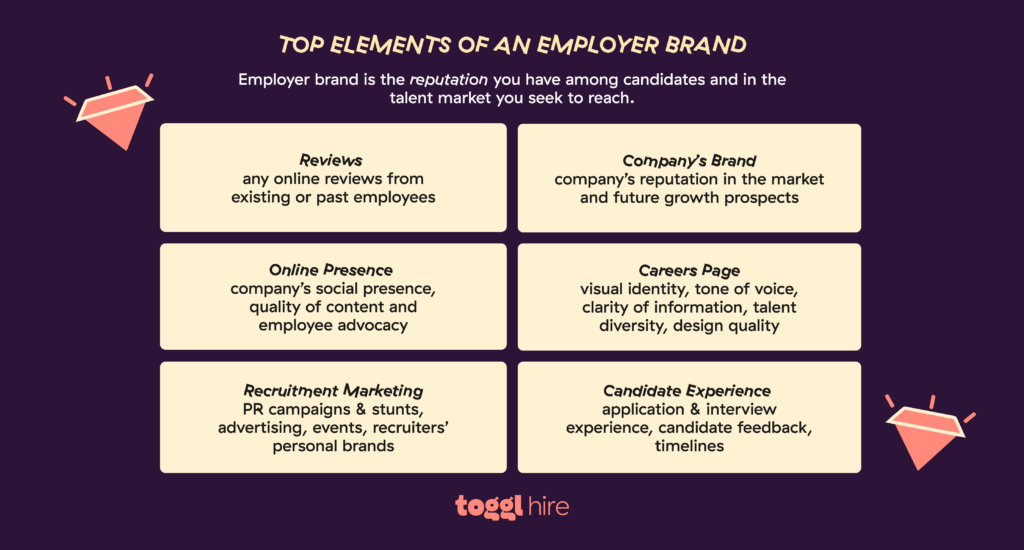 Not so fond of your current employer brand? Kick-off 2024 with a brand audit — a data-backed assessment of your employee experience from start to finish.
Send an anonymous employee survey to learn how they perceive your company's mission, values, and culture. To get more insights, ask whether the company is living up to its initial value proposition. You can also survey past applicants about their candidate experience to better understand the gaps in your recruitment process.
When done right, an employer brand audit helps:
Determine the best candidate touchpoints and channels

Evaluate brand understanding and perception

Identify drivers and subtractors of employee satisfaction
Use the findings to inform employer branding activities in 2024.
Review and update career pages. Include extra information about your recruitment process —decision timelines, assessment criteria, interview process guide, and any other helpful information for potential employees. Verify that all communication is aligned with your brand and culture.

Improve current job postings. Use feedback from the survey to better articulate the benefits of working at your company. Make the language more inclusive to attract a broader range of qualified candidates.

Create new team materials. Share more faces and personalities behind your company. Ask hiring managers to create short video intros promoting different elements of your employer value proposition. Ask current employees to talk about their roles, describe company culture, and explain what successful candidates can expect.

Manage company reviews. Ask current employees to share reviews on popular websites company review websites like Glassdoor. Analyze and respond to negative professionally and with high emotional intelligence.
5. Be visible to active and passive candidates
A lot of companies have a reactive recruitment process. They go full throttle with job ads and direct head-hunting efforts several times a year whenever they need to close critical talent gaps, only to go quiet until they decide to ramp up another "hiring spree" once again.
Such an approach is unsustainable as it keeps your talent pipeline empty most of the time. This, in turn, drives employee acquisition costs and increases time to fill in open roles. Moreover, you're probably losing top talent to more proactive competitors.

Top tip:
The average time to fill across all industries is 42 days. However, it can go anywhere from 14 to 63 days, depending on a variety of factors. Needless to say, you need to aim to be on the lower end of that scale.
On average, 74% of people working in IT, digital, sales, hospitality, transport, and logistics are approached with job opportunities multiple times per year — with 34% getting new job offers monthly!
Apart from lower competition, the other benefits of hiring passive candidates include a better culture fit, greater focus on skills, and more honesty in the interview process. A good recruitment strategy in 2024 combines a mix of techniques designed to engage both active and passive job seekers. 
| | |
| --- | --- |
| Active recruiting strategies | Passive recruiting strategies |
| Job posting on general and niche job boards | Regular employer branding activities on social media |
| Employee referral programs | Employee advocacy programs |
| Participation in job fairs and campus recruiting events | Networking at conferences and industry events |
| Personalized online outreach on social media | Professional meetup sponsorship & co-hosting |
| Recruitment partnerships with professional networks and organizations | Networking in alumni networks & online communities |
Active recruitment practices focus on attracting more applicants to your job posts — primarily those, well, looking for a new job. A passive recruitment strategy helps your company reach a larger talent market of people who may be open to an offer from a company that resonates with them.
By combining the two methods, you can spend less time promoting new job ads and get a bigger pool of qualified candidates. Speaking of which…
6. Plan ahead with a talent pool
Whenever it's time to hire, recruiters no longer head to job boards — they tap into their talent pool first, which is a database of candidates who've previously expressed interest in your company and possess the thought-after skills and competencies.
It's your "black book" of potential hires that usually consists of unsuccessful candidates, unsolicited applications, passive candidates, and prospective leads from social media, networking events, or job fairs.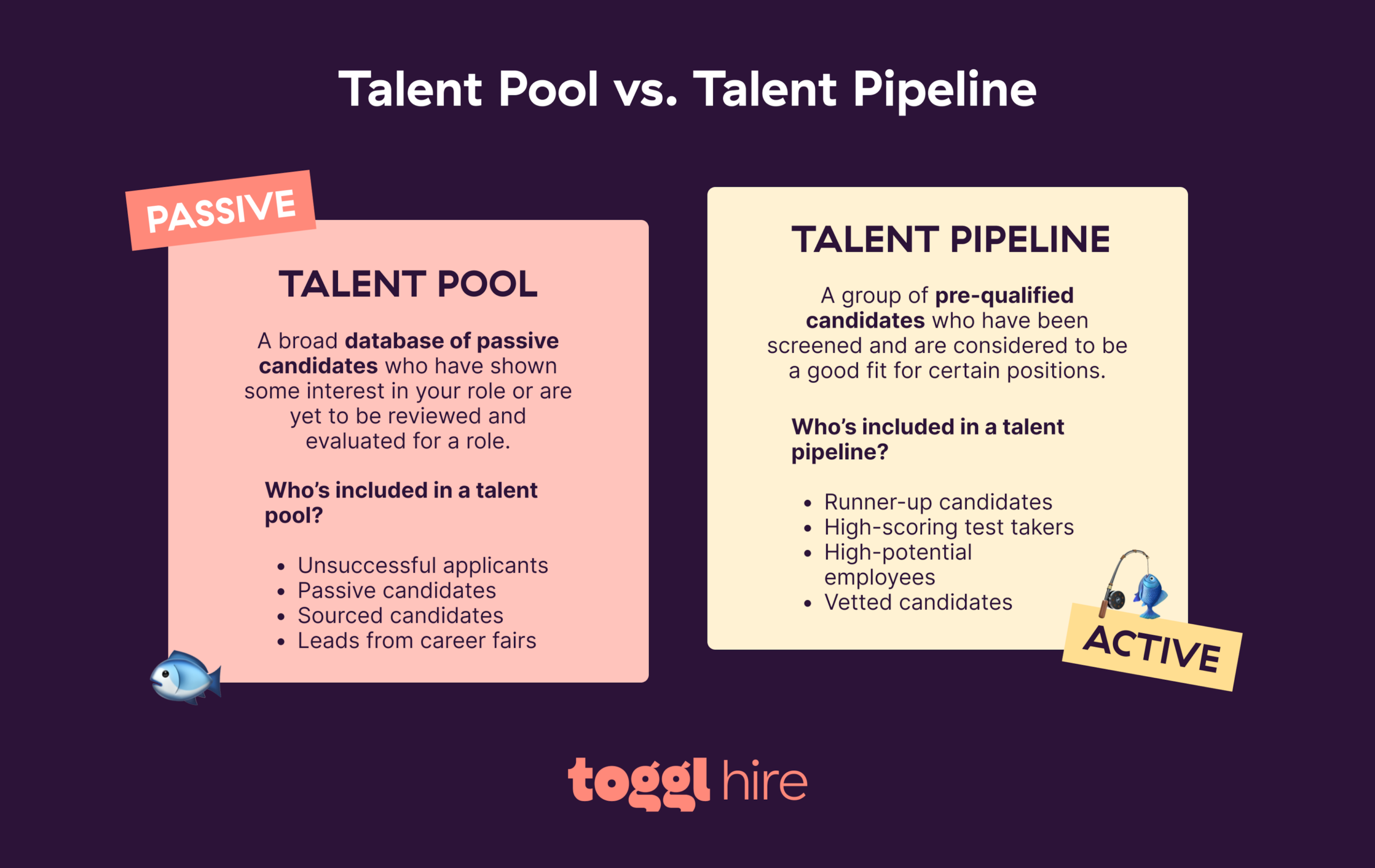 A well-designed talent pool segments suitable candidates by job function, skill sets, experience level, location, and levels of interest. For convenience, you can also add custom labels to:
Denote the applicant's status in the recruitment process. Use data from the applicant tracking system to describe how far the candidate went and why you've decided against hiring them. For example: "scored below a threshold on a skills assessment" or "stopped interviewing due to a competing offer."

Describe affiliation with your company. Mention how the candidate got on your radar and why they may want to join your organization. For example, "former employees open to returning to the company" or "vetted freelancers and subcontractors who have expressed interest in full-time work."
These quick notes can help you continue nurturing the relationship and personalize the communication whenever you want to reach out with a ​​prospective work opportunity.
7. Screen for the right attributes
While resumes are still a staple of recruitment best practices, things are changing (what isn't?). Today, companies have more precise tools for screening and evaluating candidates: hard skills tests, soft skills and personality assessments, homework assignments, job simulation days, and more.
A resume only provides a one-dimensional presentation of a potential candidate. It's a very condensed version of their career progression, educational credentials, and skill sets. But resumes don't tell much about the candidate's personality — their communication skills, analytical abilities, or approaches to problem-solving.
Two people with almost identical resumes can have vastly different approaches to giving feedback, collaborating with others, or leading teams — and a resume alone won't tell you those details.
Highly embellished resumes can also set off a chain of unfortunate blunders:
Well-written resumes get candidates into a screening interview

A recruiter, who's not a subject matter expert, struggles to screen technical skills

Candidates make it into a round of interviews with the hiring manager

The best interviewer gets hired but ends up performing poorly on the job
The solution? Level up your recruitment game by screening for core capabilities early in the hiring process with skills assessments.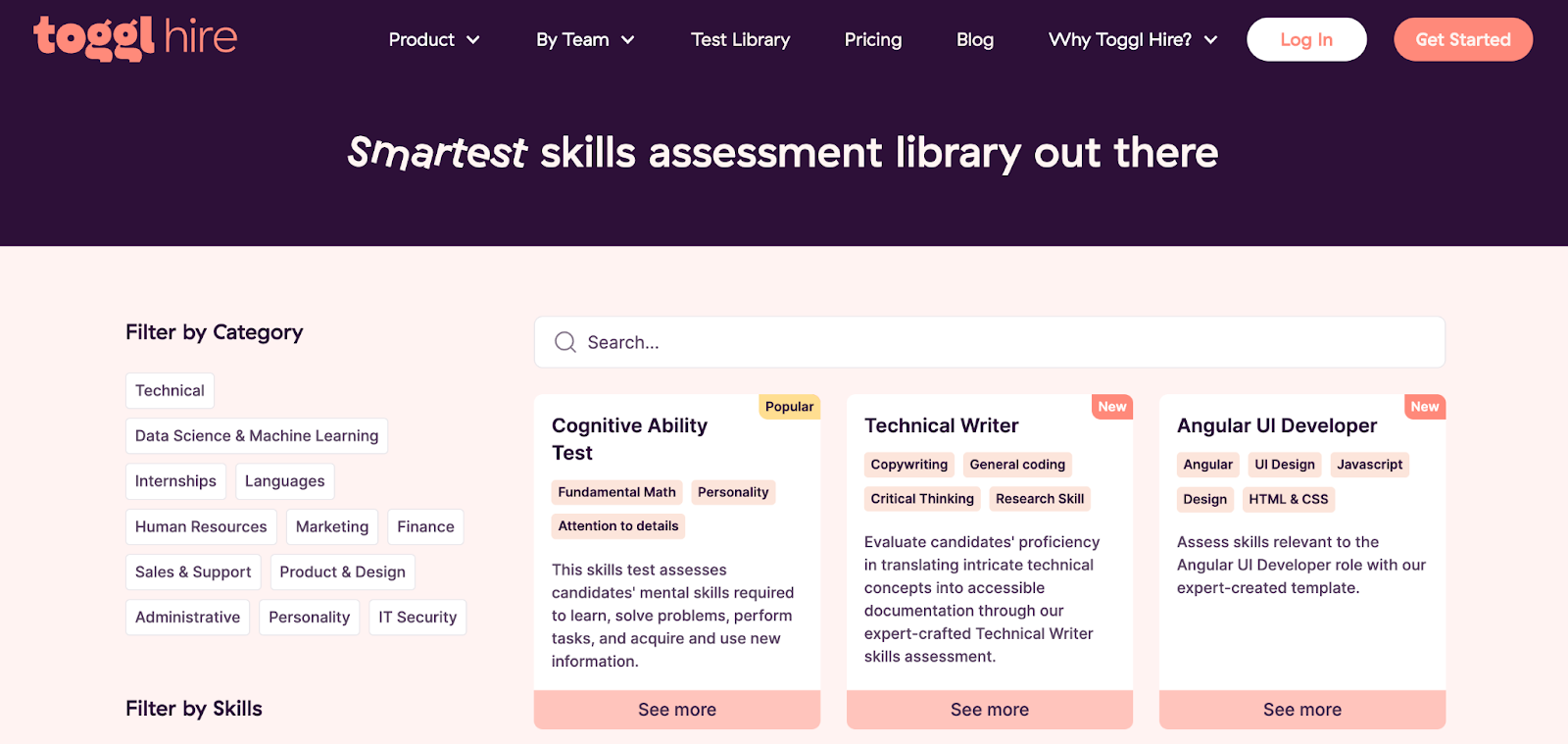 Instead of reading through endless resumes, add a skill test as an application step to weed out unsuitable candidates. Here's what the recruiting process can look like with a tool like Toggl Hire:
Select a pre-built skills assessment template for any role, including development, IT, marketing, sales, product, or any other.

Customize the test to match exact job requirements by pulling out pre-made questions about specific technical skills or soft attributes.

Include a link to the skill assessment in your job postings, and get data-based feedback on candidates' competencies.

Top tip:
Aside from helping you pre-screen the best candidates, skills-based assessments also eliminate unconscious biases from the recruiting process. Instead of focusing on the candidates' demographic data, impressive educational credentials, or self-reported accomplishments, you get a first-hand take on their actual skills. 
8. Make candidate experience a priority
Hundreds of candidates are likely to apply for your open roles, especially if you're offering remote work. While a good chunk of them may not be a good fit, you want to make sure that everyone still has an A+ experience.
Companies that treat candidates with respect and dignity improve the quality of hires by 70% on average. A great candidate experience also helps:
Strengthen your employer brand

Populate your talent pool

Increase the number of employee referrals
That said, optimizing every touchpoint in your hiring process is no small task. Start with the lowest hanging fruits — common complaints from unsuccessful applicants.
Common Candidate Experience Problems
No updates on the application status

Delayed or generic feedback after interview rounds

Impersonal, automatic communication from the hiring managers

Unrealistic or misleading job descriptions

Low transparency about the next steps in the hiring process

Extended hiring timelines

Disorganized interview logistics

Insensitive rejection process or ghosting
All of the above grievances have a common theme — poor, impersonal communication on the company's behalf.
Having a large volume of candidates isn't an excuse to keep them waiting to hear back from you. And yet, if 1,000 candidates apply for an open role and 980 are a bad fit, you can't send that many rejection letters in such a short time frame.
You can resort to using an applicant tracking system (ATS), but these platforms come with faults of their own. There have been numerous debates about recruitment tools rejecting applications based on keywords or degree requirements. Candidates are not loving it, to say the least.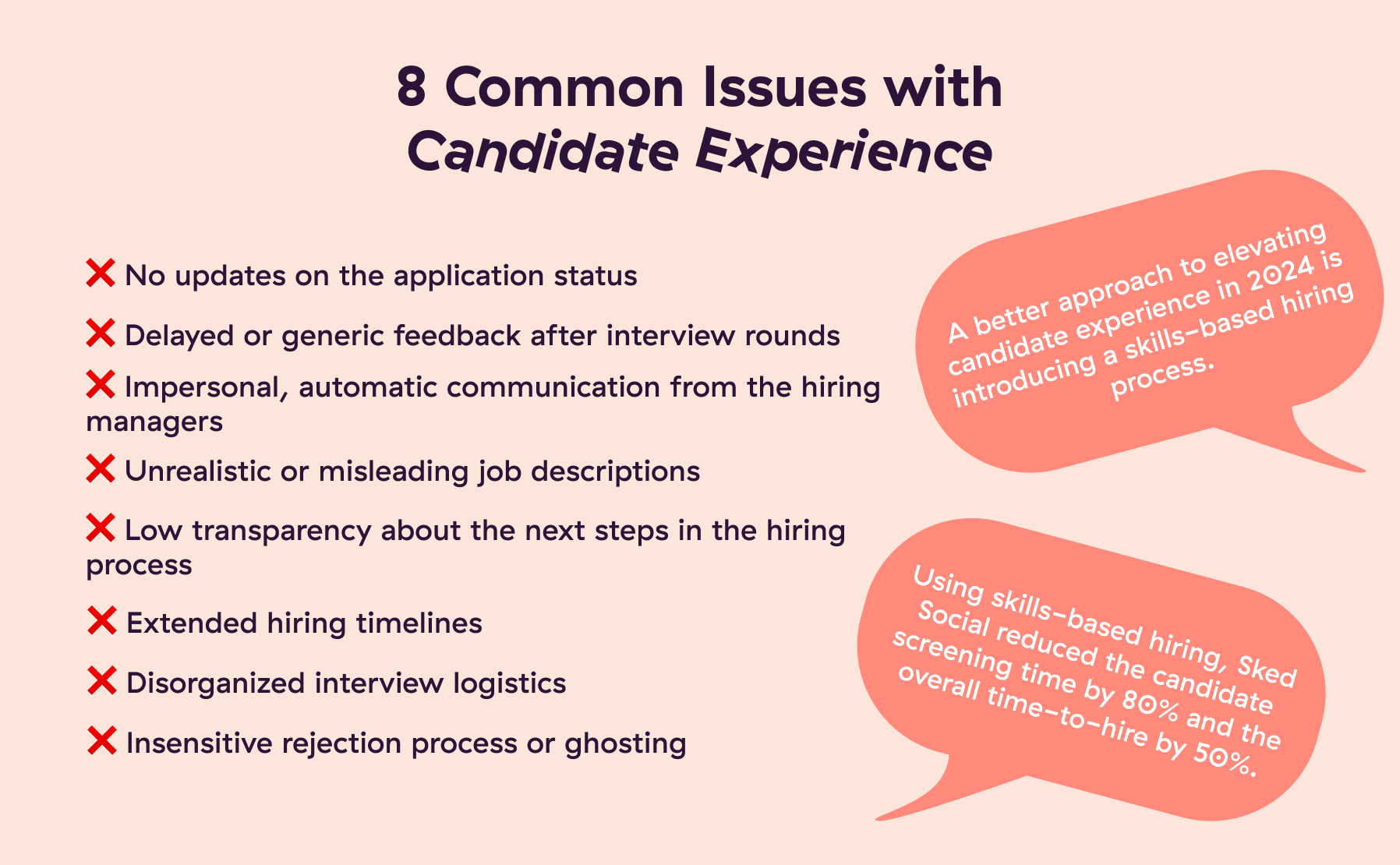 A better approach to elevating candidate experience in 2024 can be introducing a skills-based hiring process.
Instead of scrolling through endless resumes and scheduling multiple interview rounds, you can automatically pre-qualify candidates via skills assessments.
Require as little as possible at the very beginning of the hiring process. For our open roles at Toggl Hire, we only require candidates to take a skills test to apply. This way, we can get more candidates into our funnel without taxing them with too many requirements.
We have a candidate information form at the end of the test to collect key information and support the LinkedIn authentication method. If candidates sign in via Linkedin, we have the most important contact data in one go.
Flipping the application process on its head could help you automate candidate feedback. Interested candidates will apply via a skills test and get an instant response, and if they pass the required minimum score threshold, they move forward.
If you want to have the best of both worlds, you can always ask candidates to upload their resumes when submitting the test, too. Regardless of how you do it, it works.
With Toggl Hire skills tests, Sked Social reduced the candidate screening time by 80% and the overall time-to-hire by 50%. Automated pre-screening reduced hiring team burnout and improved the candidate experience. Sked Social was delighted to see a higher caliber of applicants and greater diversity in their hiring efforts.
9. Experiment with social media recruiting
LinkedIn has long been the network for hiring professionals. But it's not the only "social" place for attracting potential employees. Facebook, Instagram, TikTok, X (Twitter), and YouTube have also become the go-to hangouts for talent acquisition and nurturing.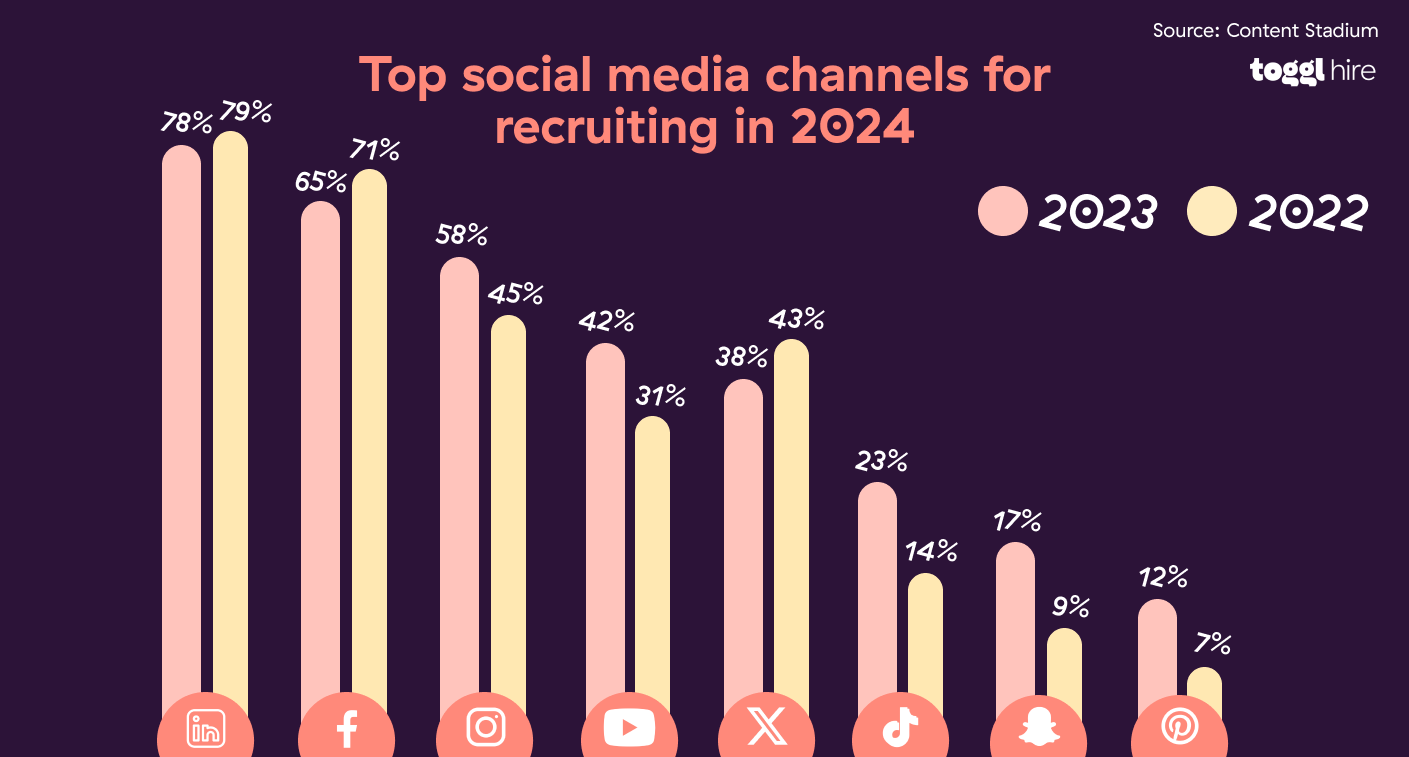 Social recruiting helps reach a broader pool of active and passive candidates, save on job ad costs, and reduce time-to-hire.
Try using social media to:
Promote your recent job posts

Refer quality candidates to open roles

Share insights about your recruiting practices

Give job application advice

Curate employee stories and corporate behind-the-scenes
To get the best results from social recruiting in 2024, combine it with skills-based hiring. Instead of sharing lengthy job application posts, direct potential candidates to a test assessment.
By meshing personalized outreach with a quick and easy application process, you can increase candidate conversion rates and get more people into your talent funnel.
Take it from social media agency Riotly Social, whose average job listing attracted only 20-30 candidates despite spending $300-400 on promotion. So they decided to try something new when hiring for a backend engineering role — use skills tests instead of resumes and cover letters.
By promoting a new skills-based job ad on Facebook (where advertising is cheaper), Riotly Social managed to attract 10X more candidates and instantly identify 37 as "prospective employees".
10. Streamline repetitive tasks with generative AI
Generative AI is one of the hottest recruiting trends in 2024. Although only 5% of HR teams incorporated gen AI in their hiring processes as of mid-2023, many more are conducting discussions and preparing to run pilots.
So how can gen AI help savvy recruiters stay ahead in today's hiring landscape? In several ways:
Job description generation. Guided by your job task analysis and some prompts on the tone of voice, ChatGPT can generate new job posts at faster speeds.

Remove biased language. Pop your copy into the app and ask it to flag or edit non-inclusive phrases to make your ads appeal to the broadest cross-section of talent.

Email templates. Ask ChatGPT to come up with a set of standard email templates for targeting candidates or giving feedback at different interview stages. Although slightly generic, such templates prevent the "blank page" syndrome.

Summarize survey response. You can task generative AI apps to find common themes in free-text survey responses or analyze feedback from unsuccessful candidates to get more insights about your candidates' experiences.
Gen AI may not be ready to directly communicate with candidates (and we're honestly okay with that — we believe in the power of human connection), but it can deal with a lot of ancillary tasks piling up on your to-do list.
11. Build an internal mobility program
Most organizations already run successful employee referral programs. Take this a notch further by building an internal mobility program as another channel for talent acquisition and management.
Apart from helping you track the right candidates for promotion, job rotations, or opportunities to split time between roles, an internal mobility program also helps prevent talent attrition. According to the 2023 Pulse of Talent survey, among flight-risk employees, 88% would consider staying with the company if offered internal career opportunities.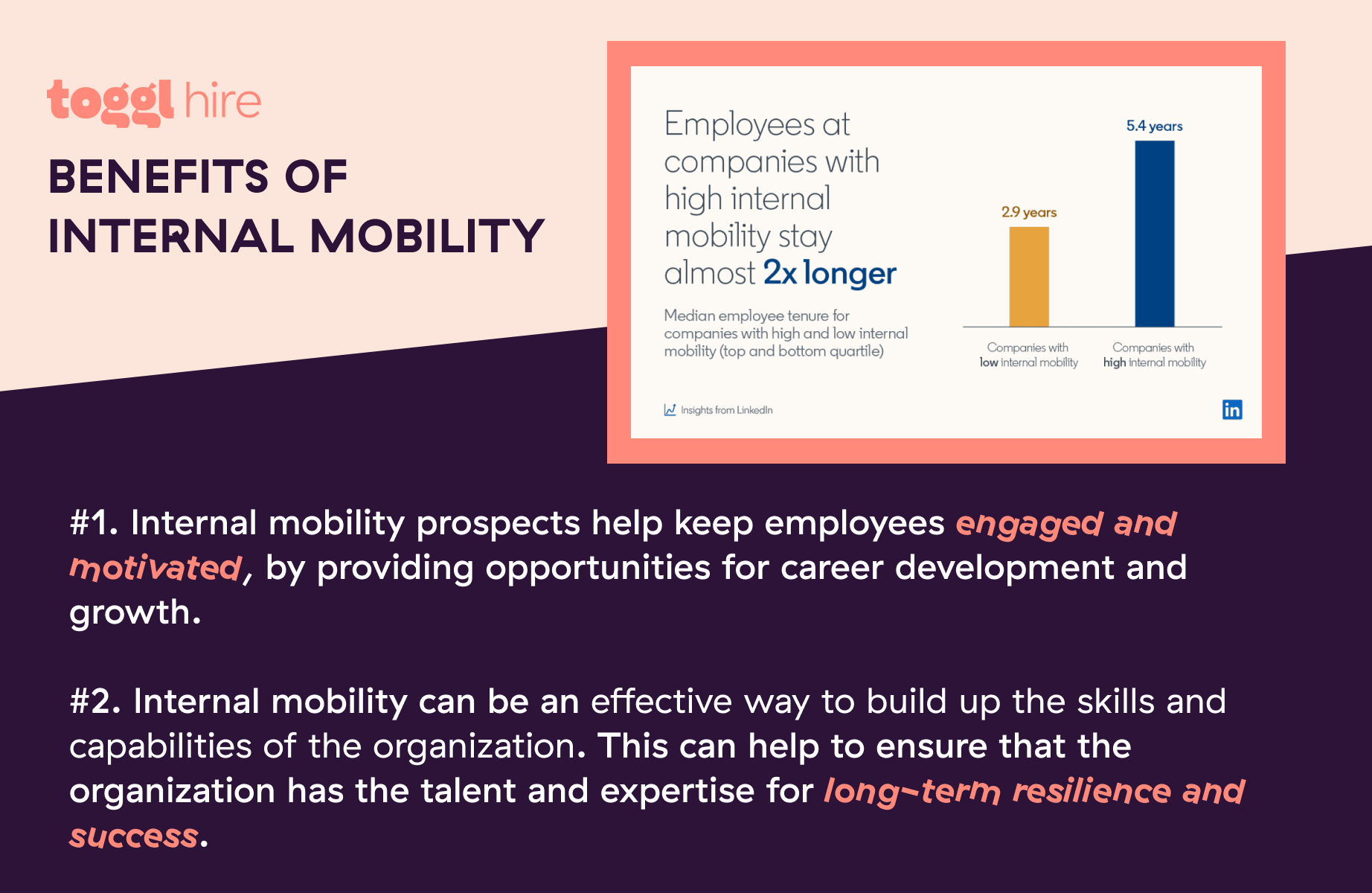 To launch an internal mobility program in 2024, use data from your talent gap analysis to identify required capabilities and roles.
Create a new set of job descriptions to market internally. Streamline the application process by using skills assessments to identify talent with the highest potential (and avoid anchoring your decisions to current titles).
Measure the program's success by tracking metrics like number of internal hires, ratio of internal vs external hires, employee attrition, and employee engagement.
12. Create new opportunities for upskilling
The mismatch between the skills supply and demand will remain strong in this decade.
In the next five years, 40% of core skills will change, and 50% of all employees will need to retrain, according to The World Economic Forum.
The global workforce is divided into two – those with valuable skills who are well set to keep learning, and those without. We found that often, those without the skills are less financially secure and less able to access training in the skills of the future.

PwC
Workers who struggle or can't pay their bills are 12 percentage points less likely to seek out opportunities for new skills development, compared to those who can. As an employer, you can change this negative dynamic and prop your people for better career success.
To nurture the best talent, we recommend implementing these recruitment practices:
Evaluate test scores from unsuccessful job seekers to better understand the overall talent competency levels on the market. This data can help you understand whether it's best to hire externally or spend extra on preparing internal job candidates for more senior roles.

Use data from candidate scorecards to create personalized onboarding paths for new hires. This way, you can avoid administering redundant training and focus more on their weaker skill sets.

Conduct internal skill assessments to identify skills gaps among your workforce. Use the insights to determine training needs and inform the future upskilling/re-skilling programs.
By determining upskilling needs early in the hiring process, you can increase time-to-productivity for new employees. Ongoing investment in workforce training also helps with talent management and leads to higher employee retention.
Over 90% of CEOs who launch upskilling programs report higher employee productivity, improvements in talent acquisition and retention, and a more resilient workforce.
Final thoughts on recruitment best practices in 2024
The talent market remains slow, but it doesn't mean your hiring process should lag behind, too. Take this year to test-drive new recruitment strategies and measure these against your tried best practices.
Reverting back to "how things have been done before" is always easy. But the positive changes you may get from trying new things may prompt you to ditch your playbooks.
Want to see measurable change in 2024? Try Toggl Hire for skills-based recruiting. By using our platform, companies reduce hiring times by 86%, save up to 22 hours of work per job description, and have attracted over 800 candidates in one day.
Recruit the best talent with the Toggl Hire skills assessment platform.

Elizabeth is an experienced entrepreneur and content marketer. She has nine years of experience helping grow businesses and has experienced first-hand the woes (and wins!) of hiring in today's global, digital world.