To be a successful at project planning, you need to be able to deliver quality work while balancing a budget and sticking to a deadline. This can be a tricky process even for simple projects, which is why advance planning and organization are essential.
The tips below can help you accomplish your project planning goals and set you up for ongoing success in the field.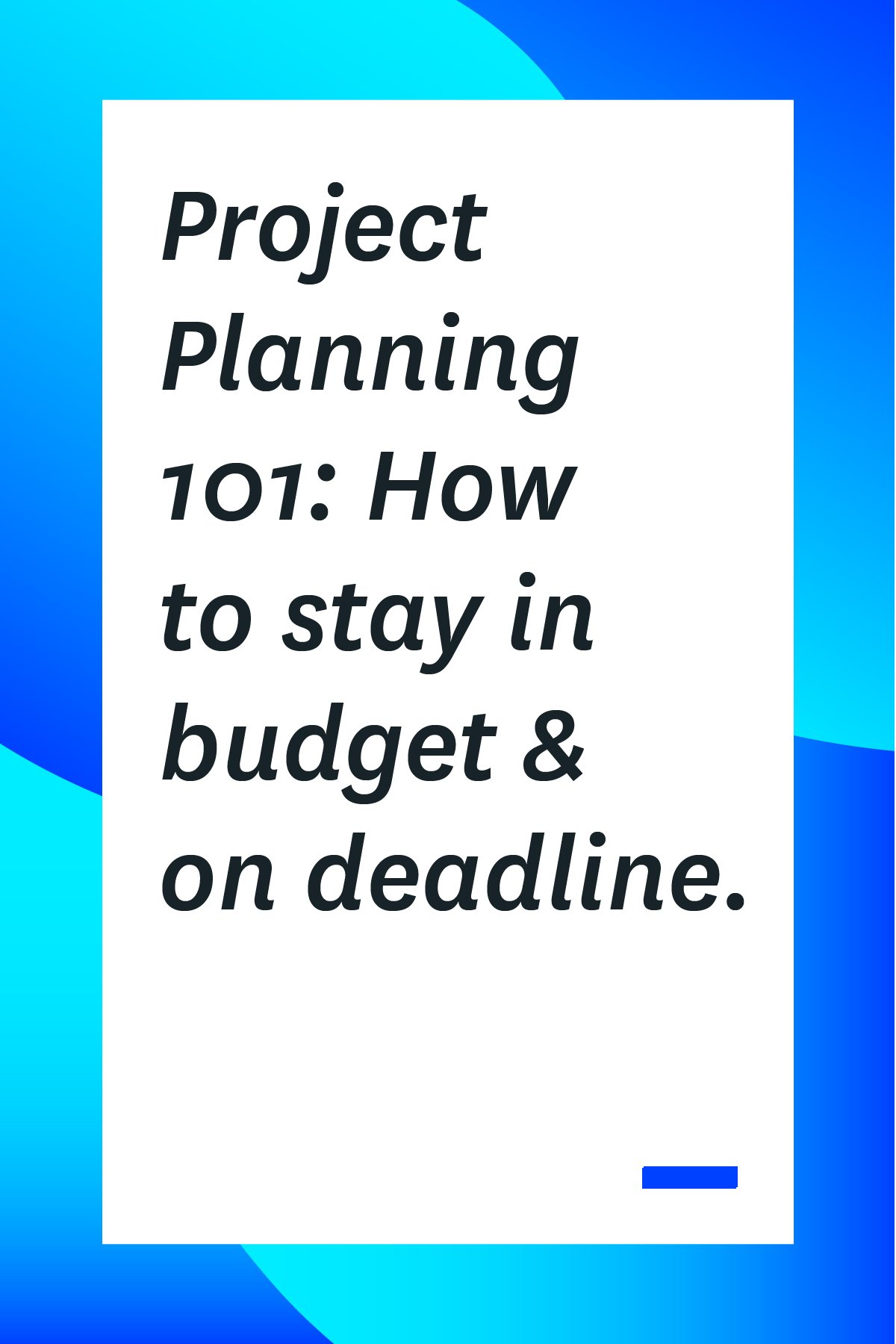 Have a Clear Scope
Clients generally know what they want in terms of project deliverables, but don't ponder the minute details- that's what a project planner is for!
The scope of your project defines more than the desired outcome. It also determines and documents specific goals, deliverables, tasks, deadlines, costs, and other key elements, leaving you with a blueprint for the entire endeavor from start to finish.
For example: You are planning a project to build a new commercial structure in your city's downtown. This involves:
Researching and applying for the necessary building permits

Hiring contractors will the right experience

Sourcing suppliers with reasonable prices

Pouring the foundation

Installing electrical and plumbing systems, and more.
All of these steps are part of the scope. They also have a logical sequence, with most stages depending on the successful completion of the ones before them. When you confirm what needs to be accomplished and when, you can maximize the allocated resources, time, and budget needed to accomplish all deliverables and prevent the project from being taken off track, a frustrating phenomenon known as 'scope creep.'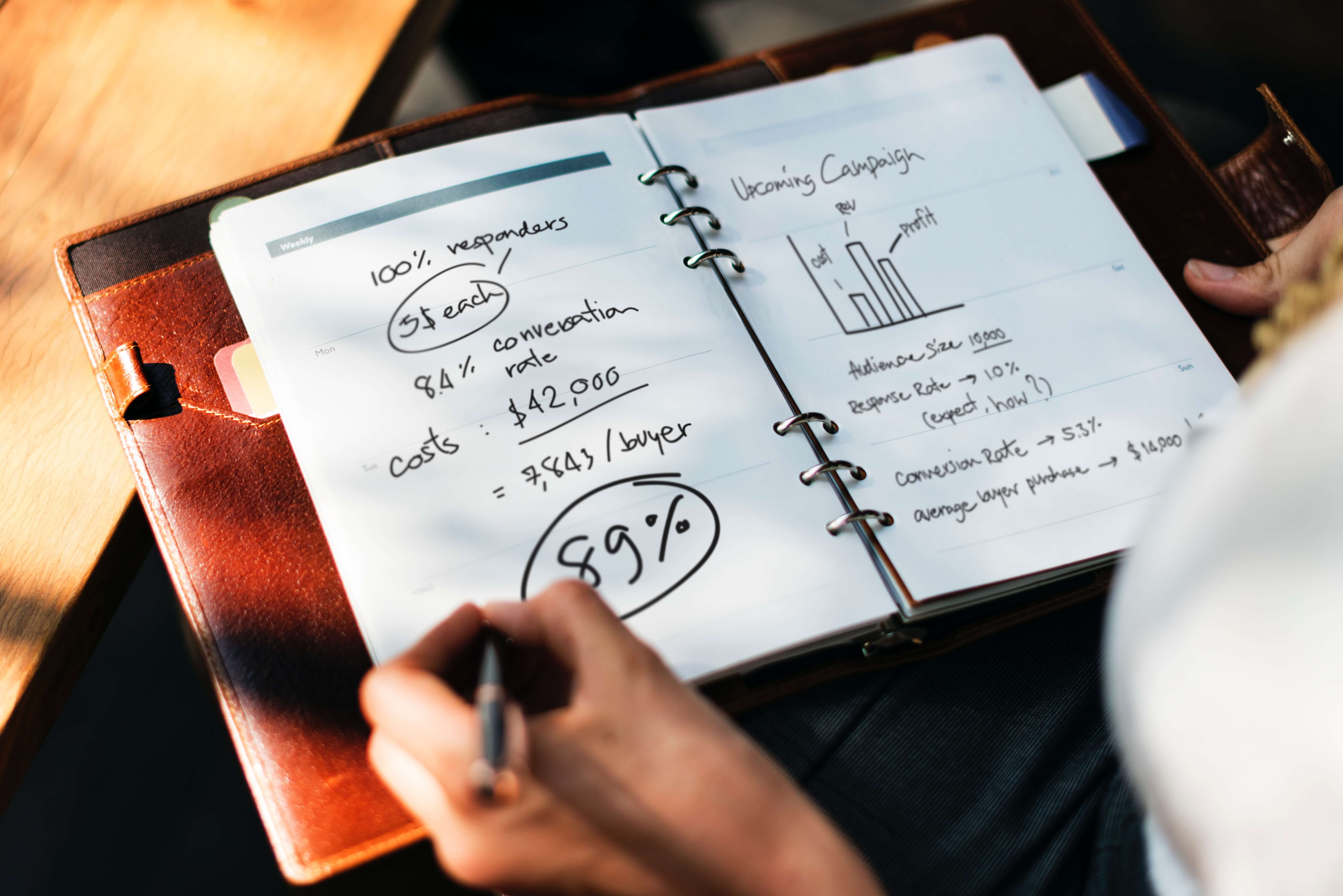 Create a Workable Schedule
Another important project planning step is to create and implement a detailed and realistic schedule. When you finalized the scope you defined the necessary steps: the schedule is where you estimate and document how much time each one will take.
To create a workable schedule, you need to:
Ensure that there are sufficient resources available to support each step in the timeline

Make sure that all members of the team understand what is expected of them.

Speak to vendors, suppliers, and other outside parties to confirm that they can work with the project schedule.

Create various

milestones

to measure progress and verify that the budget and schedule remain on track.

Take risk factors into consideration when allocating a timeframe to each step. Otherwise, a single setback could disrupt the entire schedule. (More on risk and the importance of planning for it below.)
Take Stock of Resources
Project resources are the elements needed to complete all deliverables. They include:
Team members with the appropriate skills and experience

Equipment that the team needs to do its work

Materials involved in creating the deliverables (e.g., concrete, plaster, insulation, etc.)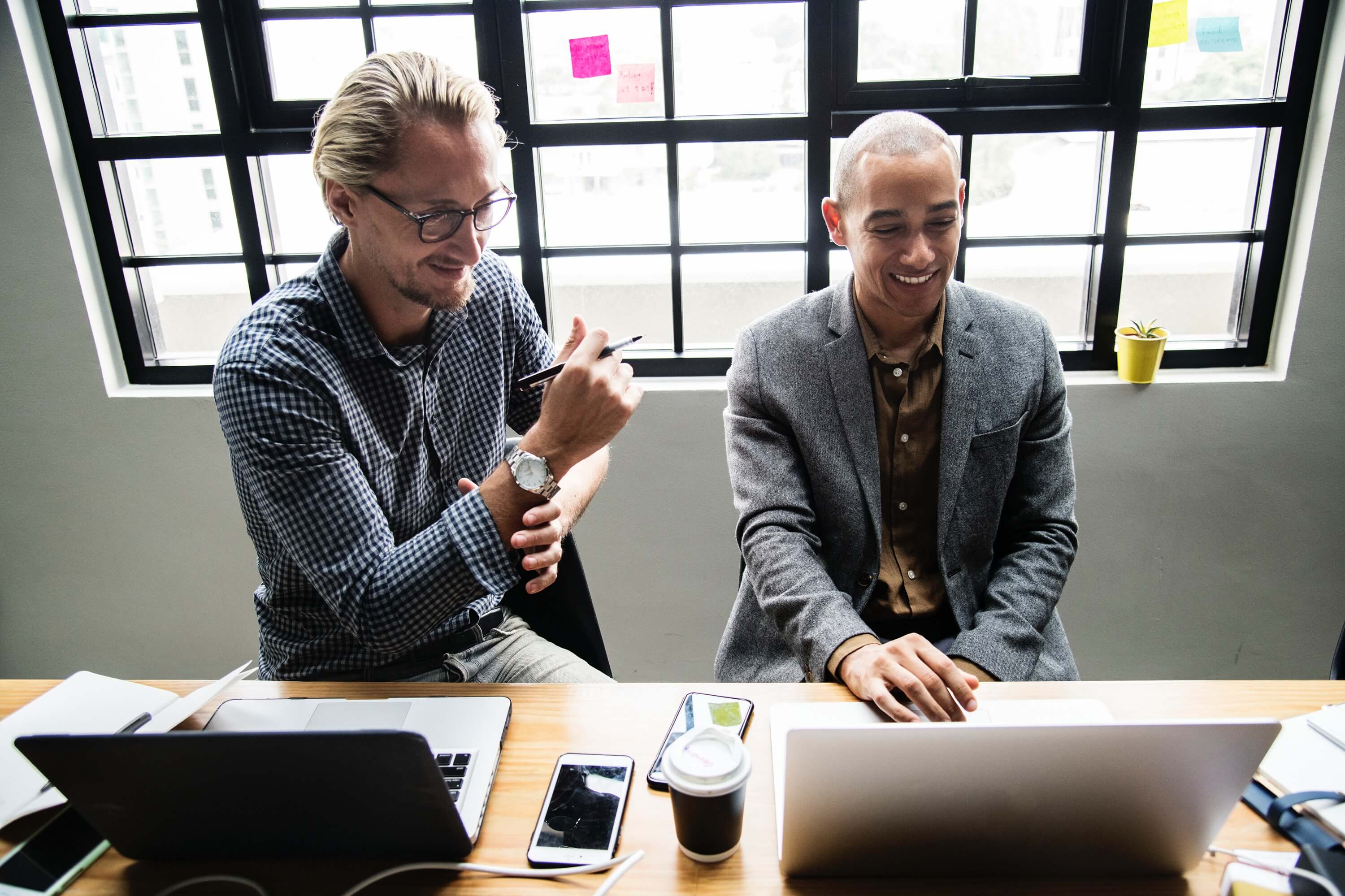 Planning so that you have them when and where you need them is another important factor in staying on schedule and within budget. For example, If the limestone you need for the exterior of the commercial building is on back order and the supplier is unsure exactly when it will come in, don't take any chances. Review alternative materials with the client.
Plan for Project Risks
A project risk is any occurrence that:
Is not part of the scope AND

Has an impact on the schedule, budget, or outcome.
An example in a construction context might be your concrete supplier miscalculating and quoting the wrong price for material needed to pour the foundation. When they run the numbers again, your cost suddenly goes up by hundreds of dollars. All it takes is a few incidents like this one and suddenly your project is substantially over budget.
With project planning, the secret is to be proactive, not reactive. Instead of dealing with problems as they arise (which guarantees that your project will be over budget and overdue), you should plan for risk so that the project has the best chance of maintaining its trajectory and finishing both on time and on budget.
Prepare for these uncertainties by talking to your team and colleagues to identify common risks associated with this type of project and developing a plan to deal with them. While it may not be possible to prevent them from happening at all, proper planning enables you to minimize the negative effects if they do occur.
Invest in Project Planning Software
Many project planners do their work using a Google doc or Excel spreadsheet. While this approach makes it easier to organize information, you still have to enter everything by hand and getting a convenient project overview is practically impossible. The right project planning software will not only deliver project status at a glance: it will also manage the more routine tasks for you so that you can concentrate on the areas that require your expertise or immediate attention.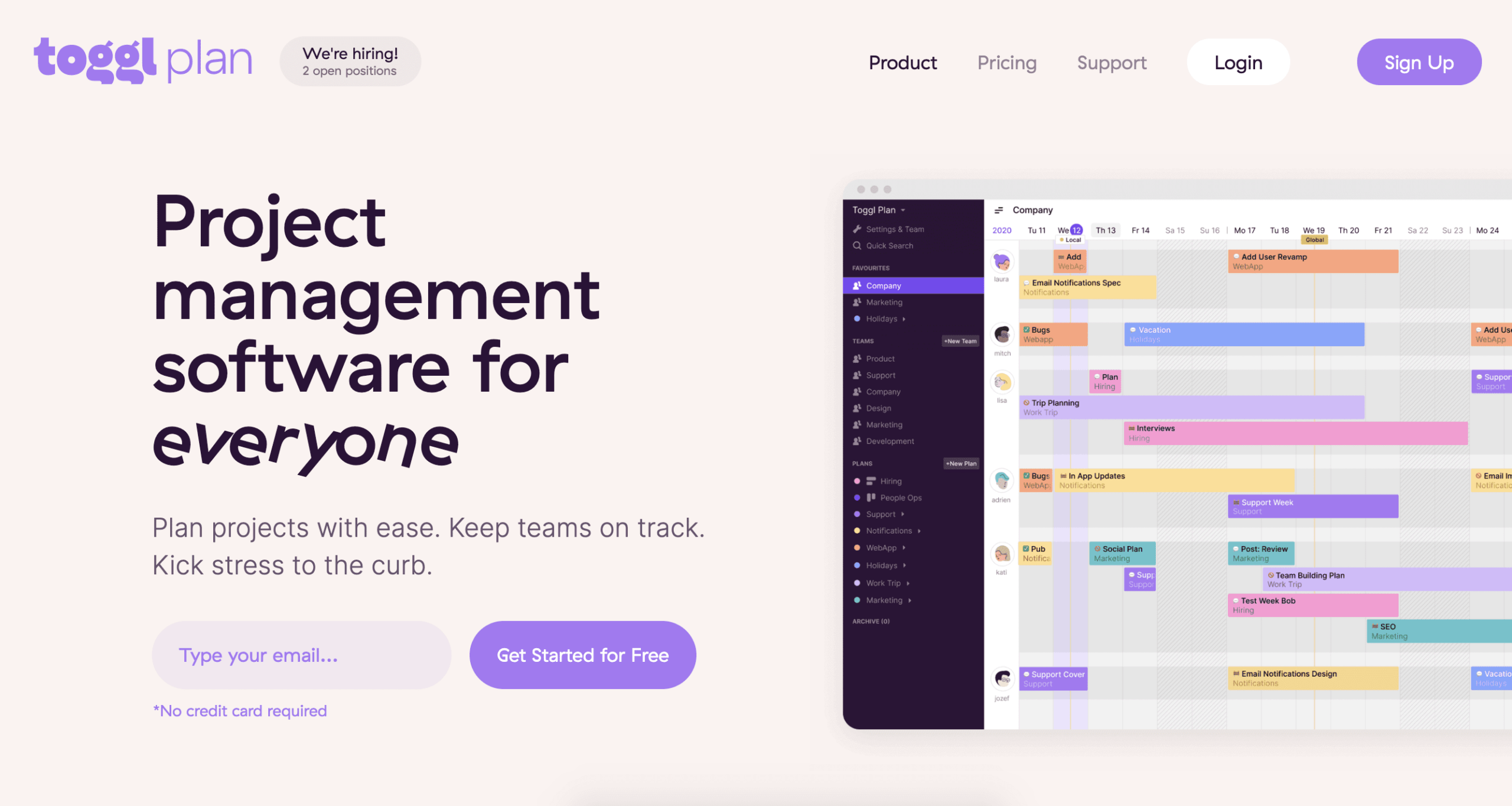 A tool like Toggl Plan, for example, uses brightly colored Gantt chart layouts that make it easy to monitor progress and keep track of milestones that require collaboration with different team members. You can also store all project documents and deliverables in one place, preventing important assets from being lost in the dreaded 'email void'.
Other benefits include:
Toggl Plan's 'drag and drop' functionality allows you and the team to react to change quickly.

The calendar view gives project planners and managers an overview of what the entire team is up to. If one member appears to be coping with a huge workflow, you can assign some of their tasks to another person by dragging and dropping as needed.

Toggl Plan integrates well with other project management apps, such as Trello and Asana, so team members who are more familiar with these tools will have less of a learning curve to contend with.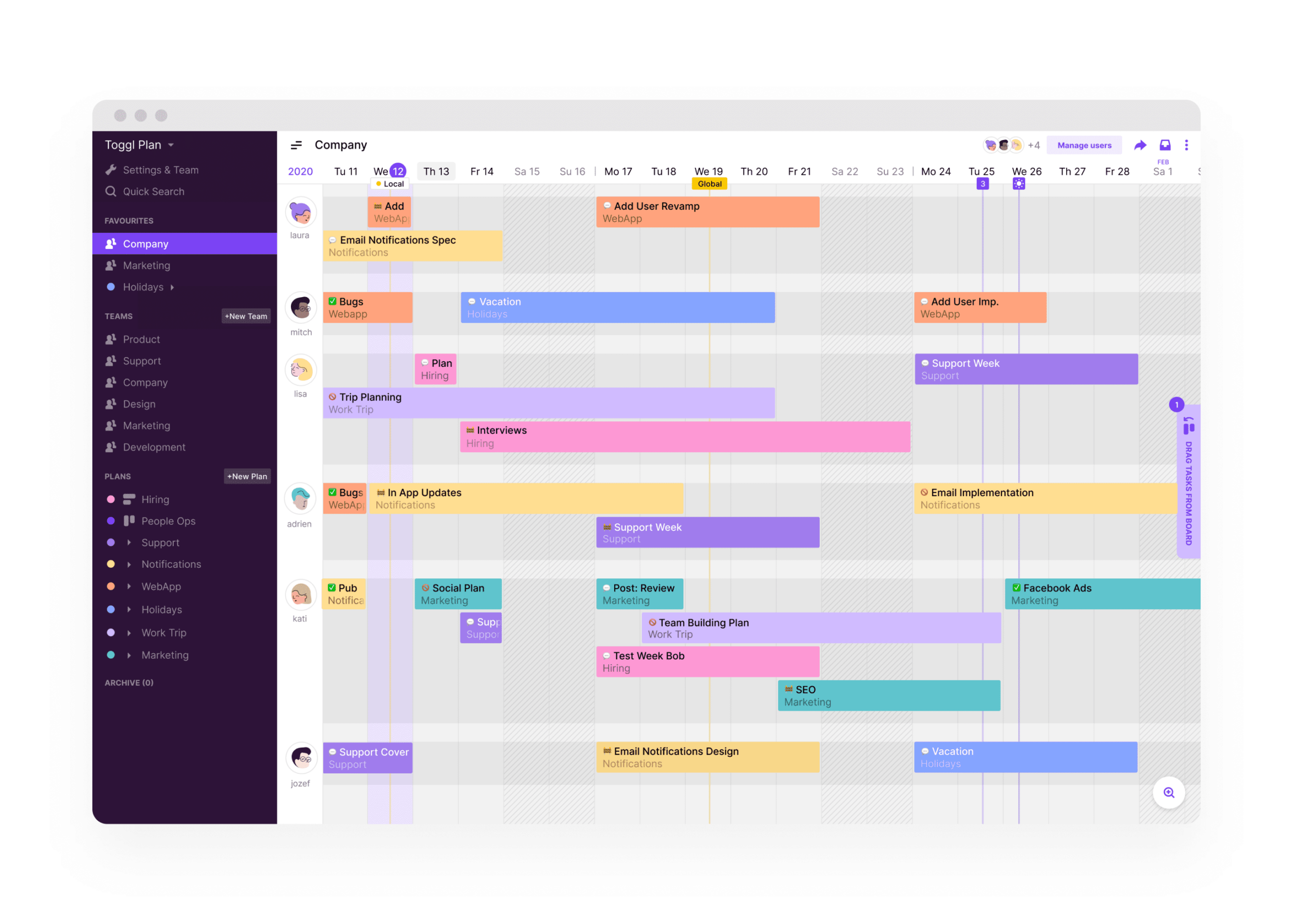 Toggl Plan is powerful but so easy to use that you'll be a master at it in no time!
So, How Did It Go?
When your project concludes, it's time to carry out a critical review of the project plan. What stages went well and which ones fell short of your expectations? Document the strategies that worked and take a critical look at the ones that didn't. The information you collect will be invaluable when you plan your next project.
Rose Keefe is an author and technical writer who has over ten years' experience in supporting project managers in the manufacturing and construction sectors. One of her primary responsibilities was developing product manuals that supported efficient use of industrial equipment. She continues to write on the subject of time management and commercial productivity for trade websites and publications.