Research shows that people tend to absorb information better if they have visuals. Even if you don't see yourself as a "visual" learner it's still helpful to have visual reminders. When you create a timeline, you're responsible for making sure everyone knows what's going on. What better way to do that with a visual timeline? With that in mind, here are the 5 reasons you need to create a timeline visualization for your next big project.
How to Create a Timeline Using Toggl Plan
Let's talk about the best timeline visualization software around, Toggl Plan. Toggl Plan's software makes it easy to create a timeline. But, just creating a timeline isn't enough. It has to be clear, concise, and easy to adjust. No problem! Use the quick-click, drag-and-drop style functions in Toggl Plan. It makes it easy to not only create a timeline, but to edit it as well. Toggl Plan offers a large variety of features that'll make you a professional at creating timelines and schedules.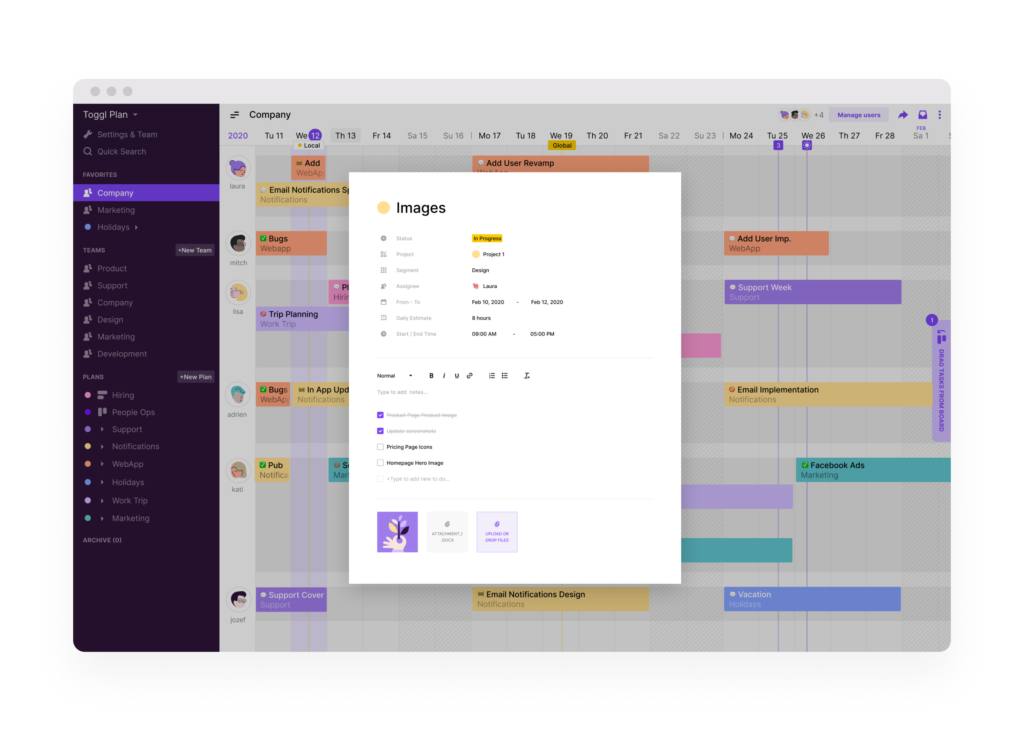 Who's doing what?
Before anyone on your team starts working, they should probably have an idea of what they're going to be doing. Even if they do know what they're doing, it's not uncommon for someone to get sidetracked quickly. With a visual timeline, you can assign a team member to a specific task, and display it for everyone to see. Nobody will get confused about what they're supposed to do, and they will always have that visual reminder of their important task.
Toggl Plan allows you to have up to 5 team members for free. You can add them at any time. It's as easy as a click and an entered email. You'll have their names displayed on the left side of the screen with the timeline front and center, ready to have tons of projects all over it. You'll have everyone's name clearly displayed with a detailed analysis of their specific task right next to it.
[bctt tweet="Who's doing what? Before starting any project, you should have a #plan so everyone knows what to do." username="toggl plan"]
Deadlines, dates, and times
We all get a little distracted sometimes, but when deadlines are front and center, it's harder to get sidetracked. When you create a timeline with visual aspects for everyone to see, you have a constant reminder of those upcoming dates. You'll never be guessing whether a project is due Thursday or Friday or whether it was 6 am or 6 pm. You can simply reference your timeline, and be reassured.
With Toggl Plan, you'll always have those dates and times posted at the very top of your timeline so that you never overlook them. You'll be able to look weeks ahead so that you can get a clear understanding of future deadlines. You can even zoom out to see a quarterly or annual view.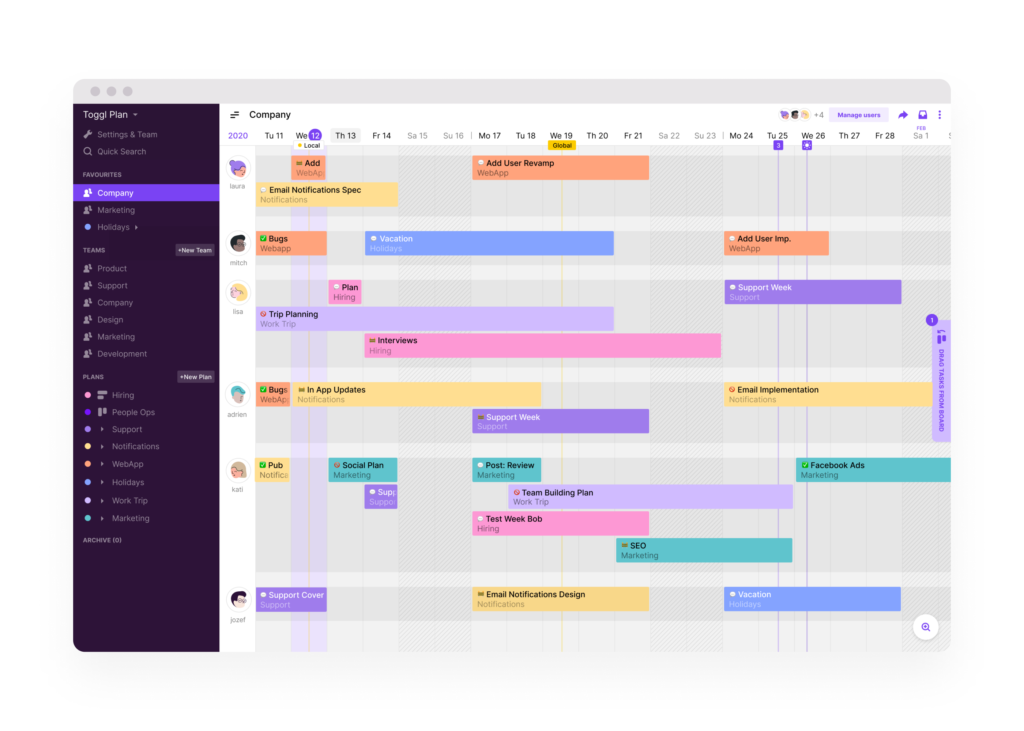 Duration
Visualization is the key element to a timeline. Having a horizontal bar that represents the passing days can really put time into perspective. Watching that bar slowly get smaller as the days go by let you know that the deadline is approaching, and you can adjust your workflow accordingly.
Toggl Plan uses a simple Gantt chart that allows you to simply click next to the team member assigned to the task and drag to the desired date. It's quick and easy!
Corresponding resources
Each aspect of the project will have different resources. Don't get them mixed around. Use your visual timeline to not only assign team members, but resources as well. It's a great way to display information about the project for everyone's reference, but especially for the busy bees working on that piece of the puzzle.
Once you create your timeline and add dates, you can add notes to the detailed interface. Just in case plans change, as they often do, you can go back and edit anything you want, as many times as you want, whenever you want. Toggl Plan makes it easy!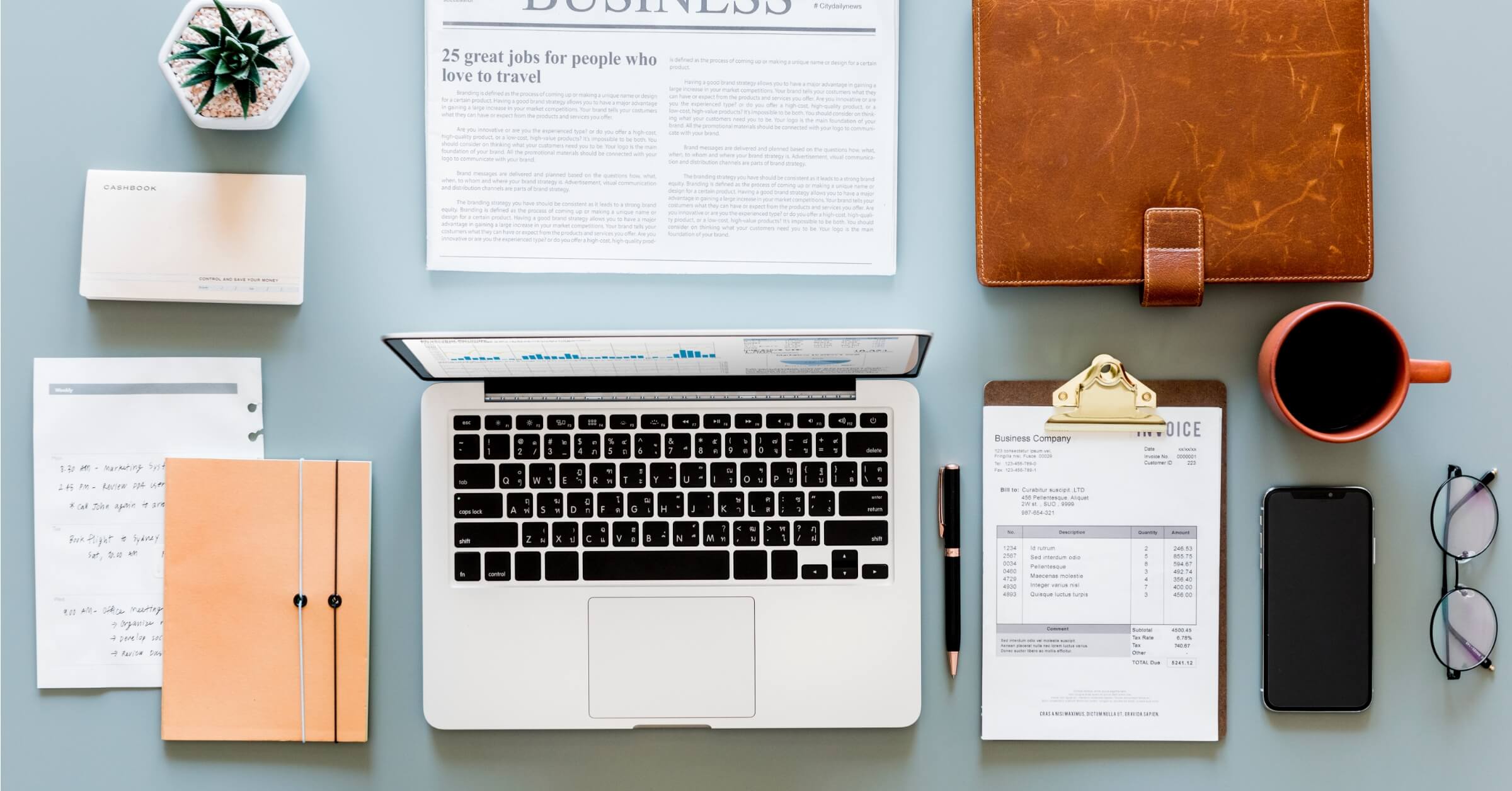 Organization
They say that a messy workspace is a sign of an intellectual. I don't know how true that is, but they said nothing about a messy timeline. It is vital to have a clear and understandable timeline. You should make it a priority to organize your timeline in such a way that nobody ever gets confused. Visual timelines allow you to do that. It's a combination of all of the features listed above and your own attention to detail. There are a couple of ways to go about this:
Toggl Plan uses custom colors to help better differentiate between each task. You can use your company's brand colors to highlight tasks in different categories or use different colors to symbolize the urgency of a deadline.
There are a few ways to do this, but using past projects and tasks as a reference is the best way to accurately estimate time. Estimate your timing as accurately as possible so that you meet your deadlines.
It may seem redundant, but having proper names and titles on everything ensures that no one gets confused. Make the labels clear and visible for everyone to see.
[bctt tweet="Who's doing what? Before starting any project, you should have a #plan so everyone knows what to do." username="toggl plan"]
Toggl Plan offers all of these features and much more, which is why Toggl Plan is the ultimate tool for all project managers. Create a timeline using the best of the best. With Toggl Plan, you get the best of both worlds: cost-effectiveness, and killer software.
There you have it, the 5 reasons you should create a timeline that caters to visualization. The most important feature that a visual timeline has to offer is given away in its name. The visual aspect of a timeline is a huge reminder that "Hey, you've got work coming up." It lets you know that there's a deadline this week without someone nagging you to get it done. You'll be able to not only see what you're supposed to be doing, but collaborate with everyone else to make sure that the entire project is done on time. You'll be able to get all the assignments handed out, dates archived, and resources planned up front. That in itself is worth its weight in gold. Make your job, as well as your team's job easier and create a timeline visualization for your next big project.
Like many other people, Zach McDaniel gained his knowledge of management and project management through research and necessity. He believes that the most interesting thing about project management, management, and productivity is that there are so many different strategies, so there's always something new to learn and share.