One of my favorite things about Toggl Plan is how flexible it is. It feels like every time I speak to a user, I learn a new way to use the software.
To name just a few, recently I've spoken to people who:
Use timelines to measure the availability & capacity of each machine in their factory
Run a construction schedule, so workers know where to be, when, and what needs doing
Share timelines with web design clients so they know how projects are progressing without having to ask
Are big-picture planning & scheduling for a PhD
So, even if they differ a lot, we all have those regular things that brings us to our Toggl Plan workspaces each day. And often it'll be the same couple of things you originally signed up for. Which makes sense, of course.
But if you're a long-time user reading this, I'd encourage you to take a minute and explore Toggl Plan again. Are there any other features that you aren't yet using that you could get value from? Anything that'll improve your working day?
This was all a long-winded way of me getting around to introducing this blog post. I've picked my top 5 underutilized Toggl Plan features. And then included more, because I couldn't narrow it to 5…
Let's jump in!
Feature #1: Quick search
Quickly jump to any Task, Team, Plan, or User from anywhere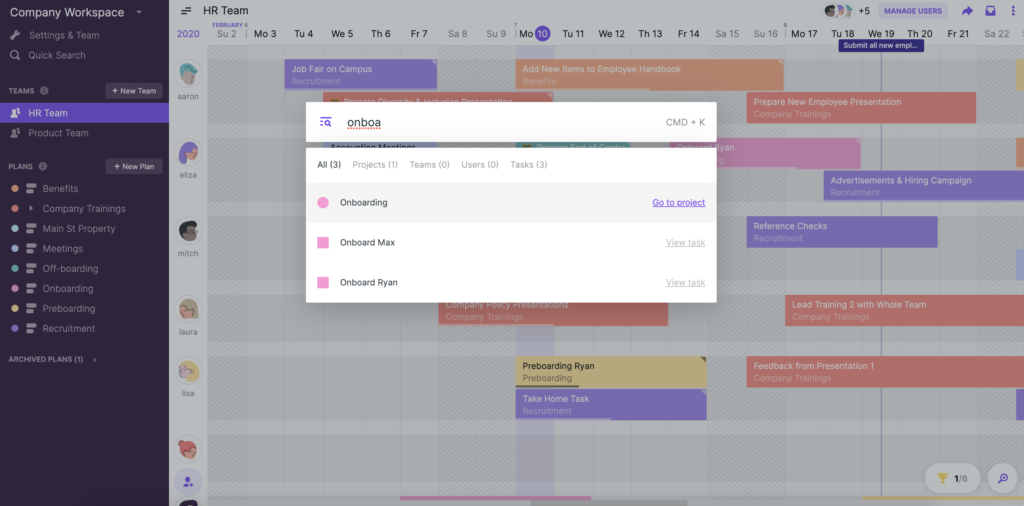 Quick search is so useful, but even I sometimes forget it's there. It can simply act as a speedy way to jump from one task to another, even if it's in another Plan (or not in a Plan at all).
Or, if your workspace has lots of plans & you're anything like me, you might forget where a task is! As long as you can remember the task title, or at least a keyword or phrase, you can find it in a couple of seconds, rather than surfing through your workspace searching manually. 
And best of all, you can do it without a single click. Hit ctrl+k or cmd+k to bring up the search box, and start typing.
Available for free & premium users
Feature #2: Data import
Bulk-import tasks to your Toggl Plan board in just a few clicks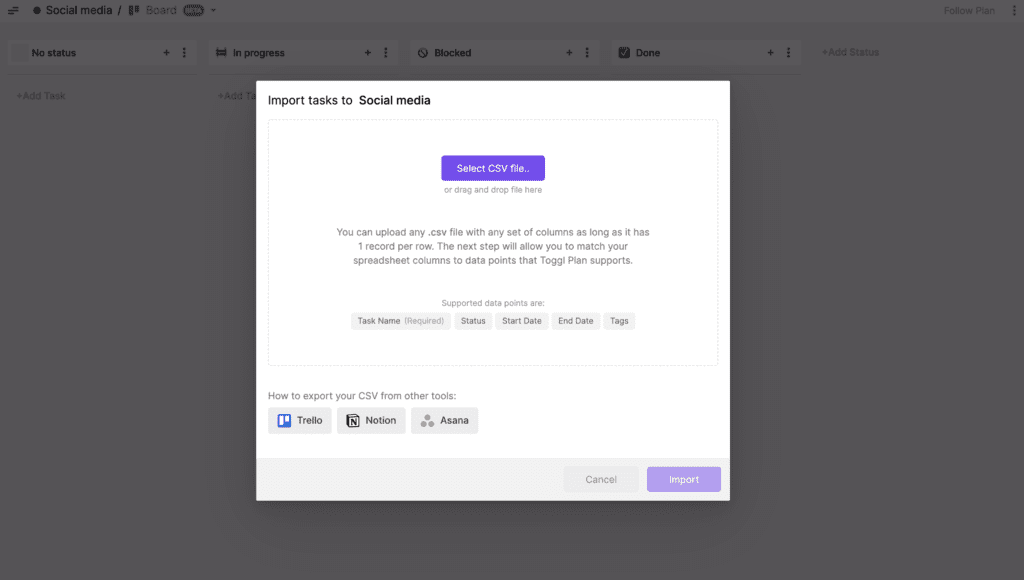 The .csv import is perfect for people who might be:
Migrating over to Toggl Plan from another tool such as Trello or Asana
Using multiple tools at once
Starting a new project in an existing workspace, with relevant data in a spreadsheet
As well as importing the task title, you'll be able to map other data points such as the status, due date, and tags.
To find data import, head over to Plan view. You can either open the 'more actions' menu (top-right corner, 3 dots) and choose 'CSV import), or if it's a brand new Plan, you'll see the option right away in the center of your screen too. Learn more & download a free data import template here.
Available for free & premium users
Feature #3: Vacation tracking
Create a visual vacation tracking system in Toggl Plan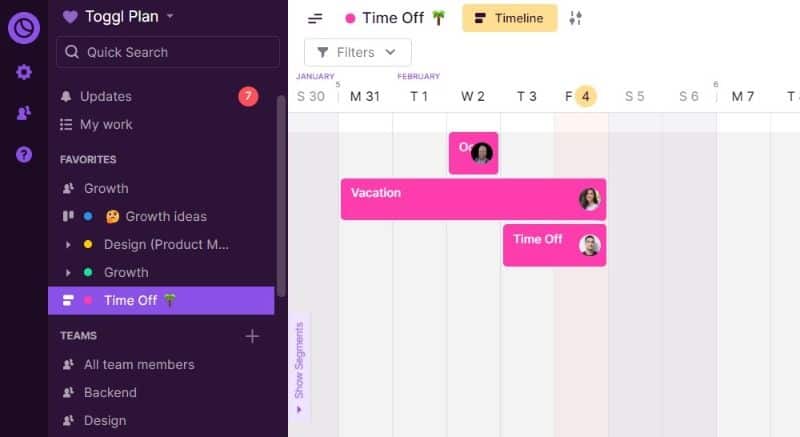 Okay okay, so maybe 'feature' isn't the right word for this one, but I had to include it. Our team finds it super useful to track time off on our timelines. We simply created a new Plan called 'time off', made it bright pink, and added all of our public holidays & annual leave. That way it's really easy to see in advance who's off & when.
Read more: using a shared calendar for vacation planning
Available for free & premium users
Feature #4: Browser Extension
A way to add tasks to Toggl Plan from anywhere on the web.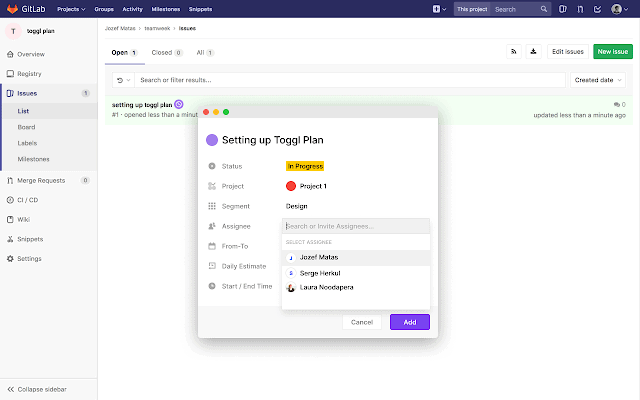 Downloading the Toggl Plan browser extension will help you to add new tasks from wherever you are on the web.
With it installed, you can highlight any text, right click, and hit 'add to Toggl Plan' to create a new task. As usual, you'll be able to select a Plan, assignee, due date etc., – and when you head back to your workspace later, it'll be right there.
Personally for me, the most common use case here for me is adding tasks from Gmail. If I receive an email that requires action, i'll use the extension to add it to my timeline so that nothing slips through the cracks later.
Download the extension for free here: Chrome | Mozilla.
Available for free & premium users
Feature #5: Marking Tasks As Done
Change task status to 'done' to get a visual overview of progress.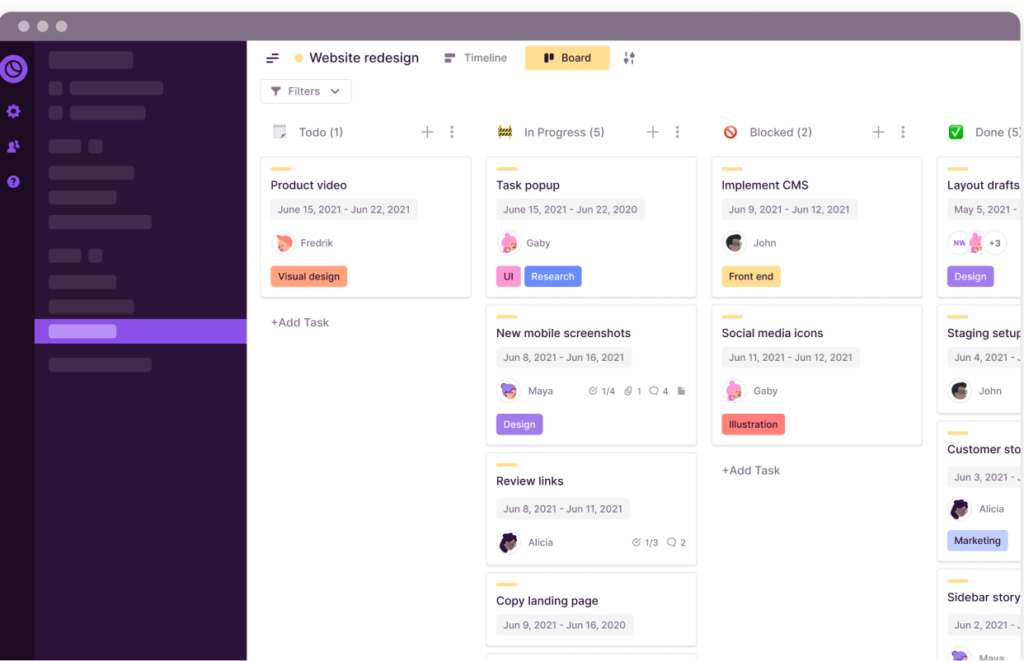 I can hardly believe that such a useful feature can be called 'underutilized', but here we are. If you're not currently using task statuses & marking jobs as 'done' after completion, I urge you to get into the habit.
Not only will you experience the satisfaction of watching your to-dos fade away, but it also makes it crystal clear for you, and for any stakeholders to see what's been done & what's still in the works.
If you're not doing this yet, try giving it a go!
Available for free & premium users
Honourable Mentions
Was I ever really going to narrow this down to just 5 choices? Probably not. Did I try my best to do that? Not really. Here are 6 more features that don't get used as often as they could.
Feature: Favorites
Organize your sidebar by 'favoriting' Teams & Plans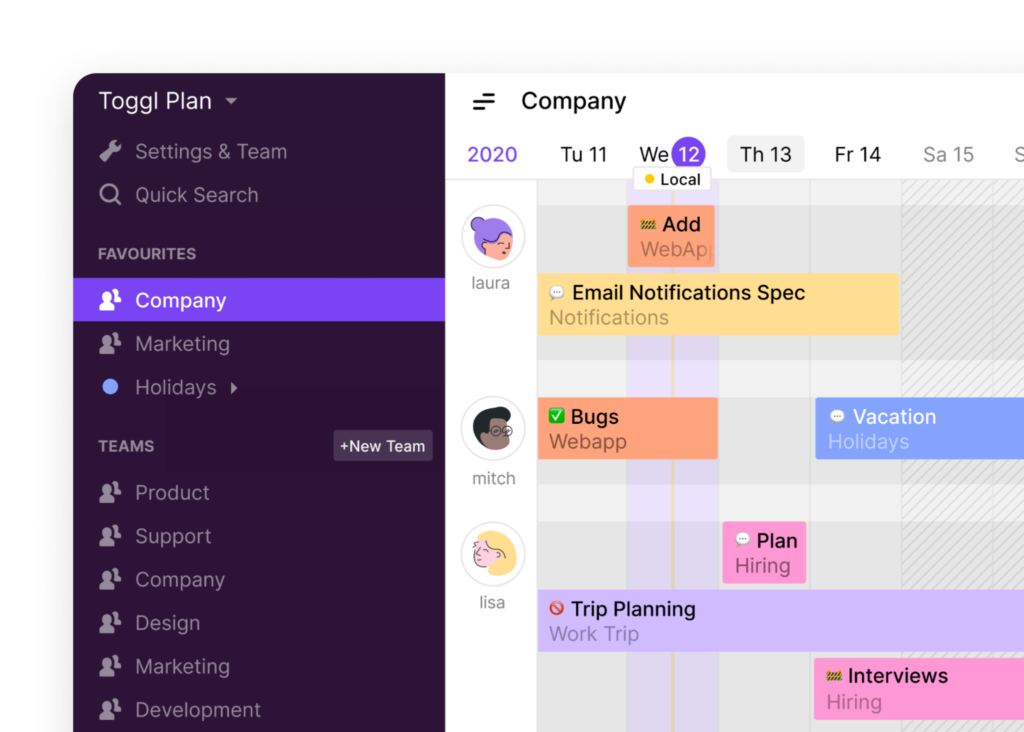 Which are the Teams and Plans that you visit most frequently? Save yourself a few seconds scrolling & finding it every time in your sidebar by hitting 'favorite'. A tiny change to your workspace, but all that time adds up over the course of the month.
Available for premium users
Feature: Taskbox
A place to store ideas & tasks that don't fit into your current plans.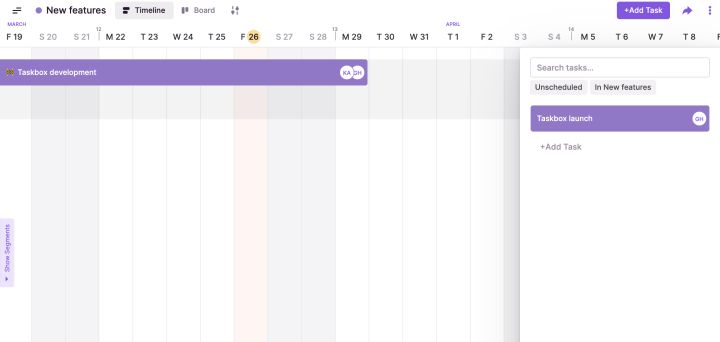 The Taskbox is a drawer that you can use to store tasks that don't have a place on your current timelines & boards. Perhaps you have an idea that you don't want to forget. Or you have a blocked task that doesn't have a clear reschedule date just yet, but you don't want it cluttering up your plans in the meantime.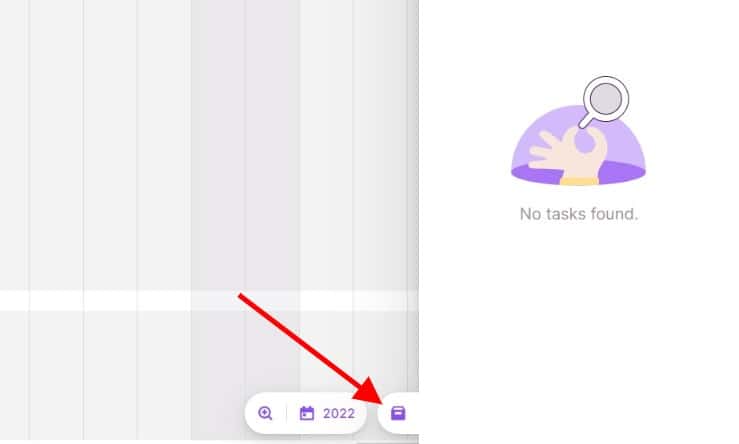 To use the Taskbox look for the box icon near the top right corner. Drag tasks in & out at any time, or create new ones directly in the Taskbox.
Available for free & premium users
Feature: Dark mode
Switch your user interface from light to dark.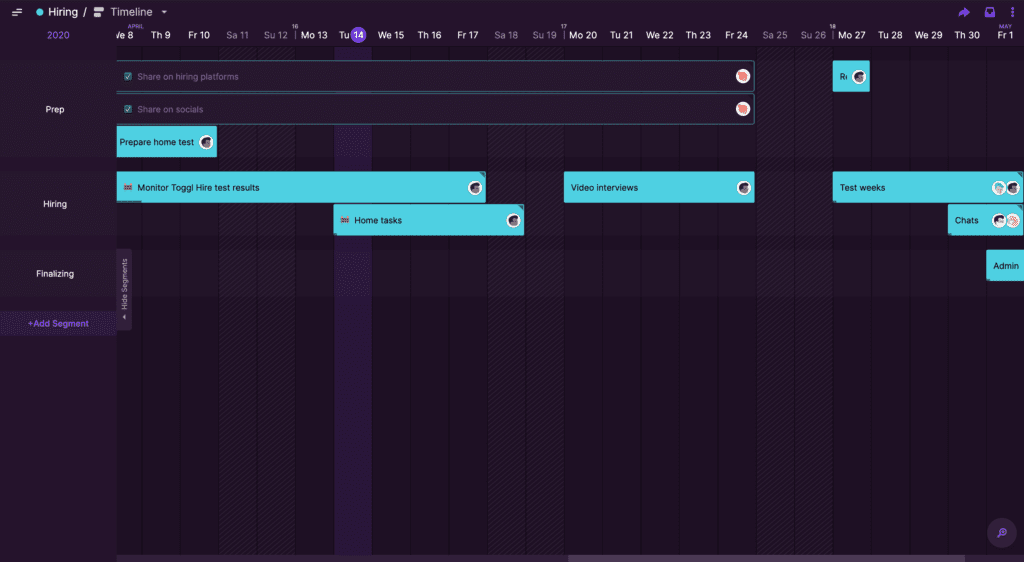 If you're working late, or in any kind of low-light environment, you might appreciate dark mode. Well, even if you aren't you still might appreciate it (because it's beautiful). Anyway, give it a try. You'll even save a little screen energy consumption compared to a bright white background.
Use the keyboard shortcut 'D' to toggle dark mode on/off, or find it by heading to 'Settings' and looking under the 'Experimental' subheading.
Available for free & premium users
Feature: Other keyboard shortcuts
Speed up your planning, and save yourself from some clicking with keyboard shortcuts.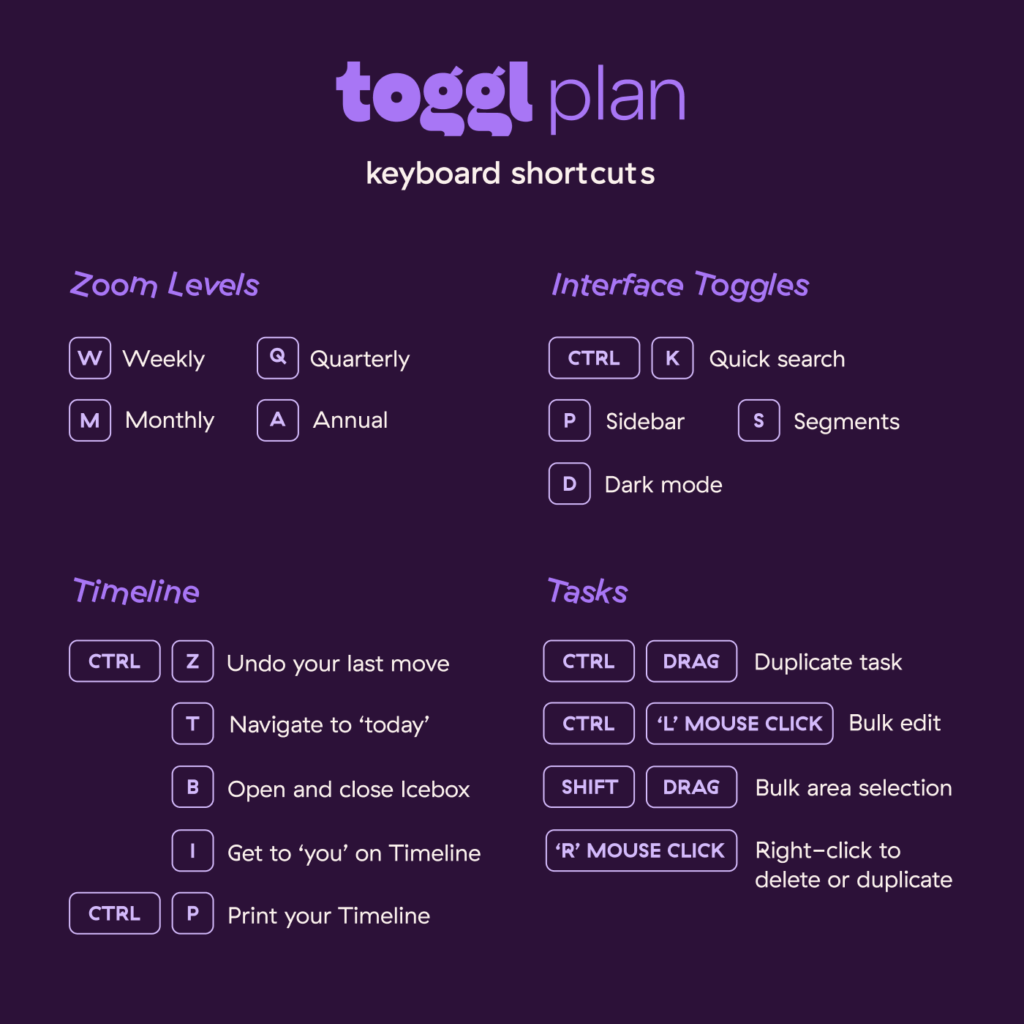 D for dark mode isn't the only cool shortcut that Toggl Plan has. How many of these are you using? Saving on clicks can feel super satisfying! You'll get through your planning faster, and if you spend a lot of time using a mouse, it can even help to reduce the risk of RSI (repetitive strain injury) in your hands/forearms.
My personal favorites are W, M, Q & A for zoom levels, plus T for today. Which do you use?
Available for free & premium users
Feature: Multi-assign
Save time & space on your timeline by adding multiple assignees to one task.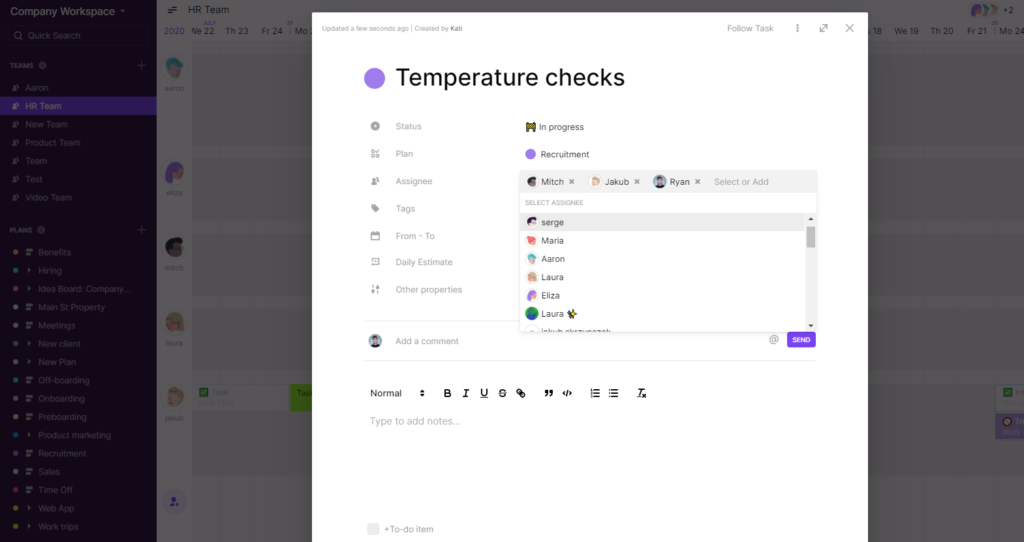 When more than one person is working on the same task simultaneously, you can reduce visual noise on your timeline by using multi-assign. Instead of having one task created for each person for the same thing, cluttering up your Plan view, create just one task and have it automatically appear on the assignees' Team timeline.
You might find this particularly useful for things like:
Adding a meeting to your timeline that concerns multiple people
Cross-department projects that require multiple people
Any other kind of joint task/project
Available for premium users
That's a wrap!
I hope you found something new that helps you do more with Toggl Plan, or save time with your planning. If you'd like to keep up with ongoing product developments, do keep an eye on our blog. We're publishing quarterly reviews documenting changes. Here's the last one.

Thanks for reading!