In talent acquisition, understanding the different types of recruiters is crucial. Whether you're considering an in-house recruiter or an external recruitment agency, each brings unique strengths to your hiring process.
As an employer, selecting the right type of recruiter can significantly impact your ability to attract top talent. In this article, we'll explore the various types of recruiters available, providing you with the insights needed to choose the most effective recruitment strategy for your business.
Let's dive in!
TL;DR – Key Takeaways
There are two main paths you can take: external or internal recruiters.
In-house recruiters have a better understanding of your company culture, recruitment process, values and goals, and you can manage them more easily. However, they have a limited network and increased workload and might be the wrong choice for recruiting for specialist roles.
External recruiters have access to a wider talent pool and often come with specialized knowledge. However, they don't have as much information about your company and they are usually pretty expensive.
There are eight main recruiter types: executive search firms, headhunters, staffing agency recruiters, contingency recruiters, technical recruiters, freelance recruiters, retained recruiters, and specialized recruiters.
In-house recruiters vs. External recruiters – how do they differ?
Before we delve into the diverse types of recruiters, let's first understand the fundamental distinction between in-house and external recruiters.
An in-house recruiter, also known as a corporate recruiter, is a full-time, salaried member of your team, typically nestled within your HR department. They're the home team, deeply embedded in your company's culture and operations.
An external recruiter, on the other hand, is a hired gun. They could be a recruitment agency or a freelance professional that you engage on a case-by-case basis, typically compensated upon the successful placement of a candidate.
In-house recruiters
As part of your internal HR team, corporate recruiters intimately understand your company's culture, management style, and operational nuances. They're in the trenches with you, making them well-positioned to identify candidates who will not only fit but enhance your company culture.
Corporate recruiters work hand-in-glove with hiring managers, identifying departmental needs and sourcing the best talent to meet those needs.
However, their reach may be limited to your company's existing network of contacts and candidates, which can sometimes make finding the perfect fit feel like running on a treadmill. Moreover, internal recruiters often juggle multiple responsibilities, from recruitment to employee engagement and HR administration.
This can stretch them thin, potentially impacting the effectiveness of your recruitment efforts. And while they're generally well-versed in HR practices, they may lack the specialized knowledge required to fill specific roles, such as a product manager or machine learning engineer.
External recruiters (e.g. recruitment agency)
External recruiters, like a well-connected staffing agency, have access to a vast pool of candidates. Their experience spans multiple clients and industries, giving them a broad perspective on recruitment strategies and a deep reservoir of talent to tap into. They will likely have specialized knowledge for roles outside your usual hiring needs.
However, hiring an external recruiter can be costly if you seek top-notch, swift results. While they're adept at finding qualified candidates, they may not fully grasp your company culture as intimately as an in-house recruiter would. This could potentially lead to a mismatch between the candidate's values and your company culture.
Additionally, external recruiters primarily focus on filling vacancies and earning their commission. This could sometimes result in a less thorough understanding of the role and the candidate's fit. Also, their services typically don't extend to providing interviewing assistance or giving you complete control over the hiring process.
Here's a quick summary of key differences between internal recruiters and agency recruiters
| In-house Recruiter | External Recruiter |
| --- | --- |
| Participate in full-cycle recruitment from sourcing to onboarding | Typically heavily focused on candidate sourcing and initial screening |
| Care about the candidate experience and employer branding | Have a more aggressive, go-getter attitude, focused on sourcing the right skills match |
| Administrative-driven mindset, like to follow and improve procedures | Possess a combination of marketing and sales skills, able to 'sell' the role to passive candidates |
| Work closely with the hiring manager to find the perfect candidate | Typically work alongside in-house recruiters to fill the vacancies as quickly as possible |
| Employed full-time and aligned with the company's talent strategy | Juggle multiple clients and types of positions |
| Hire with the focus to retain | Prioritize speed and efficiency over 'perfect fit' |
| Hire permanent staff | Often hire short-term staff for specific projects |
| Typically focused on improving vs innovating | On top of the latest trends, candidate sources and market shifts |
When should you bring a recruiter in-house, and when should you hire external talent acquisition specialists?
Now that you know the main differences between the two main types of recruiters, let's find out which one you should hire and when.
When to hire in-house recruiters
It's a lot more cost-effective to have an internal recruiter when you need to hire for many roles consistently. Also, when you want complete control and ownership of your hiring process, from writing the job descriptions to negotiating the final offer.
Last but not least, apart from just sourcing candidates, full-time corporate recruiters handle more strategic projects, such as working on the employer brand or building talent pools of qualified candidates.
When hiring internal recruiters, make sure to equip them with the right tools for the job. Your internal HR team will need more than an ATS to find candidates that elevate your organization to the next level, tackle skills gaps, and build high-performing teams.
Part of having a skills-first strategy is going beyond just hiring to ensure you're looking at the larger picture. First, you need to understand the skills that your business needs. Then understand what skills your employees have, or that they can develop, and what skills you need to hire for so that you build your talent strategies accordingly.

Jennifer Shappley, VP, Global Talent Acquisition at LinkedIn

Top tip:
👋 Boost your talent strategy with skills and competency assessments.
Adding an evidence-based candidate evaluation step can help you go from 1,000 applicants to a handful of the very best in days, not months.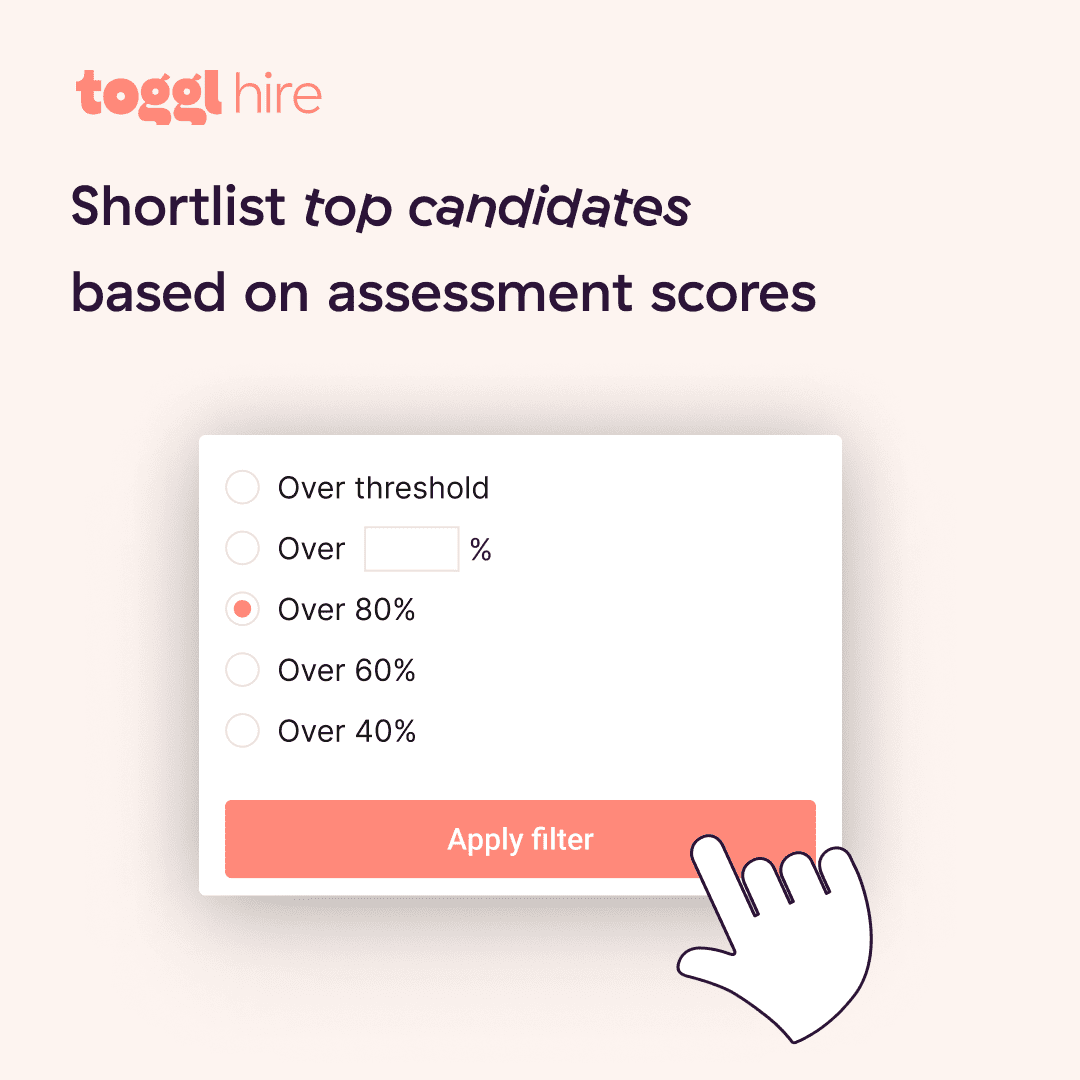 When to hire external recruiters
When you want to fill positions very quickly or when your hiring needs are very inconsistent, for instance, when you only need to hire someone a few times per year. Also, when you're looking for candidates with very specialized knowledge that an in-house team may not have.
8 Types of Recruiters Your Business May Need
Depending on your situation and the type of role you want to fill, you may need executive recruiters, recruitment agencies, a retained agency recruiter, or something entirely different.
Here are the 8 main types of recruiters you can hire.
Executive search firms
An executive search firm specializes in hiring senior executive roles in companies such as president, vice-president, CEO, or any other C-suite role.
When is it a good idea to employ an executive search firm?
Executive search firms are particularly valuable when an organization is seeking to fill a senior role that requires a unique blend of skills, experience, and leadership qualities.
They are also beneficial when a company needs to conduct a confidential search without alerting internal staff or the public. The specialized knowledge and extensive networks of potential candidates these firms possess make them well-equipped to identify and attract top executive talent, even those not actively seeking new opportunities.
Common Characteristics of executive search recruiters
Deep Industry Knowledge: Executive search recruiters possess a profound understanding of the industries they serve, which allows them to identify the specific skills and experiences required for high-level roles.
Extensive Networks: They have wide-ranging networks of potential candidates, including those who may not actively seek new opportunities but could be the perfect fit for a specific role.
Discretion and Confidentiality: Executive search recruiters are committed to maintaining a high level of discretion and confidentiality, which is particularly important when conducting a search for a senior role or a confidential replacement.
Long-term Relationship Building: They excel at building and maintaining long-term relationships with the companies they serve and the candidates they place. This allows them to understand the strategic needs of an organization and match them with candidates who can drive growth and success.
Typical work arrangement
Executive search firms typically operate on a retained basis, meaning they are paid a retainer fee upfront to conduct the talent search. This arrangement underscores the consultative and dedicated nature of their service.
Unlike contingency recruiters, who are paid only upon the successful placement of a candidate, retained firms are compensated for the process, time, and expertise they invest in the search, regardless of the outcome. This makes the due diligence process of choosing the right executive recruiters that much more important!
How much do they cost?
The cost of engaging an executive search firm is typically a percentage of the successful candidate's first-year total compensation, including base salary, bonuses, and other financial benefits.
This fee usually ranges from 20% to 35%, with the percentage potentially increasing for more senior or complex roles.
Headhunters
A headhunter in the corporate world is akin to a skilled bounty hunter. This is a recruitment professional you engage, typically as a contractor, to hunt down the perfect candidate for a specific role, doing so with speed, precision, and a keen eye for talent.
When is it a good idea to employ headhunters?
Consider engaging a headhunter when your recruitment efforts feel like searching for a needle in a haystack.
If you're struggling to find highly qualified candidates or need someone with a deep pool of specialized, highly motivated talent – say, a headhunter focusing on technical recruitment – they can be your secret weapon.
Headhunters also excel at unearthing passive candidates, those high-performers who aren't actively job hunting but could be persuaded by the right opportunity.
Common characteristics of headhunters
Master Communicators: Headhunters are gifted communicators, able to sell the opportunity to candidates and represent your company in the best light.
Industry Insiders: They possess deep industry knowledge, understanding the nuances of their roles and the landscape of potential talent.
Bold Poachers: Unafraid to venture into the lion's den, headhunters will reach out to competitor companies to poach top performers.
Network Navigators: They maintain an extensive network of candidates, keeping in touch and knowing who might be ripe for a new opportunity.
Prepared Professionals: Headhunters do their homework. They understand the role and the candidate and enter each conversation fully prepared.
Typical work arrangements
Headhunters are typically engaged as contractors and paid upon the successful placement of a candidate. They are your "on-call" talent scouts, ready to leap into action when an urgent vacancy arises.
How much do they cost?
The cost of a headhunter's services usually falls between 20-30% of the annual salary for the role they're filling.
Staffing agency recruiters
Think of a staffing agency as your company's external HR SWAT team. These agencies serve as a bridge between job seekers and employers, ready to deploy reinforcements when you need to fill positions swiftly.
When is it a good idea to employ staffing agency recruiters?
Consider engaging a staffing agency when hiring for entry to mid-level positions or when you need part-time or temporary employees. They're also your go-to resource when you need to scale up quickly for a project or seasonal demand.
Common characteristics of staffing agencies and agency recruiters
Talent Reservoir: Staffing agencies maintain a dynamic, ever-expanding pool of candidates actively seeking new opportunities.
Skills Sleuths: Staffing agency recruiters frequently use skills tests to quickly match the right person with the right job, ensuring a good fit based on abilities.
Speedy Strategists: Agency recruiters prioritize filling open positions quickly, often focusing on finding a good-enough fit who can hit the ground running.
Typical work arrangements
They work on either a flat fee, retainer or one-off basis, helping to fill urgent openings.
How much do they cost?
The cost of a staffing agency's services typically ranges from 25% to 100% of the hired employee's annual salary. This wide range in staffing company's costs reflects the variability in services offered, from temporary placements to permanent hires.
Contingency recruiters
These types of recruiters are contingent on whether they successfully find a new hire for your team. In other words, they only see a payday when they make a successful hire.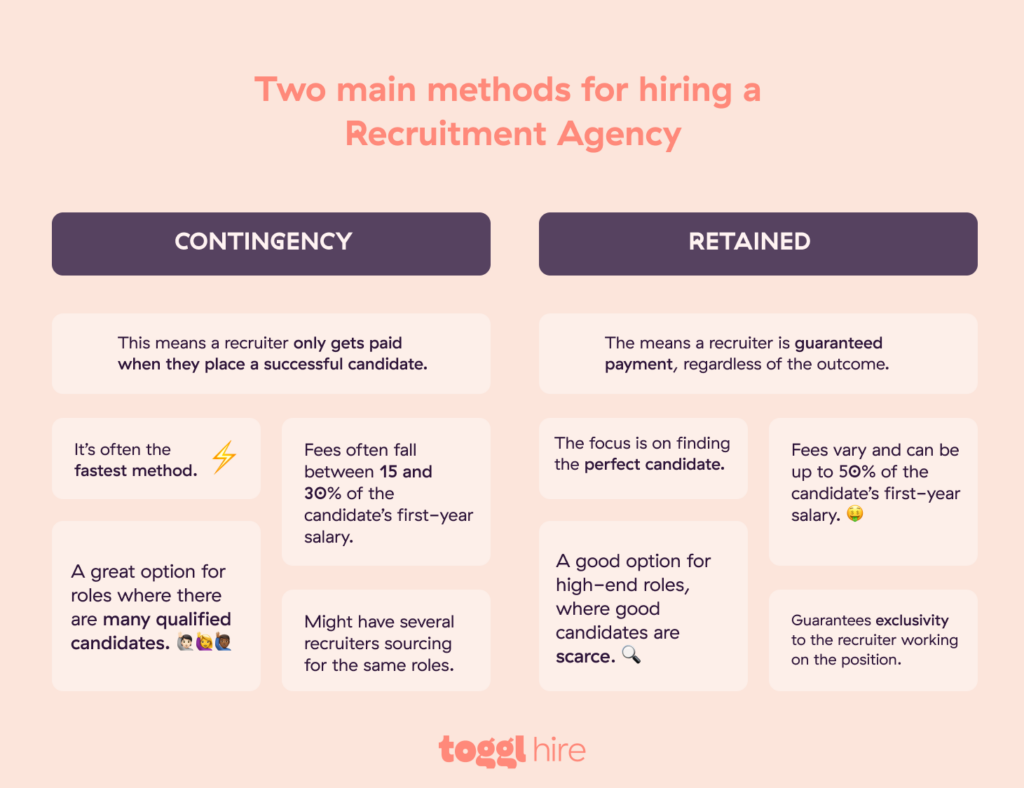 When is it a good idea to employ contingency recruiters?
Consider the contingency recruitment model when you prefer a "pay for performance" approach. It's an attractive option when you're budget-conscious and prefer to pay for tangible results from the recruitment process rather than committing to ongoing retainer fees for an untested recruitment agency.
Common characteristics of contingency recruiters
Talent Trappers: Contingency recruiters maintain a broad network of candidates, casting a wide net to catch the right talent for your role.
Efficiency Experts: With their compensation on the line, contingency recruiters operate with high efficiency. They're motivated to fill your vacancy swiftly and effectively.
Typical work arrangements
This type of recruiter operates on a "no win, no fee" basis. They only get paid when they successfully fill a position, making them a risk-free option for your recruitment needs.
How much do they cost?
The cost typically ranges from 10% to 30% of the hired candidate's first-year salary. This fee structure aligns the recruiter's interests with the client company, ensuring they're motivated to find the right candidate for the role as fast as possible.
Technical recruiters
Technical recruiters are the seasoned guides you need when venturing into the complex terrain of tech talent acquisition. They specialize in hiring for technical roles, such as software development, data science, or hardware engineering, and possess a depth of knowledge that sets them apart from generalist recruiters.
When is it a good idea to employ technical recruiters?
Consider bringing a technical recruiter on board when your in-house hiring managers are grappling with the challenge of filling specialized technical roles. They're also your go-to resource when you don't have an in-house recruitment team but need to fill a technical role swiftly and accurately.
Common characteristics of technical recruiters
Tech Talent Whisperers: Technical recruiters have specialist knowledge in recruiting within technical areas, typically within the IT sector.
Hands-On Tech Experience: Many technical recruiters have hands-on experience in some area of tech, such as software development. This means they speak the language and understand the nuances of the roles they're filling.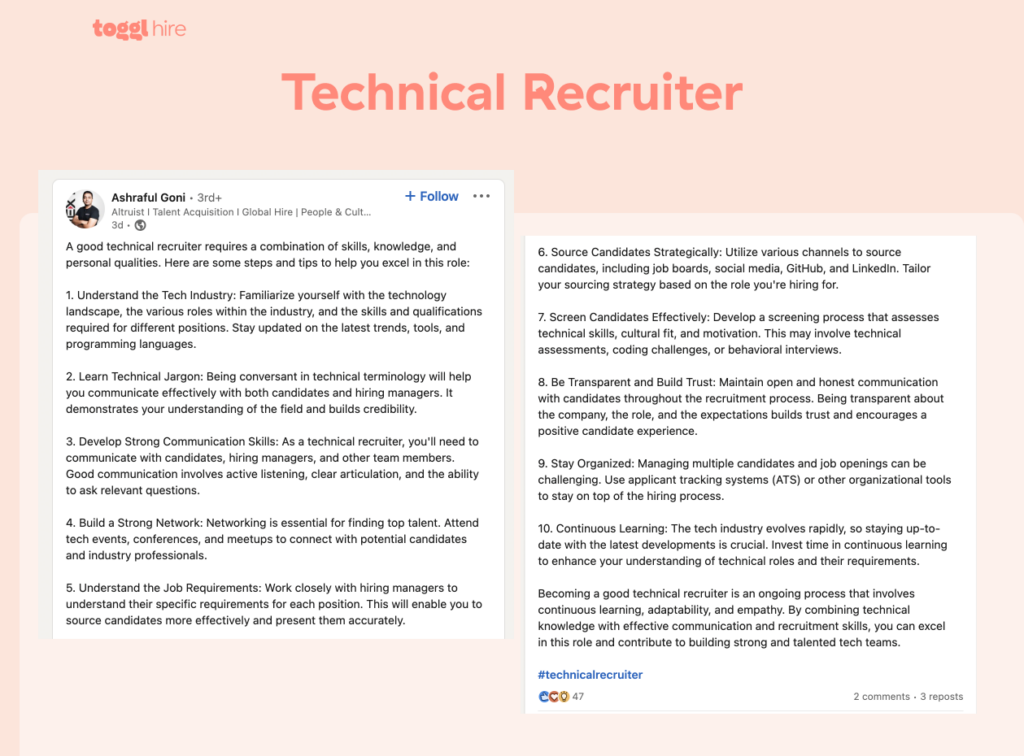 Typical work arrangements
Technical recruiters can operate on a retainer basis, providing ongoing recruitment services for a set fee. Alternatively, they can work on a one-off basis, getting paid a percentage for filling a specific role.
How much do they cost?
Technical recruiters typically charge 15% to 25% of the hired candidate's first-year salary for one-off engagements.
Freelance recruiters
Freelance recruiters are the agile, adaptable generalists of the recruitment world. Unlike recruiters tied to an agency or company, they operate as independent contractors, offering their expertise on a temporary basis to companies in need.
When is it a good idea to employ freelance recruiters
Consider bringing a freelance recruiter on board when you have an existing HR team but want to amplify your recruitment results. A freelance recruiter can serve as a consultant, identifying areas for improvement and strategizing ways to fill positions more efficiently and effectively.
Common characteristics of freelance recruiters
Industry Veterans: Freelance recruiters often have extensive experience in staffing agencies, recruitment firms, or HR teams across various industries.
Communication Maestros: They possess superb communication skills, essential for liaising between candidates and companies.
Talent Networkers: They maintain a network of candidates they've engaged with in the past, ready to tap into when the right role arises.
Multitask Masters: As independent operators, freelance recruiters are adept at wearing many hats, handling all aspects of the recruitment process.
Typical work arrangements
Freelance recruiters are typically engaged as consultants, either on a one-off basis or on a retainer. They can augment an existing HR team or manage the entire recruitment process for businesses without an in-house HR function.
How much do they cost?
Typically, anywhere between 15% and 25% of the annual salary for the roles they are trying to fill.
Retained recruiters
Retained recruiters can act as your company's external HR department. They operate on a retainer basis, receiving a monthly fixed fee for their comprehensive recruitment services.
When is it a good idea to employ retained recruiters?
Consider partnering with a retained recruiter when your company has consistent hiring needs and frequently open positions but not enough to justify a full-time, in-house recruitment team.
Common characteristics of retained recruiters
Recruitment Generalists: Retained recruiters often have broad experience in the recruitment field, enabling them to handle various roles and industries.
HR Taskmasters: They can cover a wide array of HR tasks for a client company, from crafting compelling job descriptions to orchestrating the interview process.
Team Players: Retained recruiters often operate in teams, providing you with a dedicated hiring manager along with other team members to support your recruitment needs.
Typical work arrangements
Retained recruiters are engaged for ongoing recruitment tasks, keeping them consistently involved in your hiring process. Their responsibilities span the full recruitment cycle, from identifying new openings to scheduling interviews and extending job offers.
How much do they cost?
The client company pays them 15 to 35% of the role they are trying to fill. If you're looking to fill multiple roles simultaneously, it's worth doing the math first – hiring an in-house corporate recruiter may be more cost-effective in the long run.
Specialized recruiter
A specialized recruiter is an expert in their chosen field. Whether freelance or retained, these recruiters concentrate their efforts on a specific area, be it an industry (like healthcare), a role or function (like data science), or a geographical region. Their focused approach allows them to navigate the complexities of their niche with precision, delivering highly qualified candidates that meet the unique needs of their clients.
When is it a good idea to employ specialized recruiters?
Consider calling in a specialized recruiter when faced with a hiring challenge that's left other recruiters scratching their heads. They're your go-to resource when you need to fill a niche role in a specific market, and generalist recruitment agencies just aren't cutting it.
Common characteristics of specialized recruiters
Niche Knowledge: Specialized recruiters possess a deep, nuanced understanding of their focus areas, whether that's a certain industry, role, or geographical region.
Specialist Networks: They maintain contact with a network of specialists in their focus area, ready to tap into when the right role arises.
Proven Track Record: Specialized recruiters have a history of successful placements within their area of expertise, demonstrating their ability to navigate the niche talent landscape.
Typical work arrangements
Specialized recruiters typically work on a one-off basis with a client company, focusing their efforts on filling a specific role that requires their unique expertise.
How much do they cost?
Similar to an executive recruiter, anywhere from 15 to 35% of the annual salary for the role they are hiring for in a client company.
Wrapping up
With so many types of recruiters to choose from, getting help with your recruitment process should be easy. While it may seem like having an internal recruiter is the best way that companies fill vacant positions, the reality is that the choice is much broader than that.
And if your recruiters and hiring managers need help with finding those ideal candidates, a skills test is the best way to kick off your sourcing process. Sign up for Toggl Hire today and quickly go from thousands of candidates to a handful of the very best talent.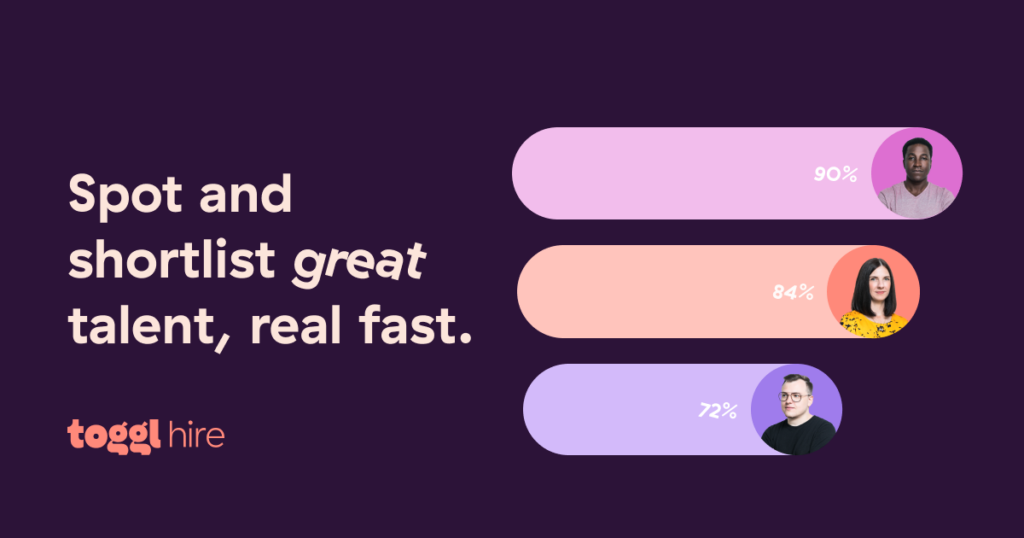 Juste loves investigating through writing. A copywriter by trade, she spent the last ten years in startups, telling stories and building marketing teams. She works at Toggl Hire and writes about how businesses can recruit really great people.