Let's face it. Finding strong job candidates is hard, especially on a tight budget. If you can't afford to use job boards and/or headhunting, it is perhaps time to look into new ways to engage candidates.
In this article, we've listed 20 creative sourcing strategies that'll help you attract more passive candidates, along with real-life examples of how other companies have done it.
Before we get into the creative sourcing strategies, there are two commonly-asked questions that we need to answer.
Question 1: Why should I bother getting passive candidates to apply? They don't want a new job anyway.
Answer: Here's the deal – About 85% of the entire workforce is passively looking for another job and they would gladly accept a change in their work environment. There are also some advantages to sourcing passive candidates. First, because they're not actively pursuing a new position, they won't be interviewing with anyone else but you. This means less competition for you.
They're also highly unlikely to lie or exaggerate on their resumes. They're content with their job (for the most part), and they're not desperate to find their next gig. And finally, you're ideally looking for someone with a specific skill set that closely matches what you're looking for. You know exactly whom you're hiring and what they currently do in their position. This means less time and resources spent on training.
Now, if we look past the fact that only 15% of the population is completely satisfied with their job, this means that there is a huge pool of excellent candidates for your next opening – you just have to know how to reach them. And reaching them brings us to the second question…
Question 2: Why should I use creative sourcing strategies? We have job boards for getting candidates.
Answer: While job boards can be a great way to get candidates, the hard truth is that they tend to be very expensive, the overall quality of candidates coming through job boards tends to be low, and – perhaps the most important fact – 85% of the workforce doesn't scan job boards. So, you need to think outside of the box to get in front of the passive quality talent.
Luckily, we're here to help.
Below are 30 creative sourcing strategies that will help you attract passive candidates. We've listed them in 5 different categories:
Career Site & Job Postings
Social Media Sourcing
Competitions & Skills Challenges
Employee Referrals
Sneaky Candidate Sourcing
Other Creative Sourcing Strategies
Career Site & Job Postings
Before you start working on getting people to your jobs ads, you should make sure that your career site and job postings are flawless and attractive to passive candidates. In short, you'll need to do three things: write a performance-based job description, show your culture, and make your company a place where people want to be.
1. Mention the company's perks and benefits on your jobs page
Are you offering a free conference visit for your employees? Or fun afterwork events on Fridays? Even if it is just something as small as free coffee and snacks in the office, mentioning it in the job opening ad or a career page will help to get attention of the passive candidates.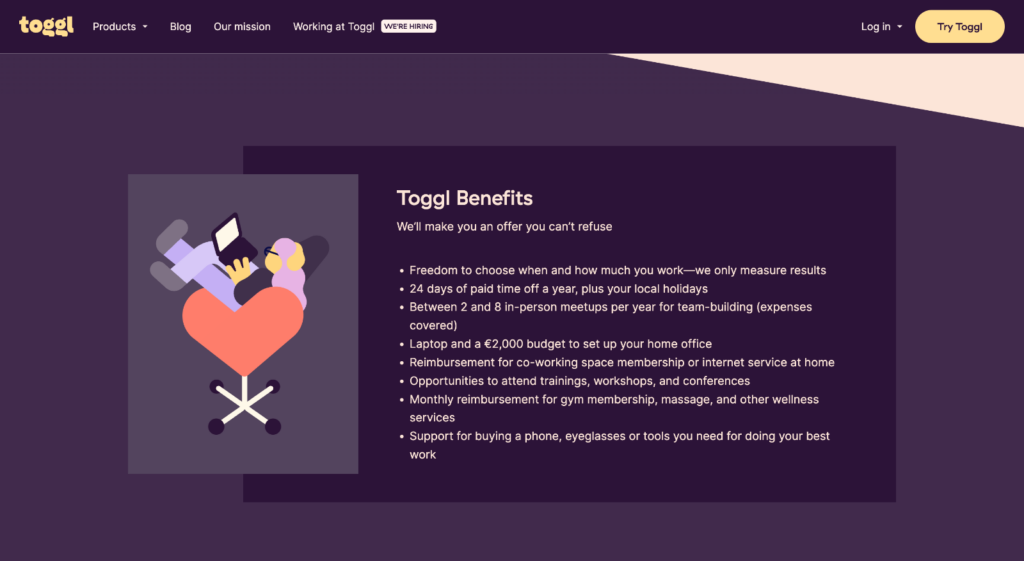 You could even showcase the culture through short videos about your team.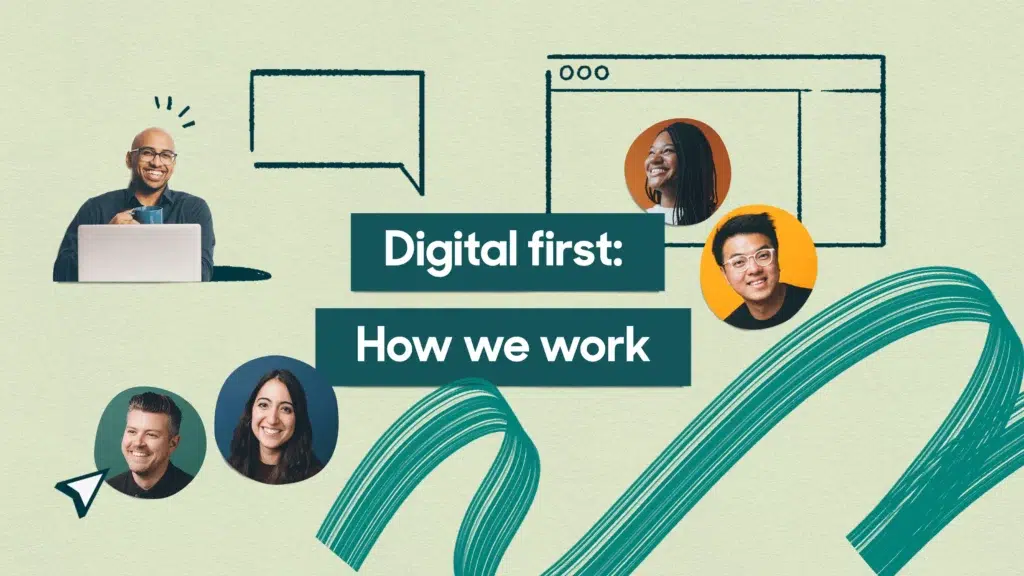 2. Write descriptive and catchy job descriptions
This might sound like a piece of basic advice, yet it is one of the most important ones on the list. A well-written job ad will increase the percentage of people who engage with it and actually apply for it. So when passive candidates come across your job postings via employee referrals, social media or local meet-up events, they'll be more likely to send you their application.
To really nail the job description, it should outline answers to the following questions:
What are the major KPIs and bottom-line results the candidate must accomplish on a regular basis?
What are the primary activities associated with completing the aforementioned KPIs?
What kind of discretion and objective judgment is required on the candidate's part while carrying out his responsibilities?
What sort of decisions will the candidate be expected to make?
Structure your statements to describe the job to an individual unfamiliar with the department or position. Use the following model to get everything right: Action Word + Subject + Specific Activities.
3. Add the salary range to your job posting
Excluding the salary from the job posting often results in getting plenty of candidates whose salary expectations may not fit with what you can offer. As a result, both parties will waste lot of time on applying for a job, reviewing the application and having interviews.
Mentioning the salary in the early stage of the recruiting process guarantees you'll get applicants whose salary expectations fit your offer, and there won't be any 'bad surprises' by the time you start signing the contract.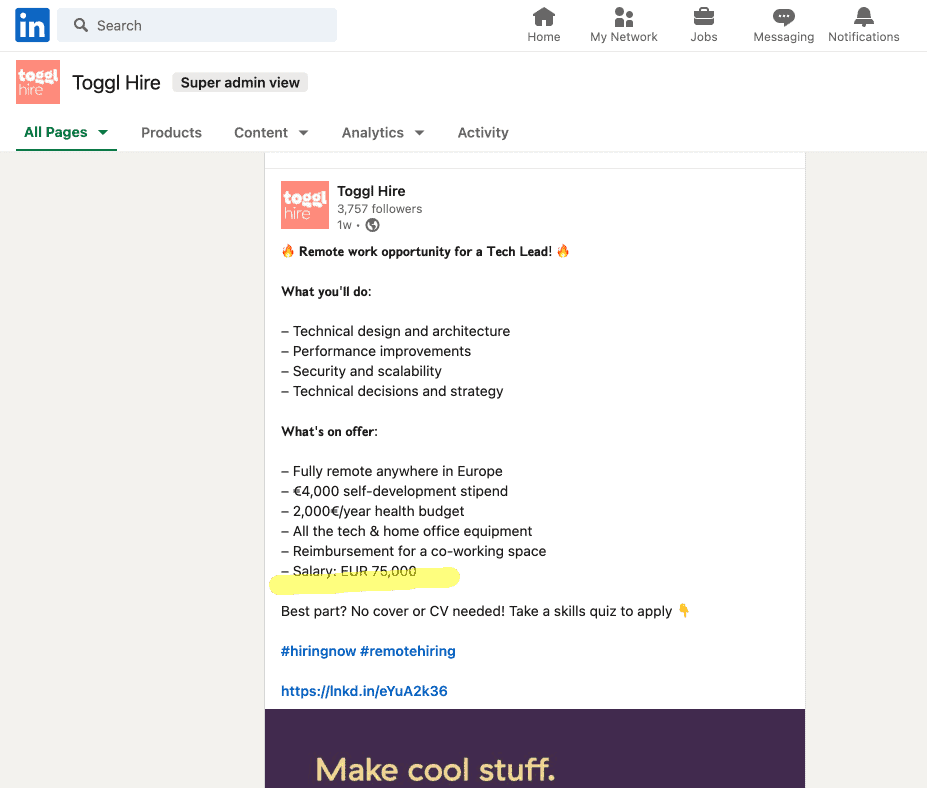 Social Media Sourcing
Now, let's get to the sourcing part. And, of course, we will start with social media sourcing.
With 21% active users on Facebook, 32% on Instagram, 24% on Twitter, 31% on Pinterest and 29% on LinkedIn – it only makes sense that 73% of recruiters use various social media platforms to make a new hire.
You can use Linkedin 'endorsements' to gauge a potential candidate's work ethic or see what they're like outside of work on Instagram. Remember that each platform has something unique to offer that you can leverage to maximise your reach.
Here are a few quick tips to get you started:
4. Facebook: Use Facebook paid ads to source passive candidates
Don't underestimate Facebook when it comes to sourcing candidates. Compared to Linkedin and job boards, sourcing candidates on Facebook is often cheaper and faster, and can help you reach more (passive) high-quality candidates.
There are many different ways to source candidates on Facebook. You can:
Manually source candidates with creative search queries
Create an appealing Facebook job post and share it with your followers
Boost your job posts to reach a wider audience
Share your job posts on Facebook groups and communities
Turn your job posts into an advertising campaign to specifically target the right kind of people (the most efficient tactic).
For example, Software development company Mooncascade received close to 250 candidates in a few days simply by advertising the post on Facebook and Linkedin.

5. Twitter: Actively promote your jobs on Twitter
Frequently tweeting about job postings is a highly efficient way of reaching potential candidates. In our experience, posting around 3-5 tweets per day is the sweet spot. People might not see your tweet the first time, so posting several tweets about an opening helps you reach more people.
Draft up a good tweet that encourages people to re-share it. Use hashtags, pictures and a clear call-to-action with your tweets.

If your job tweets get a lot of traction, try out paid promotion. You can even use it for retargeting passive candidates who have visited your Careers page but didn't send their applications.
6. Podcasts: Use podcasts to stand out
Getting on a relevant podcast gives you an opportunity to introduce job seekers to your work culture and employee benefits in more detail. Jobs in Pods, a recruiting podcast calls this process 'jobcasting' where they feature in-depth interviews with hiring executives and provide employment branding.
7. Youtube: Attract candidates with work culture videos
A great idea is to utilize the channels where your target candidates are hanging out online. For WizzAir, that channel was Youtube. Under the umbrella campaign of #IamWIZZcrew, WIZZ made it easy for anyone interested in pursuing a carrier at WIZZ to find out more about the company, a career in aviation and tips on pilot and cabin crew recruitment, from its own employees. Those interested could already find thousands of pictures, posts and tags on various social media channels created by many of the enthusiastic crew members showing their dedication for the company and passion for aviation.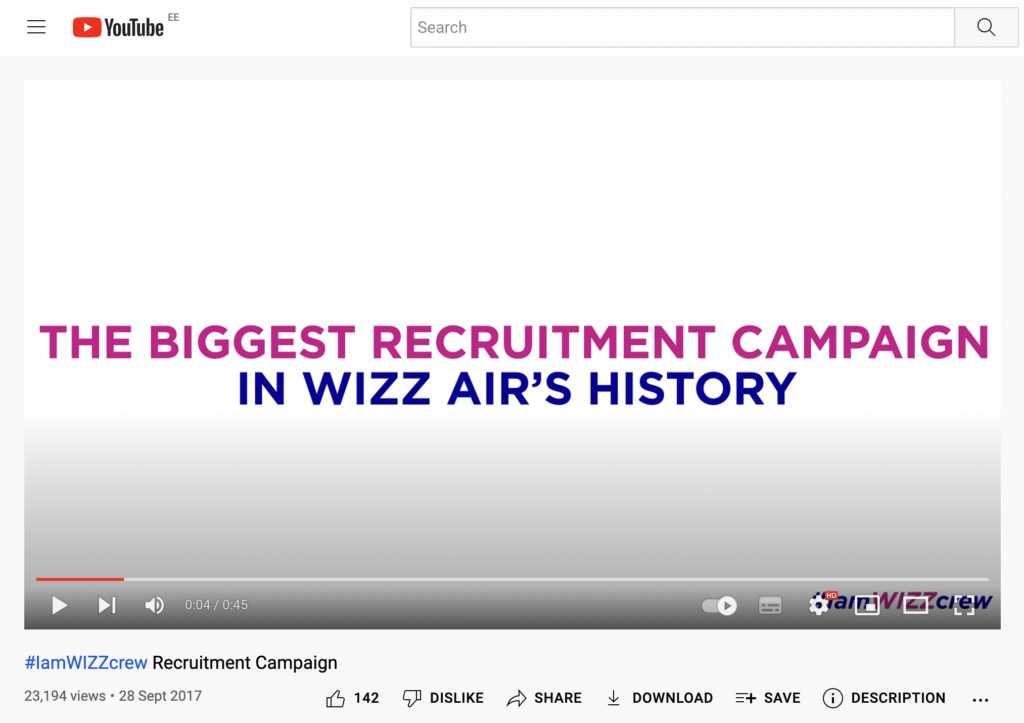 8. Tinder: Use Tinder to attract millennials
Creative agency Fetch used Tinder to find an intern. In one day, they received 270 potential applicants (Tinder matches) from whom they asked their best pick-up line. They then spent 3 weeks talking to the applicants and narrowing the talent pool down to 5 best candidates.
The agency went on to explain the rationale behind their unusual recruitment choice by saying, "New York city is a very crowded space, with every agency looking for top talent. We needed an intern and we didn't just want to be another posting on one of the numerous job boards. So, we thought Tinder would be quite an innovative way of looking for an intern".
9. Snapchat: Brand your company among young candidates on Snapchat
JPMorgan created their own geo filters to be used at high school and university events in the UK and US. The thought behind the strategy was to show students that you don't need to go down a traditional route to find employment at a bank. They highlighted different roles and jobs that one might not even consider when looking at the banking industry. Doing this on a platform that millennials trust made this even more powerful for JPMorgan.

10. Use public Slack channels
Besides being an incredible tool for team communication, Slack is also great for connecting with like-minded people and potential passive candidates. There are lots of public Slack groups that you can join and share your job posts, for free!

PS! Check out our full list of 109 Slack communities to find new hires for more.
Competitions & Skills Challenges
11. Grab applicants' attention with short skills challenges
Another creative strategy for sourcing passive candidates is to make the applying process simple, fun and competitive with a skills test.
Instead of asking applicants to send their resumes, Harvard Business Review advises everyone to start the recruitment process with a short test.
The beauty of using a 10-15 minute skills challenge in the first part of recruiting process is not only in faster candidate screening. It also helps you attract those candidates who aren't actively looking for a new job. Drafting up a resume and a cover letter takes a lot of time and effort, but taking a short test to figure out your skill level and learn more about the job opportunity removes the barriers to applying for jobs.

PS! Get started with Toggl Hire and create your own skills challenge for free.
12. Attract passive candidates with rewards
To attract even more passive candidates with skills challenges and competitions, reward the best performers with a small gift, like free T-shirts, pencils, tote bags or whichever other merchandise product you may have. Sure, some people will apply for your jobs just to get that free T-shirt, but once you get them hooked, it will be a lot easier to convince them to come to the interview with you.

Further reading suggestion: How I Took a Quiz on Facebook and Accidentally Got a Job
Employee Referrals, Influencers, Events
Most organizations are leveraging the proven-success record of referral programs today, with almost 45% of new employees being internal hires in 2016. Your existing employees have an exponentially wider social media and professional network, making it easier for you to potentially reach hundreds of qualified individuals when there's an opening.
Employee referral programs are also more reliable and cost-effective as there is no job board or recruiting agency fees involved. Your internal labour expenses are also reduced with less time being spent on writing a job description writing, posting ads, resume evaluation, and candidate screening. Referred employees have a higher retention rate, owing to the implicit commitment they feel towards the contact who referred them.
13. Ask your team's help
Often times, people are excited and happy to help source candidates and find new employees. So just ask your teammates to help you with the common goal of building an awesome crew. Share the information about the open position so your team can pass it on and/or look for candidates from their own networks.

14. Offer your employees referral bonuses
If you face problems motivation your employees to share the open roles on social media, internally public referral leaderboard to gamify the incentives of more referrals could be the solution. To make your life easier, there are even special apps focusing on employee referrals – find your favourite one here.
15. Engage with passive candidates offline
Have meaningful conversations for the sake of conversations. Build relationships, show that you're not a desperate salesman trying to recruit someone all the time (although that's exactly what you're doing). Go the extra mile, reach out to prospective candidates offline, show that your company is a great
16. Host events
No matter what the event is, you're at a competitive advantage when you get the prospective talent in the room. They will see your office, meet your team, and hear more about your culture. What's a better way to get passive candidates hooked?
'Sneaky' Candidate Sourcing
17. Promote dev jobs on your site's browser console
Usually, whenever a developer wants to check the code behind any website, view the site's CSS files or check anything else code related, they'll open the site's console. So what's a better way to get developers attention than adding a big "We're hiring" message right in the console?

18. Use your own product as a sourcing tool
Spotify's recruiter Andre Hellström is creatively using Spotify to find new talents. He created a public playlist called "Join the band?" where the order of the song names makes up the description of a job posting for a frontend developer position. Listen to the playlist here.

19. Attract talents with a catchy Wifi name
If the name of your office Wifi is seen by many people daily, it might be a good idea to change it to a catchy recruiting headline. Willem Wijnans from Sourcing Monk has highlighted some creative methods that companies have used to attract talent (mostly developers), like for instance advertising your current job opening with a Wifi name.

20. Use your public website to let people know you're hiring
If smart console messages or outstanding Wifi names seem like too-hidden ways of attracting talent, a great way to let people know about your job openings is to advertise it right on the product website's front page.
Team calendar app Toggl Plan is promoting their current backend developer position opening with a catchy headline. Their big blue call-to-action "Apply and get a free T-shirt" is definitely helping to catch developers' attention.

Summary
Becoming a talent magnet is easier said than done, and it will definitely take a little while for you to get your recruitment game on point. Simply posting a job listing on your company website isn't cutting it anymore, so explore new ways to tap into your ideal talent pool and reinvent your recruitment process accordingly.
We hope the above suggestions help you rethink your existing sourcing strategies for a wider candidate pool to choose from.