Step 3 - Seamless time tracking with Toggl Track
Time tracking is used for collecting accurate data for better business decisions, but people can forget to log their hours. This is why we created the Toggl Track Chrome extension. Integrated into 50+ other tools, it brings the timer closer to the user.
Here it is in Trello (in case you missed it before). Let's open it up: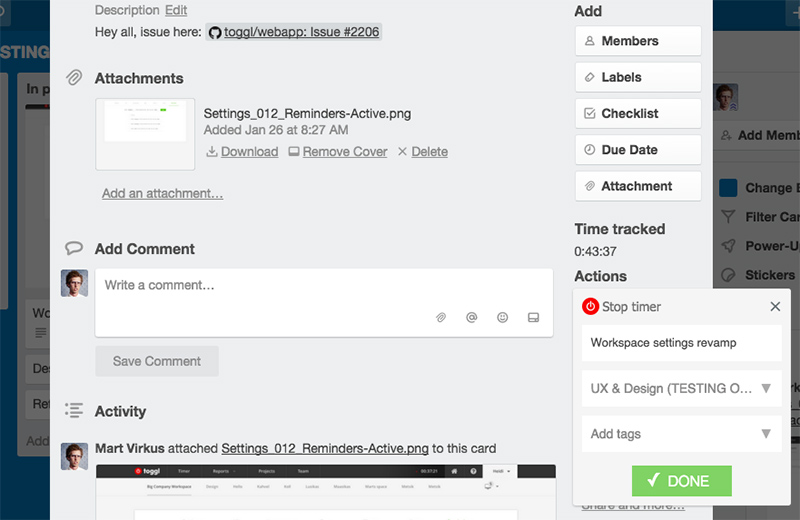 You can see there's some time tracked under the ticket already. That's great if you just want a glimpse on how long something has taken so far without going to the Toggl Track webapp for the report.
More on that later - back to the timer now.
Clicking on the timer button starts the timer, and lets you attach a project to the time entry. Projects are one of Toggl Track's features designed for better organization of tracking data (tags and tasks are others).
Let's also take a look into the same issue in GitHub. Again, the timer is visible right at the top of the issue: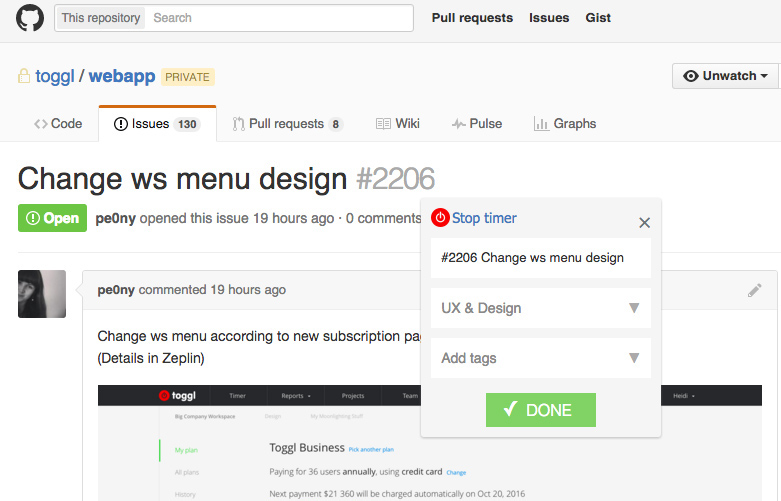 With the Toggl Track browser extension, you can basically start the timer from whichever site you prefer. The data is synced to Toggl Track in any case.
Step 4 - Pulling reports for analysis
If you run a software consultancy, having an accurate record of all your work time is great for two things - for calculating fees for clients/employees and for coming up with better project estimates in the future.
Toggl Track does have a billable rates system but right now let's look at it from a business intelligence perspective. You can easily attach different clients, tags, and tasks to projects and time entries for filtering the data you want to look at.
Here's an example of a week's development work, organized by project and sorted by duration: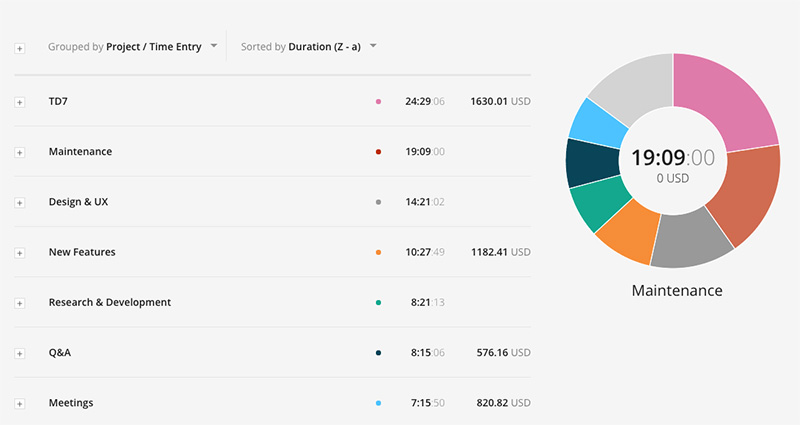 One thing that stands out immediately is the 19+ hours spent on maintenance related tasks. If this was an agency, this would be a warning sign to start looking for a new developer or to organize the way you provide support to your clients. It could also point to critical problems in your design process.
Once you have a detailed breakdown of how much work was done on separate aspects of the project, you can also use the information to either prepare a budget for a new client or argue your case if you think they are trying to sign you on for too cheap.
But most importantly, adopting a cloud-based workflow involving different highly specific tools allows you to organize your work and gather vital data without causing unnecessary grief to the people using your system.