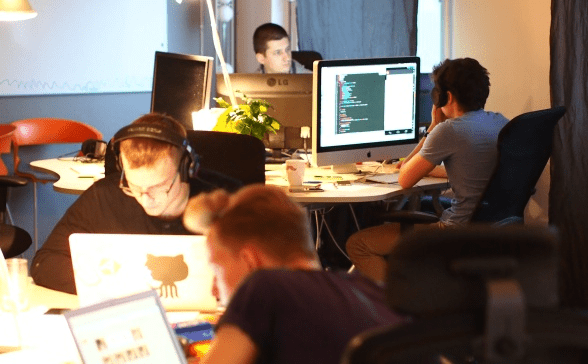 Not taking advantage of new technologies when starting your business is almost criminal. Whether you're looking for time tracking apps, team management software or cloud storage – there's an app for everything. You just have to find the right ones. We've listed a few to get you started:

1. Track your time with Toggl
Toggl is a time tracking and productivity app that lets you manage your time and tasks in a very clean way. The task timer gives you a good overview of how much time you or your your team is spending on different projects, tasks and clients, offering you detailed reports and breakdowns along the way. As added value, Toggl has a desktop client for Windows, Linux and Mac OSX, iPhone and Android apps, as well as a Chrome extension integrated into many other services.
Also, the service is free, with a Pro subscription bringing added features such as billable rates, sub tasks, unlimited team sizes etc.

2. Manage your work tasks with Trello
Trello is basically a powered-up to-do list for teams. What makes it particularly easy to use is its clean and simple user interface. All your boards and tasks are neatly organised into boxes, making tracking them easy. The learning curve is minimal, so training your team to use Trello is as painless as can be. While the basic organization is simple, Trello offers plenty of depth with sub tasks within the to-do cards, checklists, attachments etc.
Asana is another established teamwork app, arguably with a bigger focus on managers and leaders. Though ultimately, the choice between the two boils down to personal preference and leadership style.

3. Save your ideas in Evernote
Evernote has been around for a long time and holds a pretty good grip on the note taking market. It's no wonder either – they've had a lot of time to perfect their service. The user interface is stripped down, letting you create notes with ease, whether it's audio, photos, text or handwritten notes. Evernote saves any idea you might conjure up but never gets in your way.
Tech giant Google is on Evernote's heels (sort of) with Google Keep. While Evernote offers far more depth at the moment, Keep does have integration with Google Drive which is a compelling argument for heavy Google users.

4. Communicate better with Slack
Whether you're trying to improve communication within your team or want to better track the social media feeds tied around your company, Slack is an absolute must-have. At first glance, it might look like a group chat client, but Slack boasts impressive depth, allowing you integrate not just social media feeds, but services like Asana, GitHub and Google Docs, to name a few. These integrations are limited to a maximum of five in the free version, with more features piling on in the different paid subscriptions.
5. Sync your files with Google Drive
When talking about storing your things in the cloud, you can't look past Google Drive. It's a collaborative file sharing space with all your documents, spreadsheets, images etc. neatly brought together in a wonderfully simple and intuitive environment. It also comes with 15 GB of free storage which will probably last you a long while. As an honourable mention, we can't look past Dropbox, which boasts a ridiculously simple desktop app that makes file sharing across different platforms almost too easy.
This is a list of apps we use around our office. If you feel we've left something out, let us know in the comments: