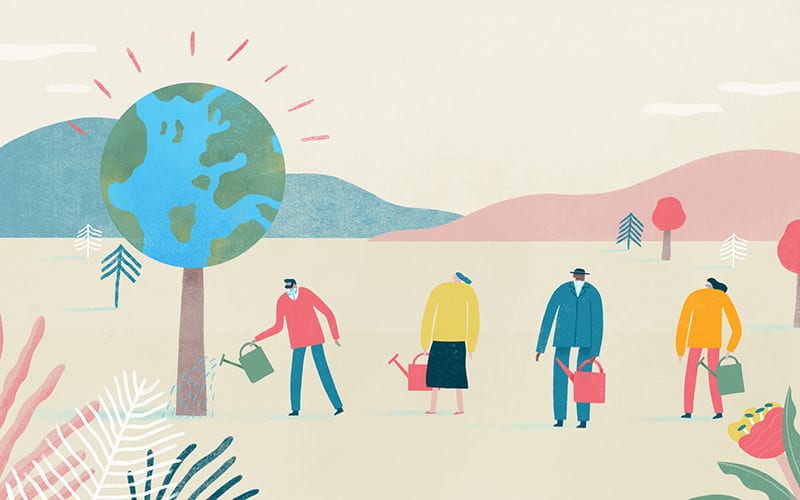 Socially responsible companies rule the roost – especially in the growing millennial demographic.
Today, a quickly growing number of consumers (and even executives) consider it the social responsibility of business to leave the world better than they found it.
Of course, it's also good business sense. Roughly two-thirds of global consumers are willing to spend more for sustainable products – and trust the brands that offer them.
What Is CSR?
The growing Corporate Social Responsibility (or CSR, for short) movement competes directly with Milton Friedman's "the only social responsibility of corporations is to make money" philosophy.
However, many corporations go above and beyond their profit motives to examine and improve their social and environmental impacts.
Of course, doing good is also good for business. Experts predict a centralized corporate social responsibility index will emerge in the coming years.
In such a business climate, consumers could keep close tabs on corporations and increase the necessity for businesses to become (or at least appear to become) socially responsible companies.
How Your Company Can Benefit from a Socially-Responsible Image
Profit – Even purely Machiavellian companies know a veneer of corporate responsibility increases positive perception.
Certain well-heeled demographics make shopping choices according to their values, especially in luxury lifestyle niches like health food, high-end clothing, etc. In future decades, this trend will only increase.
Over two-thirds of millennial consumers choose to spend their dollars on brands that share their social values.
Millennial Retention – Millennial employees want to feel connected to a "greater good" beyond the profit motive. Giving workers a reason to feel proud of the brand they represent is just good marketing; if they feel good about they do, they'll spread the word about your corporation at a grassroots level.
In addition to perks like flexible hours and off-site work, a strong corporate mission can help you attract and retain top talent. If you want your employees to work happy and stay in that highly-productive flow state, give them opportunities to take pride in their work – and your brand.
Changing Market Expectations – Profit-driven businesses also keep up the appearance of being socially responsible companies. For example, big-box retailers like Target and Wal-Mart have introduced lines of organic products. Though this move would have seemed revolutionary a decade ago, it's par for the course today.
Social/Community Reputation – When examining the value of your business, always consider the "soft value" of your socially-responsible reputation.
Large businesses often acquire small, socially-responsible companies to buy into and enhance their images.
Looking to the future, your company's progressive reputation could mean a larger payout when you retire or accept a buyout offer.
1) Socially Responsible Companies and Shared Value: Cisco
A commonly-cited corporate social responsibility example involves Cisco Academies. This organization serves roughly a million students each year.
Called "the world's biggest classroom," Cisco Academies boasts 85% (or higher) placement rates in countries like Saudi Arabia and Serbia.
Across the board, 69% the students in this program go on to get jobs (or better jobs), higher pay, and/or greater responsibilities.
By teaching networking systems to a new generation of network technicians, engineers, and administrators, Cisco doesn't just gain credibility among its customers.
This effort places Cisco platforms and software in the hands of a grateful cohort of up-and-comers. Students gain by acquiring the skills they need to gain key industry certifications and Cisco benefits by creating goodwill with stakeholders from consumers to local governments to the next generation of IT professionals.
[ctt template="1″ link="895ce" via="yes" ]Teaching industry specific skills to a new generation can create massive goodwill for your organization.[/ctt]
Consider what you and your team members have to offer:
Could your sales team offer free public seminars?
Could your IT team present online courses in your company's niche?
Could your managers participate in mentorship programs?
It doesn't take a massive effort to become one of today's socially responsible companies. With a little creativity, you can encourage your employees to reach out to young people.
Remember, by helping someone enter your industry today, you could be giving your business a reputation boost that lasts decades!
2) Socially Progressive Small Businesses
Of course, some business people can always create a grassroots business for social responsibility from the ground up.
Small, nimble businesses can reach carefully-selected niches like college campuses and reach selective buyers in their first, formative years of adult consumerism.
Targeting millennial (and Generation Z) consumers means going green, acting responsibly, and sharing a strong corporate mission with your audience.
By partnering with small, uber-green businesses like this, large corporations can promote their brands' progressive elements and raise consumer consciousness.
Goldman Sachs, for example, created the 10,000 Small Businesses foundation to support female-owned small businesses across the globe. Of course, large companies also purchase small brands for their grassroots cache.
Whether you own a small local business or simply want this level of connection with your customer base, think small and genuine. It doesn't take massive outreach programs to create raving fans; by making even a small difference in someone's community, you can gain a customer for life.
And, who knows, when you brainstorm that new, greener way of doing business, you might just discover the next innovation that keeps you ahead of the competition!
3) Ford Motor Company's Green Roof
As each new generation trends more progressive, large, established companies know they need to keep reinventing their images to maintain relevance.
Ford Motor Company may be a well-entrenched company with massive market share. However, in recent years, they've sculpted an image that borrows progressive credibility from the green entrepreneur movement.
Ford's Living Roof Project, the centerpiece of its River Rouge Plant refurbishment project, provides practical and optical benefits for the automaker.
This massive project spans over 10 acres of factory roof and reduces heating/cooling costs by 5%. This natural method of water filtration (a ground cover plant called sedum) limits the amount of storm surge entering the Rouge River. It also reduces the "urban heating" effect created by tar roofs and asphalt.
If your company bears a complicated legacy of timeless innovation and undesirable environmental impacts, it's never too late to reinvent your image. Sure, adding a little green leaf to Ford's logo is only a gesture.
However, if you back up your green marketing campaigns with a genuine effort to change, you can cultivate a new, responsible image in the eyes of upcoming generations.
4) Socially Progressive Companies: Tesla
Further down the green business spectrum, Elon Musk's Tesla brand stand out as a pioneer in low-carbon-emissions transportation.
Just recently, the Tesla Model 3 has brought high-end, sports/luxury electric transportation to the mid-range auto market. In fact, so many people have put down deposits on the new Tesla that the company is booked up through late 2018 (barring unforeseen increases in production capacity).
Tesla excels at providing the green products consumers want with the packaging and design they expect. High-tech startups that want to ease the market forward can benefit from this high-concept model for convincing consumers to adopt sustainable behaviors.
For example, Tesla offers rooftop solar cells that look like traditional shingles and can handle a 100 mph impact from a hailstone.
Sure, early adopters have already installed traditional black rectangular solar panels on their roofs; however, millenial consumers want looks AND ethical power supplies.
If your company hangs out on the cutting edge of technology, study the Tesla playbook. Yes, this company invests heavily in research and development; however, its true genius lies in the blending of form and function.
Keep Tesla's highly-desirable electric sports cars and home accents when shaping products and services for well-heeled, environmentally-aware consumer bases.
5) Sustainability on the Home Front: Clif Bar
This iconic outdoors-themed energy bar company fits social responsibility into its employee benefits packages. Clif rewards its people with incentives for purchasing fuel-efficient vehicles and making sustainable home improvements.
A remarkable 100% of Clif employees said they felt good about the way their company contributed to their community.
In 2014, Clif workers contributed over 10,000 hours of paid volunteer time. They also receive a thousand bars each year to donate to a charity of their choice.
Clif matches charitable donations made by its employees, up to $500. It even rewards people for sustainable commuting – and buys bicycles for its employees.
Clif's headquarters also boasts a massive solar power array and LEED platinum status. This company (once a thriving small business) successfully resisted buy-out efforts from larger corporations.
Its founder, Gary Erickson, felt he could do more good as the owner of a green company than as a rich philanthropist, which makes him something of a poster child for the sustainable business movement.
If your company creates a product that doesn't provide an obvious avenue for sustainability/social responsibility, follow the Clif model.
No matter what your business, you can reward employees for charitable/green behavior (and take credit for this wave of generosity).
6) Resonating with an Earth-Friendly Demographic: Columbia Sportswear
The well-established Columbia brand encourages customers to donate old clothing when purchasing new items.
Americans discard over 80 pounds of textile products each year which end up in landfills (or worse, our waterways). Columbia's ReThread charity resells usable items to support its efforts; it repurposes unwearable clothing as rags, insulation, and raw material for new fabrics.
By addressing an environmental need so closely related to its product, Columbia shows a connection with its core consumers.
By asking customers to donate their old clothing when purchasing new styles, this manufacturer helps people realize the role they play in the textile waste stream. In fact, socially responsible companies across the outdoor clothing industry have begun to offer similar sustainability programs.
Consider how your customer base interacts with both your products and the environment. Surely, you can devise a way for them to feel great about making new purchases – and have a positive impact on the world around them.
For example, many restaurants (and especially bakeries) donate their uneaten treats to homeless shelters and "gleaner" organizations.
Find ways to get your unused products and manufacturing extras into the hands of those who need it.
Better yet, encourage your customers to do the same – and to feel good doing it. The more positive feelings people associate with your brand, the better!
7) Reusing Factory Waste: Nike Grind
As of 2016, Nike reuses its own factory waste in over 70% of its footwear.
The company calls this material Nike Grind, which includes recycled shoes, scraps of material from sneaker factories, and even plastic drink containers.
In addition to using these materials in its products, Nike also sells Grind to manufacturers of athletic facilities like playgrounds, gyms/weight rooms, carpet pads, etc.
It's a no-brainer.
If your company can reuse or repurpose its waste into new products, you can impress your customers and save on raw materials. Also, selling off your waste to other manufacturers only makes sense.
For example, local craft breweries are known for supplying "spent grains" to hog farms.
Socially responsible companies like coffee roasters and cafes regularly give away (or sell) their grounds to avid gardeners.
Whatever your product, consider how your trash could be someone else's treasure – and make sure your customers know about your green business efforts.
The Bottom Line – Use Corporate "Peer Pressure" for Positive Impacts
Nike has joined a growing list of socially responsible companies from Proctor & Gamble to Goldman Sachs that have pledged to get 100% of their electricity from renewable sources.
Including major players like Wal-Mart, Starbucks, Siemens, and Johnson & Johnson, this group of industry leaders is taking a step forward. Companies who don't make similar pledges (especially in the energy-drenched manufacturing sector) should take notice; no one wants to be left holding the bag in this race to sustainability.
Do you remember how Democratic politicians fell all over themselves taking progressive stances in the wake of Joe Biden's 2012 statements?
Corporations run the risk of having to play "catch up" and quickly redefine their stances on renewable energy and other key social responsibility indicators.
You'll eventually have to make certain changes to keep up with hyper-aware millennial and "Generation Z" consumers.
From renewable energy to charitable efforts to social impacts, today's savvy customers expect more and more from brands.
Since it's inevitable, why not get ahead of the curve and use your efforts to become a socially responsible company to grow your brand reputation?
Remember, you can easily track employee work and volunteer hours (including mileage) with Toggl's free and premium time-tracking app. Toggl integrates with dozens and dozens of popular productivity software platforms for quick and easy implementation.
Creating a balance between charity work and office work is a snap with our simple and powerful report-creation software. With our help, you can ensure your business' place among today's socially responsible companies!