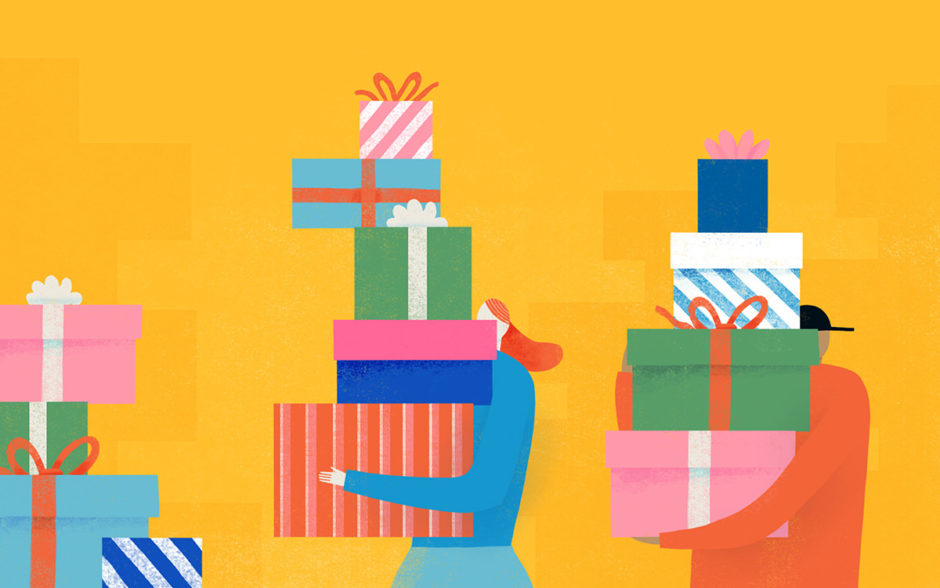 This year, choose holiday gifts for employees that demonstrate your awareness of your team members' real needs and desires.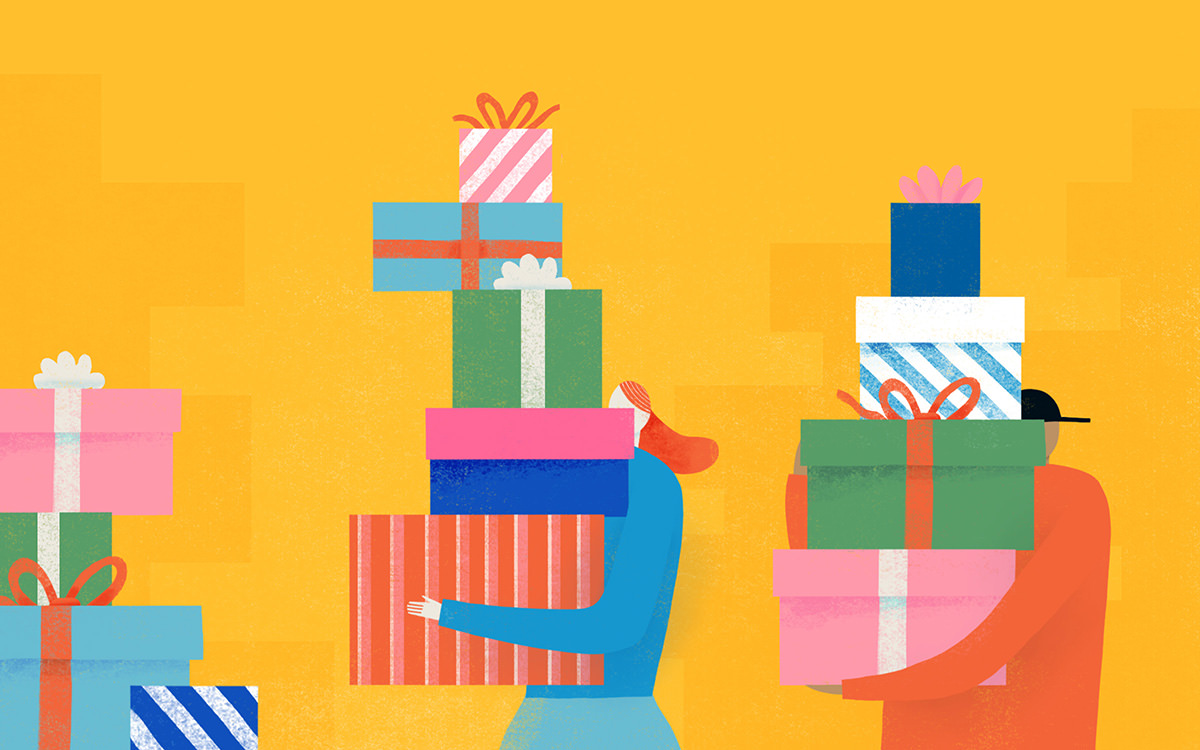 Almost 75% of people say they don't like the gifts they get from employers.
Buck this trend by treating holiday gifts as opportunities, not obligations.
Apply the same care and branding you do to ad campaigns to the ways you show your appreciation to your valued employees. Business etiquette matters; use the holidays to improve morale and build your team – not just fulfill an expectation.
With a little thought and care, you can offer employee appreciation gifts people will really love this holiday season!
Think Outside the Gift Box
In a recent poll, more than 9 in 10 employees said they preferred non-traditional gifts from employers.
Generic gifts like office supplies and gift cards may tick off the "gifts for employees" box on your to-do list; however, they don't show you understand and appreciate your team members.
Millennial employees appreciate gifts, but also a corporate culture that suits their needs and desires.
Attract talent from this notoriously fickle and hard-to-retain demographic with appropriate gifts and events they truly care about.
Does your team really want a store-bought cake, a few balloons, and some unfeeling generic gift cards?
Perhaps they would rather give this money to charity – or take a half-day from work to volunteer at a shelter or food bank.
Show you understand your team's true motivations by asking the right questions and sussing out their desires well before holiday gift-giving time.
If you're in a rush to come up with a good idea in a hurry, don't choose the first thing that comes to mind. Ask around and get the feedback you need to make this event a pleasure, not an obligation.
(However, if you're reading this the morning of the last workday of the year, remember that thank-you cards with gift cards inside are preferred to nothing at all.)
Productive and Efficient Gifts for Employees
Quirky and fun office gifts can show you appreciate your employees and understand their interests. For example, would the green thumbs in your workplace enjoy desktop bonsai kits?
They could show off their gardening skills, green up the office, and express their personalities with these fun little gifts!
Sure, logo-branded neck pillows and calendars that double as wrist rests might seem like caring and productivity-friendly gifts to some.
However, would this gift for employees seem too office-related for others?
Don't let workplace gifts feel like that time your parents gave you socks and undies as a holiday gift.
Give people what they really want and tread carefully when offering items that might appear to project a hidden agenda.
Instead, listen to your employees.
Has your frontend team been hassling you for updated ergonomic keyboards?
Have the frequent travelers on your team requested heated lumbar pillows for long flights?
Do your sales reps want new jackets with attractive logos for client visits?
If you know your team members really want a particular type of productivity/branding item (listen for hints around holiday time), go ahead with this idea. If not, steer clear and give them gifts that don't seem self-serving.
Branded Gifts for Employees
Yes, gifts for employees can have a branding or team-building agenda. Just be careful to balance your managerial desire to get something from gift-giving with the sheer fun of it all.
The employee morale you build with appropriate events and gifts matters far more than the productivity and efficiency tweaks you can squeeze into gifts for employees.
Clif Bar, a notoriously employee-friendly employer allows workers to donate up to a thousand bars a year to the charities of their choice.
These types of programs help employees offer value to their communities and make a difference in the world.
However, facilitating employee giving isn't the same as actually offering employee gifts. Use this strategy in conjunction with traditional gift-giving to create an atmosphere that says, "We value our communities and the people in the office. Gifts flow both from us and to us!"
Branded gifts like Bluetooth speakers are surprisingly affordable and may hit that "I like it but wouldn't have bought it for myself" target (especially for older workers).
In fact, you can find noise-canceling headphones (the perfect gift for the introverts on your team) and even wireless earbuds in price ranges to suit every gift budget.
Offer Productivity Apps as Gifts – But Only in the Right Situations
Sure, you can provide subscriptions to popular productivity platforms at holiday time.
However, only consider these gifts when they match your employees' desires, not yours. If you've been asking your executives to purchase an Asana subscription for your team, spending holiday gift money on this would seem awfully petty.
However, if your payroll team wants to use Toggl's time-tracking software with Asana's productivity platform, go ahead and give them the time (and headache) saving upgrades they want.
Just be sure this isn't the only gift they get from your company this holiday season!
If you're considering apps as a gift for employees, consider getting them gift cards for the app stores of their choice.
Let them know they can use these funds to purchase the most up-to-date productivity software (insert laugh here). However, be sure to point out you totally approve of fitness and entertainment apps, as well.
Nothing helps personalize an authority figure like holding up your phone and showing off the Candy Crush home screen.
Caffeine: The Perennial Corporate Crowd-Pleaser
Virtually everyone in work/office environments loves coffee.
Depending on your team's aesthetic, you could offer a Starbucks gift set or a gift card to that trendy new coffee roastery in town.
Of course, not everyone drinks coffee (UK and East Asian teams, for example), but this popular beverage and related accessories usually make great gifts for employees.
When gift-giving, remember to give people things just a little nicer than they would buy for themselves.
For example, one of my favorite all-time workplace gifts was a Starbucks French Press spill-proof travel coffee mug (not an affiliate link).I wouldn't have splurged on this amazing little gadget myself, but it suited me to a tee, as both a lover and a spiller of coffee.
Gifts for Employees with Active Lifestyles
How well do you know your team members?
Do they spend their weekends rock-climbing and enjoy their vacation time overseas?
Better yet, do you offer a travel- or fitness-related product/service?
If you serve active and adventurous customers, you probably attract employees with the same qualities.
Encourage brand-aligned behaviors with holiday gifts for employees like the FlipBelt, which keeps phones, keys, and other small items safe and close.
Hedge Your Bets with Multi-Purpose Gifts
Because no gift is perfect for everyone, double your chances of success with multi-function items like the FlipBelt. Say Sally, your forklift driver doesn't enjoy fitness but loves to travel. She can use this gift on her next overseas trip to keep her valuables safe from pickpockets.
Nothing says multi-purpose like Leatherman, a trusted name in multi-tools and gadgets.
This company provides convenient gift suggestion lists in the $100, $75, $50, and $25 ranges.
You can personalize (or brand) these gifts – or play it safe with convenient and adaptable gift cards.
Should You Give Gift Cards to Your Employees?
Managers can make two very different statements with gift cards/baskets:
I understand everyone on the team doesn't have the same tastes and interests. I want each person to get a gift they'll really enjoy.
I don't know my team members very well. I'm playing it safe and don't care to get to know my employees.
For example, if your team loves the outdoors, they might greatly appreciate Leatherman gift cards.
Giving your employees a chance to choose from a variety of related items enables them to show off their choices and personalities. Bev in HR may show her wild side with a new survival knife while Eduardo in Sales might prefer a slim and flirty multi-purpose bottle opener.
However, think twice if you plan to give out the basic gift cards provided by many credit card companies and big box stores.
These gifts for employees show an indifference to your employees' interests and may send the wrong message as corporate gifts. Instead of a generic gift card, why not just increase your holiday bonus amounts?
If you like the flexibility of gift cards but still want to offer thoughtful gifts, get employee feedback on your decision.
For example, would your IT department appreciate Micro Center gift cards, or is that too "on the nose"?
You can even make employee gift ideas a reward for productivity. For example, you could let your highest-performing team choose (from a vetted list, of course) which retailer's gift cards' everyone will receive.
Gift Baskets: Good Gifts for Employees?
A traditional gift basket will probably delight some employees and leave others nonplussed.
Sure, Emma the epicurean in Executive Planning may enjoy wine and cheese, but what about vegan Victor in Volumetrics? Ask yourself, would Brad in Transportation rather have potpourri or a craft beer basket?
Again, staff feedback can make all the difference when choosing gifts for employees.
Some of the best gift ideas for coworkers come from the people who work with them every day. For example, bring the fun of the "Secret Santa" game to workplace gift baskets. give each person a small budget for creating and decorating a basket for another employee.
You can even stack the deck; instead of drawing names from a hat, task people with learning more about people they don't usually interact with.
No matter what gifts you choose for your employees, get feedback, co-worker gift ideas, and event suggestions from your team.
Let them know you value their efforts and want to get the most out of your holiday gift budget. If handled properly, you can make gift-giving time a fun and rewarding team-building exercise!
Inexpensive Gift Ideas
The best inexpensive Christmas gifts for coworkers (or Hanukkah, Kwanzaa, Winter Solstice, etc.) feel personable, positive, and not cheap.
By offering exciting, new, quirky lifestyle gifts, you can make people feel valued without overspending your budget.
If you get it right, you can dazzle your employees with cheap tech gifts that may not cost a lot but provide a ton of fun (they don't have to know how little you paid).
Consider these staff appreciation gift ideas under $30, including some of the best Amazon gifts:
The Bottom Line
No matter what, gifts for employees must come from the heart.
You need to show your appreciation for the people who make your business tick.
Without them, you wouldn't have a management position, would you?
Take a moment and give your employees the attention they deserve. Don't just send out an impersonal card with a generic gift card. Speak with both the influencers and the introverts in your office and find out what would make a fun and special event for everyone.
Gather everyone together, speak from your heart, and let them know you truly value their efforts.
Make gifts for employees just a small part of an entire package of fun, appreciation, and memorable events.
More than anything, take time to speak personally with each of your employees.
If they work remotely, send them a personal note (not just an email). Express the specific reasons why you rely on your team members to see you and your company through each year.
In today's hectic and impersonal world, these little moments of genuine appreciation could make a big difference in employee retention and morale!