Microsoft Excel has long been one of the main go-to options for spreadsheets and mathematical functions. But with new solutions that offer additional features, it's time to take a look at the other choices you have available to you.
Depending on what you use Excel for, there could be hundreds of Excel alternatives across the web. These are twelve of the best, and easiest to use, to check out for you & your team.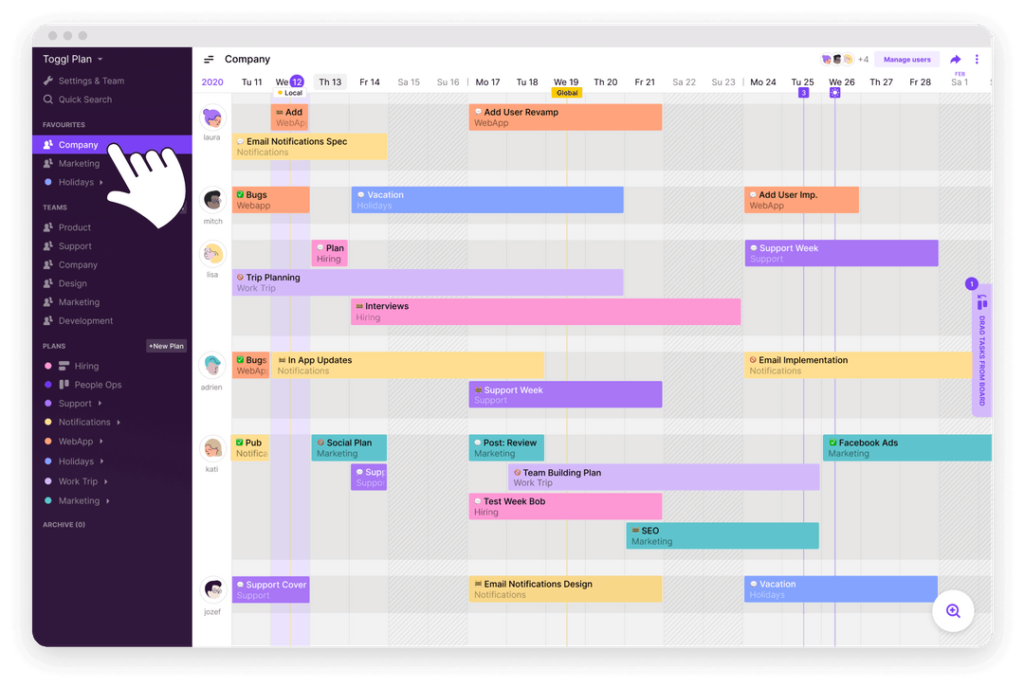 Read: How Buzzfeed replaced their spreadsheets with Toggl Plan
Why You'll Love It: Offering an innovative visual planning tool that is both powerful and easy to use, Toggl Plan is a great option if you're looking for alternatives to Excel. The system allows you to replace spreadsheets as it helps manage workflow, track projects, organize tasks, as well as schedule meetings and other team assignments. It has a clear timeline that is color coded and provides simple sharing functions to keep everyone on the same page at all times.
Pros: The simple click-and-drag software makes project management processes a breeze from beginning to end.
Cons: You won't find basic Excel functions like calculations. Instead, Toggl Plan would replace Excel if you're using it for project / task / team planning, scheduling and other needs.
Price: Free for solo users. Team plans start at $8 per user per month.
Want to hear what others are saying about Toggl Plan? Check out our Capterra reviews, or this more detailed product review with screenshots & annotations by Markup Hero.
2. Google Sheets
Why You'll Love It: Along with being the world's largest search engine, Google also offers its users a wide range of other types of software including spreadsheets. With Google Sheets, you'll have essentially all the same functionality found on Excel while having the added benefits of keeping everything safe and secure in your Google Drive cloud account. Easily share, edit, and update whenever and wherever you need.
Pros: User-friendly and easy to learn, especially if you've already been using Microsoft Excel.
Cons: Some users would prefer that Google Sheets offer analytics and reporting features to get more extensive history and details about their spreadsheets.
Price: Free. Paid plans start at $5 per month for additional storage when it becomes necessary.
3. Zendesk Explore
Why You'll Love It: Since it acquired BIME Analytics back in 2015, Zendesk has grown its analytics and reporting capabilities into something that could replace much of the functionality of Excel. Their clear and customizable Explore dashboard makes it easy to review data and create reports based on your company's needs.
Pros: Sharing with your entire team is incredibly simple to ensure everyone can see the information and provide input.
Cons: With most of their features focused on CRM software, you may find the Excel-style functions are limited to basic analytics.
Price: Free for Lite features. Additional functions available starting at $9 per user per month.
4. Workzone
Why You'll Love It: Mainly focused on marketing agencies and operations companies, Workzone is project management software that also doubles as one of the best Excel alternatives. It can be used for budget management needs such as time and expense tracking as well as for monitoring resources and milestones. Managed on the cloud, users will be able to access it from anywhere using a computer, tablet, or mobile device.
Pros: Often praised for its collaboration options, you'll likely enjoy the ability to keep everyone in the loop automatically as opposed to consistently sending updated Excel spreadsheets.
Cons: Occasional issues come up with the calendar features being less than intuitive, making it necessary to keep an eye on dates to ensure they are correct.
Price: Free demo. The price varies based on the size of your team. As an example, a team of 15 will start at $24 per user per month.
5. Zoho Sheet
Why You'll Love It: Following suit with Google, the team at Zoho has created a massive supply of applications to replace functions across a wide variety of needs. Among their apps, Zoho Sheet is their realization of an effective spreadsheet software. It's a great place to organize, discuss, and analyze data with your team as you create graphs and charts.
Pros: A strong option for companies that need to manage a large amount of data all in one place, Zoho Sheet easily imports from other software to get you up and running quickly.
Cons: Sometimes, spreadsheets may need mild reformatting after importing from Excel and other alternatives.
Price: Free for teams up to 5 people. Paid plans start at $4 per user per month.
6. Sheetster
Why You'll Love It: Able to view both XLS and XLSX formats, Sheetster is a web-based spreadsheet editor with nearly all the same features that you'd find in Microsoft Excel. Used most commonly as a JavaScript, it is generally meant for developers who want to use these functions in their web apps or other software. It can be incorporated into everything from a mobile application to a CMS like WordPress.
Pros: Great for web development if you want to add it to your new website or other creation as a developer.
Cons: Without general coding knowledge, this option may not be easy to use for some people looking for a way to replace Excel.
Price: Free
7. Numbers (Mac)
Why You'll Love It: If you're an Apple user with a Mac, then Numbers is the ideal Excel alternative for you. It is nearly identical to its Microsoft counterpart when it comes to creating, editing, and managing spreadsheets. You can even use it across platforms meaning that you'll be able to share your sheets with Windows users on your team.
Pros: For anyone who recently switched to Mac that previously used Excel on their PC, this is the perfect way to pick right back up where you left off.
Cons: Minor functionality differences from Excel that may require some research to learn.
Price: Starting at $9.99 per app depending on your operating system.
8. Redbooth
Why You'll Love It: Joining the ranks of other project management applications on this list, Redbooth offers task organization, collaboration tools, and other functions. Users can manage members of their staff as they work on projects that are organized with columns that are customizable like Excel. Keep things organized on the cloud so everyone on your team can maintain the workflow.
Pros: Offers a simple interface that makes it easy to learn and even easier to use.
Cons: Though many types of software like this one have numerous integrations that can be used with it, the options for Redbooth are fairly limited.
Price: Free 14-day trial. Plans starting at $9 per user per month.
9. Scoro
Why You'll Love It: While it is usually marketed as a project management platform, Scoro is another one of the main Excel alternatives worth considering. It is a business solution software with features that include financial management, time tracking, reporting, analytics, and more. While it lacks basic spreadsheet functionality, this program can be used in many other beneficial ways.
Pros: The software is highly adaptable to your specific industry as a means to make it fit your needs.
Cons: Onboarding can be difficult and it can take some time to learn how to use the software.
Price: Free 14-day trial. Plans starting at $26 per user per month.
10. Apache OpenOffice
Why You'll Love It: The software for Apache OpenOffice is open source, which means it is free to use in a variety of ways. Users can apply it to their website, mobile app development, or simply integrate the software for basic spreadsheet needs. Dubbed a "productivity suite", Apache can create equations, databases, multimedia presentations, a variety of diagrams, and even illustrations that can be rendered into 3D images.
Pros: Essentially provides all the same options as the full Microsoft Office package in one place for free.
Cons: It isn't updated very often, which can occasionally lead to bugs and minor glitches in the software.
Price: Free
11. LibreOffice
Why You'll Love It: LibreOffice is considered one of the top Excel alternatives and is powered by the team at OffiDocs. Similar to Apache OpenOffice, it uses open source software to view and edit spreadsheets from Microsoft platforms. You'll find it has most of the same basic features found in Excel.
Pros: Similar layout to Microsoft that makes it easy to convert if you want to switch to this free alternative.
Cons: LibreOffice doesn't have many of the formatting functions or high-level calculations that are offered in Excel and some of the other options on this list.
Price: Free
12. Spread32
Why You'll Love It: If you're on the hunt for the most basic of Excel alternatives, Spread32 could be just right for you. While it is less involved than most of the other options above, the software still has over 300 functions to provide the essentials many users require. While it doesn't offer the colorful dashboards and other aesthetics of more contemporary apps, it will do what you need it to.
Pros: Spread32 is a simple, lightweight option that offers portability with its attached app of SpreadCE.
Cons: The software interface takes a while to learn because it has a different look and feel than Excel.
Price: Free
Which of These Excel Alternatives Will You Try?
From simple spreadsheets to complex project management applications, there are numerous Excel alternatives worth a try. Among the options mentioned above, you're sure to find great software to replace it.
At the top of the list, Toggl Plan provides a great variety of features that will fill all of your time tracking, task management, and schedule planning needs. Learn more about our software and see how it will benefit your company.
Logan Derrick is a full-time business writer and content marketing strategist. For years, he has worked closely with several project management professionals, learning from them and increasing his own knowledge of the industry. Having held multiple management positions in fields ranging from customer service to marketing, Logan has found a passion for helping others learn about project management, marketing, and the powerful tools available to professionals today.