Fun fact: Our company is fully remote. That's right, everyone at Toggl Plan works from a home office setup or from a coworking space. And it turns out, working from home is becoming more and more common.
Recent data from the U.S. Census Bureau revealed that in 2017, 5.2% of all U.S. employees worked from home. That's a significant jump from the 3.3% reported in 2000. No wonder more homebuyers are including office space in their list of must-haves.
Whether your home office setup is where you run your company, carry out your daily or occasional telecommute, or keep yourself organized, you need more than a desk and a chair tucked away in the basement. Below are some home office organisation ideas straight from our team that will make burning the midnight oil a lot less of a chore.
How to Design Your Home Office Setup
When you work from home, you may see your office as an extension of your living space and fail to give it some unique but professional touches.
If you recently left cubicle nation (or still work there sometimes), you may have been conditioned to believe that an office is strictly utilitarian place, with decorating options limited to family photos, a plant or two, or framed certificates of completion from your many professional development courses.
The good news is that you can customize your home office to create an environment where you're inspired to work.
Whether you're a minimalist trying to avoid visual distraction or someone who loves to be surrounded by color, putting together a clean and inspiring workspace will help you complete tasks more efficiently and greet each new work day with enthusiasm.
If you're looking for office organization ideas, here are some inspiring yet practical examples to get you started.
Let There Be Light
In 2017, the National Sleep Foundation published a study suggesting that workers who enjoy an abundance of natural light in their offices reported better quality sleep compared to those who worked in windowless surroundings. They felt more rested and their productivity levels were higher.
Other known benefits of natural light in an office setting include:
Fewer mistakes in one's work
Increased alertness
Improved mood
Reduced eye strain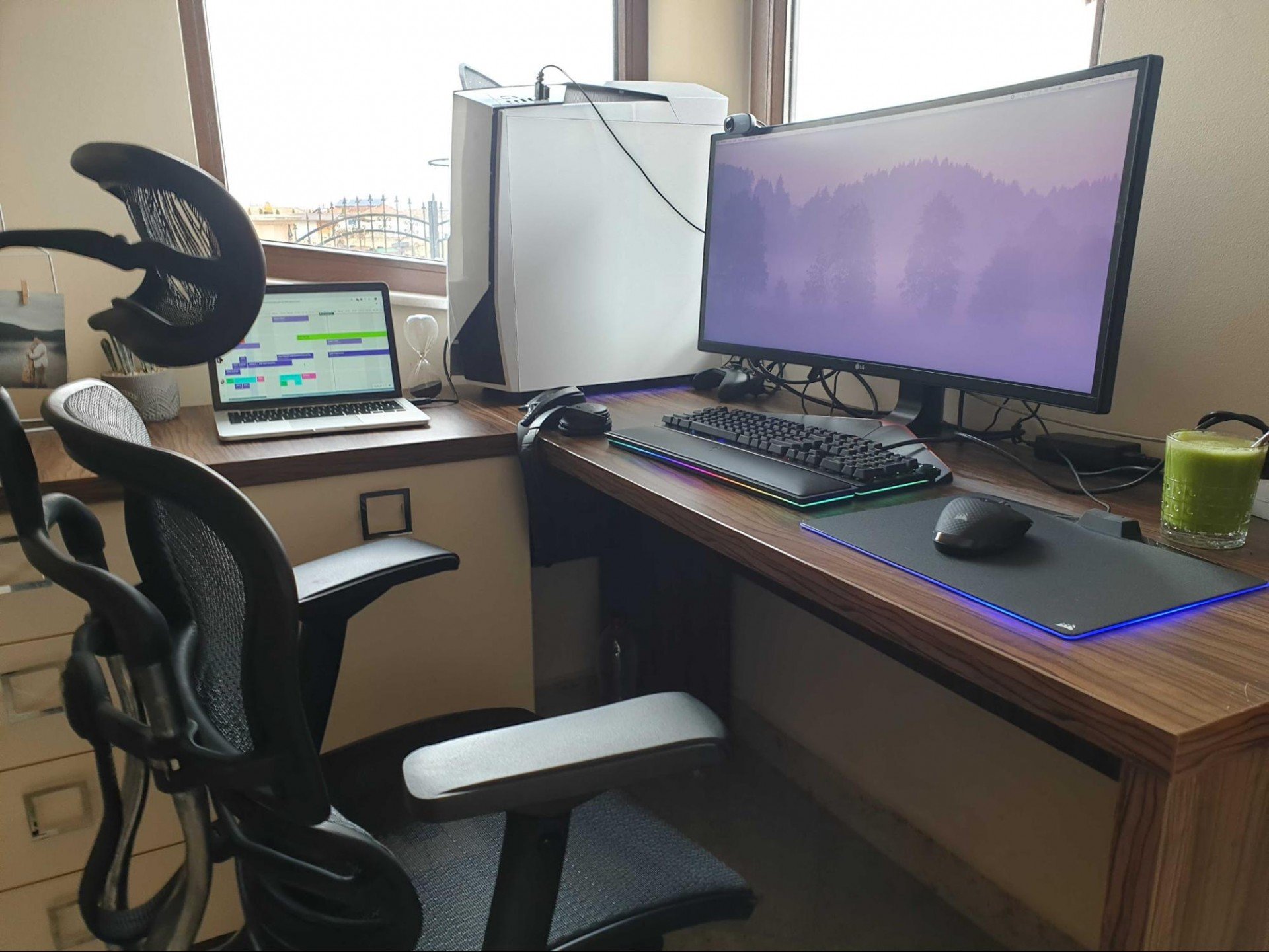 Andrei's home office has two windows that eliminate the need for electric lighting during the day.
The computer monitor is positioned so that there is no distracting glare from incoming sunlight, allowing the occupant to enjoy the benefits of a bright and airy workspace.
The ergonomic chair and ideal desk height help ensure that the hours you put in don't leave you feeling tired and cramped afterward.
Oh, and if you're wondering what is that awesome project management software on the laptop screen you can read more about it here.
Less is More
Minimalism is hugely popular in home office setups. When you eliminate desk clutter, use a neutral color palette for the furniture and walls, and keep blandness at bay by adding a plant or a favorite art print, you'll be surprised at how much the results will inspire you to work.
You can create a minimalist workspace by:
Having a single inbox for all paper, so that your desk is clear of anything you aren't working on.
Keeping your desktop clear of everything except your computer, phone, inbox tray, and maybe a single photo or plant.
Keeping the walls clear of calendars and sticky notes.
Getting rid of tools you never use, like hole punchers and fluorescent highlighters.
A clean workspace is essential for occupations that require precision and concentration, such as architectural design and computer programming.
In Mitch's workspace, the entire area only contains the devices and accessories that the occupant needs to do their work, with the sole exception of the digital clock.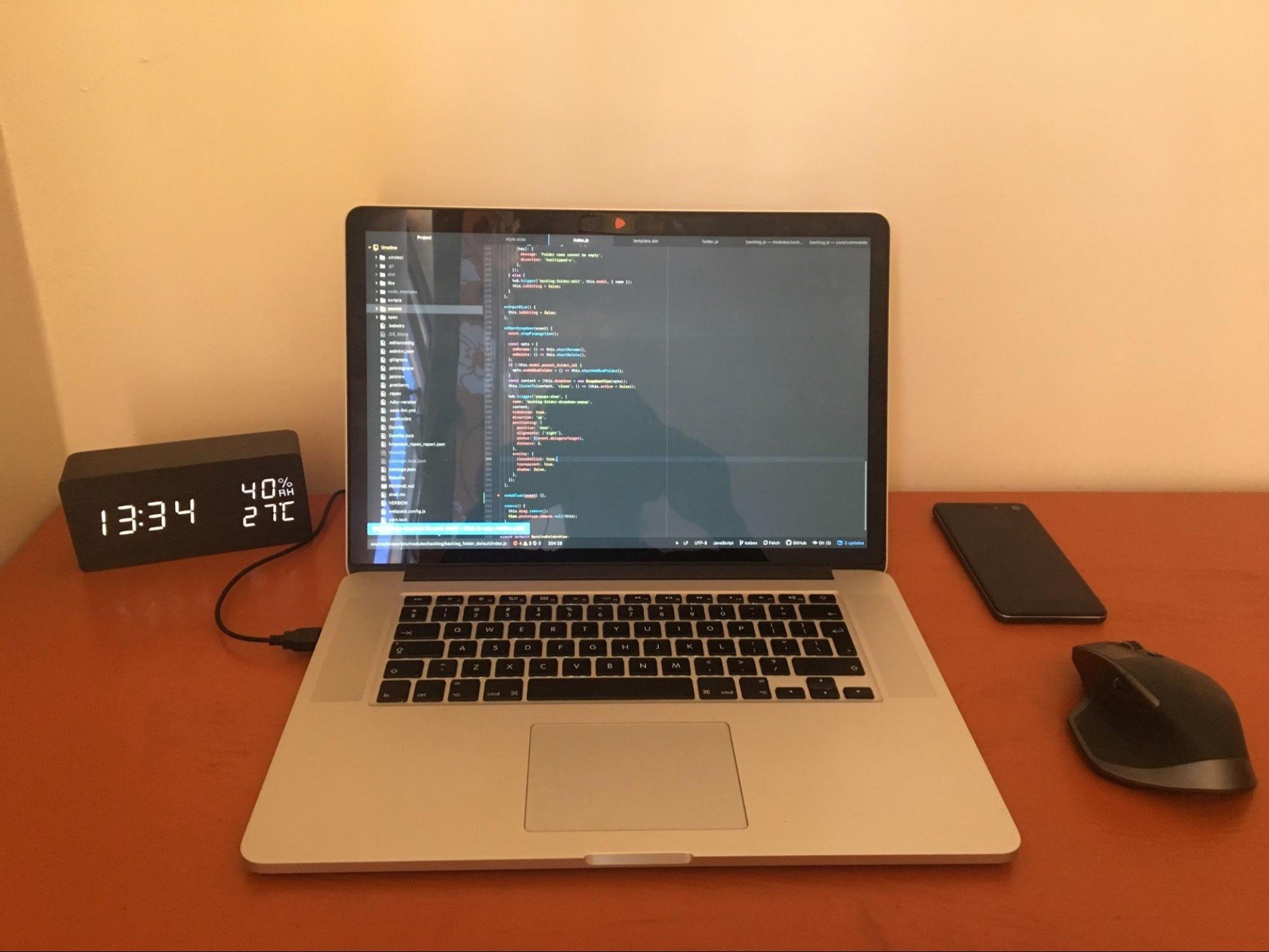 Set Up a Shrine
Mini-shrines are another popular home office design approach because they are so inspiring. Being creatively chaotic, they buck the minimalist trend, which is why mini-shrines are perfect for those who dislike a sterile work environment.
If you're a novelist, a framed print of Paris can awaken your inner muse each morning. If graphic art is your passion, funky postcards and unique knick knacks can kickstart your creative genius. Any occupation can benefit from framed affirmations like the ones in Vadim's workspace, below.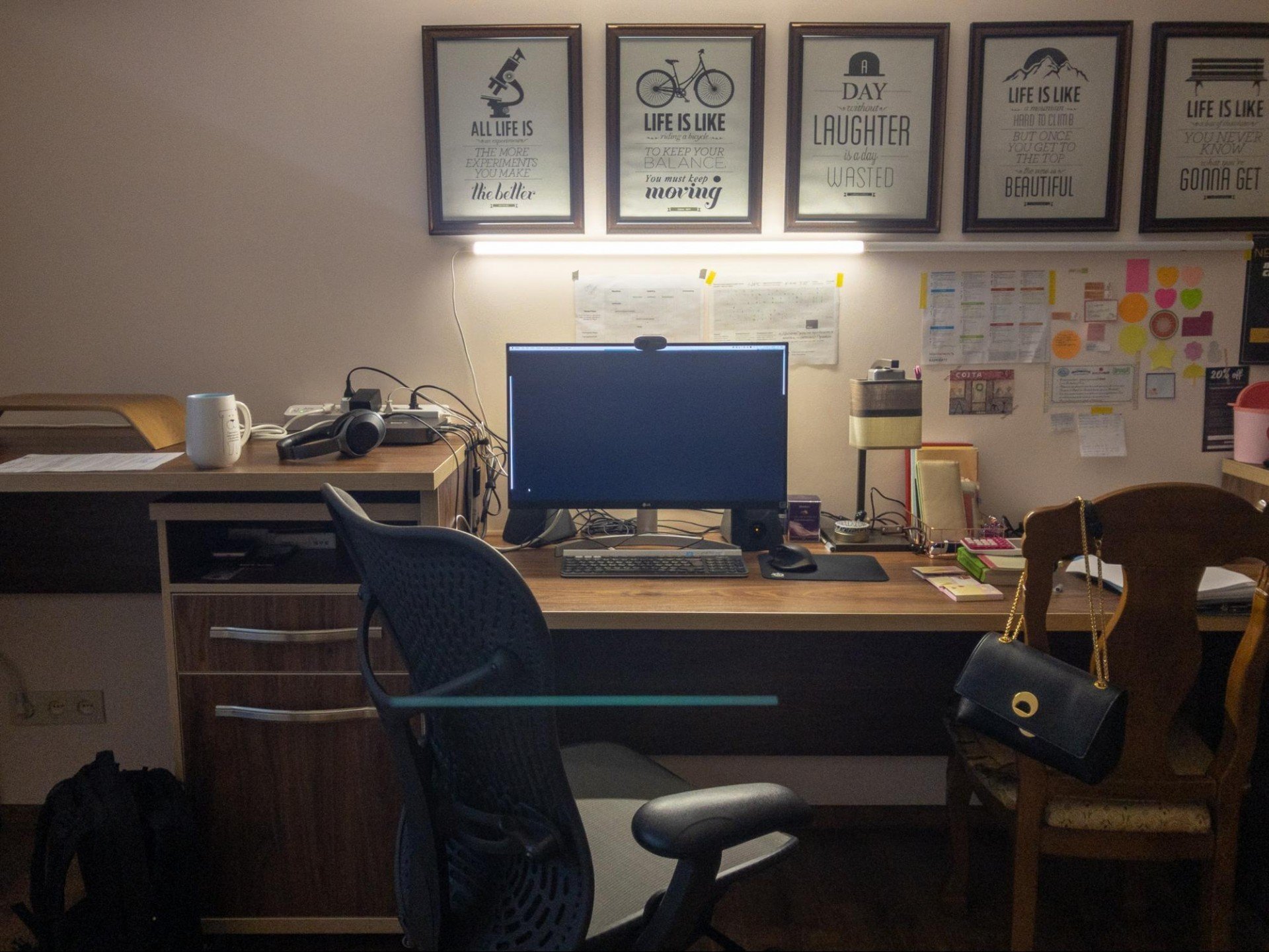 There's no right or wrong way to build a home office mini-shrine. All that matters is that the result leaves you inspired at the beginning of the workday and contented at the end.
Cut the Cords
Well, not literally- you still want your office equipment to function! You just don't want your workspace to look like some sort of tech jungle, with unsightly cords snaking across all surfaces. Once those cords accumulate dust bunnies, you really have an eyesore on your hands, not to mention a possible health hazard.
Reduce clutter by positioning your equipment as close to power outlets as possible and running all cords through a desk grommet, which hides them underneath your desk.
If you need accessories like a scanner and printer, think about buying the wireless versions that don't need to be tethered to your computer. In the home office setup below, Jozef opted for a wireless mouse and a laptop, which only needs a single cord to work (and even then, only when the battery is running low).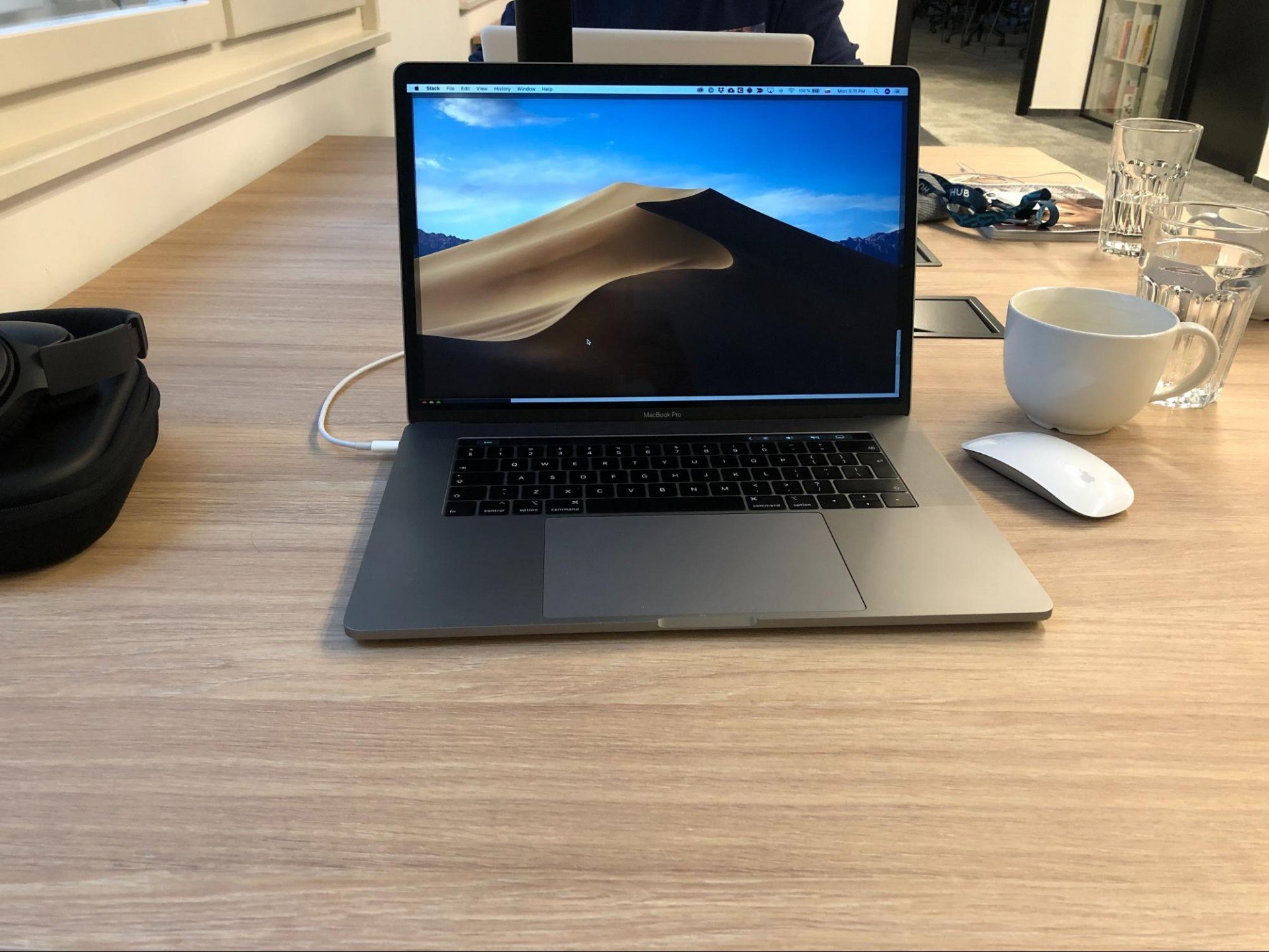 Blend In Beautifully
If you don't have a dedicated office and need to convert part of your living space, find creative ways to keep your workspace in harmony with its surroundings. If your home has traditional décor, a classic wooden desk and swivel chair are ideal. On the other hand, if your tastes veer toward modern trends, like metal furniture or pale walls, a sleek metal desk and wafer-thin flatscreen monitor will blend in perfectly.
Lisa's home workspace (below) is both cozy and stylish, like its surroundings. The screensaver and roses provide a pop of color like the red comforter on the sofa, and the personal touches (amethyst and photo) both channel the tranquil headspace that can see you through a busy workday.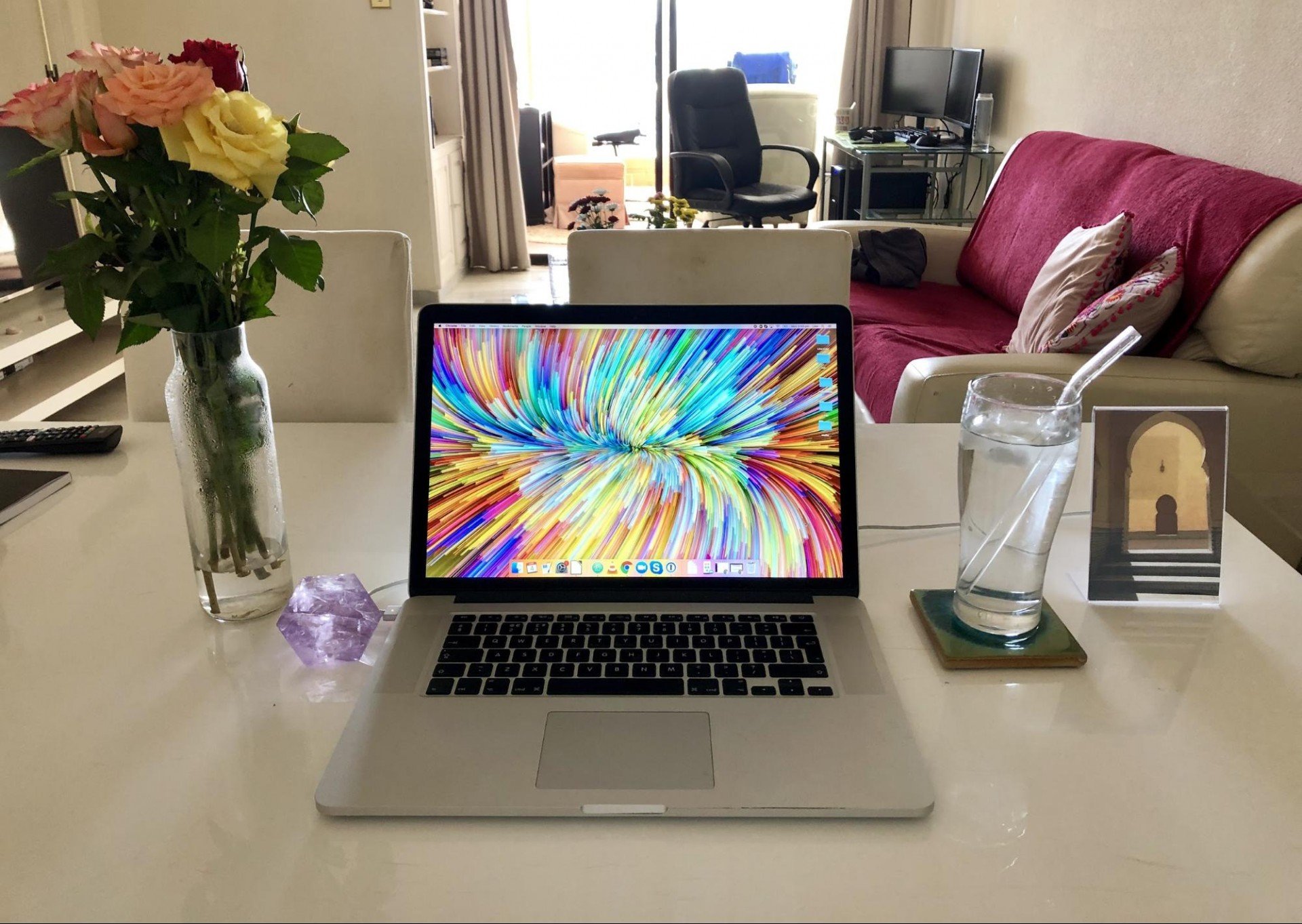 Enjoy the View
We've already talked about how windows are an excellent source of natural light. They also offer views of the landscape or cityscape outside, which can broaden your horizons if you have an especially small workspace. Positioning your desk so that it faces a window is also a good way to create a mental separation when your workspace is in a bedroom or living room.
In the example below, Laura can see outside while she's work and has enough access to natural light that she only needs task lighting for backup. With this type of setup, you can work longer hours before you need to turn on the overhead lights.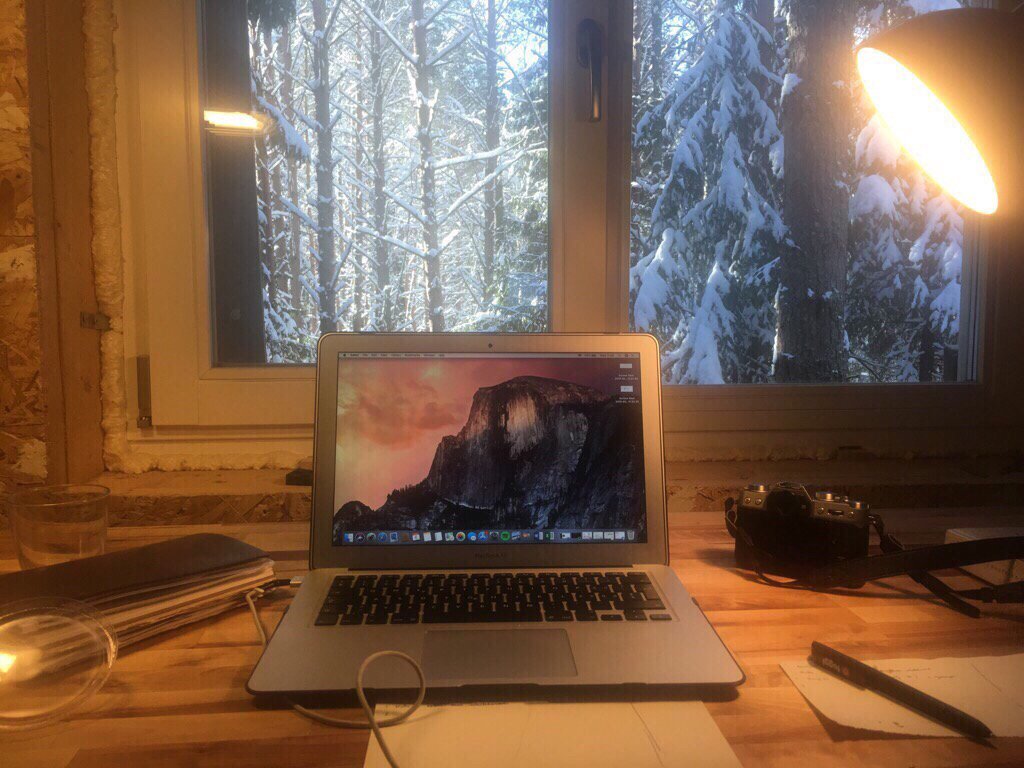 Channel Your Inner Artist
Your home office setup should reflect your unique personality. When you give yourself permission to be playful, your inner child steps in and opens your mind to ideas and possibilities that might be stifled in traditional surroundings.
In the example below, Nacho combines a majestic screensaver, compact backlit keyboard, and patterned desk surface to create a highly personalized workspace. This is definitely a place where creativity thrives.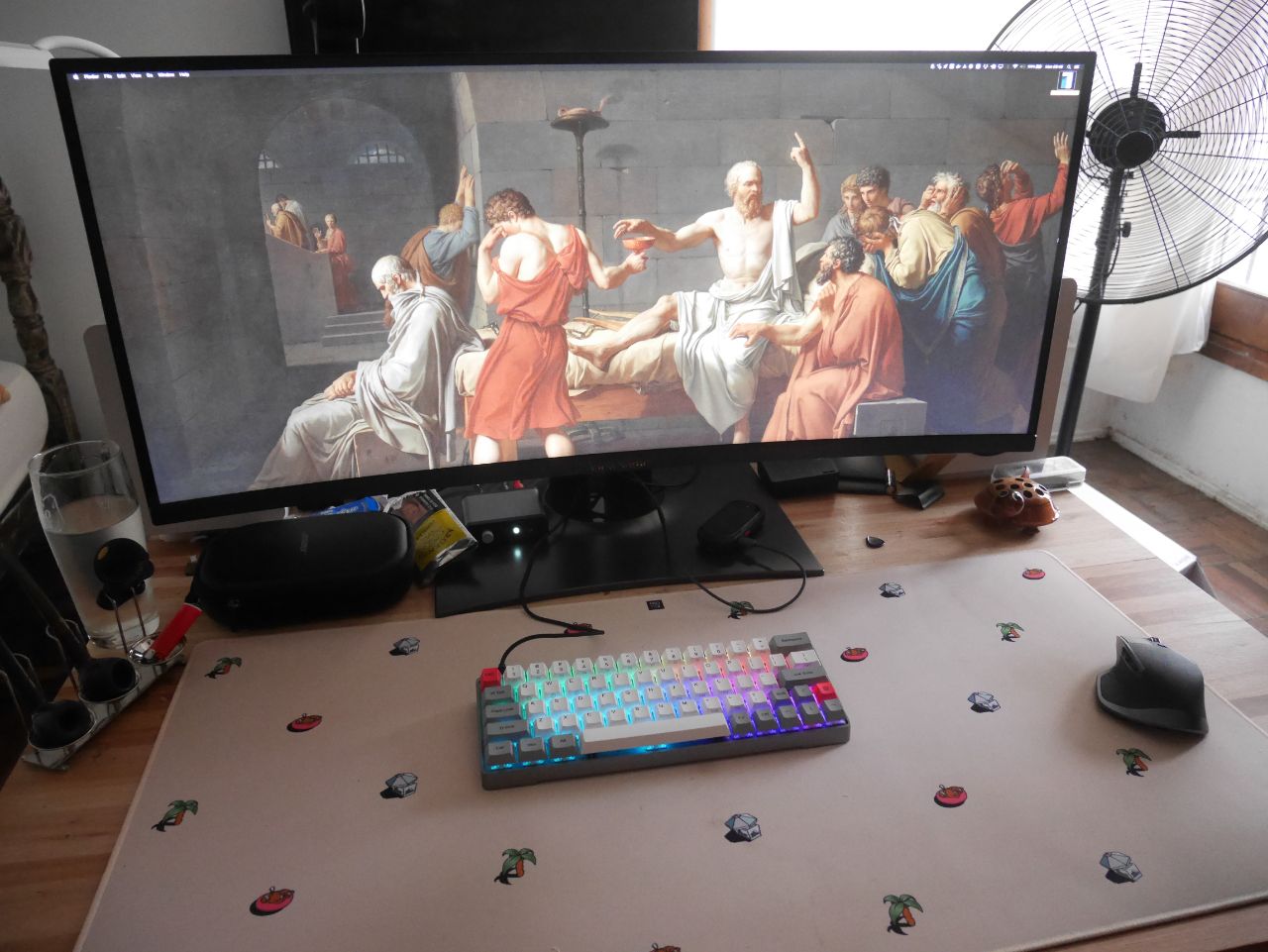 Add Touches of Green
There's a reason why plants are a core part of both traditional and home office spaces. It doesn't matter whether you're working in a corner office or your kitchen table: the presence of plants leaves you feeling calm and centered. Other benefits include:
They become attractive accessories when placed in pots or planters that complement the surrounding decor.
They add dimension to workspaces of all sizes.
They eliminate airborne toxins such as the chemicals found in carpets, furniture polish, printer ink, and more.
Plants are natural humidifiers, so dry eyes, sore throats, and similar discomforts can be reduced.
In the home office setup below, Eliza has created an attractive barrier between her office and living spaces by adding a variety of plants to her desk. The effect is one that can boost mood, reduce stress, and make the workspace a more appealing place to be. Combine these advantages with the well-organized desk, and you have an area where productivity flourishes.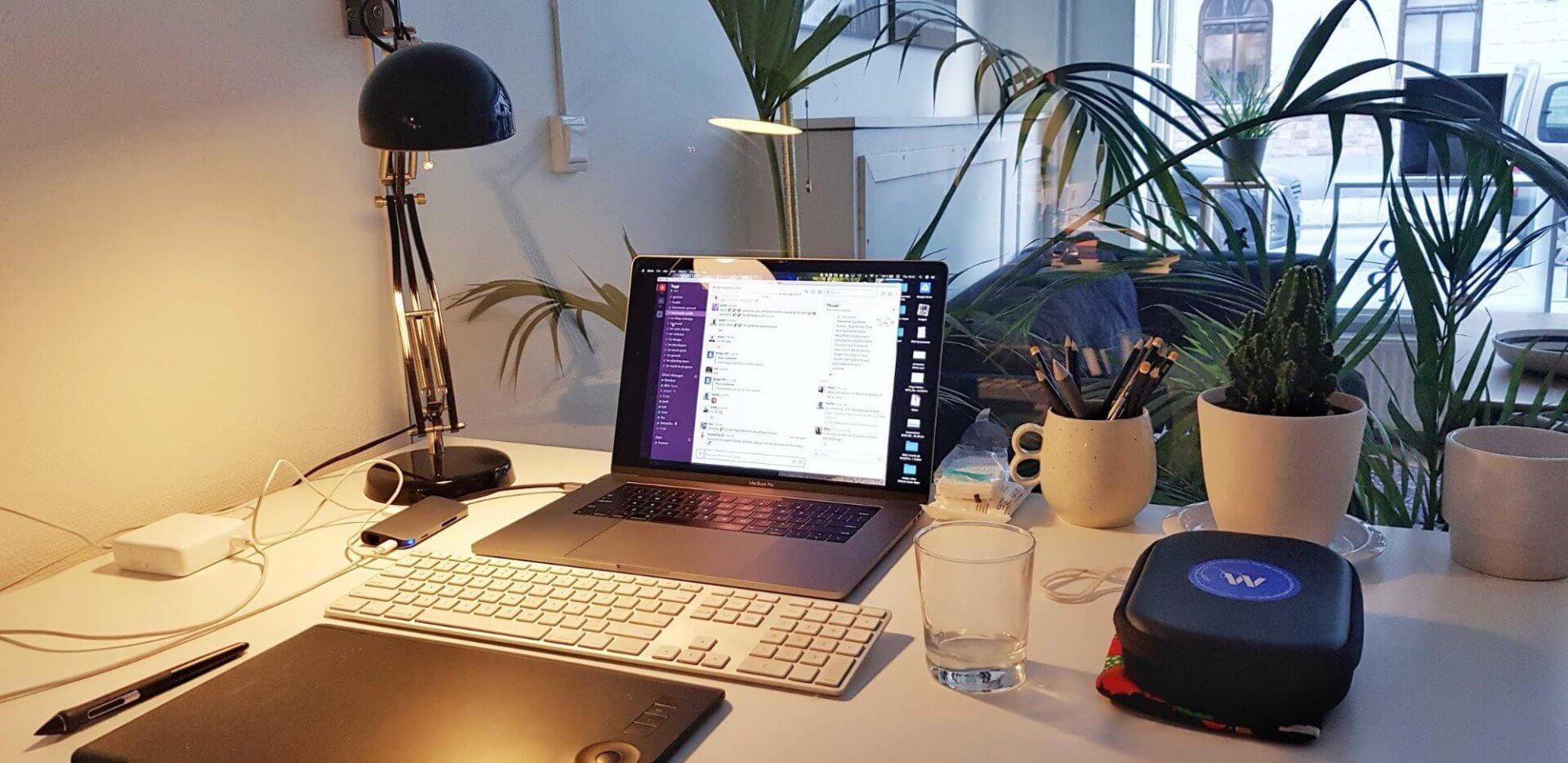 Accent Your Wall
Also known as feature walls, accent walls are a major part of traditional and home office design. They can break up an overly large room or make a small office feel more spacious. If your workspace is set up in a room that has other purposes, such as sleeping or watching television, an accent wall can give the impression of a dedicated space. These walls can created using paint, wallpaper, or even decorative wall hangings.
In Emily's office, the room has an elegantly patterned wallpaper as a backdrop. The clean desk organization and cheery flamingo notebook further enhance the space.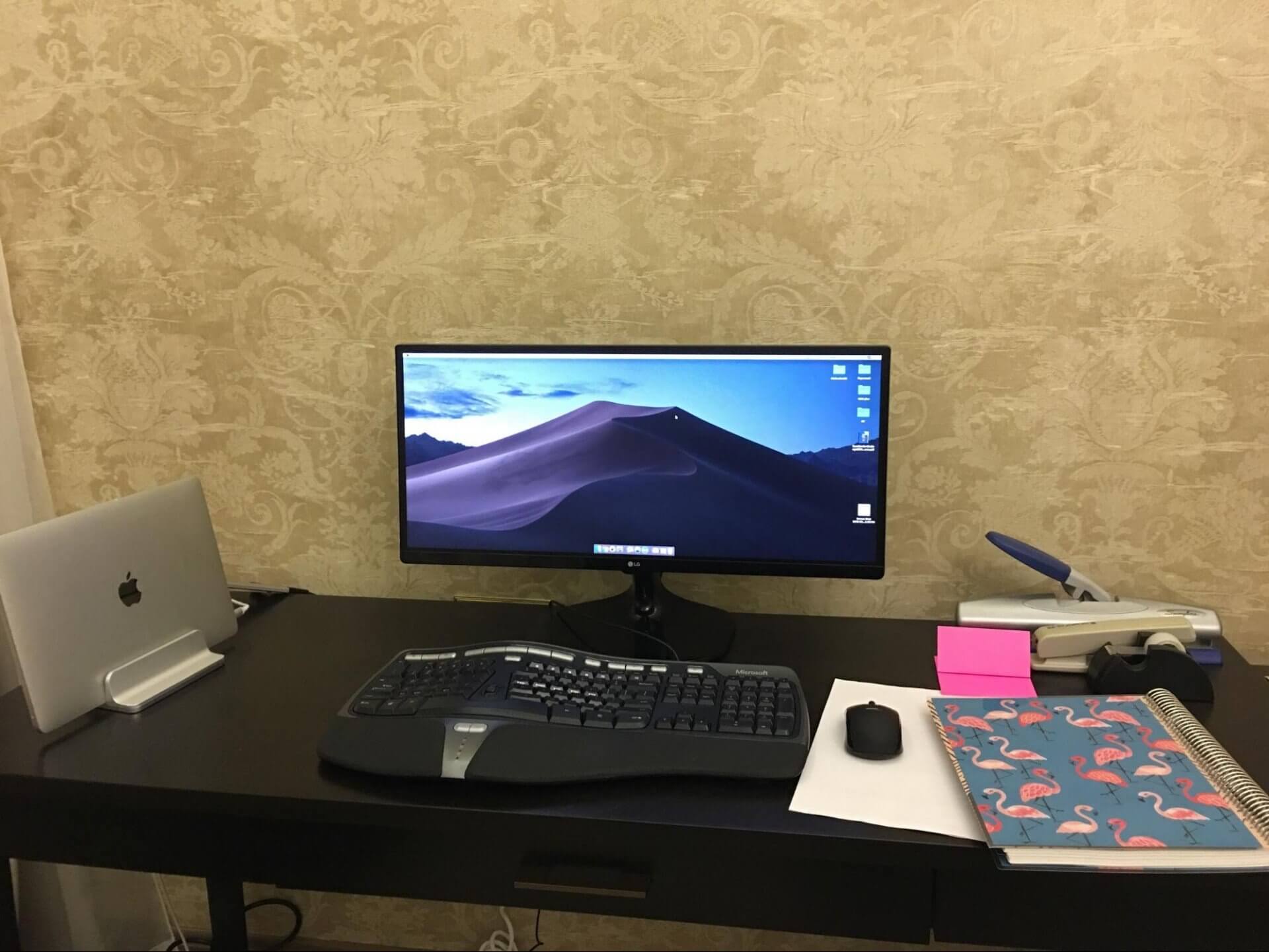 Conclusion
If you're wondering how to set up your home office, here's a secret: just get started. Once you choose a space, everything else, from furniture style and size to decor and accessories, will come to you naturally. You'll love the process of designing a space that will inspire your best work, and the output will justify the effort.

Rose Keefe is an author and technical writer who has over ten years' experience in supporting project managers in the manufacturing and construction sectors. One of her primary responsibilities was developing product manuals that supported efficient use of industrial equipment. She continues to write on the subject of time management and commercial productivity for trade websites and publications.