Congratulations! You just scored another project. You've worked hard as a project manager and it's really paying off. Now you just have to iron out a few details in order to make this thing really work. Your first step? You need to figure out how to make a timeline that works for your team, while staying on budget and on deadline.
Preplanning is the life vest in this pool of project management. You have to plan every single step in this venture before you even take one. Although sometimes timelines change and need to be revised, it's important to create a timeline so you can visualize the direction you want the project to go in.
So, what's next? Now, you should definitely spend some time making a detailed timeline. Now, like I said before, plans change sometimes, but that shouldn't stop you from making this timeline as if that's exactly how it should work out. Always hope for the best, but plan for the worst. With that being said, let's go over some key elements that you need to consider when making the timeline.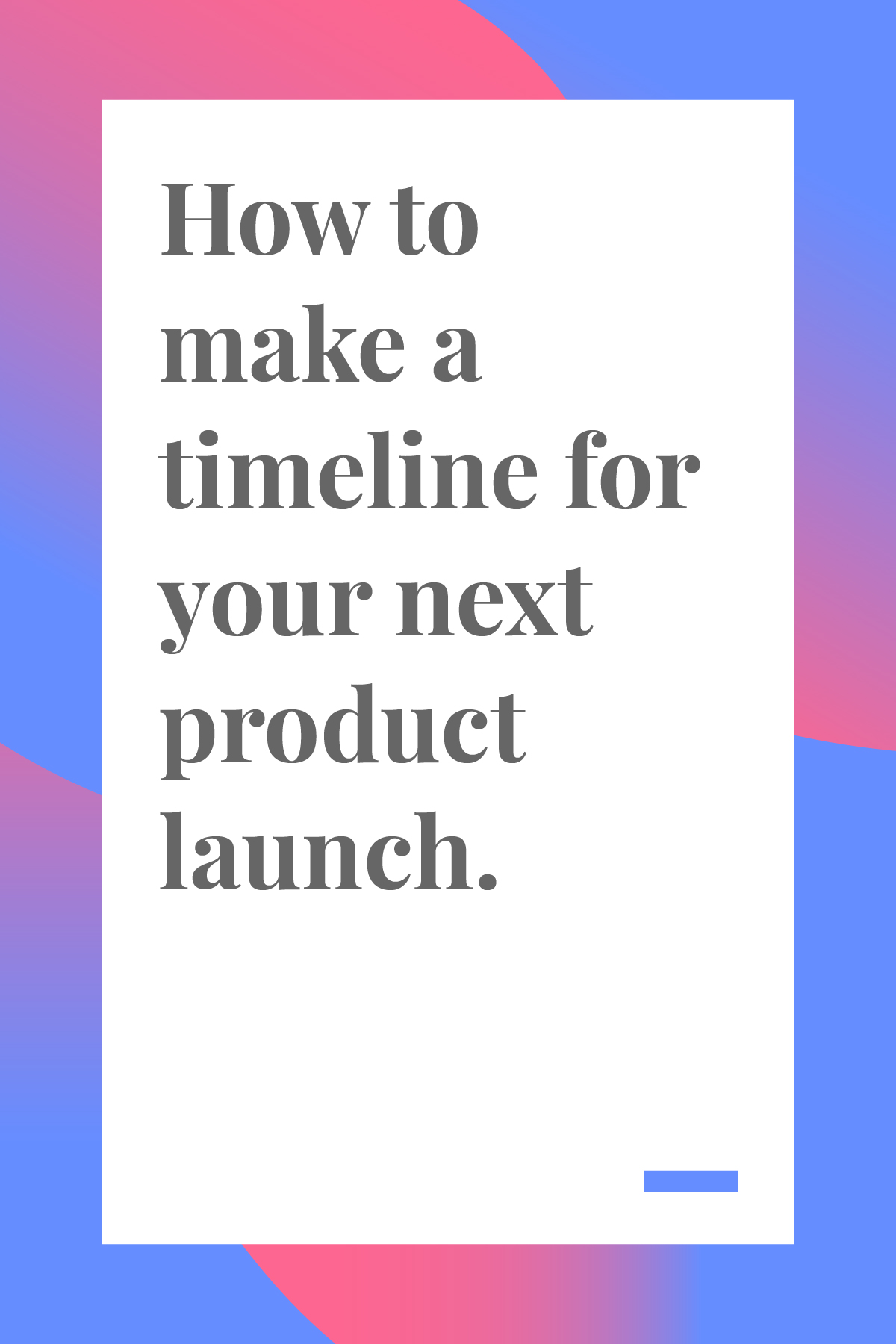 How to Make a Timeline Using Free Software
It's always easier to have most of your tools for success in one place. Of course, you'll probably use a variety of plugins, add ons, apps, and software, but when you can integrate them in one place, you'll save time and headaches. That's why we always recommend Toggl Plan.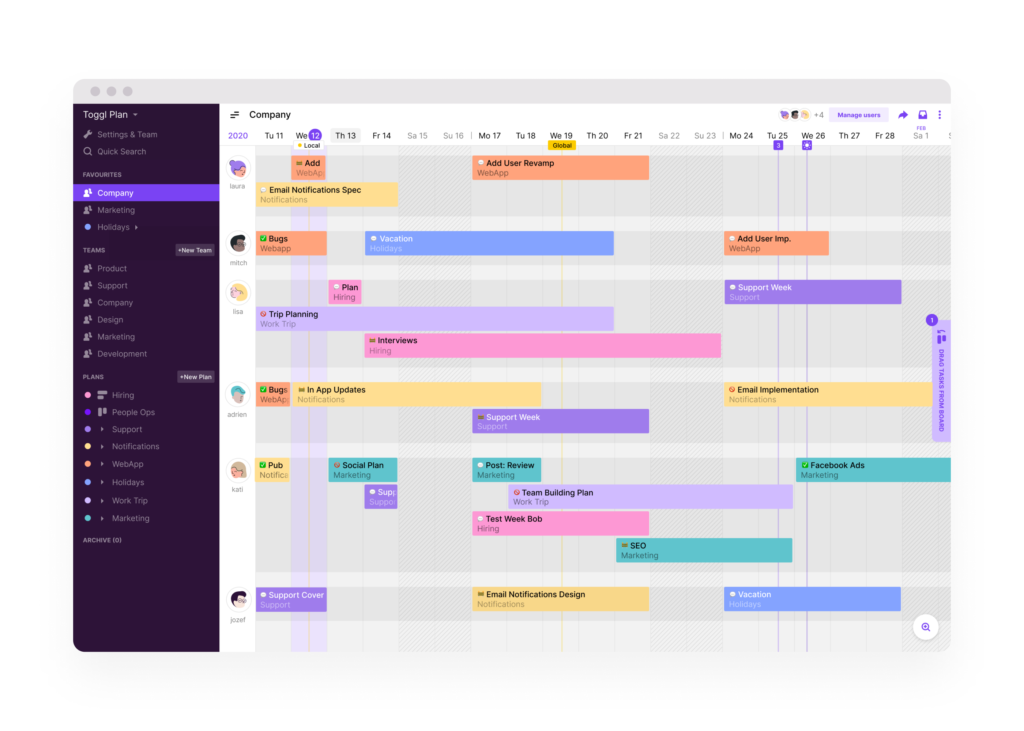 Toggl Plan is an easy to use interactive calendar that's perfect for creating a timeline for your next product launch. With Toggl Plan, you can see weekly, monthly, and quarterly overviews, share your timeline with your team and adjust your timeline on the fly from your browser or mobile app. It also integrates with all your favorite tools, including Slack, Trello, Github, and Basecamp. Having a tool like this is insanely helpful when you jump into a new project because it's so easy to use, easy to share, and easy to adjust in real-time.
[bctt tweet="New project? Stay on #budget and hit your #deadline by laying it out on the (time)line." username="toggl plan"]
Work Breakdown Structure
Pretend that your product launch timeline is one giant cookie. You can't take it all in at once or else you might choke. Your project will be easiest to visualize when you lay it out in front of you. The template for the work breakdown structure (WBS) varies completely between project managers, and honestly isn't the most important aspect. What is important is that you know how to make a timeline and break it down into bite-sized pieces. For the sake of this article, we'll call them phases.
The purpose of dividing a project timeline into phases is to make the project feel less overwhelming. That way, you can break down each phase and determine things like resources, budget, task assignments, deadlines and so on. Let's break these elements down even further.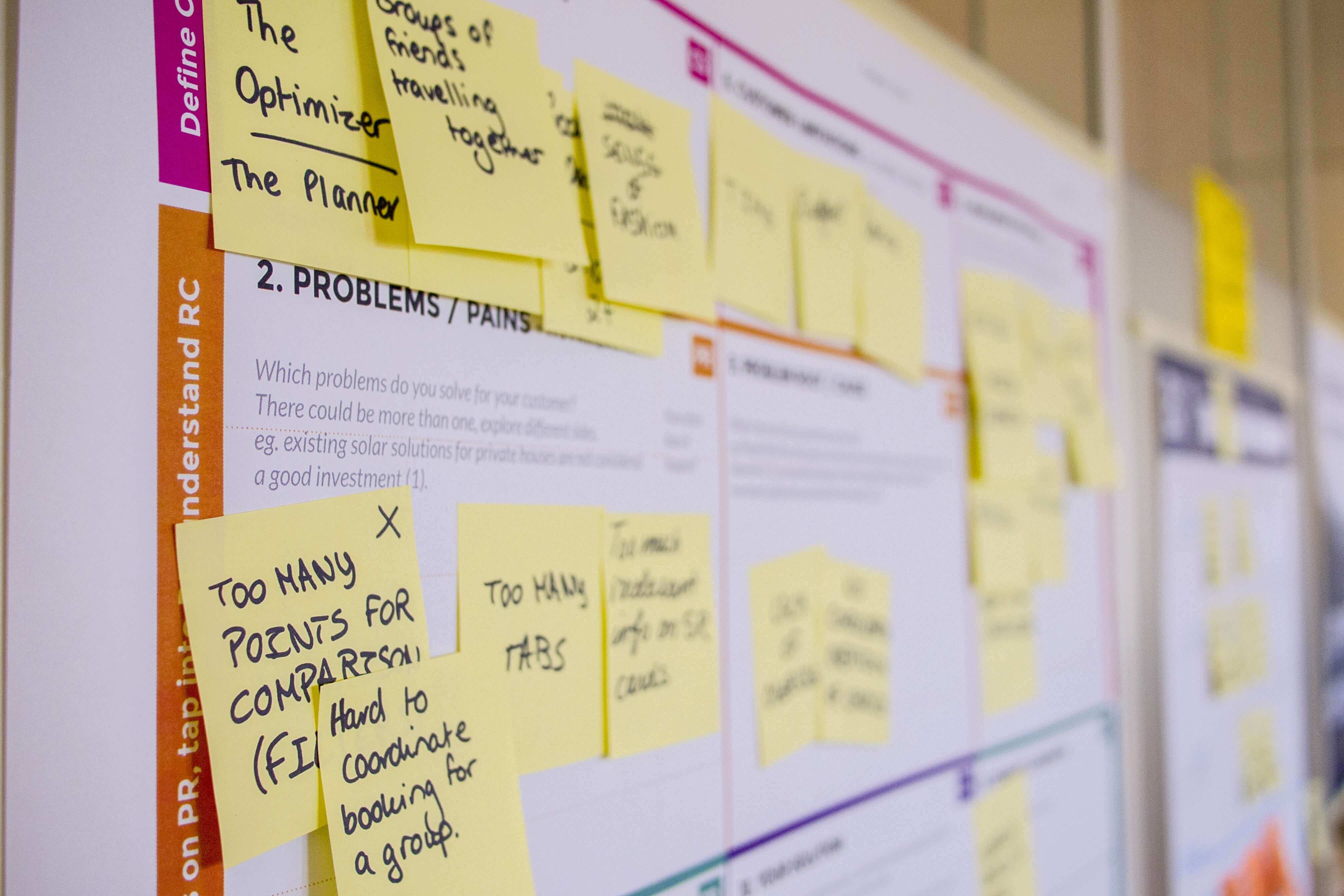 How Much is This Going to Cost?
One of the scariest questions when your car breaks down: "How much is it going to cost"? In the case of cars breaking down, it'd be nice to know beforehand if something is going to go wrong. Luckily, we're not dealing with cars, but we are dealing with money in the same way. Going into a project knowing (roughly) the cost of everything is so vital to the operation. Speaking of the Work Breakdown Structure (WBS) again, it's easier to budget the entire project in phases. Smaller portions make it easier to swallow, remember?
But, it's not as easy as just calling and quoting. You should always plan to spend more money than originally planned. It's not that you planned anything incorrectly, but when was the last time you spent exactly as much as you planned you would when you went to get groceries? Exactly. And, if you end up coming in under budget, it feels so good. Just take it phase by phase think clearly, and add a little on the top.
Task Assignments
At this point, you should have a pretty good understanding of why you hired each of your teammates. Each of the members of your team has a specific skill set. To meet your milestones and deadlines, which we will discuss next, you should assign those with specific skills to the according tasks. No tricks or hacks here, it's pretty straight forward.
Include Deadlines and Milestones on Your Timeline
It's essential that you include milestones and deadlines on your project timeline. Without these benchmarks, you risk wasting time and money. With Toggl Plan, it's easy to set milestones and see at a glance how your team is progressing.
One easy way to set milestones is to include a milestone at the end of each project phase. You can then plan backwards to make sure you're managing your team members and resources properly.
Sometimes your deadlines and milestones will change. That's normal, and on Toggl Plan, altering a deadline it's as simple as dragging and dropping a pin. That way, if something with your project changes, you aren't stuck trying to rearrange the entire timeline. Ain't nobody got time for that.
3, 2, 1 GO!
Alright! You've drawn up a battle plan, determined the phases, budget, and assigned tasks. Now what do you do? Easy! You go and knock it out of the park. It's important to remember that there are some things that you just can't control. What's equally as important to remember is that there are MANY things that you CAN control, and that's why it's important that you know how to make a timeline for you launch.When you plan ahead, very few things will surprise you. Remember, plan for the worst, and hope for the best.
[bctt tweet="New project? Stay on #budget and hit your #deadline by laying it out on the (time)line." username="toggl plan"]
You'll get the hang of it. Everyone has some sort of opinion, but only you know how you work best. Find your niche and use it to your advantage. Adapt what isn't working so well for you into something that does work. Don't forget that there really are no rules to this gig, just guidelines. Now, my friend, you are ready to take on your timeline for your next big product launch. There's nothing stopping you.