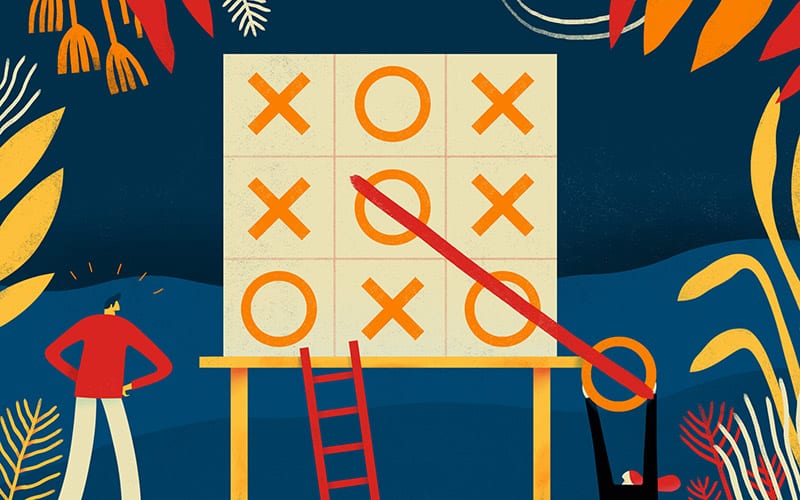 If you've ever been to a party, gone to college, or spent at least 2 seconds of your life on the Internet, then you've probably heard of the theory that some people are "left-brainers", whereas others are "right-brainers". That's cool and all, but have you ever heard of vertical, critical and lateral thinkers?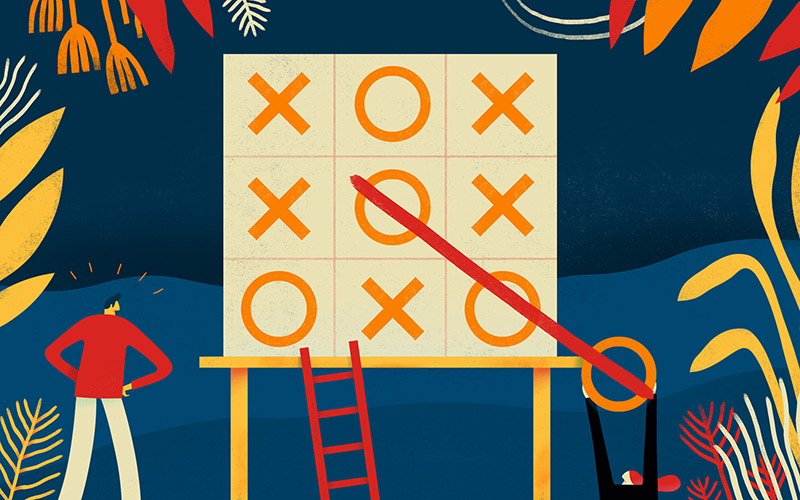 When you think "vertical", you think top-down, and chain of command. There may not be much wiggle room, and as a result, innovation doesn't have a space to flourish. And critical thinking can be too methodical and by-the-books.
Lateral thinking, though. Now that's the the stuff.
It's creative and non-sequential, which means you can try a variety of routes to address your problem–even if, at first, they seem unreasonable or silly.
The dictionary defines "lateral" as "of, at, toward, or from the side or sides". It's the magic of taking a secret shortcut that only locals know so you can get around standstill traffic on the main roads. It's the kind of problem solving you'll find in the Judgment of Solomon:
Two women came to the King with a baby, and each claimed to be its mother. King Solomon called for his guards to fetch a dagger, and said to the women, "I will cut this baby in half, so that you can each half a part of this baby."
One woman remained silent and proud. The other, however, began weeping, and said to the King, "Please just give the baby to her." From their reactions, it was clear that the crying woman was the baby's mother, and he returned the child to its rightful parent.
Edward de Bono, a psychologist and physician, came up with the term "lateral thinking' back in 1967, linking it to humor. We find most jokes funny because they connect unexpected ideas with topics we already know.
Unlike critical thinking, which seeks errors and attempts to fix them, lateral thinking is about moving from one known idea and leaping forward to create new ideas.
If you're not quite catching on, don't worry. I didn't, too, when I first heard about "lateral thinking". But this is the man who came up with the legendary six thinking hats.
Often, the most elegant solutions to our problems come when we approach the issue "sideways".
Is creative thinking really that important for business, though?
Says de Bono, "Creative thinking empowers people by adding strength to their natural abilities, which improves creativity and innovation, which leads to increased productivity and profit. Today, better quality and better service are essential, but they are not enough. Creativity and innovation are the only engines that will drive lasting, global success."

Why change the status quo? And what's the point of solving a puzzle while changing half of the pieces?
Creativity can help you win, big time.
Remember when Apple first launched their iPhone? People waited for line in days to get their hands on a unit.
And remember when they first launched Siri? People soon started copying that with their own AI helpers.
Apple's trend of constant innovation has helped separate it from other companies, so much so that it's become the poster boy for creative innovation. Heck, it's topped the Boston Consulting Group's list of The Most Innovative Companies" for 11 years in a row.
According to Tucker Marion, a professor from Northeastern University,
Organizations today operate in a highly competitive, global environment, making creativity crucial. Creativity is what fuels big ideas, challenges employees' way of thinking, and opens the door to new business opportunities. "Creativity" and "innovation" are often used interchangeably for that reason, but are two separate concepts.
So, now that we've showed you just how amazing lateral thinking is, you might be wondering–how can I practice it in my own business? After all, I'm not a very creative person.
The big myth that surrounds creativity is that it comes naturally. Though some people are naturally talented at coming up with Big Ideas, others develop the skill through lots and lots of practice. That means there are plenty of ways for you to practice lateral thinking and implement it in your business. Here are some of the ways that de Bono explains in his books.
#1 Connect a random word to whatever you're thinking about.
Grab your nearest dictionary and point to a random word, or spin around the room a few times and point to something interesting.
Then, try and link it back to whatever you're thinking about. The example that De Bono gave was of an office connecting the word "nose" to their photocopier.
By thinking of ways to connect two seemingly unrelated concepts, they came up with the idea of having the copier produce a lavender smell whenever it was low on paper. It was a unique and clever way of alerting the staff of the issue.
De Bono calls this technique the art of "random entries". These odd words, pictures, and stimuli can be used to open new lines of thinking that you'd previously never considered.
#2 Write a bunch of "po".
De Bono's universe is full of wacky ways of solving problems–a "po", for example, is a "provocation", or an idea that can move thinking forward. We often censor ourselves and reject ideas that seem too "weird" or "out there", but he argues that following different trains of thought until they reach their stations can be a great way of introducing innovation into your business.
The word "po" is inspired from the words suppose, possible, poetry, and hypothesis. And in Polynesian, it also refers to the original chaotic state of formlessness. Here's an example of a set of "po" one company created:
Sales are dropping off because our product is perceived as old fashioned.
po: Change the colour of the packaging

po:

Flood the market

with even older-looking products to make it seem more appealing

po: Call it

retro

po: Sell it to old people

po: Sell it to young people as a gift for old people

po: Open a

museum

dedicated to it

po: Market it as a new product
If you look closely at some of these suggestions, you'll see that some are pretty ridiculous.
Open a museum just for your ugly, old product?
Flood the market with uglier, older products?
What reasonable business would do that?
But by following and expanding on these odd suggestions, here's what the company came up with:
po: Change the colour of the packaging

update the product casing to bring it up to date (electronic goods can often do this)

po: Flood the market with even older-looking products to make it seem more appealing

take a cut down version and release it as an older cheaper one to make this product seem like the

top of the line

po: Call it retro

instead of retro say "tried and tested" or "industry standard"

po: Sell it to old people

po: Sell it to young people as a gift for old people

po: Open a museum dedicated to it

exhibit only your competitor's products

sell this product in the

museum

make the experience educational within your sector

open a

café

accept group bookings

add a

theme park

po: Market it as a new product
Essentially, a po is the bridge between silly ideas and the great ones that follow. "If silly ideas are not allowed to form, the subsequent good idea will be undiscovered. Po allows silly ideas to form so that good ones can follow."
If you're still having trouble coming up with ridiculous ideas, try wishful thinking, exaggerating, reversals, escaping from a situation, or distortion.
#3 Ask "why".
Three year old children have an annoying capacity to ask "why" about every. single. thing. that. happens.
Why is the sky blue?
Why are we riding a car?
Why is Toggl such a great time-tracking app?
Why are we eating vegetables I don't like? (Why are these questions so weird?).
It's time to put yourself back in your kid shoes and challenge every idea that comes your way.
Take a look at how you do certain things and how you run your business.
Why do you charge a subscription model rather than a one-time fee?

Why do you work with that supplier instead of this new one, which seems more trustworthy?

Why do you use this type of paper for your business cards, rather than that kind–heck, why not do away with them entirely?
By learning the reason behind each action your team takes, you can decide which ones are pointless or expensive. Remember the story about how 30 years ago, American Airlines reduced costs by $40,000 simply by eliminating an olive from each salad?
Most customers wouldn't have noticed the loss of a single olive, but for American Airlines, that decision saved them a lot of money.
#4 "Treat" an idea.
This refers to the art of customizing a starter idea to make sure that it works for your company or for any given situation. A good idea isn't always as practical as we need it to be. By thinking of the constraints that interferes with its execution, you can restructure it and make sure that it fits within the "rules", so to speak.
#5 If you have a lot of ideas, "harvest" the best ones.
Sometimes you're stuck with so many ideas that you're not sure which ones to work on first. At the end of a brainstorming session or meeting, you can select specific ideas that seem the easiest to implement, then reshape them into practical, quick solutions. De Bono says that this is another way of using starter ideas–rather than developing all of them, just pick those that are ready to launch.
Harvesting is a great way to save time.
#6 Challenge your assumptions.
You might assume that there are constraints when, in reality, there aren't. If a person tells you that you have choose between Door A and Door B, which one would you pick?
What assumptions do you immediately make? You might assume that:
You have to choose one of the two options (in reality, there might be a third way out)

You have to act now (you might be able to leave in an hour, or in a day)
#7 Focus by training your brain to think more clearly.
Distraction is one of the greatest threats to innovation. How can you come up with a genius idea when you never dedicate time to actually ideate? Focusing or being able to get things done is not a talent; rather, it's a skill you can learn.
According to the Mayo Clinic, here are a few reliable ways to learn how to focus:
Reduce distractions.

Turn off the TV, put down your phone and log out of your email account. Not convinced it'll help? Eliminate noncritical screen time for two days and see how much more you get done.

Plan for peaks and valleys.

Are you a morning person? Then don't squander that time on email. Instead, use it to tackle projects that require your full concentration. Save the afternoon for going through your inbox or catching up on your filing.

Put it out of your mind.

Too many mental notes make for a cluttered mind. All of that unfinished business can sap your mental energy. Put whatever's on your mind on paper or capture it digitally. Think of it as off-site storage.

Train your brain.

Any skill worth having requires practice. Learning to focus is no different. Invest time in mastering attention training, mindfulness or other types of meditation. These are great ways to practice taming distractions and improving focus.
At Toggl, we know how restrictive time can be. It's why we adore the power of lateral thinking. You see it on our website, in all our blog posts, and in our clever comics 😉 And we're not alone–eighty-two percent of executives surveyed by Forrester Consulting agree that companies benefit from creativity with increased revenue and greater market share. And 58% of those respondents said they set goals around creative outcomes.
Let us know what your creative goals are, and some of the nifty solutions you've created in order to solve some tough problems!