"Remote work" has become a buzzword. It's a mythical beast – there's a lot of talk about it, yet very few people are actually working remotely and even fewer companies are remote-first, or "fully remote." With so much talk, but little expertise, confusion is bound to arise. In this guide I'll be sharing a practical, experience-first approach to running a fully remote company.
What is Toggl Plan?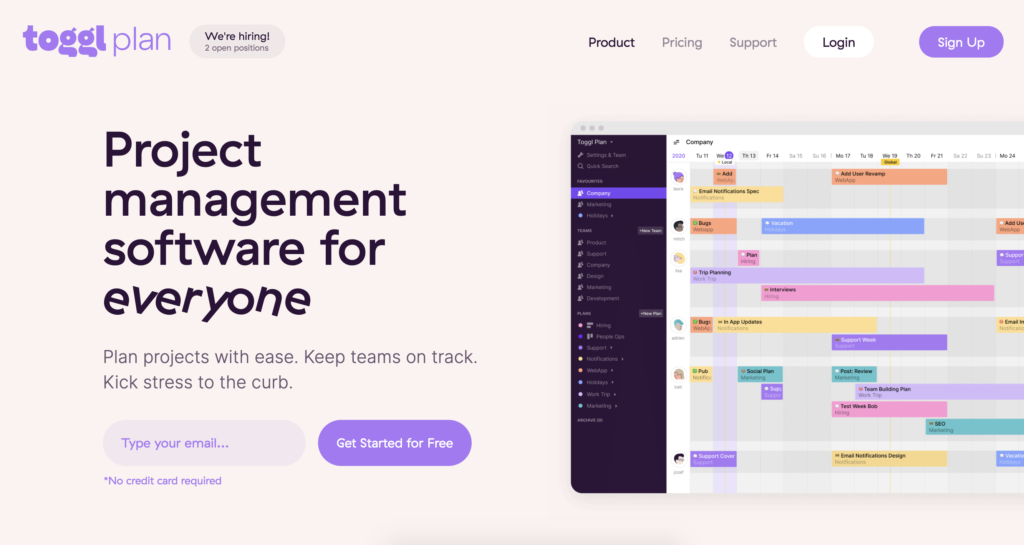 Toggl Plan is a fully remote SaaS company. Our product (also called Toggl Plan) is a beautifully simple project planner that helps managers plan ahead and share schedules with everyone on the team. Toggl Plan started as a traditional office-based company, so we have the valuable experience of migrating from a co-located company to a fully remote company.
Who am I?
I've been working remotely since 2014 and in many different roles: as a developer, a mid-level manager, and finally, as a CEO. I'm currently the CEO of Toggl Plan and lead its workforce of 18 remote employees.
I had my worries before trying remote work, but after experimenting with it I was quickly sold.
Who should read this guide?
This guide is for anyone who's curious about remote teams in practice. It's a great starting point if you're thinking of trying out remote with your company or already experimenting with it.
The early days of Toggl Plan
Toggl Plan hasn't always been remote. We started out as a regular office-based company. For us, remote was most appetizing for reasons to do with hiring and scaling the company.
Toggl Plan was founded in Estonia, and the population of Estonia is only 1.3 million. To build a world-class product, we needed to go after world-class employees. The local talent pool simply wasn't large enough. The demand for developers is growing, but the amount of new talent entering the market is shrinking yearly, so this issue will grow even worse over time.
Our product was global, yet we had a local team (The majority of the team had even been to the same university.).
We had a cool startup office with gourmet snacks, a well-stocked wine fridge, and nerf guns. But every office seems mundane after going there every day, no matter how much free food or table tennis sets it has.
Commuting to the office is a waste of time.
Alternatives to a local office-based company
We saw three alternatives to local working and hiring, each with its own set of problems to overcome.
Opening up an office in another city and country
Choosing another city will still limit you to a local workforce (local to that city).
It's expensive.
Someone would have to relocate there to kick things off.
Relocating people into Tallinn from other countries
Risky: what if the person is not a good fit?
It requires a lot of paperwork.
Relocating people with families can be challenging.
It's hard to scale and might become a bottleneck in the future.
Going remote
Can a team that is used to an office function remotely?
How can we make sure that everyone is actually working?
New hires might be from very different time zones, which would create more confusion.
Out of those three choices, going remote seemed like the easiest one to experiment with. So we decided to start off with a "remote work week." If we didn't like it we could always go back to the office. After that week most of us didn't return to the office—and so our choice was clear.
Looking back at the list of potential problems with going remote I can confidently say that all of them are worries, rather than actual problems. Let go of your fear of losing control and trust your team.
Remote means fully remote
When you run an office-based company that's already functioning well, it can be tempting to broaden your team by hiring a few remote employees while still keeping the local office for the original local team. In practice this doesn't work and is one of the main reasons people say that remote itself doesn't work.
Having a local office creates a group of "insiders." Anyone working from home is left to feel like an outsider. In a remote setting everyone should be treated equally, all information should move through remote channels. The only way to help your remote team achieve equal effectiveness is by going fully remote and eliminating the group of locally based "insiders."
Here's how I envision the effectiveness of a team migrating to being fully remote. The drop in the center caused by the partially remote team is not pretty – I advise skipping it all together and simply going straight to fully remote.
Five years later, where are we now?
After years of working remotely, it has become second nature to us. According to our internal staff surveys, people widely view remote work as the biggest perk of working for Toggl Plan.
And because people are so keen on remote work and the freedom it brings them, it greatly increases employee satisfaction and reduces employee churn.
And where are we with hiring? This is a screenshot from a past hiring screening test. The numbers speak for themselves. When were you last able to count candidates in thousands?
Hiring a remote work force has allowed us to choose amazing candidates from a huge hiring pool.