With the inception of the personal computer, technology changed how we work. Now, the rise of the home office is begining to change how we live.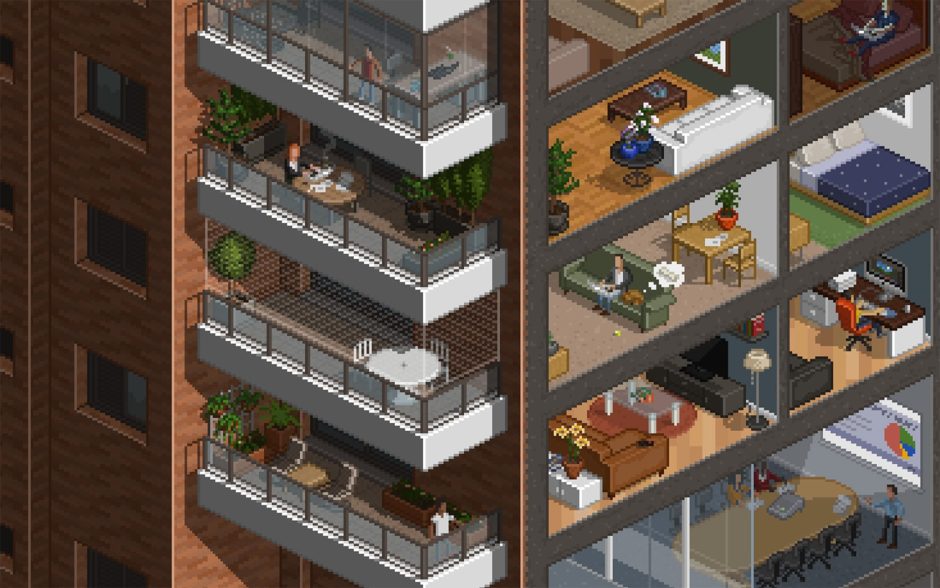 Illustration: Marcelo Colmenero (@isometricpixelart)
Last year, a new luxury rental building opened in Crown Heights, Brooklyn that offered all of the standard comforts you would expect from an upscale building–a doorman, a live-in super, and an Instagram-worthy rooftop with enviable views of the city–but without a traditional lobby. Rather than a grand, cavernous entryway for residents to walk through on their way to the elevator, the building's first floor is occupied by spaces custom-designed for the modern professional: a large coworking area, a library, and a kitchenette, all with Wi-Fi that reaches every corner.
These amenities aren't just aesthetic touches. They're strategic initiatives that are part of a business plan to attract and retain residents who are increasingly participating in the rapidly-growing remote workforce, which reportedly grew by a whopping 159% between 2005 and 2017, according to new data from the American Community Survey by Global Workplace Analytics and Flexjobs.
Good news: The 9-5 is on its way out.
Bad news: It's hard to focus at 8 p.m.
Good news again: A simple, nimble time management tool. Try Toggl Track.
And this major increase in remote work isn't just in full-time telecommuters. An annual Flexjobs survey of more than 3,000 people shows that nearly 80% of respondents wanted to telecommute 100% of the time, with 46% indicating that they would like to telecommute at least some of the time. In response to this surge of remote workers, businesses who run coworking and shared office spaces, like New York-based coworking giant WeWork, have experienced double-digit growth over the last few years. Now this new way of working is spilling over into the real estate world as well.
"We've been discussing [the remote work trend] for the past five years," says Stephen Kliegerman, the President of Halstead Property Development Marketing–the company that developed that luxury building in Brooklyn, along with other buildings like it. "When the WeWork phenomenon caught on and coworking in general, we started to discuss building buildings with common areas that were friendlier for coworking environments. 
As employees spend considerably less time in corporate headquarters, trading in their business suits and corner cubicles for yoga pants and makeshift home offices, luxury building blueprints and urban planning approaches aren't the only things that are changing. The way our homes look is evolving too.  
The 21st century home office
Real estate costs are at a premium. Young buyers can't afford the sprawling McMansions that their parents bought pre-Recession and are instead purchasing smaller homes more aligned with their budgets. Square footage of new homes is also shrinking, down for the third year in a row, according to the National Association of Home Builders.
But in this era of sacrificing space, downsizing, and fascination with tiny homes, buyers and renters are still very much interested in one thing: space for a home office. According to a 2017 report by Regus, an international facility management group, 54% of employees all over the world are now spending half the week working somewhere other than their company's main office. So how are builders, developers, and architects responding to this sudden need for office space outside of the office?  
Single-family homes
Brian Hoffman, owner of Red Seal Homes, a residential development company based in the Chicago and Nashville areas, says his company sees very few floor plans that don't include a designated home office or a room that can potentially serve as one.
"There's no question today that whether it's a bedroom or home office, there is a ton more thought and demand for those spaces," he says. "It's become extremely prominent within our markets to offer and use a home office."
Hoffman explains that those office spaces are typically located in the back of homes, placed near the outside wall to allow for natural light and feature a small closet with space for storage. 
"The entry has changed a little bit. Once upon a time [home offices] were done with double French doors and were more of a showpiece. Now it's definitely function over form. We're not losing as much wall space. The space has become more segmented off so the worker has quiet," Hoffman says.
Apartments and other small spaces
Those who live in apartments or homes that don't have any extra rooms available for an office setup and need to get creative with their existing space may find themselves working in what the internet has cheekily named a "cloffice"—a closet turned office. Creating a "cloffice" involves sacrificing storage space, removing a door, and cramming in shelves and a desk to create a tiny but manageable workspace.
Though the "cloffice" was born out of necessity, bloggers and influencers have taken this makeshift room and turned it into one of the most beautiful and aspirational projects you can find online. A quick search on Pinterest or Instagram reveals "cloffices" outfitted with chandeliers, sliding barn doors, punchy geometric wallpaper, and colorfully curated pegboard walls showing off office supplies.
Finding it difficult to focus in your "cloffice?" Use Toggl Track to manage your time.
Go.
People who live in luxury apartment buildings like the one described above may find themselves with more options of specially-designed lounges and coworking spaces, particularly in big cities like New York, where apartments can be microscopic and tenants may already feel the squeeze of living in a studio space–without adding in office furniture.
Instead of staying inside their individual apartment all day, the tenant has the option to head downstairs to the building coffee shop or coworking space to put in a few hours. Many of these buildings also offer the option to reserve a room for face-to-face meetings.
This creation of a work/lounge space in the common areas has also contributed to a bigger sense of community within buildings.
"In rental buildings, we are transforming the lobby so that people can work quietly. But I'm seeing it happen that in a more competitive rental marketplace, more leasable space is dedicated toward amenities because there's a competition among buildings to build community," says Kliegerman.
That sense of community is created not just to give tenants warm and fuzzy feelings about where they live. The more that occupants congregate together, the less likely they are to move every year, says Kliegerman. This means that occupancy rates remain higher and the ROI for the developers is higher as well. It also bodes well for repair costs: "If people feel more of a sense of community, there's more of a sense of pride in their living situations and they tend to take better care of where they live," says Kliegerman.
That sense of community can help replace the water cooler and cake-in-the-breakroom moments that remote workers no longer get to experience on a day-to-day basis.
The future of the home office
No matter if a home office is located in a closet, in a separate bedroom in a single-family home, or in the lobby of an apartment building. One thing is certain: the demand for them will only increase as the remote workforce continues to grow. In fact, Upwork reported in their third annual "Future Workforce Report" that by 2028, 73% of all departments will have remote workers. And millennials, who already make up a majority of the workforce, may also not even consider a job that doesn't at least have the option for remote work or some sort of flexible schedule.
The benefits of telecommuting on businesses are well-documented–telecommuters are, on average, more productive than in-office workers and have less turnover–but there's also an increasing amount of research that shows that working from home also has numerous benefits for the employees themselves, such as reduced stress and a boost in morale.
Developers like Hoffman aren't only including home offices in new builds and remodels but are also brainstorming how to respond to the need for even more office space, especially if there will be two people in the household who will be working remotely.
"The challenge is, how do we use a first floor efficiently to create two real workspaces rather than one?" he says. "The first-floor space is kind of at a premium, but you have to try to craft more."
This may eventually alter the current trend of open-concept living and dining rooms in order to divvy up the space for offices, he predicts.
How architecture reflects and drives change
Designated home offices started appearing in the late 1990s and early 2000s, perhaps in response to Bill Gates's dream and marketing goal of "A computer on every desk and in every home." These spaces were largely decorative and located at the front of the house, according to Hoffman.
But the home office isn't the only room in the house to have undergone a transformation over the years. Architecture and design have always been reflective of a changing society's needs.
"The housing market was once dominated by households with a single breadwinner. A room that was built in most homes was called a den–a place where there was originally music and then television. It was also a spot where the breadwinner would retire after dinner, sort of an old patriarchal model. That room became less and less important as patterns in labor markets shifted," says Hoffman.
When labor markets changed and families went from one earner to two, the design of the family home changed, too, going from carved-up spaces that were accessible from the main hallway of the home to an entirely open layout, where the whole family could hang out together. Today, as labor markets are shifting again–this time to accommodate the remote worker and the increased amount of time people are spending at home–designers, architects, and developers are responding and dreaming of what will come next in home design.
"Architecture, going back to ancient times, has always been a representation of cultural values. As mundane as home design is, it is always being impacted by what's going in the world around us," says Hoffman.
What's ahead for his new era of home design is still being determined as we ditch the corner offices and swanky high-rise office buildings for community spaces in apartment buildings, "cloffices" in shoebox houses, or a quiet guest room in the back of a single family home.
One thing, however, is certain: The line between dedicated home and work space will increasingly become blurred, forever affecting the way we buy and rent real estate and the way we conceptualize the idea of home.
Toggl Track's time tracker can also help. Split up your day: Work hours and after hours.
Go.