Watching your business grow from a solo passion project to a thriving company that employs 5, 50 or 500 people is a journey unlike any other.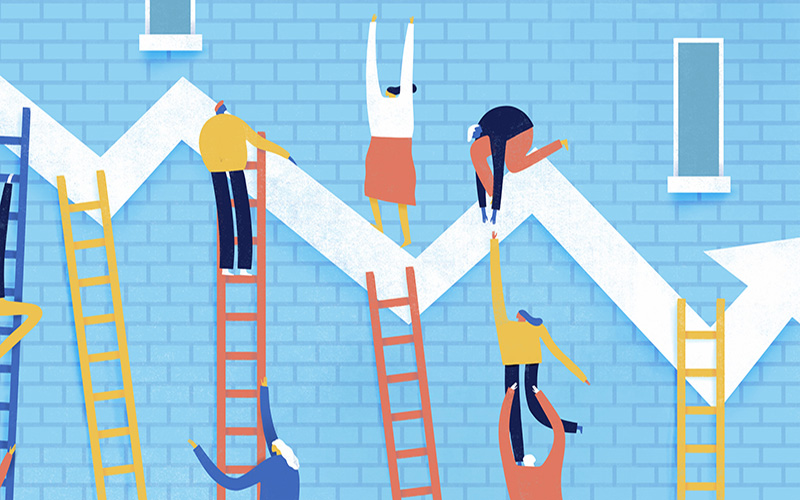 We know scaling your business takes dedication, hard work and flexibility (okay, and a certain love of the unknown).
When you experience fast growth like Toggl, you learn a thing or two along the way about keeping up the pace without sacrificing your sanity.
Here are four tips for re-organizing your workflow when your team and company expands:
#1 Take Inventory
Re-evaluating what's in your current bag of tricks and work toolkit should always be the first step when your planning for a period of growth.
Keeping track of your team's hours in Excel might have worked okay when it was just you plugging away on projects at the coffee shop, but it can quickly become a billing nightmare as you bring more talented people into the fold.
Even more important, if you've been doing things a certain way forever "just because" take a closer look.
If it isn't serving you well now, don't weigh everyone down by insisting things stay the same out of familiarity.
Bonus Tip: Look for tools that will grow with your team and ask about volume discounts for large groups.
It's also a good idea to clarify if they cap your user count and ask any questions upfront about how billing works to get an idea of how future hiring may impact your costs.
#2 Keep it Simple
One of the biggest things to consider during phases of growth is what will keep your business running smoothly without breaking the bank or requiring an alternative plan every 6 months.
If you have years of account data in one program, it may be more trouble than it's worth to try and shift things over to a new software cold turkey.
In those cases, see if you can find a tool that integrates nicely with what you already use to fill in the gaps – like accounting and invoicing – to keep things streamlined.
For those just starting out, opt for all-in-one solutions with the bells and whistles you'll need long term.
Bonus Tip: Before abandoning tools that seem to be working well, but not exactly as you'd hope, see if someone on their support team can evaluate how you've set things up. Always ask about customized help that may be available as well – like our Toggl Master program.
#3 Set Standard Operating Procedures.
Communication and consistency are key so make sure your team knows where information is kept to avoid confusion or costly mistakes.
How do you adjust billing rates for clients when a project's scope changes?
What about handling refunds or rules for granting discounts on your services?
Where do project deadlines and time off schedules for the team live?
You may think you've covered all the bases with existing employees, but a refresher never hurts. Clarify naming conventions for your project management software, detail how frequently hours should be tracked by employees and when invoices and time off requests are due.
It may seem like a hassle, but getting it all down on paper (or Google Drive) will save hours when on-boarding new employees and make it easier for the team to take ownership of their positions.
Bonus Tip: Schedule regular temperature checks with managers, team leads and executives to keep an open feedback loop and stay on top of new challenges. When you're expanding rapidly, quickly reviewing these documents every quarter may be time well spent, too.
#4 Crowdsource Ideas
Tap into your most valuable resource – your employees!
Chances are, working for you isn't their first job so they likely have experience using different programs to get things done.
Ask your team what they found helpful in past positions as well as what they dreaded using. They're the experts of their roles so don't discount their knowledge.
Have everyone weigh in on where they see room for improvement as well as what problems they need tools to solve.
Bonus Tip: Use a survey tool to organize and collect the data. like Google Forms or Typeform, and don't forget to set a deadline for the team to respond.