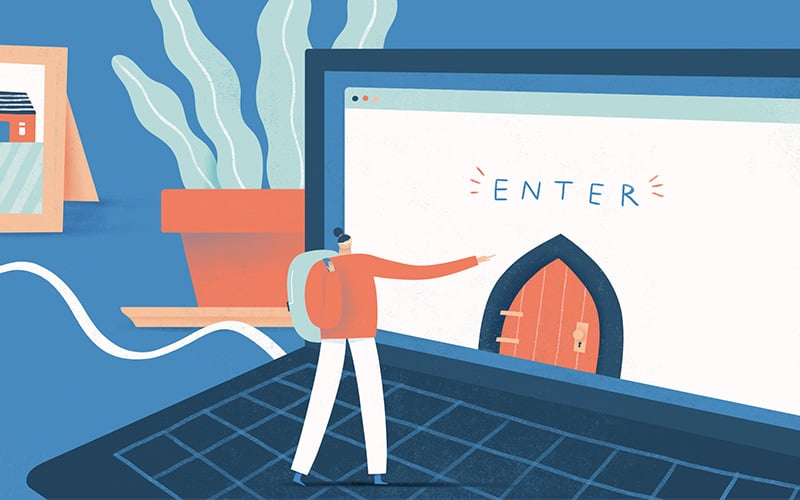 Let's face it—we're all eager to get more traffic to our websites, meaning an SEO for dummies type of guide is just what we need to familiarize ourselves with the basics.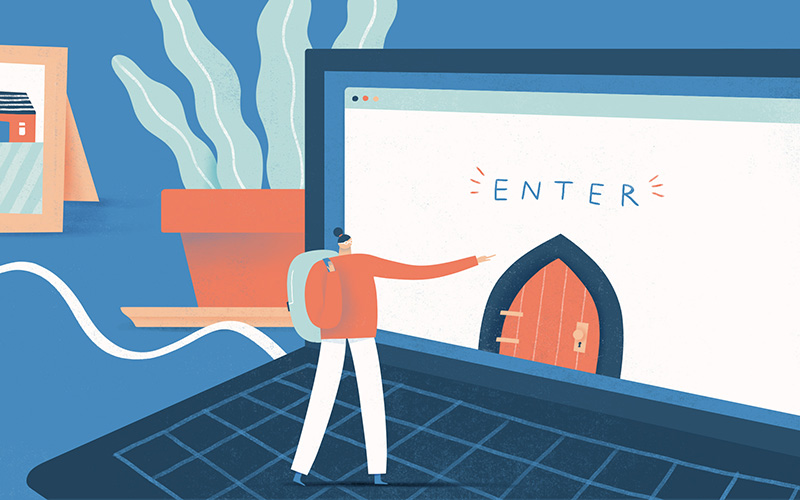 There's a lot that goes into search engine optimization (SEO)—far more than we could possibly include in this single post.
But, in the interest of getting you up to speed on some simple things you can do to better optimize your site, we'll boil it down to those nuts and bolts things you need to know to start making some changes today.
Ready to get started?
Let's dive right in.
Don't dedicate your time to tasks that aren't bringing in results. Use Toggl to track your time and focus on the tactics that bring in the traffic.
But First, What Exactly is SEO?
Play along for a moment: Let's say that you're planning an upcoming vacation, and you want to know the best things to do in Bermuda.
So, you head to Google and type in something like "best things to do in Bermuda."
What happens then?
You're met with pages of results that satisfy your search, right?
Here's the thing: You probably aren't going to scroll through all of those listings or click over to the next page of results. In fact, some studies indicate that only 4.8% of users will move to the second page of search results.
You're going to look at the top few listings that appear and get the information you need from one of those.
That's why SEO is so important.
Optimizing your site and your content helps to increase your chances of appearing in those early results—which then increases the amount of people who find your content and click through to your site.
Search engine optimization (SEO) is the process of optimizing your online content so that a search engine likes to show it as a top result for searches of a certain keyword,
-Neil Patel explains in his own SEO guide.
But, when you have so many different algorithms, considerations, and robots playing a role in how your content will appear in those results, it can be tough to figure out exactly what you need to do to improve your own site's rankings.
Brands and businesses who are extremely serious about showing up first in the rankings will work with an expert in order to make that happen.
If you don't have the budget or resources to do that?
There are some smaller steps you can take yourself to better optimize your site and improve your chances of appearing higher up in those results.
Let's roll up our sleeves and dive right in.
SEO for Dummies: 5 Basic Steps to Increase Your Traffic
Step #1: Check Your Site Speed
Think SEO only has to do with keywords? Think again.
Here's one of the first ground rules that you need to know: Google likes sites that load fast. As this post for Authority Hacker explains, between two similar sites, the faster one will always outrank the slower.
So, your site's overall speed is a big overarching thing you should take care of in order to improve your SEO—which actually has nothing to do with keywords.
We know what you're thinking now: I'm not tech-savvy! How can I improve my own site's speed?
Of course, a web developer can help you make some changes without you needing to pull your hair out and stress over the more technical aspects.
But, as Authority Hacker goes on to explain, there are three big things you should look at when covering the basics of improving your site's speed:
Your Theme: If you're using WordPress and aren't already using a speed-optimized website theme, consider making the change to something lighter that will shorten your load time.
Your Hosting: A lot of the responsibility for site speed comes back to your hosting provider. Make sure you're working with a webhost who can quickly serve your pages.
Your Caching: We won't get too technical here. But, put simply, proper caching helps to quickly load any of your website elements that don't change.
Just tweaking and improving those three things can make a big impact on the speed of your site.
But, if you're eager to take things even further, Authority Hacker also has a comprehensive guide to improve your site speed.
Step #2: Choose Your Keywords Wisely!
Just because we didn't start with keywords doesn't mean they aren't important. In fact, keywords are really one of the core elements of SEO.
Put simply, keywords define what your content is about. They're the terms that people are likely to search for before finding your content.
There are two different types of keywords: head terms and long-tail keywords.
The head term is the more broad, generic search term that's only one or two words in length. Because these terms are so broad, they'll have much higher search volume—but also much higher competition.
In contrast, the long-tail keyword contains three or more words (including the head term!) and is far more specific and targeted.
Let's look back at our example of planning a vacation in Bermuda for some clarity. In this instance, the keywords might look like this:
Head Term: Bermuda
Long-Tail Keywords: Bermuda vacation rentals, Bermuda best restaurants, Bermuda snorkeling excursions, etc.
Makes sense, right? The head term is general, while the long-tail keywords are far more specific.
Both play an important role in SEO.
But, let's turn our attention back to how you can use keywords to better optimize your own site.
There are tons of different tools (Google Keyword Planner for example) that can help you conduct keyword research and analysis to find the best keywords for your own brand.
However, since you're just dipping your toes into the SEO waters, let's just start simple for now.
Sit down with a pen and a pad of paper and begin jotting down all of the different terms that people could associate with your brand and your content.
Let's say that you're an outdoor outfitter who specializes in high-quality hiking boots. You know your head term should be "hiking boots." However, there are tons of other long-tail keywords that could be relevant.
One simple way to start finding some?
Head to Google, type "hiking boots" in the search bar, and see what suggestions pop up: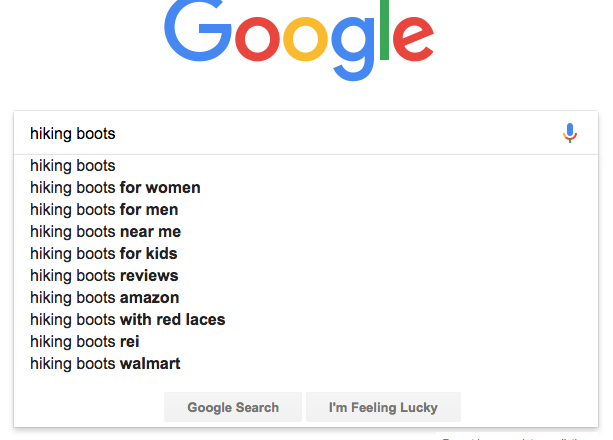 That exercise alone will give you a good starting point to conduct keyword research on terms that are already relevant to your business (and are being searched by users).
It'll be far less overwhelming to allow existing keywords to inform your search, rather than hoping that your search will inform your keywords.
When you're ready, check out these other awesome resources to turn yourself into a keyword research master:
How to Do Keyword Research for SEO: A Beginner's Guide
The 9 Best Keyword Research Tools to Find the Right Keywords for SEO
Step #3: Use Your Keywords
It's not enough to just find your keywords. For them to make any difference, you need to use them.
So, let's stick with our hiking boots example. Your company is trying to reach more female customers, so you're planning to write a blog post that targets the phrase "hiking boots for women."
Now what? You have your keyword—but, where in your blog post should you include it?
Here are some basic places that you want your keyword of "hiking boots for women" to appear within your blog post:
Headline: The title of the blog post itself should include the keyword—ideally close to the front. So, you could title your new blog post "Hiking Boots for Women: How to Find Your Perfect Boot" for example.
Subheads: Subheads break up your content into smaller, more easily-digestible pieces. You should ensure that at least one subhead incorporates your keyword in its entirety.
Beginning of Your Content: This one can be tricky. Your keyword should appear within the first paragraph of your content itself—ideally within the first sentence, but at least within the first 100 words.
URL: The keyword needs to appear within the URL for your blog post.
Alt Text on Images: When you add an image to a blog post, you'll have the option to adjust your image properties. The alt text should use the keyword.
Meta Description: The meta description is the paragraph that appears under the headline in search results. The keyword should be included there in its entirety.

Those are the basics, and we know there's a lot there to keep track of. To make this easier on yourself and ensure you've checked those important boxes, look at installing the Yoast SEO Plugin (if you have a WordPress site).
After you've written a blog post, that will walk you through all of the things you need to pay attention to in order to optimize your blog post.
You'll get the green light when you've satisfied enough criteria!
Step #4: Get More Links
Links are another thing that carry a lot of importance in terms of your site's SEO.
There are many different ways to leverage links as part of your SEO strategy, but we're only going to touch on two here.
First things first, internal links are something simple that you can do on your own. When working on a blog post, you should include internal links that point to relevant blog posts you've already written.
But, when you publish that new blog post?
Edit any of your older posts to add links to that new post. That will add more credibility to those old posts while also giving your new one a boost in search. It takes a little bit of time, but it's well worth it!
Another thing that we haven't touched on much yet is the concept of off-site SEO. These are the things that occur off of your own website (and you often have little control over) that can still impact your rankings.
Linking comes into play here as well. The more authoritative sites you have linking to your own content, the better your rankings will be.
External links obviously aren't as easy to get as internal links (since you'll need to ask others to link to your content).
But, when you have a blog post that you believe to be particularly helpful and valuable, don't hesitate to reach out to see if others are willing to link to it.
Step #5: Make Your Content Easy to Share
Even though social shares have no direct effect on rankings, they correlate pretty strongly with SEO. One of the reasons is that the more people you have sharing your content, the higher the possibility that someone will pick it up and link out to it.
With that in mind, this last point is a simple one: You want to make it as easy as possible for people to share your content with their own social networks.
If you don't already have social share buttons associated with each blog post, get those setup. Then, with just a click of a button, people will be able to share your content and give your SEO a big boost.
One Last Thing…
SEO is constantly changing and evolving. What matters a lot one day might not carry as much weight the next—and vice versa.
Without a doubt, it can be tough to keep up with. So, while paying attention to some SEO basics is important, it's better to place the majority of your focus on crafting high-quality content that's valuable to your readers.
Remember that you're writing for other humans—not robots or algorithms.
Make it your goal to inform and educate your readers in the best way you can, and you'll be surprised by how much else falls into place after that.