Social media contests can be incredibly powerful for you to leverage in your own marketing efforts.
Take a minute to think about the last time you were at a professional sporting event.
There was likely one point in the game when some sort of mascot or promotional figure came out into the middle of the event and got the crowd pumped up by firing free stuff out into the stands—like free t-shirts out of one of those large cannons, for example.
What did everybody around you do?
Chances are, beverages were spilling, popcorn was flying, and the people around you were frantically clawing their way to those treasured prizes that were soaring through the air.
And the unbelievable part?
They did this all for a free t-shirt that was likely the wrong size anyway.
It seems crazy when you read it like that, doesn't it? But, this common experience illustrates an important point: We're all competitive and we all love to win.
84.5% of people who enter social media contests still share content from that brand—even after the competition has ended.
Even better? Contests influence purchasing decisions for three out of four participants, and three out of four people are more likely to recommend a brand who hosts contests and giveaways.
Those are pretty convincing statistics.
But, now you're left with one more lingering question: How can you run your own contest and reap those benefits for your own brand? Here are 11 different social media contest ideas to help you get started.
Facebook Contest Ideas
Contests on Facebook are incredibly popular. In fact, when it comes to using contests on social media, Facebook is often the go-to platform for many brands.
Why? Well, many companies have the largest following on their Facebook pages, meaning they already have a captive audience who would be interested in their contest.
Additionally, various features, tools, and add-ons make running a Facebook contest super simple.
So, if you're stumped about just how to get started, here are a few different ways you can implement contests on your own Facebook page.
1. Ask a Question
This sort of contest couldn't be easier to manage. All it involves is asking your followers to answer an open-ended question.
Perhaps you want them to share how they'd use your latest product. Or, maybe they need to post something like their favorite tip or recipe.
At the close of your contest, you can either choose the best answer or use a random generator to select one winner from the bunch.
Want to take things a step further?
Consider using Facebook's poll feature. Set your options and then encourage followers to contribute their answer.
Facebook gives you numerous options to do this—whether you want to set up an actual list or even allow followers to comment with their choice.
How to choose a winner? You can randomly select one from the most popular category, for example.
Question-based contests like these encourage engagement from your Facebook followers, while keeping things simple and streamlined on your end.
Stumped for some Facebook poll question ideas and other things to ask your Facebook followers? Check out this list of highly engaging questions to get your creative juices flowing.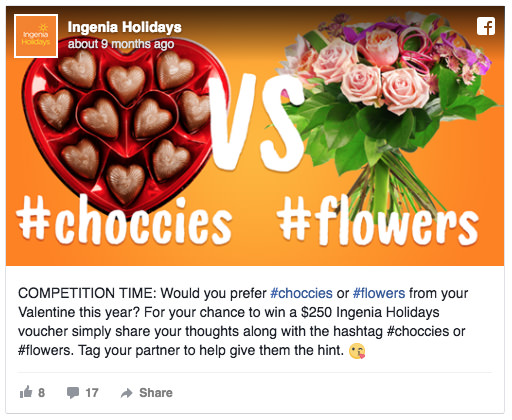 2. Submit an Essay
If you're aiming for some more long-form answers from your followers, consider hosting an essay contest.
Like pretty much any other Facebook contest, there are numerous different ways you could manage the logistics of this.
You could have followers submit their essay answers as a comment directly on your contest post, for example.
Or, your contest post could link to a landing page where followers could submit their writing using a form.
It all depends on what works best for you. But, either way, hosting an essay contest is a great way to encourage engagement while also getting some added insight (and perhaps even some testimonials!) into what your customers value most.
3. Take a Quiz
That competitive spirit runs rampant in all of us. And, there's nothing better than a public quiz to encourage a little friendly competition amongst your Facebook followers.
Take some time to think about what sort of things you could put out there to stump them.
Maybe it's a zoomed in photograph and they need to guess what the whole photo is of.
Or, perhaps it's a fill-in-the-blank trivia question that asks them to share their answer as a comment.
You could even post two nearly identical photos and ask them to find the difference between the two of them.
The options here are virtually limitless. Just make sure that you make the question or challenge tough enough—it's not nearly as fun when one of your followers solves it within seconds and spoils it for everybody else!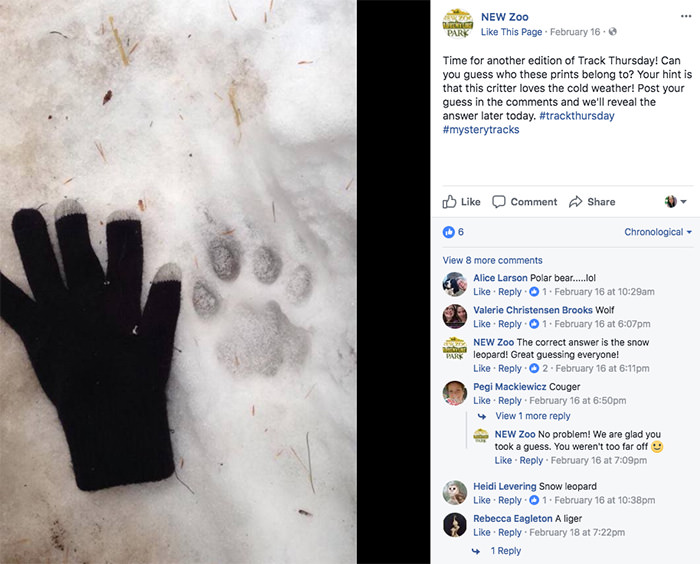 4. Like and Comment
When it comes to Facebook contests that are undeniably easy to administer, this one takes the cake. All it involves is asking your followers to either like or comment on (or both!) your specific post. Or, you can also ask people to like your page in general.
When your contest comes to a close, you can randomly select however many winners you need from your followers who took that specific action.
While it might be tempting to ask follower to share your post in order to enter your contest, that actually goes against Facebook's rules and regulations.
Want to avoid hot water? Find out more about Facebook's rules and how they relate to contests.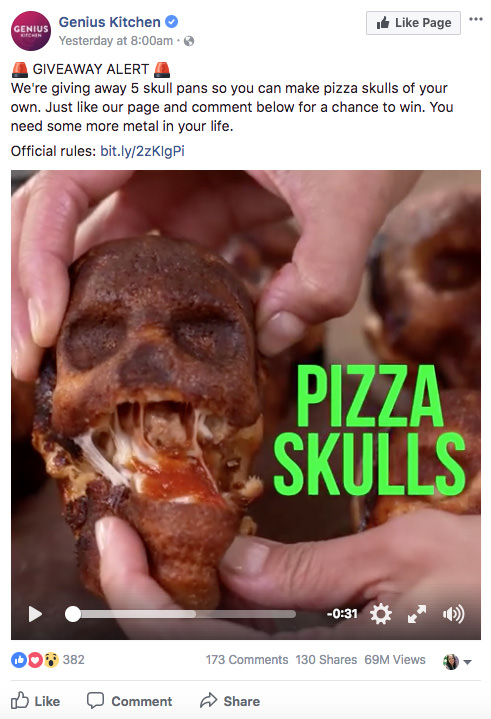 5. Crowdsource for Information
Nothing engages your followers more than asking them to share their thoughts, opinions, and ideas. So, your Facebook page can be a great place to turn when you need some more inspiration or direction.
Perhaps you want to ask your followers' opinions on a new logo or your next product. Or, maybe you want their input on what your next blog post should be about.
Put up a simple post asking them to comment with your thoughts and then select a winner or two from the bunch. It's an easy contest to monitor, while also helping you to listen to your customers' feedback!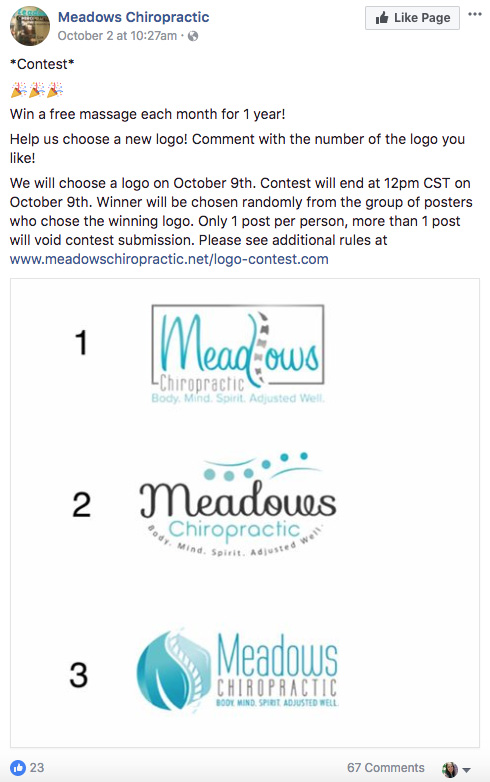 Instagram Giveaway Ideas
Now, let's turn our attention to Instagram. When it comes to contest ideas for this platform, the main medium you're going to want to use won't come as a surprise: photos.
From selfie submissions to calls for captions, there are tons of different tactics and creative contests you can use to engage and reward your followers on Instagram.
Just check out these photo contest ideas.
6. Caption a Photo
Have a great photo to share on your Instagram feed? Why not turn it into a caption contest for your followers?
In the caption of your photo, do a callout for user-submitted captions and share your contest rules. When you're done accepting submissions, you can either randomly select a winner or choose the caption that you think is the best.
It's a fun and lighthearted way to involve your Instagram followers in your own posts.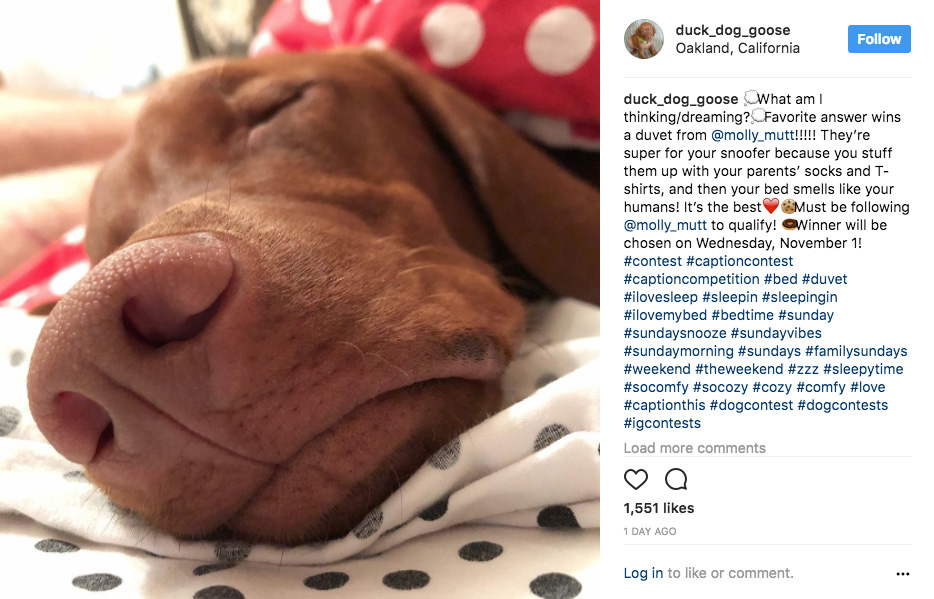 7. Submit a Photo
It can be tough to think of content to post to your own Instagram account. So, go ahead and ask your followers to put in that work for you.
Maybe you want them to submit a photo of how they use your product. Or, maybe it's a picture of their pet, their desk, their favorite vacation spot, or something else entirely.
Come up with a branded, contest-specific hashtag that your followers can use to tag their photos so that you can find them.
A contest like this one encourages participation from your followers, while also giving you plenty of user-generated content that you can use in future promotions.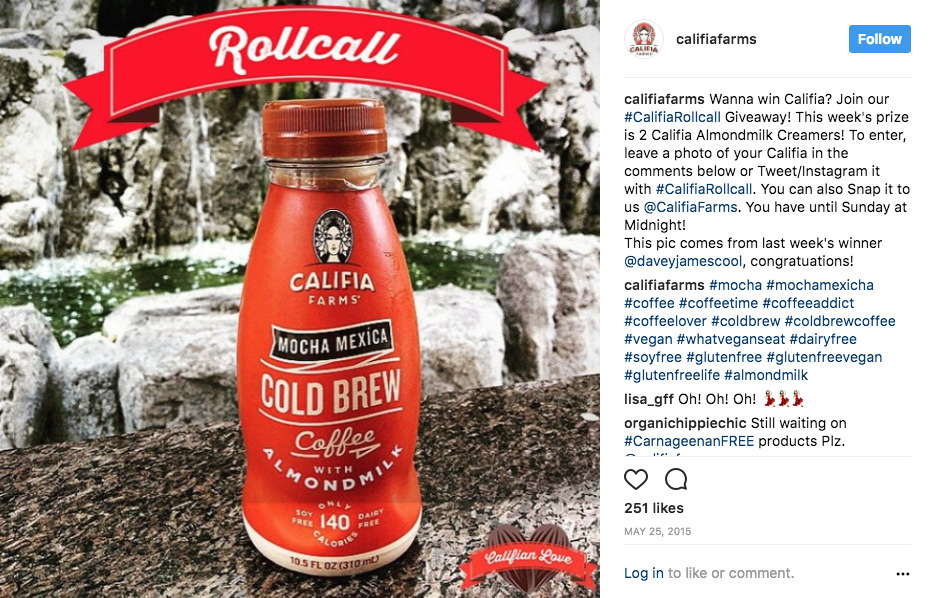 8. Submit a Selfie
Similarly to the rules above, you can also ask users to post selfies with your product and then tag you in the caption and use your hashtag.
Again, the result is increased engagement and user-generated content—all while getting some added insight into the demographics and interests of your followers.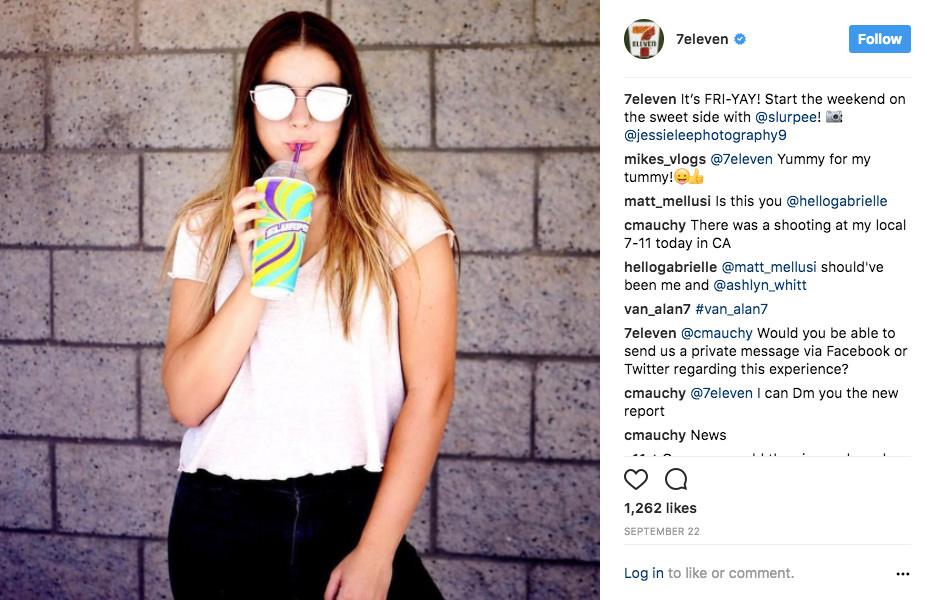 9. Like to Enter
Want to widen your reach on Instagram while also engaging your followers? Instagram is another platform where you can use that same simple "like to enter" tactic.
Simply ask your followers to either like or comment on your post. What does this do for you? Engagement is a key metric that the Instagram algorithm considers when deciding whether or not to display your post in people's feeds or on their "explore" page.
So, in short, the more engagement you have, the better off you are!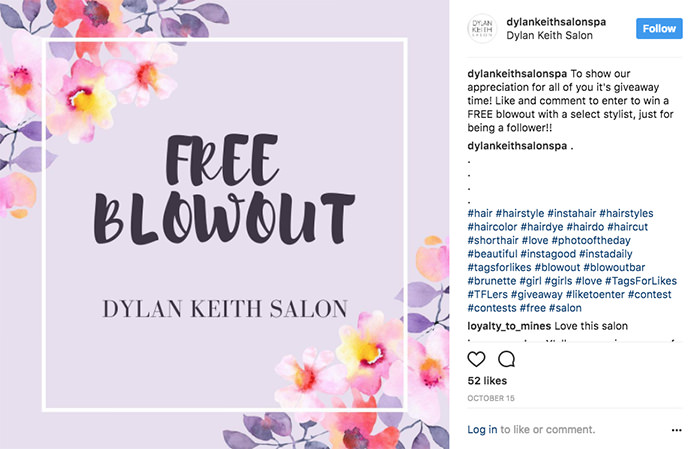 Twitter Contest Ideas
Twitter is another platform you can use to administer contests to your followers and gain more exposure for your brand.
While many of the above contest ideas would work just as well on Twitter, there are some specific ideas that resonate best using Twitter's quick and snappy philosophy.
Check out these two Twitter contests for some inspiration.
10. Fastest Correct Answer
Here's one contest that works the best with the fast pace of Twitter. The premise is simple: Post a tweet containing a question for your followers to answer.
The first one to reply to your tweet with the correct answer wins the contest.
While you'll need to designate someone to monitor the replies, administering this contest really couldn't be simpler.
And, because it's over in literally moments, it doesn't involve a lot of heavy lifting or coordination on your end!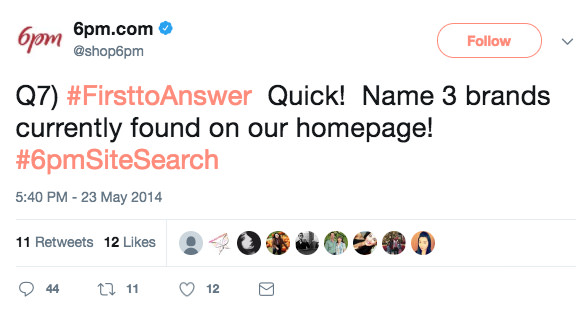 11. Tweet a Hashtag
We've already touched on hashtags numerous time. But, arguably, hashtags feel most at home in their birthplace—Twitter. Needless to say, this makes for some very simple contest inspiration on that platform.
You can make a hashtag contest as straightforward or as complex as you'd like.
Maybe your followers simply need to include your chosen hashtag in a tweet about what they love best about your product.
Or, maybe they need to include a photo, an explanation, and your branded hashtag.
You have tons of flexibility here to play around and find something that works best for you and your own brand.
Over to You
The great thing about all of the contest ideas included above? There's plenty of overlap—meaning they can be used across all sorts of different platforms.
You can easily have followers submit photos on Facebook, for example, or ask your Twitter followers to submit a short photo caption. These specific contests don't only need to be hosted on specific networks.
Be more efficient and effective! Use Toggl to track the time you spend on social media marketing and focus your efforts on the strategies that really work.
To sum up, contests are a great way to engage your followers and get more exposure for your brand. And, as an added bonus, there are tons of different contests that you can host.
Put these ideas to work and watch as your brand continues to widen its reach. Good luck!
Kat is a freelance writer specializing in career, self-development, and productivity topics. She's passionate about being as efficient and effective as possible—much of which she owes to her 114 words per minute average typing speed. When her fingers aren't flying on the keyboard, she loves to bake, read, hike, or tackle yet another DIY project around her home.