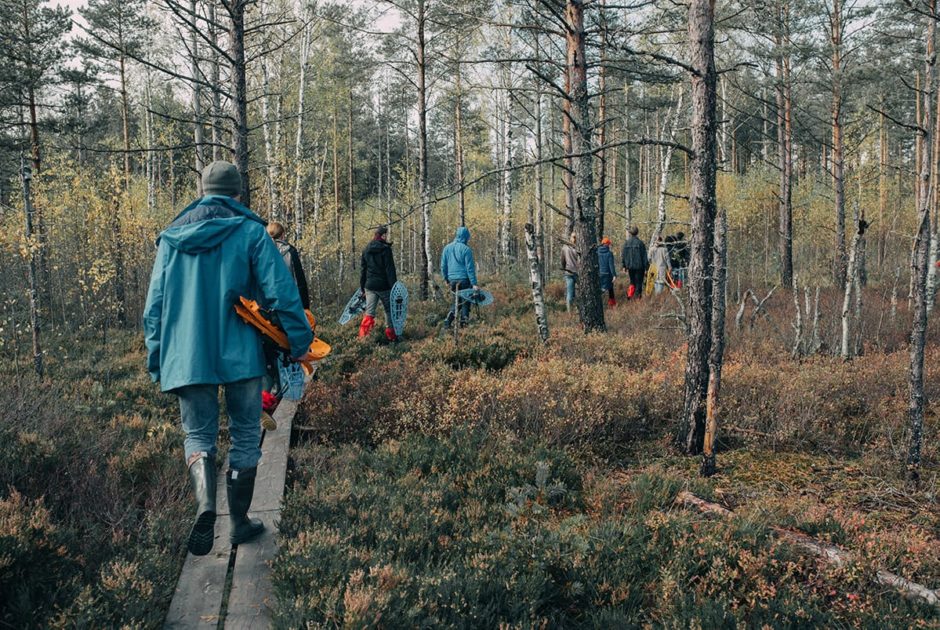 We are a fully remote company of 80 people working from 30 different countries. We love our remote set up, and most of us can not imagine going back to an office job. Yet, one of the downsides of the remote work is you can find yourself being lonely and feel isolated if you don't spend face-to-face time with your colleagues. This is one of the reasons we organize team meetups throughout the year.
Each team (we have 10 teams in Toggl Track) gets together twice a year, in addition to two company-wide meetups, one that takes place in our HQ in Tallinn, Estonia and another, known as the Toggl Challenge, that takes place in a different country every year.
During the Toggl Challenge, the whole company travels to a new country for a week, to get inspiration for product development, have quality face to face time, work on extraordinary projects, dance, party and create awesome memories! Previous trips have taken us to Berlin, Liguria, in Northern Italy, Istanbul, Tel Aviv, Philadelphia, Lisbon, and Madrid. This year we had a challenge adventure in Belgrade, Serbia. All these events involve a ton of planning and coordination but fear not, we've got a step by step guide to organizing an epic company meetup.
First Of All, Answer Why You Need Meetups
Once you answer this question, you will make all the other steps easier for yourself. Don't do meetups just because it sounds like a fun or popular thing to do. Think about your goals – as a company, what do you want to get from the meetup? What you want your team members to take away from the experience?
Do you want to break from the routine of an office? Or you are a remote company aiming to provide quality face-to-face time for your team members? No matter the case, think it through and keep it in mind when you start working on the meetup organization.

Since Toggl Track is remote and we don't see each other daily, it is essential for us to have meaningful face-to-face time during meetups.
In the Washington Post article The science of being there: Why face-to-face meetings are so important Paul Axtell, corporate trainer and author of the book "Meetings Matter," says that "in-person meetings provide a sense of intimacy, connection, and empathy that is difficult to replicate via video." For us, meetups are not company retreats where we chill in the sun over margaritas (though we do that as well), but these are times we use to improve Toggl Track as a product, Toggl Track as a company and ourselves.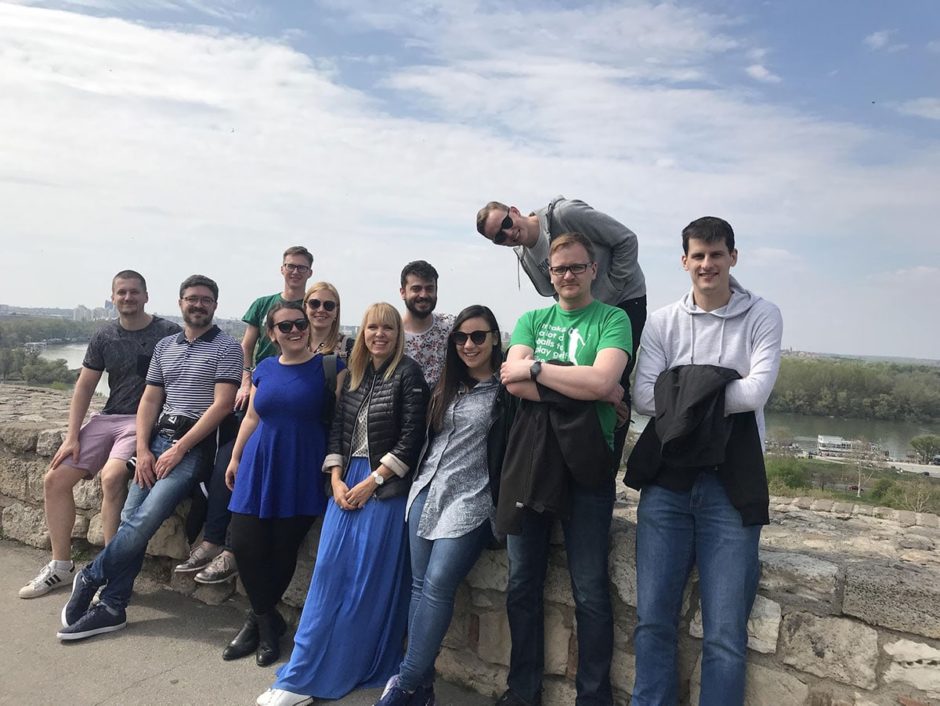 1 Year Before Meetups
Start Planning Well Ahead of Time 
With your purpose in mind, it's time to begin planning. Start well ahead of time. That doesn't mean you need to get plane tickets and make bookings a year in advance, but there are things you should figure out well ahead of time:
How many people you are expecting (don't forget to include new hires that might join before meetups)?

Who is going to work on the meetup organization? Are you planning to outsource any parts of the meetup organization? What is the proposed budget?



This year we had 65 people flying in, including members of the 10 teams, the CEO, and members of our board. Our People Ops team was in charge of all the logistics and content of the event. The biggest items in our budget were:
Plane tickets

Accommodation

Per diems

Food/drinks/space for two dinners

Other logistics (travel insurance, coworking space, airport transfer, swag)
10 Months Before The Event
Decide on a Date and a Place 
As soon as you know your meetup's purpose and planned budget, you should decide when and where the meetup will happen. Do you want to take your team on a skiing trip to the Alps or have team building activities in the Italian countryside? The location will depend on the goal you set for the week, as well as your team's size and budget.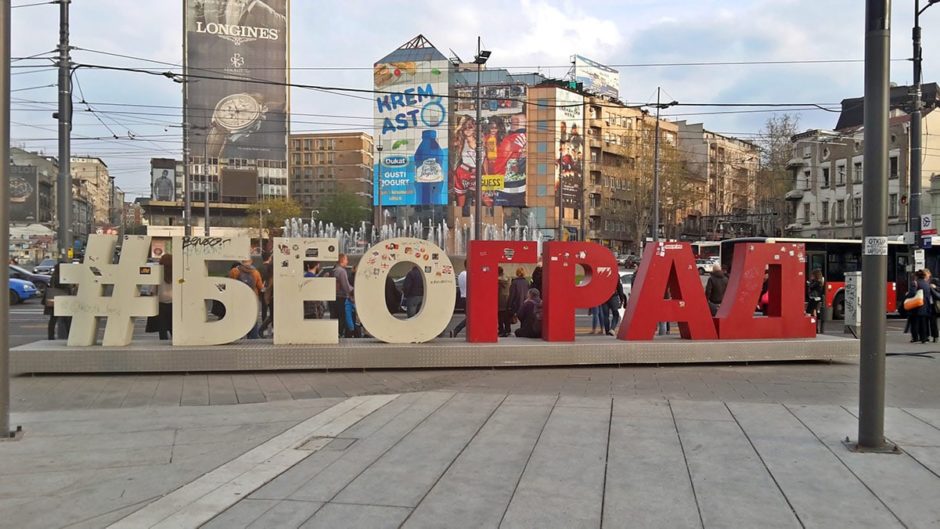 We always do Toggl Challenges in April, since we want good weather but need to avoid the summer vacation season. National holidays and other major events, such as the first week of school, are another consideration. For many parents, it is difficult to be away from home this week of the year. After taking these factors into account, we settled on the 8th until 12th of April in Serbia.

We picked Belgrade as a location because it has good flight connections (the majority of our team is in Europe), not many people needed a visa to enter Serbia (an important factor for international teams), and it fits into our planned budget.
Divide Responsibilities and Set Deadlines
It is crucial that everyone working on the meetup is on the same page about responsibilities, so nothing falls between the cracks. Your team should have one to do list, agree on a deadline for each list item, and have one person in charge of each thing.

In Toggl Track, we have our ninja, Szoszo, dealing with the logistics part of the trip. I, as a team building manager, am in charge of meetup's content. Both of us are supported by our HR manager and People Ops lead, Evelin. Of course, nothing can be done without help from Marge and Meelika, from the Finances team (someone has to keep that money pouring 💸). This year, our team also got help from Creative Marketing lead, Mart (the guy making our awesome comics), who came up with the topic for the Challenge project (more about this a bit later 😄).
6 Months Before Meetups
Make Schedule For the Week
To deal with logistics and start with bookings, you first need to make the schedule for the meetup. Decide if you are having any meetings, workshops, fun activities, or organized discussions. This will help you decide if you need to book any meeting/conference rooms, look for fun tours in the meetup city, or maybe find an external coach for the session with the team. A good work-play balance is something we always strive for when making meetups' schedules. Engaging content is a must, but the team should also have enough time to mingle, have fun, or organize any additional activities by themselves.
Toggl Challenge is a week when we all take a break from day-to-day tasks and work on a special project instead. The event started with a kick-off meeting where we announced the project topic and divided people into random teams of 5. This was followed with a Q&A session with our CEO, during which he answered Togglers' questions about the companies short and long term plans.
We usually kick off company-wide meetups with dinner, live music, and a party. It's a great way to catch up with everyone, meet new colleagues, and set a good base for having fun throughout the week. From the very first day, everyone should be on the same page: this trip is far from mind-numbing, group work in a stuffy conference room. Tuesday and Wednesday are reserved for working on the project. Each team decides on how they want to use this time.
A lesson we learned from previous years is it's best to have the final presentations and voting on Thursday, instead of Friday. This way, people have more time to meet with their regular teams or sightseeing in the city. The event was wrapped by a farewell dinner on Friday evening, followed by a night out, and dancing (and yes, some more margaritas 🍹).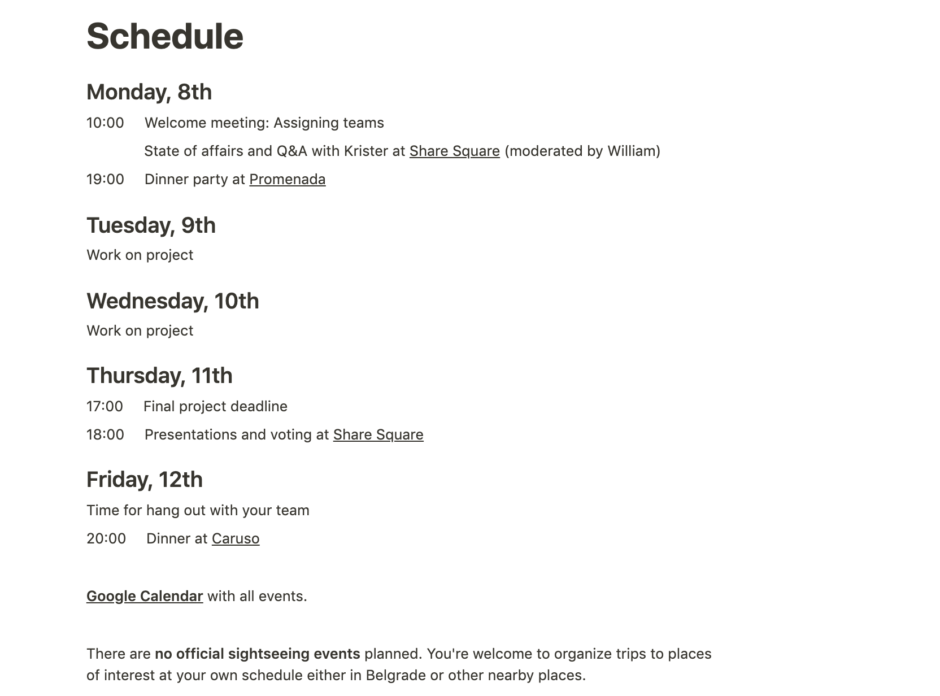 6-2 Months Before The Event
Work on Logistic Preparations
Be ready to get your hands dirty with this one! Organizing a company-wide meetup includes a lot of logistic preparation. If you are doing everything in-house, like we are, reserve a decent amount of time to deal with visas, plane tickets, accommodation, etc.
When you organize a meetup in a foreign country, it is always useful having someone on the ground to do any necessary fieldwork. The choice of Belgrade as the meetup location this year made it easy for us, since several of our team members, including myself, are from Serbia. We always had people available to check out restaurants/hotels/meeting spaces if it was needed. If you do not have anyone in the destination country/city, it is worth sending the meetup organizers there a couple of months in advance to check out all the places before the final bookings are made.
Accommodation
We used to book Airbnbs and share rooms; however, as the company has grown, it is now impossible to find enough Airbnbs to fit everyone. In Let Sleeping Co-Workers Lie, Alison Green explains why making people share rooms on business trips is wrong. She points out that "sharing a room with a co-worker can be weirdly intimate: You don't normally see co-workers in their pajamas, or hear them snoring, or become familiar with their sleep habits." The need for privacy and proper rest after a full day of socializing is an even more important reason we gave up on Airbnbs. This is why we book single rooms in a hotel for everyone now. In Belgrade, we booked a hotel in a nice neighborhood that was a 20 min walk away from the city center.
Plane tickets
Be sure you start buying plane tickets well ahead of time. As the event approaches, it is likely the prices of the tickets will go up. We usually get all plane tickets 2 months before the event, at the latest. If there are any layovers during a flight, we make sure the layover is not longer than 2-3 hours. We want all Togglers to have as pleasant as possible travel experience, without being stuck in airports for too long.
Visas
Visa applications are another important thing that should be done well ahead of time. If a visa is required, our team members apply for the visas themselves in their home countries. Toggl Track provides them an invitation letter, stating the purpose of the trip, and reimburses any visa related costs. Do not wait on this one. We had a situation this year, when our colleague Olivia, who is from Malaysia, applied for a Serbian visa a couple of months before the event and because of the waiting time still didn't make it to the trip. Remind your team members to apply as soon as possible, so you are sure they can join the event.
Working space
We learned from previous meetups that hotel lobbies are not ideal working environments. We used to have Challenge kick-off meetings in hotel conference rooms, and let people choose where they want to work during the week. The majority of people would end up spending days in the hotel lobby, which is often too loud, hectic, and not a good space for team bonding. This year, we booked a whole coworking space for ourselves, which ended up being one of the biggest wins of the meetup. It gave the team a hub to work, chill, mingle, have meetings, and spend quality time together. This is something we will definitely keep doing for future meetups.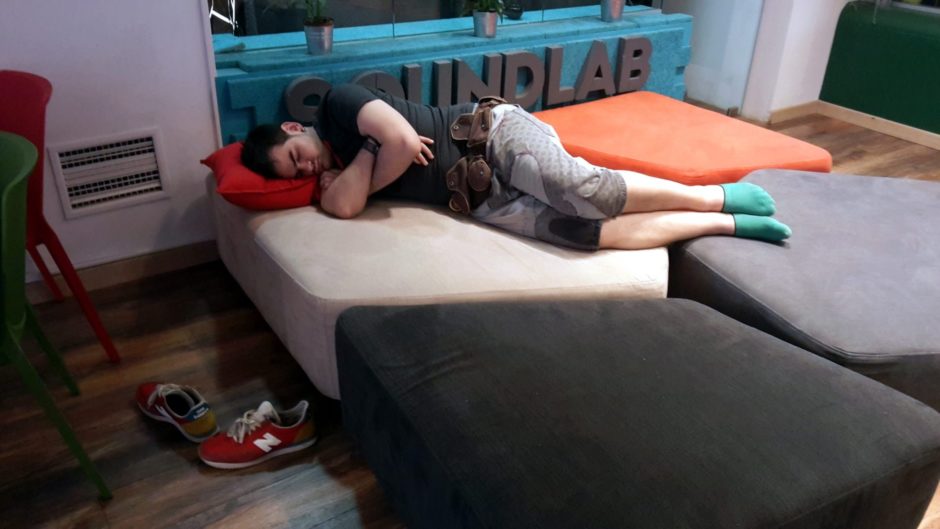 Coworking space at its best 😀
Restaurants
If you are organizing any official dinners/lunches during your event, make sure you ask all participants about any food restrictions/allergies/preferences. What worked perfectly for us was the buffet-style dinners, which provided everyone with multiple options. We also prefer to book entire restaurants for ourselves. This gives us more privacy and a chilled atmosphere to spend quality time with each other.
Other logistics to take care of:
Transportation from/to the airport

Tech equipment (mics, speakers, dongles, projectors, screens, and cameras, if you are planning to record or stream meetup events to remote participants)

Swag (each year we get Toggl Track swag for all participants)

Travel insurance (our team members buy it themselves and get reimbursed for it)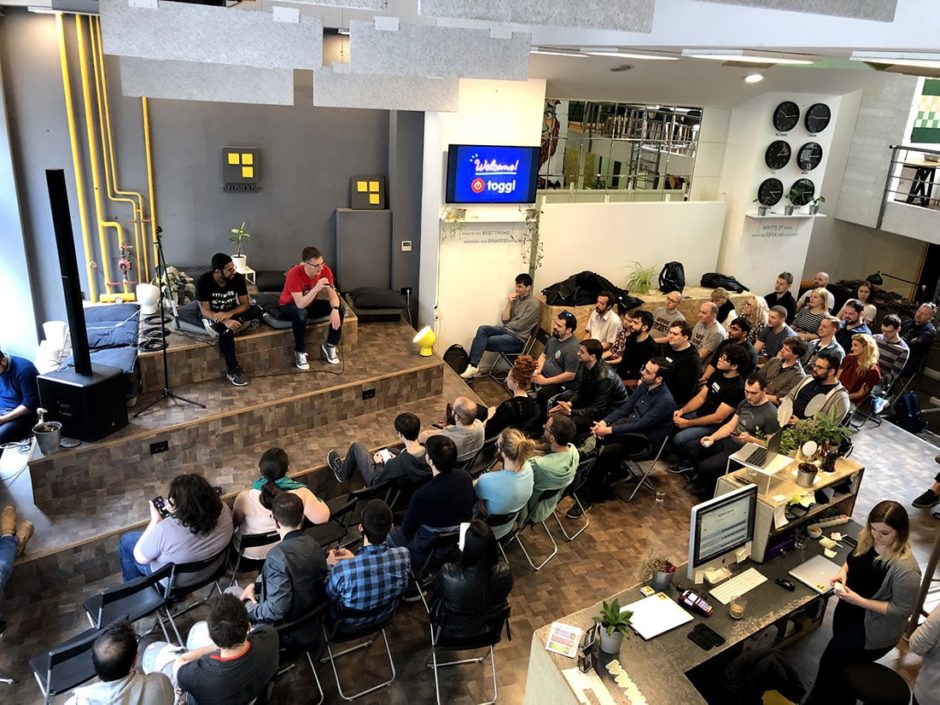 2 Months Before Meetups
Get the Content Details Ready
Logistics will take a considerable chunk of a meetup preparation time, but don't forget that content is still the king. In the previously mentioned Washington Post article, Frank Passanante, senior vice president of Group Sales and Industry Relations for Hilton, says that "meetings are not about the four walls of a ballroom, but the ability to imagine the experience to ensure attendees feel welcomed and engaged."
By this time, you should already have a pretty good idea what the content of the meetup is going to look like: if people are going to work on new product ideas, discuss the ways teams are functioning, or do fun team building activities. Now is the time to polish your ideas and finalize the content.
An important thing to keep in mind is ensuring that everyone can participate and contribute during the meetup. During previous challenges, we've made the mistake of choosing too technical a topic for the project, making it difficult for non-tech people to contribute. This year, we did not make the same mistake. The challenge project was to make Instagram video ads about a given topic. The project topic allowed the whole team to contribute in some way – come up with ads ideas, write the storyline, act in video, film, edit… To see the videos we made, follow @usetoggl on Instagram 😉.
https://www.youtube.com/watch?v=bwbfSRFhI8k&feature=youtu.be
Until our Insta videos are out, check out the bloopers from the shooting 🙂
2 Weeks Before The Event
Communicate, communicate, communicate!
Communication is one of Toggl Track's core company values. Not seeing each other daily means we have to be extra open, clear, and honest in our communication. Once you have finished the amazing preparation work, make sure to communicate details to the meetup participants. People should know what to expect from the week, as well as all logistic details, to have a pleasant travel experience.
At Toggl Track, we create an info document with all content and logistic details about the meetup and share it at least a week before the trip with all participants. The info document includes:
The clearly stated

goal

of the meetup

A reminder to have

passport, plane ticket, visa, and travel insurance

ready

info about

travel reimbursements

The

schedule

of the week (including addresses of event places)

A Google Map,

with areas of interest pinned (official meetup events, work-friendly places, sightseeing places, running trails, restaurants, cafes, clubs…)

Useful info about the meetup city

(got inspiration for it from Buffer's blog

Planning A Company Retreat

. Thanks, Buffer 🙂

Logistics details (info about

arrivals and departures times

of all participants;

airport-hotel transportation, hotel, coworking space, internet

)

Link to

shared photos album

(we use Google Photos where everyone adds photos, so awesome memories are not forgotten 💛)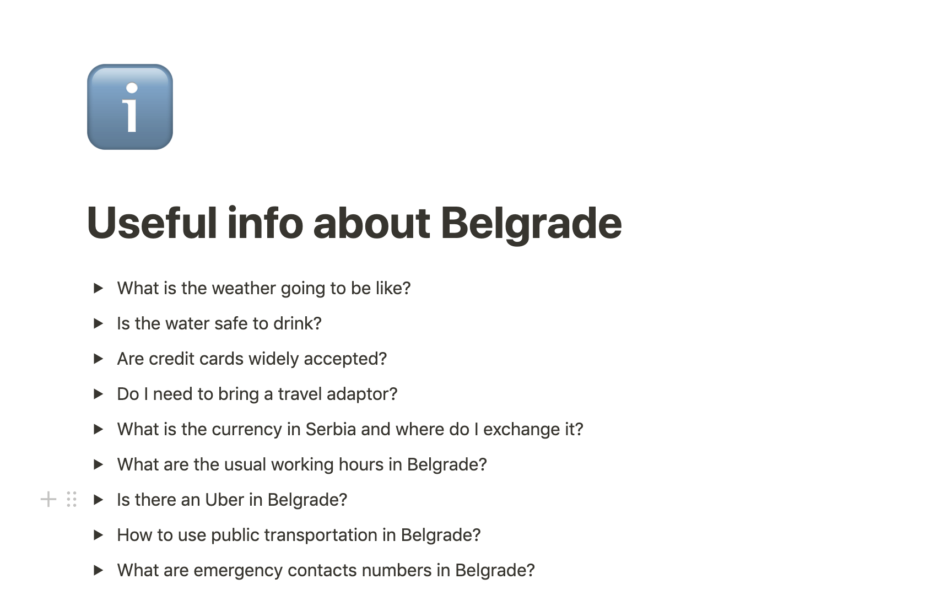 The Meetup Week
Have Fun!
You have done an astounding amount of work to organize the meetup, and you too deserve to enjoy it! Catch up with your colleagues, relax, and try not to stress too much about things you could have done better (yes, I know it's easier said than done). But really, there is no point in stressing out if someone's luggage gets lost or someone's appetizer arrives cold. These kind of things are inevitable when organizing an event for a significant number of people. Be mentally prepared for them. Try not paying too much attention to the things you can't do anything about, but make sure to remember ones that could help you improve the next meetup organization. But most of all, try to enjoy every moment of the meetup!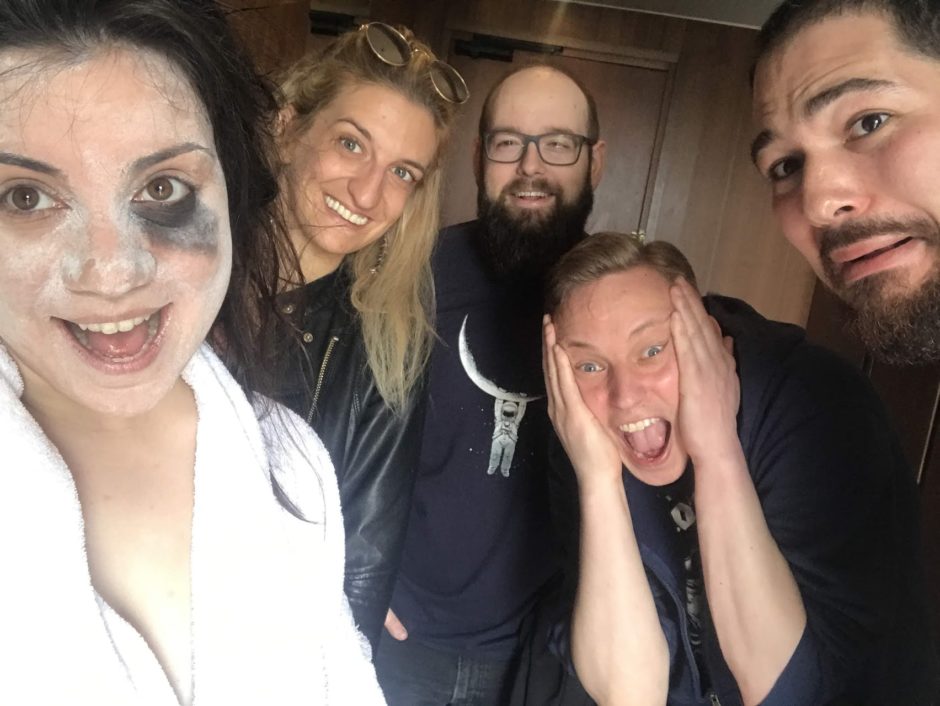 Meetup Aftermath
Gather Feedback
The meetup is done. Everyone is back home with beautiful memories and lots of positive emotions. Even if you are 100% sure the week went great and you all had a fantastic time, don't miss an opportunity to ask people about their experiences. They are your best judges on what and how things can be improved, after all, this work was for the team. Some of the best ideas I've had for meetups came from meetup feedback surveys. At Toggl Track, we send out meetup feedback surveys as soon as events are over, so memories and impressions are still fresh.

This was our step by step guide for organizing a company-wide meetup. In the last two years (since I joined Toggl Track) it has changed from booking couple or Airbnbs and surfing on the beach, to the serious organizational project where multiple team members join forces in creating an epic experience for the whole team. I am sure our ways of doing meetups will continue to change and evolve as our team does. We will be sure to share this evolution with you as that happens. Until then, I hope these tips will help you organize epic experiences for your team. Happy traveling!