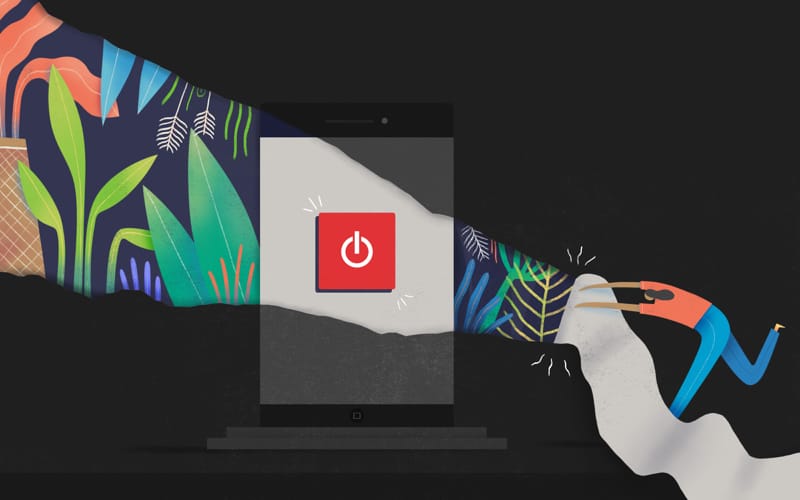 UPDATE: Our new Toggl Track Android app is LIVE! An entirely new (but still familiar) way to track your time on–the–go with your Android phone is now here! Get it on Play Store here: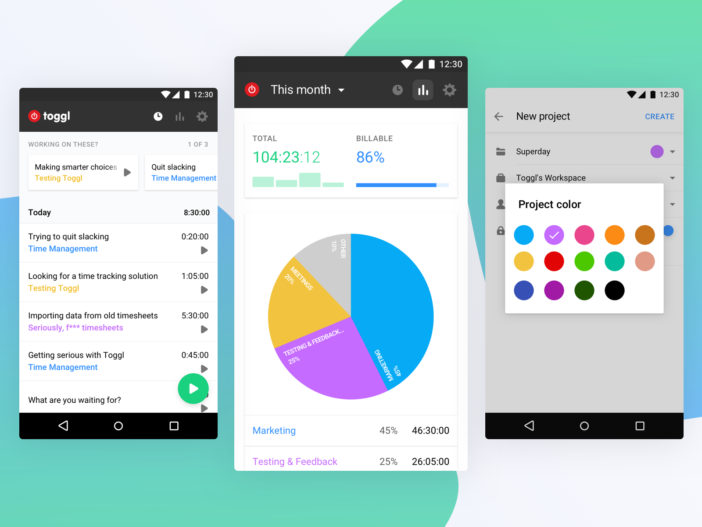 —————
EDIT NOTE: This article was about the Beta for our new Android app, but we've released it in the meantime. You can still read about it and see what was our thought process when creating the new app, and what you can actually expect from it, but note that all of the buttons are now replaced with the proper link to Google Play Store, from which you can download and try out our new app (no beta, it's fully ready!). Old article (and some old info) commencing in 3… 2… 1…
—————
The truth is, we need your help. Even though the app is pretty stable and almost ready for a big public release, there is still room for improvement. A couple of features could use some testing and there are always some small bugs that tend to hide in some dark corners of the app – we could really use a fresh pair of eyes to find them. So, what do you say – up for some "bug–squashing" 🐛👢?
It was about time
Precisely, it's been 7 hours and 426 days since the last Toggl Track Android update. Yeah, 426 and counting. Take that Sinead. But yes, we agree with you there – it was about time that Android got some love.
Actually, it has been quite a while since we even spoke about the Android app (to be precise, it's been: 177 days, 10 hours, 39 minutes and 4 seconds). The post wasn't even about Android, but about the launch of our iOS App, and there was a brief mention of Android app in the comments – that counts btw!
Still, we owe you an explanation why we decided to create the new app from scratch and why we haven't just updated the old one instead.
First off, we were not really satisfied with our old apps (both iOS & Android) and how they were progressing. They started showing their age and it was becoming increasingly harder to make cool updates that would mirror the new things that were available in our web app, not to mention features and quality of life changes that you were requesting for a while now.
To add to that, we were constantly fighting with crash and sync problems, and most of those issues were nested in some of our original (and by now pretty outdated) designs.
In the end, we really wanted to update our app and give it a fabulous new makeover, both visually and… back-end codingly (?) (that's probably not a word). You know, just following the Daft Punk motto – Better, Faster, Crash-free.
And for 30,238 of you who are using the Toggl Track on Android every week, we felt obligated to make your time tracking on mobile better, faster and all–in–all, more intuitive.
Calling all Beta Testers
With that said, beta is officially here – and we need your help. Although the app is pretty stable and usable based on our internal testing, we do require a lot more testing from the people who use it every day, and we think you'd be perfect for the job.
And that's not all – for the people who go out of their way to help us make the app truly shine (and who find some unique ways to break it in the process), we will be sending out some swag.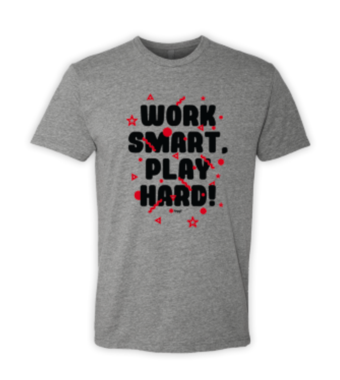 (Initially, we wanted to do "I've reported 152 bugs for Toggl Track Android app and all I got was this lousy t-shirt"; but it had waaaay too much bugs text)
Are you ready to be dazzled by our new Android app (and get some Toggl Track goodies in the process)?
Get the new Toggl Track for Android
What you can expect
Oh, but we haven't even talked about the new features yet! Here are the ones that you'd be able to test in the beta, with a note that a lot more features are coming once we start rolling out future updates.
Suggestions
"Suggestions" are a brand new thing that will show you your most used time entries at the top of your log. Look at it as an option to easily restart your entries that you're bound to track daily, with an option to slide through them and select the one that's appropriate to track right now.
In the future, you can expect "Suggestions" to be smarter, taking into account current time, suggestions based on calendar and some other interesting ideas we have in store for them.
Super easy to use – and most importantly, hell of a time saver.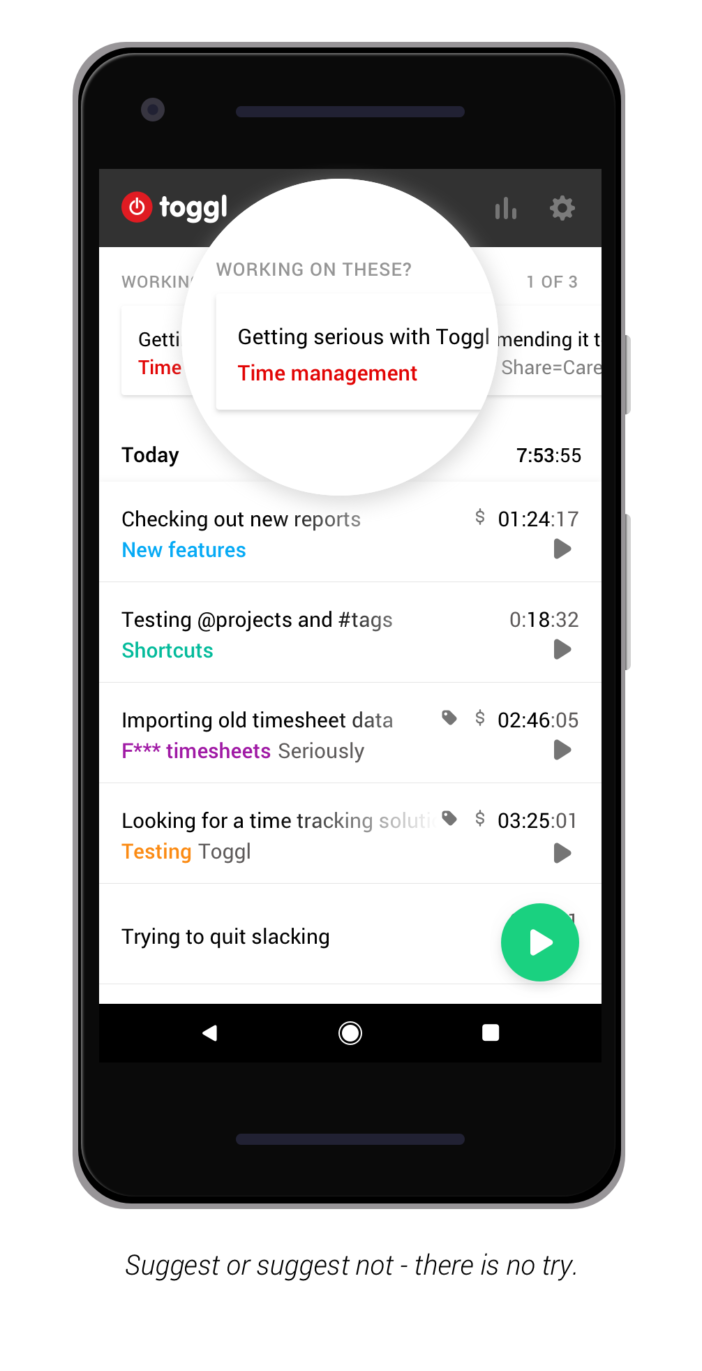 Autocomplete
From now on you'll be able to create time entries faster than ever before. Just start typing as you usually would when creating a new time entry and the app will check your log and offer you to autocomplete an entry. It will check for similar time entries based on the text you entered, as well as similar projects and tags if you added them.
Not exactly a "EUREKA!" worthy moment, but hey – something that the app definitely needed (and something which was requested for a while now).
Shortcuts
Since we mentioned projects & tags, it's important to know that from now you'll have an easier time adding them by using newly introduced "Shortcuts". Adding @ will let you add projects, and adding # will let you add tags to your time entries. Typing either will open up a list of your previously used projects & tags, or allow you to create entirely new ones.
Precise time tracking and, furthermore, time–saving is what we're all about, and this new addition will save you time left and right; remember – every second count!
Reports
And then there are "Reports". Not really a new thing, but they went through a heck of an update, both design and code wise. As before, they will provide you with a daily, weekly, monthly & yearly (or a custom date range) overview of your time spent doing all sorts of interesting (or not so interesting, we don't judge) things.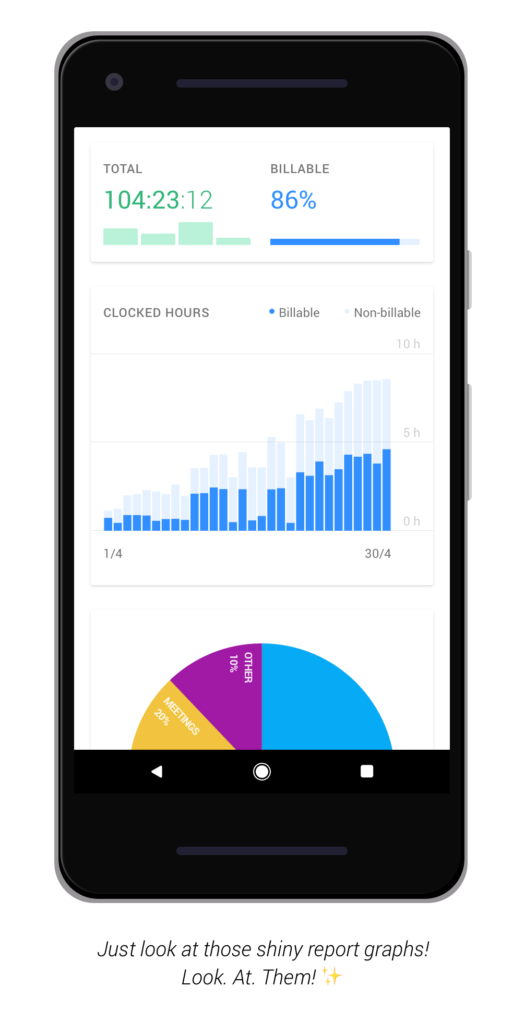 But wait, there's more
While the beta will have all of the essential features, in the future you can expect more cool features that will help you to set up your perfect little time tracking regime.
For example, we will introduce Calendar Integrations, with an option to start your time entry based on your calendar meetings & tasks.
Then there's Timeline View, that will showcase your day in a more clear (and minimalistic) way.
Quite a few more cool features (but also pretty secret so far) are also coming to the new Toggl Track Android app, though they need juuuust a little more work before we're able to showcase them. Still, even with the essential features available from the get-go, the new app will be more than capable of being your productivity & time tracking assistant.
And that's pretty much it! Sooo, fancy being the first one to track time with the new Android app?
We really hope you'd give it a try and let us know what you think. The future of the app is basically in your hands at this point – we rely heavily on your feedback on every feature, bug and possible request you may have.
Therefore, please don't hold back if you have any comments whatsoever. To get in touch, send us an email at support@track.toggl.com or be brave and contact us through the app itself (Go to Settings -> "Submit feedback").
TL;DR
Completely New Toggl Track Android app
The Beta is LIVE – get access here or ☝
Swag will be sent to beta testers!
Tons of new features introduced (& old redesigned)

Suggestions
Autocomplete
Shortcuts
Reports
and many more!

What are you waiting for?

P.S. Part of the iOS clan and just spying on the competition? We got you covered right here!