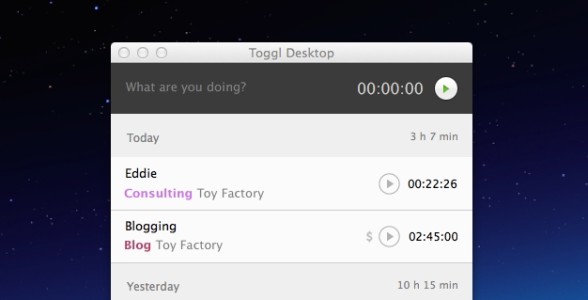 The new and improved Toggl Track Desktop for Mac OS X 10.8 and above has finally arrived! You can download it here.
While it looks a lot different (in a good way), it's more stable than ever and it has the same good old functionality–time tracking has never been this easy!
We've added some cool features to this version which the previous one didn't have. The sweetest of them are the idle detection, which notifies you of the time you've been inactive, and reminders to track time – just to be sure you're actually being productive, not slacking!
While Windows users might be going all green with envy now, there's actually a Windows version in the works at this very moment and it will be released soon.
Toggl Desktop is an open source project. You're welcome to help us by submitting pull requests, bug reports or feature requests to our Github page – https://github.com/toggl/toggldesktop/ .
And, of course, you're welcome to contact our lovely support team at support@toggl.com if you have any questions!
Happy toggling–be productive!