Close your eyes and imagine how the launch of a brand new product or service would play out in a dream world.
You release the product to the masses. Before long, people are scratching and clawing to get their hands on your offering. Sales are blowing up. Your income is climbing. Things couldn't be going better.
Sounds dreamy, right? But, if you're like most people, you're probably also thinking that it sounds impossible.
Chances are, launches will hardly ever be that flawless.
However, you can increase your chances of success by laying the appropriate groundwork—mainly, ensuring that there's a demand for what you're offering before you invest too much time, resources, or elbow grease.
Now comes your next question: How do you do that? A value proposition canvas can be a huge help. Let's dig into what that is and how you can leverage it to increase the success of your business and craft a winning value proposition.
The Importance of Product-Market Fit
Are you ready for a scary statistic? The number one reason that startups fail is that there's no actual market need for what they're offering.
All of the marketing spend in the world won't help you if your product or service doesn't actually meet a need or solve a problem for your target customers.
That's exactly what product-market fit is. You're in a market that has adequate need and you have a product that can solve that need. If you can check those two boxes, you're in a good place.
But, here's the thing: You don't have a crystal ball or the ability to read your customers' minds. That makes it that much more challenging to tackle that first step and figure out what their needs are.
This is where a value proposition canvas can be a huge asset to you and the planning involved in your product launches.
What is a Value Proposition Canvas?
The value proposition canvas was created by Strategyzer, a platform dedicated to helping people better understand their customers, create better products, and grow their businesses.
This video breaks down the ins and outs of the value proposition canvas well, but we'll provide a high-level overview here.
A value proposition canvas exists to help you visualize how you create value for your customers. In doing so, it helps you confirm product-market fit while also zoning in on the information you need to craft your value proposition. The canvas consists of two components: a customer profile and a value map.
1. Customer Profile
You'll get started with this section, where you outline three important things about your customers.
Jobs:

This is where you describe the jobs your customers are trying to get done—mainly, the things that they're aiming to achieve.

Pains:

These are the things that get in your customers' way when they're trying to get that job done. They're the annoying roadblocks and challenges that they have to deal with. These are the things that your customers would prefer to avoid altogether.

Gains:

In contrast, gains are the positive results that your customers want to achieve. Think of these as the goals of that job they need to do.
2. Value Map
With that information about your customers jotted down, it's time to turn your attention to your own business. On your value map, you'll jot down the following:
Products and Services:

This is where you should list what you offer to your customers.

Pain Relievers:

Looking at your products and services, here is where you should jot down how your offerings reduce or eliminate those pains that your customers experience.

Gain Creators:

Here you should list how your products, services, or features help your customers achieve their goals.
How Does a Value Proposition Canvas Help You?
For starters, writing down this important information in this way gives you increased clarity into what you do and who you serve—which you need when crafting a value proposition for your overall business.
-explains that Strategyzer video.
But, in addition to helping you create a powerful value proposition, a value proposition canvas also helps you zone in on whether or not you've achieved product-market-fit.
And, you remember how important that is, don't you?
When you're able to point to clear ties between the two different portions of the map—your customer profile and the value map—then you can feel confident that you have a product or service that will provide significant value for your target customers. In short, what you're offering helps relieve their pains and achieve their gains.
Crafting Your Value Proposition
So, that means that the value proposition canvas helps you achieve two things: confirming product-market fit and writing your own value proposition.
Let's say that you're focused on the second piece of the puzzle and want to create a solid value proposition for your business—something that instantly enlightens customers about why they can't live without what you're offering.
By using the value proposition canvas, you've already laid tons of great groundwork. Now, all that's left to do is to put it all together.
As Peep Laja, founder of CXL, explains in this blog post, a good value proposition will clearly state the following things:
How your product solves customers' problems or improves their situation (relevancy)
Delivers specific benefits (quantified value)
Why customers should buy from you and not from the competition (unique differentiation)
You could also consider those first two bullet points to be pains and gains, respectively.
Notice that we said your value proposition should clearly state these various elements. Clearly is the word deserving of emphasis there.
Your value proposition needs to be easily understood by your customers—the people that you want to buy from you. That means it can't be full of buzzwords, jargon, and exaggerations, and should instead educate them about why you're the solution they've been searching for in a straightforward and digestible way. Use as plain of language as possible.
Another good value proposition tip?
Highlight the results customers can expect from using your product or service. People don't just want to know how you'll hypothetically help them—they want proof. The more tangible evidence you can give them about how you'll improve their lives, the better.
In terms of the actual format of your value proposition, Laja goes on to explain that you should have:
Headline: One sentence that grabs attention and immediately illustrates the benefit that you offer.
Sub-headline or a 2-3 sentence paragraph: Here's where you can dig into more detail and share a more specific explanation of what you offer, who it's for, and why it matters.
3 bullet points: This is where you drill down even further and list the key benefits or features of your product or service.
To be especially attention-grabbing and explicit, you can also include an image that shows your product and gives customers even more clarity about what you offer.
One of the best ways to get a handle on what makes for a great value proposition is to look at an example. There are plenty of strong ones out there, but we'll focus on credit card processing tool, Square, in particular.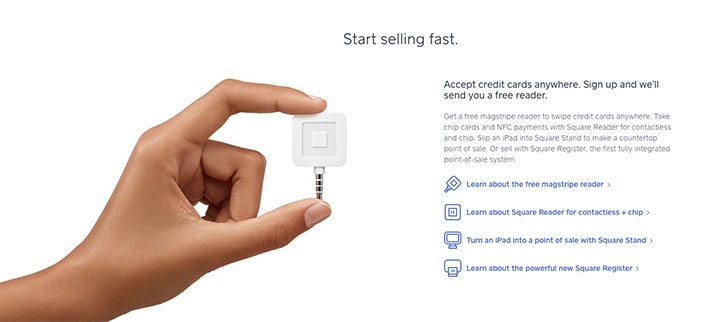 Let's break down their value proposition using the elements we outlined above.
You can see that they used a grabby headline of "Start selling fast." That's appealing to customers who are eager to get their products out there and to start earning income.
Square also opted to use both a sub-headline ("Accept credit cards anywhere. Sign up and we'll send you a free reader") and a short paragraph to further outline their benefits.
Not only do they make it clear how they offer gains for their customers, they also offer further incentive with the promise of a free credit card reader.
For their bullet points, they used four different links out to pages that explain more about their features and add-ons that make customers' lives easier.
Finally, they include an image of their actual product to give customers a better idea of exactly what they'd be purchasing—including how small, convenient, and streamlined it is.
It hits all of the must-have elements of a value proposition, and it does so in a way that doesn't leave people feeling confused about what's offered.
Moving Forward
You want to ensure you have product-market fit as well as create a strong value proposition that resonate with your customers, and a value proposition canvas can help you do just that.
Of course, nothing is perfect the first time around. As with anything else in your business, be prepared to do some trial and error and continue tweaking until you find a suitable offering, as well as a value proposition that captures your brand and strikes a chord with your target customers.
That's why the value proposition canvas is so helpful. It makes it easy for you to visualize and then repeatedly tweak the aspects of your business that deserve emphasizing.
Ensuring product-market fit and creating your value proposition definitely aren't always easy tasks, but using the canvas can remove a lot of pain from the process. Use this as your guide, and then get ready to roll up your sleeves and show your customers why you're worthy of their hard-earned dollars.
Kat is a freelance writer specializing in career, self-development, and productivity topics. She's passionate about being as efficient and effective as possible—much of which she owes to her 114 words per minute average typing speed. When her fingers aren't flying on the keyboard, she loves to bake, read, hike, or tackle yet another DIY project around her home.