Data shows that candidates hired using skills assessments are 24% more likely to exceed performance goals while increasing hiring manager satisfaction by 36%. Like the sound of that? If so, you're in luck, as today we're comparing three of the best skills testing platforms in the battle of Vervoe vs. Coderbyte vs. Toggl Hire.
First, we'll reintroduce why skills assessment platforms are so great. Then, we'll look at Vervoe, Coderbyte, and Toggl Hire in-depth, comparing their testing capabilities, candidate experience, and pricing to help you decide which tool could be for you.
Let's get into it!
Quick Links: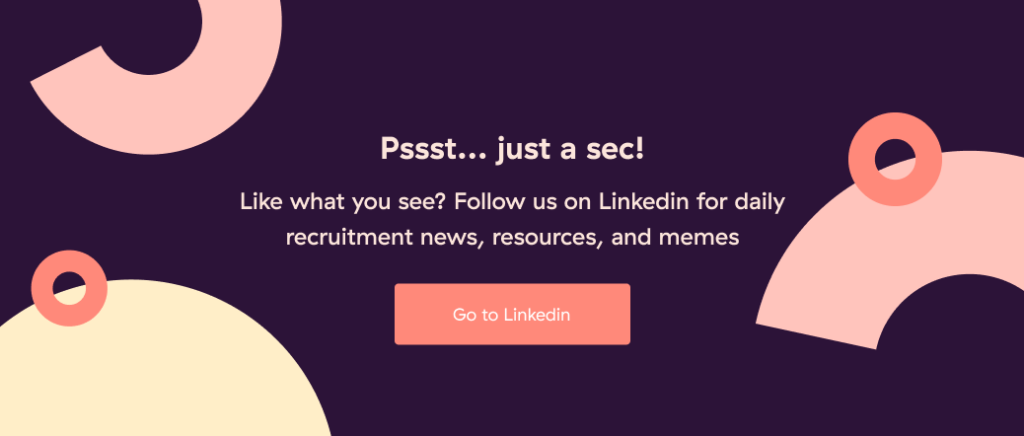 Why Use a Skills Assessment Platform in The First Place?
Hiring, especially for technical roles, is a very long, very costly process for most companies. And with more and more candidates applying for each tech role, digital companies are searching for faster, more automated, and affordable ways to confidently speed up the technical hiring process.
That's where skills assessment platforms come in. Armed with comprehensive question libraries, anti-cheating features, and easy-to-use analytics dashboards, they give recruiters the capability to revolutionize their screening process.
And the best thing? Those question libraries are created by experts, meaning, as a recruiter, you don't need to be an expert in every role you hire for. This helps you save time and effort on screening while still delivering high-quality candidates for your hiring managers.
Modern skills test software doesn't stop there, though. Many have also bolstered their offering since the pandemic and now incorporate video interviewing and one-way interviewing (using pre-recorded messages) technologies into their workflows.
This allows you to take your hiring up to another gear, incorporating soft skill assessments to get an even deeper insight into your candidates, in your own time.
Now that you know all about talent assessment platforms, it's time to get into the meat of this article and compare our three standouts – Vervoe vs. Coderbyte vs. Toggl Hire 🚀🚀🚀
Introduction to Vervoe
Founded in Melbourne in 2016, Vervoe believes that every day great candidates are mistreated when applying for their next roles. Like many other skills testing platforms in the market, Vervoe was born to fix a broken recruitment market and ensure candidates can show off their skills, knowledge, and experience.
Vervoe trades on its tech. They leverage AI-powered grading to deliver a 'How', 'What', 'Preference' Model that predicts real-life job performance based on your business needs – pretty smart, huh?
Vervoe – The Skills Testing
Pros
A strong pre-made test library for skills and job roles based on competency modeling.
A unique customer support simulator for pre-employment testing.
Customer service through live rep chatbot, email, and knowledge base.
Cons
The AI bot needs training through multiple assessments, whereby users have to provide correct and incorrect answers.
The rating scale can be subjective depending on who sets up the bot – it needs a team effort to create accuracy and remove bias, slowing recruitment teams down.
Vervoe's features are harder to get started with.
No automated shortlisting feature based on a pass threshold – this slows recruiters down.
Requires a large time investment to understand, configure, and train the AI – otherwise, you may get poor results.
Vervoe – The Candidate Experience
Pros
Slick interface with a wide variety of assessments & features.
Cons
Tests can be overwhelming if they are too long or complex.
Candidates don't get instant feedback after completing assessments which negatively affects both candidate experience and employer branding
Vervoe – The Pricing
A free trial is available, but there is no free version.
Starter, Plus, Professional, and Enterprise plans – starting at $109 per month.
A limited number of assessments & features and users in lower tiers.
Quite expensive for what it is – unless you are an enterprise only looking for a top-of-the-funnel solution.
Is Vervoe The Right Skills Assessment Tool For You?
If you need data-driven results for the top of the funnel shortlisting, and looking to find candidates that give you the answers you are looking for to the letter, Vervoe is the platform for you. It's perfect for helping you screen very specific types of candidates, such as developers. Outside of that, it's quite an expensive software if you simply want to test candidates as part of your early recruitment funnel.
Introduction to Coderbyte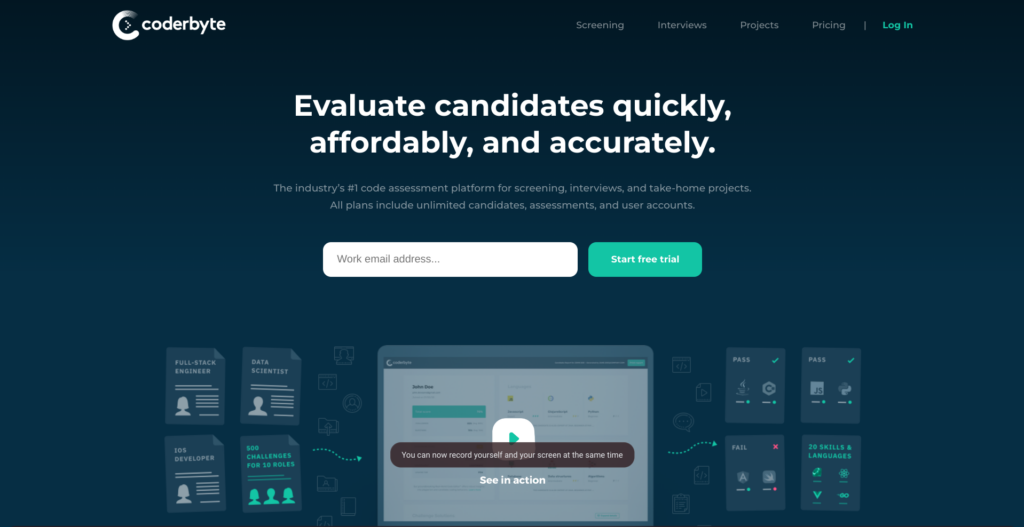 Founded in 2012, Coderbyte has carved out its very own niche in the technical assessments space. The platform has two goals – first, to help developers prep for interviews and put their best foot forward. Second, to help technical recruiters screen candidates at scale.
In recent years the platform's also expanded to deliver live interviews and coding project assessments too, perfect for the later stages of the recruitment process.
Coderbtyle – The Skills Testing
Pros
Decent library of technical skills and templates for a variety of technical roles.
Live video interviews allow you to test candidates in real-time.
Services both the top and mid-funnel stages with screening, video interviews, and take-home assignments.
Cons
Only for technical roles, can't be used comprehensively for other popular roles such as Marketing, Customer Success, or Sales.
For candidates, there's only a limited number of programming challenges.
Unfortunately, it isn't foolproof, as most assessment answers can be found online.
A rigid solution that only allows for pre-made tests – no custom options.
Aggressive anti-cheating features can feel a little like surveillance.
Coderbyte – The Candidate Experience
Pros
Slick UI across testing, video, and project assignments.
Skills assessments are quick, easy, and fair resulting in a positive experience.
Cons
Users have reported common instances of bugs causing the platform to crash.
Impossibly hard questions can leave candidates scratching their heads.
Coderbyte – The Pricing
There's no free plan, but there is a free trial.
One fixed monthly cost of $199/month for the basic subscription.
Add extras such as SSO, API integration, and custom branding for extra $/month.
Is Coderbyte the Right Skills Assessment Tool For You?
Coderbyte is a solid option for tech-focused recruiters looking for a top and mid-funnel solution. But it's limited if you want customization, bespoke tests, or if you want to venture outside of technology roles.
Introduction to Toggl Hire
Toggl Hire has been powering remote recruitment since 2017. It's the only full-funnel hiring software in this round-up, and it's specifically created by remote workers for remote workers. Toggl Hire believes it's time to ditch the CV in favor of skills assessments, as knowledge trumps experience each and every time.
With a range of test types (including videos), a self-service portal dashboard, and a range of handy automation features, Toggl Hire delivers the best value for money when it comes to AI-powered pre-employment software.
Toggl Hire – The Skills Testing
Pros:
All-in-one software for skills assessments, video interviews, and the end-to-end recruitment funnel.
A 15,000-question strong pre-made test library for skills and job roles.
Stack technical and soft skills into one assessment – a comprehensive view of future job performance while keeping candidates engaged with the gamified application process.
Anti-cheating features that respect candidates' privacy and maximize the experience.
Automation for pass thresholds, candidate grading, and funnel progression – speed up the talent acquisition process.
Bonus: Homework assignment tests are coming soon!
Cons:
Toggl Hire doesn't include live coding or coding game assessments.
No priority SLAs.
Toggl Hire – The Candidate Experience
Pros:
Instant candidate feedback on results vs. other candidates.
Skills assessments are gamified to make them fun and engaging for candidates.
Test questions rooted in practical knowledge, not textbooks.
Anti-cheating measures that respect candidates' privacy.
Cons:
Recording video answers in the Video test can be uncomfortable for some candidates.
Toggl Hire – The Pricing
There's no free trial, but there is a free plan for up to 5 users.
Basic, Premium & Business plans – starting at $17 per month.
No additional fees, no extra product payments.
Affordable prices with great features for all types of companies.
Is Toggl Hire the Right Skills Assessment Tool for You and Your Hiring Managers?
Here are 12 reasons why we think Toggl Hire is the best choice for businesses when it comes to skills testing:
The only hiring tool that's built for remote hiring 🖥️
Supports the entire recruiting funnel, not just initial candidate screening ✅
Expert-created test library with different question types and pre-made role-specific job templates to suit every hiring need 💪
Automations (pass threshold, email, bulk actions, etc.) that do the work for you – saving you time, effort, and money 🚀
Packs role-specific soft and technical skills into one assessment, offering a comprehensive view of a candidate's future job performance 🙌
Granular test reports provide insight into candidate's strengths and weaknesses, allowing you to compare and shortlist fairly ⚖️
A visual drag-and-drop candidate pipeline helps hiring teams see their entire recruiting funnel in one place 🕹️
Extra features for async, one-way, and video interviews – providing full interview management capability 📹
Full test customization that aligns with your brand, website, and values 🎨
Premium-level support including live rep chat, email, and a dedicated account manager 🤝
Unlike similar products, anti-cheating measures build trust and level the playing field 🕵️
Candidates love Toggl Hire thanks to sleek tests, instant feedback, and gamification 🧡
The most affordable solution, with a free version and subscription pause options 💸
Summary
We hear a lot about how tech recruitment is broken. But, if you have the right tools in place, hiring tech talent is a piece of cake. We've looked at just three tools in our battle of Vervoe vs. Coderbyte vs. Toggl Hire, but there are so many great tools out there to choose from.
Do away with CV screening and discovery calls, and step into the 21st century with a skills assessment platform. Not only will they help you get a feel for your candidate's personality, experience, and skills, but they'll also remove the guesswork and provide more clarity to your hiring decisions.
While all platforms can deliver similar benefits, companies see the biggest improvement in productivity when opting for an all-in-one solution that's tailored to their needs and delivers a full-funnel capability!
James Elliott is a Strategy Manager and Writer from London, UK. When not working on the day job, James writes on a variety of business and project management topics with a focus on content that enables readers to take action and improve their ways of working. You can check out James' work on his website or by connecting on LinkedIn.