Is your talent pool running dry? Do you offer amazing perks and cool positions but have difficulty filling them because your hiring process is long, boring, or difficult?
Perhaps the problem is in your process. To get top talent, you need to go beyond the ordinary and offer something exceptional to your job applicants — you need gamification in recruiting.
TL;DR — Key Takeaways
Gamification in recruitment is the process of using gamification tools to make hiring more engaging and less stressful for candidates.
For employers, gamification in recruitment can be used for screening, acquisition, and onboarding. When used correctly, it can lead to a lower time to hire, improved candidate experience, better screening for specific skills, fewer biases, and more.
To implement gamification in recruitment, identify pain points in your existing processes, define your most important skills, make the entire process smooth and easy, use the right tools, and don't forget to test for various skills.
There are many tools out there, each with its pros, cons, and pricing considerations. Tools like Toggl Hire are great for gamifying candidate screening and skills assessments, while tools like Captain Up offer badges and missions similar to video games to create healthy competition.
How can gamification be used by HR in recruitment?
When talking about gamification in recruiting, most people automatically think of video games or company-related quests. While those definitely are a part of gamifying recruitment, gamification relies on concepts found in game theory to make the hiring process more engaging and effective for potential candidates and employers.
Unlike a traditional recruitment process, gamification in recruiting means saying goodbye to resumes, cover letters, and lengthy job application processes. It means providing an exciting way for the candidate to quickly show their skills and value to a prospective employer in a way that makes hiring decisions easier and fairer.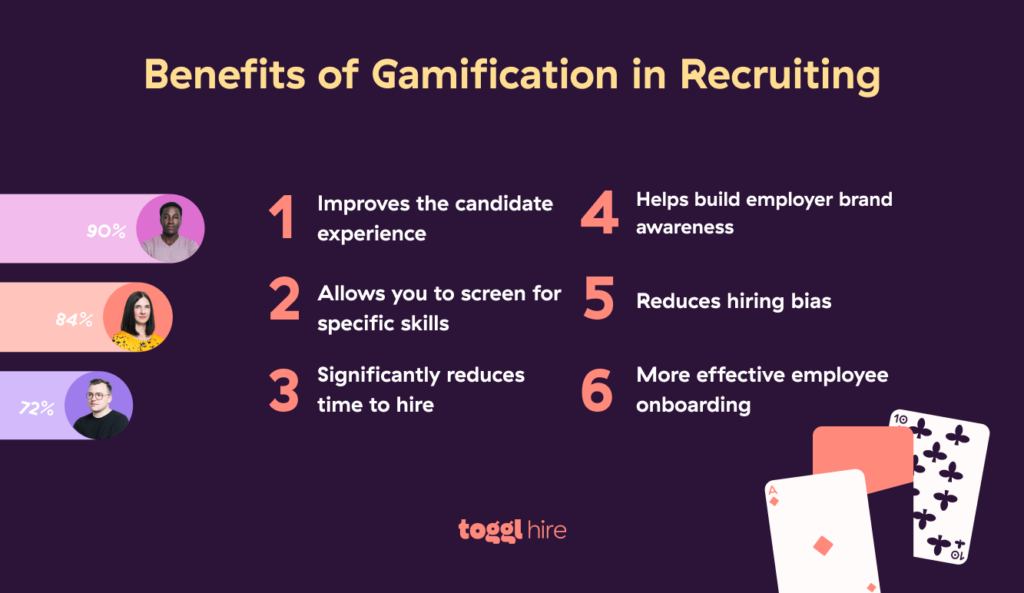 We know — that likely looks different than what you might have initially thought "gamification" to mean. The hiring concept certainly looks much different today than it did a decade or so ago when it meant playing literal games.
Today, gamification in recruiting is often more about having candidates engage in game-based assessments through platforms that make it effortless for both the candidate and the employer.
With Toggl Hire, for example, that looks like gamifying the application experience by designing a unique skills assessment test for candidates to take. They receive instant feedback in the form of a score and indicator of where they currently rank compared to other applications. Talk about a healthy dose of competition.
Whatever method you choose, you'll be off to a good start because gamification in recruitment is currently heavily underused. Since the hiring tactic can help you boost employer branding, source higher-quality candidates, and improve the recruitment experience — what's not to like?
Does recruiting gamification actually work?
According to research, yes — gamification works really well!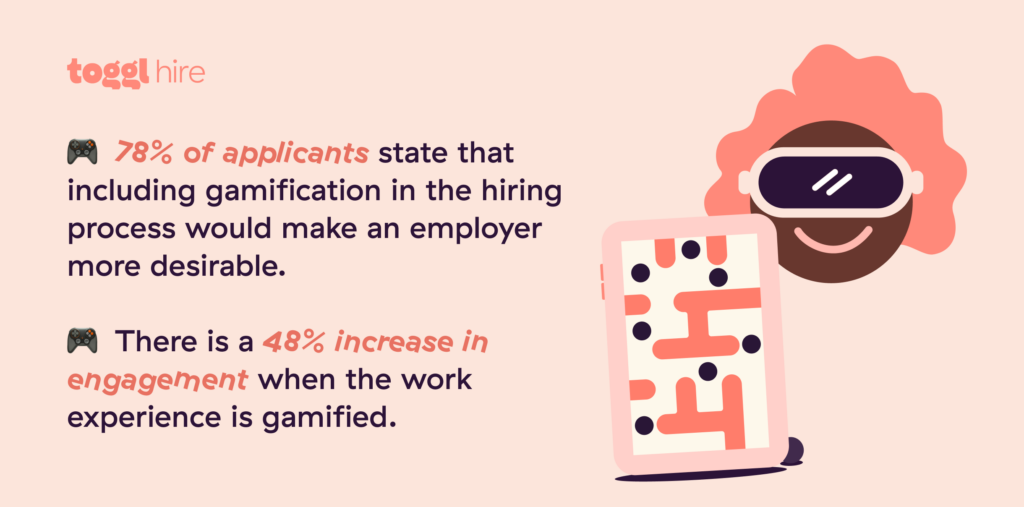 How gamification improves the traditional recruitment process
The traditional way of hiring talent is slow, complicated, and not particularly enjoyable for most candidates. That's why it's no surprise that a survey from Greenhouse revealed that 60% of job seekers were "unimpressed by time-consuming recruitment processes."
There's only so much you can do to improve and speed up the recruitment process. Sending compassionate rejection letters helps, sure, and reducing your time to hire is nice, but to get the best candidates on the market, you'll need gamification. Here's why.
Reduces stress for job applicants
If you want to attract candidates to your job ads, a one-hour application process is hardly going to do the trick. Gamified assessments and similar tools help create a more enjoyable experience for your top candidates.
Instead of asking them to prepare a custom-made resume and a cover letter written from scratch, they can jump into a hiring test and finish it within 15 minutes. It's not just the ease factor at play here, either; these assessments offer a great change of pace for someone who looking for a job and spending hours filling out new applications several times a day.
If your candidates come from a minority group, gamified tests can benefit them and help them score better. According to research, underrepresented groups are 25% more likely to get ghosted in the application process compared to their white counterparts.
Reduces time to hire
Most hiring managers will tell you that one of the biggest drawbacks of traditional assessment methods and hiring tactics is just how long it takes to find prospective employees. The elimination process required to manually go from 1,000 applicants to 10 potential hires is exhausting and overwhelming.
Incorporating game elements like a skills assessment (with a subsequent score) into your hiring process makes that process much easier. If candidates do well, they move on to the next round. If they don't, you know they're not a match.
In one example, using gamification for talent acquisition in this way resulted in a 40% shorter interview cycle and a 62% higher offer ratio.
Improves candidate experience
Candidate experience is the overall impression the candidate has of your recruitment practices, and great candidate experience can motivate people to go through the hiring process and get them excited to start working with you as an employee.
When you implement gamification in your hiring process, you can do things like offer badges and rewards or create virtual games to learn about a candidate's background.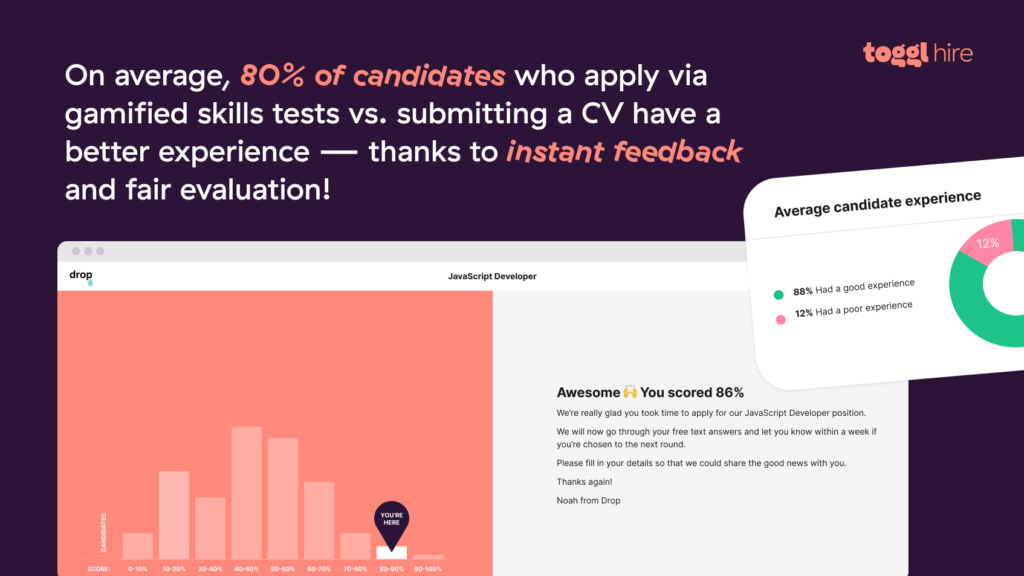 With Toggl Hire, each candidate receives a review of their score highlighting their strongest skills, telling them where they excel, and identifying which skills need improvement. All of these unique gamification elements help improve candidate experience, and in today's hiring landscape, that matters a whole lot.
Perhaps most importantly, these gamified assessments demonstrate to potential employees that your company offers a fun environment to work in and makes your brand memorable, eventually impacting metrics such as employee turnover rate.
Screens candidates for specific skills
Interactive game elements in your hiring aren't just for fun. They're also an exceptional way to evaluate a candidate's skills in a specific area. What's even better is that with gamification, you can screen for skills in a faster and more efficient way than by collecting resumes and cover letters.
With gamified assessments, you can:
Test future employees for soft and hard skills
Get practical evidence of the candidate's knowledge
Get a quantitative measure of a candidate's skills
Save time for both the hiring team and the candidate as the test results get back in minutes
"Won't this take forever to create, though?" We hear ya. However, digital tools and software make incorporating gamification quick and simple. With Toggl Hire, for example, you can choose from a library of over 200 skill tests for various skills. Just pick your test, customize it if you want, and add it to your existing hiring workflow.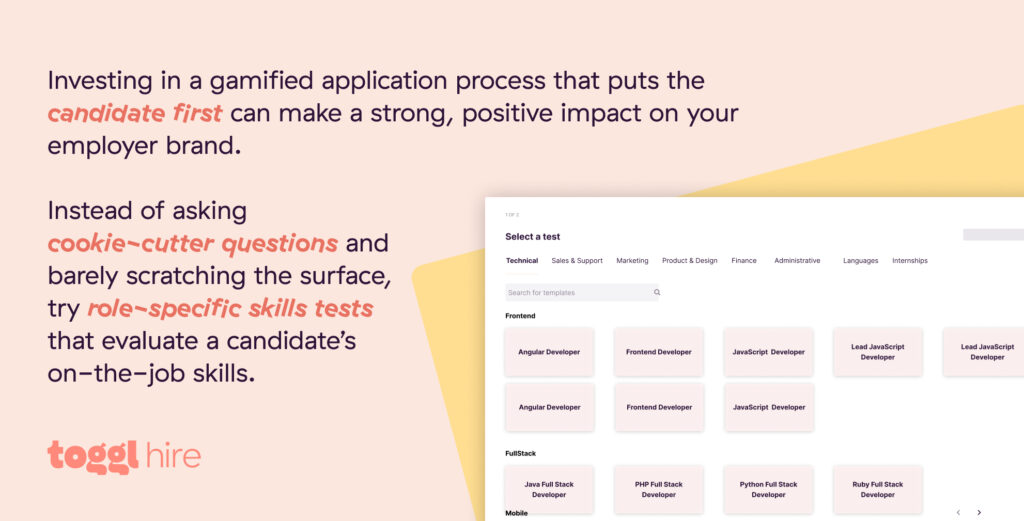 Removes hiring biases
Bias in hiring isn't just something that can result in a lawsuit for your company — having diverse teams is actually beneficial for hiring because talented candidates tend to look for more diverse companies to join.
Some common biases you should avoid include hiring based on gender, age, race, religion, educational background, and more. To avoid unconscious bias in recruiting and engage applicants, you can use gamification in recruiting in the following two ways:
Blind scoring: When blind scoring, all your candidates are evaluated on the basis of their test results. For example, when you run a hiring test in Toggl Hire, you get to see the results first before you ever see a candidate's name, resume, or photo.
Anonymized candidate profiles: Blind scoring leads to anonymized candidate profiles, where you won't see candidates' genders, ages, education levels, or anything else. Instead, you get to make a decision solely based on their test results.
While Toggl Hire's library of tests is created with great care to remove any bias, you can create custom tests of your own to further reduce bias. To do so, carefully craft the job requirements and the job ad, diversify the test content, and do a pilot run before giving the test to your candidates.
6 tips for implementing gamification in the recruitment process
Just like any other new tool you introduce into your hiring process, getting started with gamification requires some preparation and groundwork. Whether using a gamified assessment to gauge future job performance or cultural fit, here are six tips for getting started.
1. Identify pain points in the recruiting process
Before embracing gamification, figure out what hiring problems you want to solve and why. For example, does your screening take too long? Are you struggling to get qualified candidates? Is the job application process taking too long for candidates to complete?
First, figure out what's wrong with your selection process. Then, using gamification techniques, look for ways to keep potential employees engaged throughout the process.
2. Define important candidate skills
Before jumping into testing for the right skills in real-world scenarios, define what traits and skills the candidate should have to be successful in their role. This includes both soft and hard skills.

Top tip:
Defining these aspects of an "ideal candidate" will not only help you pick the right gamification tool but also help you create a relevant test that produces the best results.
To find the most important skills, take the time to review what a candidate would do in their day-to-day work if they were hired. List the people they would work with and report to, the specific tasks and projects they would handle, and the KPIs for success in a certain role.
3. Make it make sense
Keep candidates engaged throughout the process by simply making the games user-friendly and relevant for the role you're hiring for. Don't gamify just because you can — it should make sense for your employer brand and values, as well as the type of candidates you want to attract.
Most importantly, gamification should be incorporated neatly into the overall hiring and talent acquisition process in your business. The entire recruitment process should feel consistent and smooth for the applicants.
4. Use the right tools
With so many tools on the market today, you don't have to settle for a basic setup that makes candidates play mindless games. Instead, we suggest you explore and shop around before you commit, as you need to find a tool that best suits your organization's needs.
Some factors to consider include:
Budget
Scalability (as your hiring needs increase and decrease)
Customization options
Compatibility with the rest of your hiring tools
Reporting options
We've reviewed a few top tools below, so keep scrolling to compare your options.
5. Test for soft skills
A candidate is more than a single set of skills they use to get the job done. To successfully collaborate in the modern workplace, they need the right behavioral traits and other types of skills.
Any great content marketer should know the ins and outs of SEO, content optimization, lead generation, etc. However, they should also be comfortable communicating and collaborating with their team.
Soft skills are a crucial part of every job role these days, especially for remote teams relying on remote communication tools, so include them as a part of your gamification tests, too.
With Toggl Hire, for example, you can effectively assess various non-technical skills, from recruitment, teamwork, problem-solving, adaptability, decision-making, and many others.
Our cognitive ability test lets you assess skills such as problem-solving skills, attention to detail, personality, and basic math. With the help of this test, you can amplify the recruitment process for any role you can think of.
6. Follow best hiring practices
While gamification sounds fun for everyone involved (and it usually is!), it should never come at the cost of not following the best hiring practices. When implementing gamification, do not neglect other essentials such as:
Setting clear hiring goals
Aligning the role with the company culture and values
Paying attention to inclusivity and transparency
Once you introduce gamification in hiring in your business, continually review its efficiency and look for ways to improve it.

Top tip:
While platforms such as Toggl Hire have templates for pre-determined roles that work in the majority of cases, you should still customize every test and monitor its performance as it relates to your specific hiring process and business operations. After all, no two companies or roles are alike.
Recruitment gamification platforms
The niche for gamification in hiring is constantly growing, with new tools released each year. Before choosing your next gamification hiring tool, ensure you understand the difference between gamification tools for:
Hiring
Onboarding and employee engagement
Determine your needs first and then assess each platform accordingly. For a more comprehensive overview of platforms designed to gamify the hiring experience specifically through skills testing, view our comparison of pre-employment testing tools.
Toggl Hire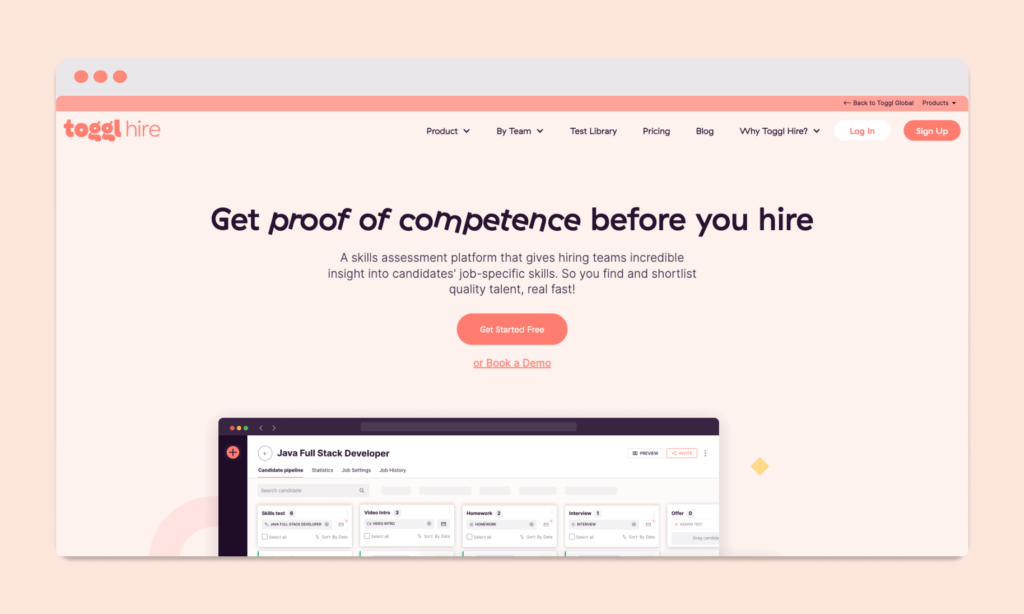 | | |
| --- | --- |
| Key Features | Customizable tests, anti-cheating measures, ATS integrations, candidate reports and scoring |
| Pricing | Access unlimited jobs and tests for up to 3 candidates for free; the Basic plan starts as low as $42/month for more features and candidates |
| Pros | Affordable, easy to use for candidates and employers, rich library of tests, integrates well with many other hiring tools |
| Cons | Hiring for unique roles, combining soft and hard skills tests, offering candidate feedback, automating mundane manual hiring tasks |
| Best For | Hiring for unique roles, combining soft and hard skills tests, offer candidate feedback, automating mundane manual hiring tasks |
Captain Up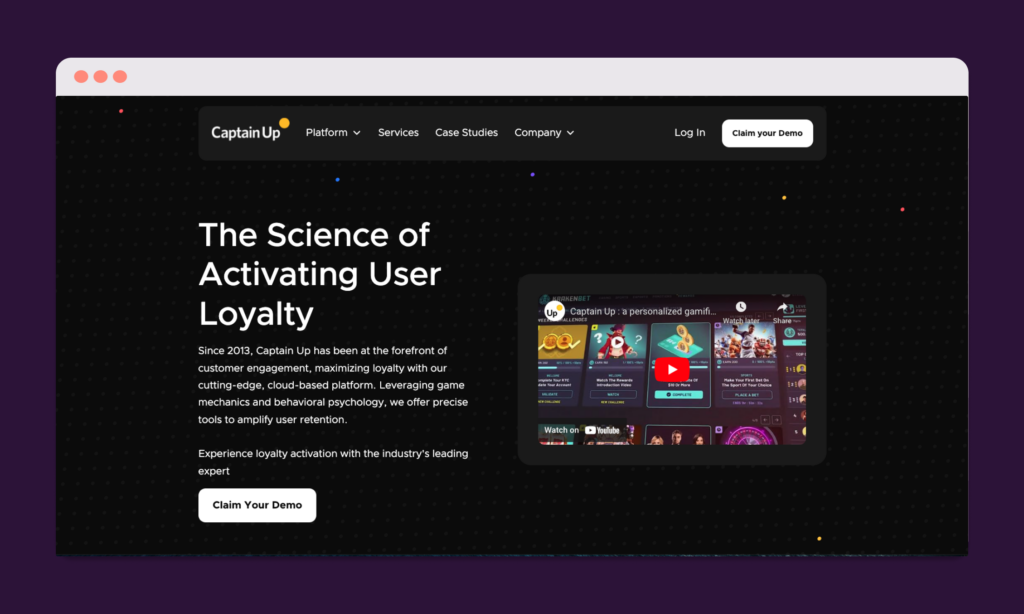 | | |
| --- | --- |
| Key Features | Badges, levels, points, missions, and more to truly gamify the process and boost employee retention and engagement |
| Pricing | Not disclosed publicly |
| Pros | Customizable, very game-like, and engaging |
| Cons | More consumer-focused compared to the other tools on this list |
| Best For | Companies that want to foster more engagement in the workplace, and not necessarily for hiring purposes only |
Games for Business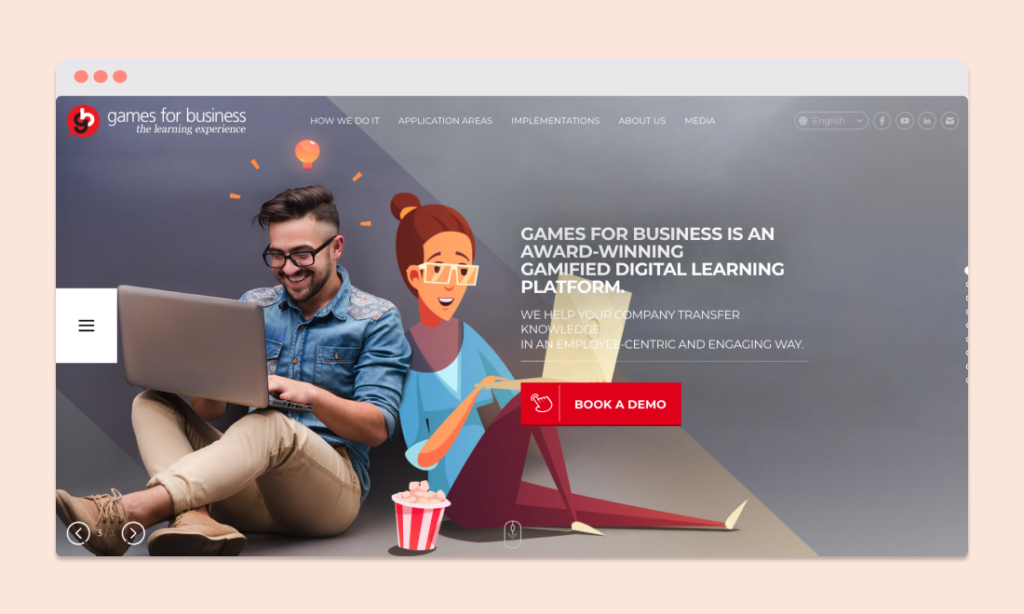 | | |
| --- | --- |
| Key Features | Test micro and mobile learning capabilities, offer continuous feedback for employees, self-management options |
| Pricing | Not disclosed publicly; some sources state that it starts at $15,000 per year |
| Pros | Very game-like and suitable for roles where the process would benefit from having the candidates play and learn at the same time |
| Cons | Much better for onboarding and on-the-job learning and development than for hiring |
| Best For | Onboarding, employee learning, and development |
HackerRank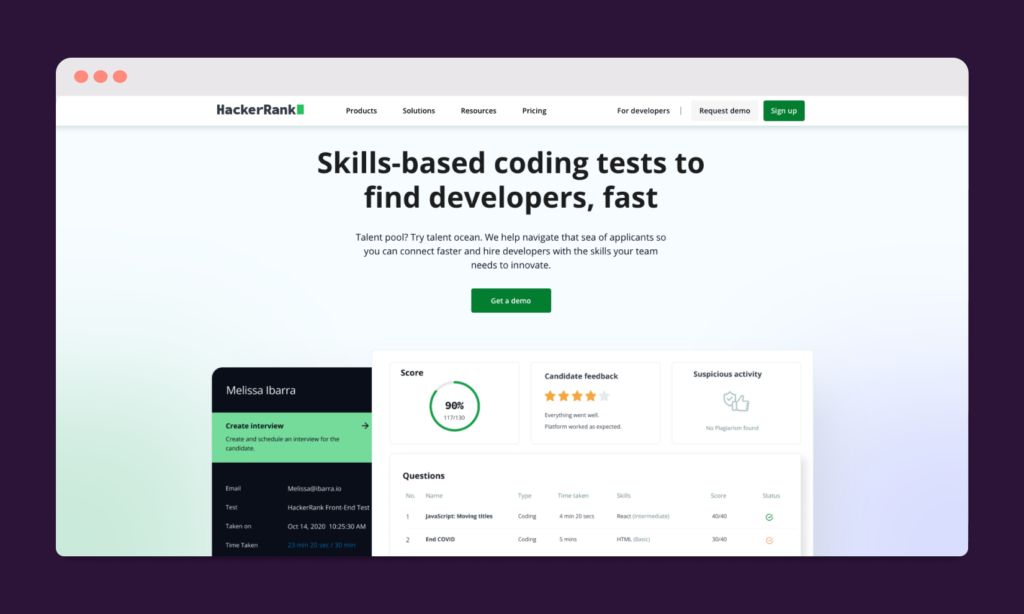 | | |
| --- | --- |
| Key Features | Screening and interviewing, standardized tests, plagiarism detection |
| Pricing | Starts at $100/month |
| Pros | Built specifically for hiring developer talent, which is reflected in the features |
| Cons | Limited in the scope of the roles you can hire for, expensive |
| Best For | Hiring developers and technical talent |
Pymetrics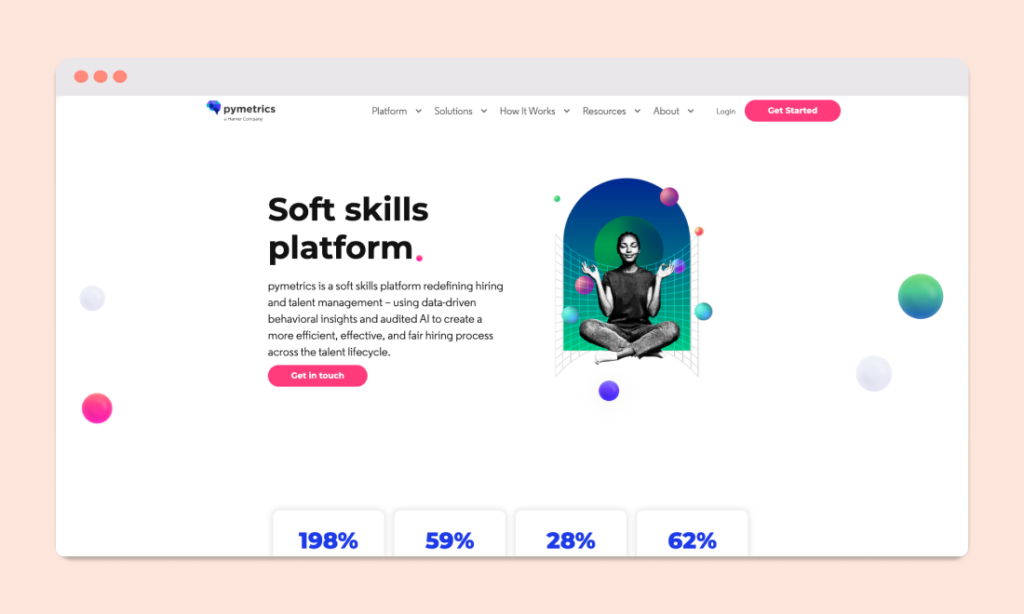 | | |
| --- | --- |
| Key Features | Neuroscientific games and exercises, trait analysis, match algorithms |
| Pricing | Not disclosed publicly |
| Pros | Great for a neuroscientific approach to hiring, hiring with diversity in mind, easy to scale, acquired by Harver |
| Cons | Algorithmic bias, lack of personalization |
| Best For | Enterprise companies with larger HR teams that need a tool for soft skills testing |
Getting the most out of gamification in recruiting
If you're just starting out with gamification for recruitment, worry not. Here are some tips on how to set the right goals and automate the process so you can learn early on if it's working and how to improve it.
Create unique assessments for different job openings
It's important to assess candidates' skills for each position individually. Always remember that each job vacancy is unique. Even in situations where it might seem you can repurpose the test because the skills are "similar enough" (like hiring for a Content Specialist and SEO Manager, for example, which are similar yet different roles), it makes sense to create unique assessments for every job.
At Toggl Hire, we have 200+ different templates for different hiring assessments. Still, we emphasize that you should customize your hiring test to accurately represent the role. With a unique test, you can let your company culture shine through and show what really matters to you as an employer.
To come up with the most relevant skills to test in game-based assessments, create a detailed list of job requirements and narrow it down to the most important hard and soft skills. From this point on, creating a test with Toggl Hire to evaluate candidates is a piece of cake.
Automate the hiring process
Using gamification platforms instead of trying to gamify the process yourself can save any hiring manager a lot of time and help automate the hiring process.
Tools such as Toggl Hire, HackerRank, and Games for Businesses come pre-built with time-saving options like leaderboards, automated reports, and automated communication with candidates. Let the games measure candidates based on your strict requirements and take over from there.
By using tools for gamification in recruitment, you can automate and eliminate tedious administrative tasks such as initial screening and reaching out to candidates who scored below your threshold.
This allows you to cut costs as your hiring team spends less time on manual tasks and, at the same time, makes the process more effective and enjoyable for the candidate. Everybody wins.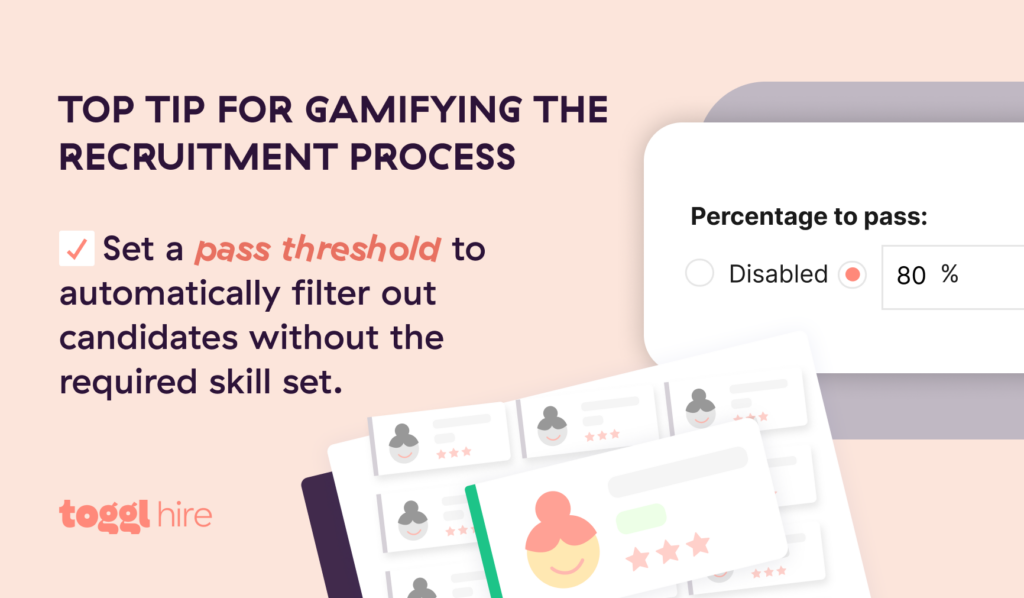 Notify job seekers at every stage
Getting in touch with candidates and letting them know about their progress is time-consuming, sure. However, it's an absolutely necessary step in today's hiring landscape.
It's crucial to inform the candidates whether they advanced to the next round and, if not, explain why. Aside from simply being the right thing to do, it keeps the candidates engaged, and even if you turn the candidate down, it keeps a good memory of your employer brand.

Top tip:
With Toggl Hire, much of this work is automated, at least at the very beginning. Our tool allows you to send clear messages that are easy to understand, showing candidates why they did (or didn't) move to the next round.
Try Toggl for gamification in recruiting
Gamification in recruitment is (thankfully) not rocket science. Any modern-day HR professional with basic IT skills can use an online simulation or a gamified test to source candidates. However, achieving the perfect balance between testing for the right skills and making the test fun is the key.
To strike that balance, use Toggl Hire, which allows you to combine gamification and skills-based hiring to screen top talent fast while vastly improving the candidate experience.
Ready to get rolling? Start by browsing our library of custom-built assessment templates!
Elizabeth is an experienced entrepreneur and content marketer. She has nine years of experience helping grow businesses and has experienced first-hand the impact of skills-based hiring in today's global, digital world.