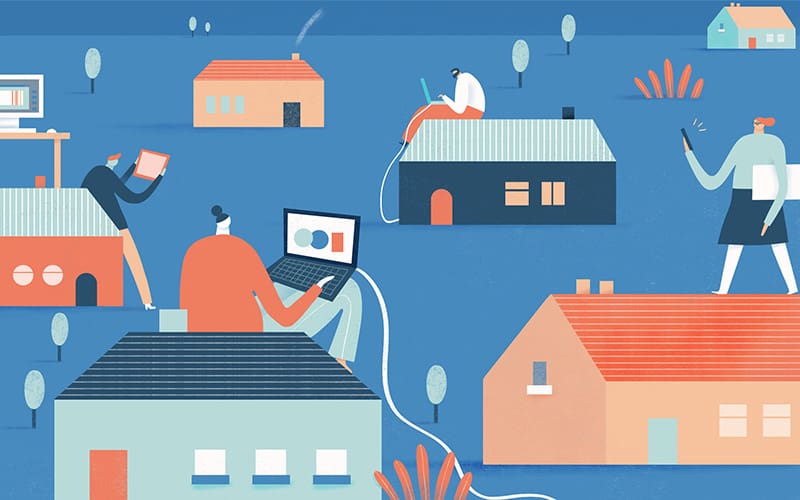 Today, it seems like almost everyone is on the lookout for work from home jobs that give them the flexibility to build their work around their lives—and not the other way around.
Yes, the workforce is changing. As The New York Times reported, telecommuting is on the rise.
According to The Bureau of Labor Statistics, 24% of employed people did some or all of their work from home in the year 2015—a number that's projected to continue growing.
Many say this increase in remote work is attributed to the younger generation of workers, who crave greater flexibility than previous generations.
In fact, a survey conducted by AfterCollege revealed that a whopping 68% of Millennial job seekers said that an option to work remotely would greatly increase their interest in a specific employer.
Where does this demand come from?

Why are we all so eager to be able to work where we want, when we want, and in our pajamas if we so choose?
Well, there are numerous benefits that remote work offers.
PRO TIP: Use Toggl to track the time spent on your job hunt and see how you could be more effective in your search for a work from home job.
The Many Benefits of Remote Work
Of all of the perks of remote work, flexibility is the one you'll hear mentioned most often.
Whether you need to make it to an afternoon dentist appointment or have to travel to tend to a family emergency, remote work offers the opportunity to handle those real life concerns and commitments—without needing to take a vacation day or juggle everything around.
But, while flexibility tops the list for most people who are eager to work from home, it's not the only upside of this working arrangement.
Plenty of research illustrates that working remotely can increase productivity and efficiency.
In a CoSo Cloud survey, 77% of remote workers state that they experience far higher productivity levels when working off-site.
Of course, many could attribute this productivity boon to the fact that those workers are away from the distractions of a standard office environment.
However, there's another element at play here.
When working remotely, employees have the freedom and flexibility to work at those times when they feel most focused and productive.
Rather than forcing themselves to crank out work when they feel foggy and unmotivated, they can build a working schedule that maximizes their most productive hours.
How to Find Work From Home Jobs
Despite the many upsides of remote work and the demand of many workers, legitimate work from home jobs are still surprisingly tough to come by.
Fortunately, finding an opportunity isn't impossible. Let's dive into some different steps you can implement to find a remote job that offers the flexibility you crave.
1. Be Flexible
Work from home jobs offer plenty of flexibility. But, in order to land one, you need to be willing to be flexible as well.
What does that mean?
In most cases, you need to be open to employment arrangements outside of just traditional full-time roles.
For example, are you willing to work part-time?

Are you willing to be a contract worker or a

freelancer

?
Those areas are growing. Research indicates that 40% of the workforce will be independent contractors by the year 2020.
Those types of positions often have more flexibility baked in (since you aren't a traditional salaried employee), which means that widening your search to include more than just full-time jobs could yield far better results for you.
So, don't lock yourself into only a full-time role. Keep your options open, and you'll increase your chances of actually finding a legitimate work from home job.
2. Use Niche Job Sites
Because the demand for remote work has been steadily increasing, there are now platforms and entire job sites dedicated to these types or positions.
Trying to find work from home opportunities on standard job boards can quickly resemble finding a needle in a haystack. Make your search a little bit easier by using niche job sites that focus on flexible or remote work.
Here are a few popular ones to check out:
Take a look at the current positions that are posted there, and at least you'll have the toughest part of the process accomplished: Finding employers who are actually open to the idea of allowing people to work remotely.
3. Use the Right Search Terms
Can't find what you're looking for on those niche job sites?
You can still use traditional job boards to find work from home opportunities.
But, in order to increase your chances of success, you need to use the correct search terms.
In addition to the type of role you're looking for (for example, customer service), you also need to include terms like:
Telecommuting

Remote

Flexible

Work from Home
Using keywords like those will bring the most relevant results (i.e. the ones who will allow you to have the working arrangement you desire) to the top of the pile.
4. Talk to Your Current Employer
This isn't an option that's as frequently explored by people who are desperate to work remotely.
If you're currently employed, it could be worth talking to your existing employer to see if there are options to let you work from home—even for just a few days each week.
From increasing productivity and engagement to decreasing costs, employers also experience perks associated with allowing employees to work remotely.
So, you might be surprised by how willing your employer is to engage in this sort of discussion.
If you want to start that conversation?
Stacey Lastoe offers some solid advice (and email templates!) in her article for The Muse.
5 Household-Name Companies That Let Employees Work From Home
With remote work being a trend that continues to increase in popularity, more and more companies (particularly those in the tech industry!) have taken that as an opportunity to manage totally remote workforces.
Yep, that means there are companies out there who don't just allow you to work from home—they encourage it.
There are plenty who pride themselves on their remote teams (too many for us to list, honestly!), but we've rounded up several household-name businesses here who boast job opportunities that don't involve a standard office.
1. Toggl
We aren't ashamed to put ourselves first on this list.
Here at Toggl, remote work is the key ingredient to our culture and our business model.
Not only do we witness increases in our team's productivity, but we also love that we're able to hire across the globe and avoid building a completely monocultural team.
Not being limited by location gives us the opportunity to find talent from all sorts of diverse backgrounds.
2. Zapier
The team at Zapier has been working remotely since the company's founding in 2011.
In fact, Zapier believes so strongly in the remote work model that they even link to their "Guide to Remote Work" directly on their careers page.
3. Buffer
Buffer is another tech company that believes strongly in the benefits of having a distributed team (they currently have team members in 15 countries!).
They've also become a thought leader in the area of remote work, and frequently share in-depth articles and guides about what makes their team tick.
For example, even though the team is remote, Buffer hosts several retreats each and every year when the whole team can get together in one location for some face-to-face time (all while exploring a different part of the globe!).
4. Groove
Groove has been remote since day one, and the company loves that they're able to find the best talent for any role—without being restricted by vacation.
Groove places a lot of emphasis on work-life balance (another perk of remote work!), which is reflected in the company's vacation policy for remote workers.
Everyone must take time off—and there are no other limitations. Groove knows that it's easy to get burnt out when working solo, so the company really values vacation time.
5. Trello
Trello isn't totally remote—the company has a headquarters in NYC. However, employees are still encouraged to work remotely, and the team is distributed all over the world.
As a tool that's all about helping people successfully collaborate and get things done (regardless of where they are), Trello takes it upon itself to practice what it preaches.
Other Work From Home Resources
Want to find even more companies who offer remote opportunities? Check out some of these lists and roundups:
Avoiding Work From Home Scams
Needless to say, there are plenty of awesome and legitimate work from home opportunities out there. However, there are also a lot of scams that you should be aware (and wary) of.
How can you separate the wheat from the chaff and identify a scam before you fall victim to it? Here are a few key things to lookout for.
1. Evaluate the Job Description
The first place to take a close look at to determine whether or not a job opportunity is legitimate is the job description itself.
Consider this your golden rule: If it seems way too good to be true, it probably is.
Any sort of description that promises excessive wealth or other benefits that make you hesitate is probably some sort of scheme that's aiming to hook desperate job seekers.
2. Don't Send Money (Seriously, Don't)
Another telltale sign of a work from home scam? Needing to invest money upfront for any sort of package or equipment.
When have you ever found a job opportunity that required you to open your wallet? Probably never, right?
That's a huge red flag.
If you need to pay a fee to even be considered, that's a sign that you should continue your search for something better.
3. Do Your Research
Finally, research can be a huge asset to you when trying to discern whether or not the open job you found is actually legitimate.
Look up reviews of that company or ask around in your network to see if anyone is familiar with that employer.
Don't just accept things at face value.
Roll up your sleeves, do some digging on your own, and you'll quickly be able to tell whether that opportunity actually deserves your attention—or will only cause you headaches.
Ready to Get Going?
There are a lot of great things to be said about working from home—provided you find the right role and employer for you.
Use all of this information to your advantage, and you're far more likely to land an opportunity that gives you all of the flexibility you've been craving. Good luck!