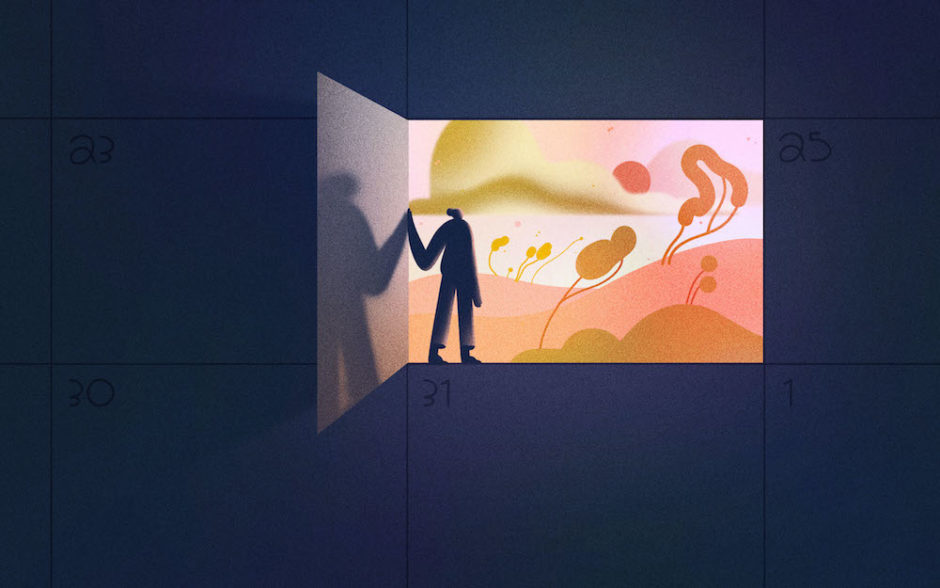 Illustration: Sophi Miyoko Gullbrants
What if there were a way that you could boost productivity amongst your employees while they spent less time in the office?
A 4-day work week may sound too good to be true. But many businesses, especially during the COVID-19 pandemic, are trialling new and innovative ways of working–and you could be one of them!
The 4-day work week may not work for every kind of business (or employee!). However, there are many benefits to helping your employees achieve a better work/life balance and spend less time in the office.
Often, being able to enjoy a three-day weekend or a four-day weekend is enough of an incentive to make employees significantly more motivated during the hours they do spend at work.
Here are all the things you need to consider before deciding whether a 4-day work week is right for your business.

What is a 4-day work week?
A 4-day work week generally consists of two different approaches. The first approach is the compressed work week, or the 4/10 system of working.
The 4/10 approach usually means that employees work for 10 hours a day over 4 days a week, rather than working 8 hours a day over 5 days a week.
The second approach is a shorter working week—so instead of employees working 40 hours a week, their working hours are reduced to 32 hours.
There are also other less common approaches to a compressed work week where employees can still work 40 hours a week while being able to enjoy an extra day off.
One of these is the 9/80 system, where employees work 9 hours a day on designated days and get one day off every two weeks.

What are the benefits of a 4-day work week?
The COVID-19 pandemic has transformed the way that millions of people work. It has forced many businesses to rethink how they approach things.
Businesses that may have once been reluctant to let employees work from home have had to place trust in their staff and operational systems to take their business from primarily office-based to working entirely remotely.
This has opened up conversations around flexible working patterns and hours and how businesses can get the most from their staff while making sure they stay motivated and engaged within their roles.
Microsoft Japan was one of the first pioneers of the 4-day work week. It introduced the approach as part of a company-wide initiative called the "Work-Life Choice Challenge." The results were remarkable.
Their 4 day work week results showed a 40% boost in productivity. Outside of this, there were other tangible benefits for the business. For example, the number of pages printed by the company decreased by 58.7% and electricity consumption decreased by 23.1%.
A 4-day work week promotes better work-life balance and increased productivity
It's no secret that a happier workforce is a more productive workforce. There is a similarly positive correlation between less work hours and productivity, according to various studies.
A two-year study into shorter working hours in Sweden saw a select group of nurses at a care home change their working hours from eight hours a day to six hours a day, while they were still being paid for eight hours of work.
During this time, the nurses working shorter hours reported less sick leave and better-perceived health, and boosted their productivity by organizing 85% more activities for patients at the care home.
Similar results have been seen in studies across the world. In New Zealand, an estate planning firm called Perpetual Guardian ran an eight-week trial of a 4–day work week.

They allowed their employees to work four days a week instead of five. Employees could pick whichever day they wanted to have off. As a result, many employees were able to enjoy a three-day weekend or a four-day weekend on a weekly basis.
At the end of the trial, results showed that employees' sense of work-life balance went from 54% to 78%, levels of stress decreased and job performance slightly improved despite them working longer hours on the days that they did work.
New Zealand's Prime Minister Jacinda Ardern also spoke out in support of the 4 day work week in a recent Facebook Live video, saying that working four days a week would help to fuel domestic tourism, which was heavily impacted by the coronavirus pandemic.
In addition, when employees are happy, productive and engaged, they are much less likely to want to leave their jobs. Therefore, working four days a week can not only make a business more productive and profitable, but can also save money by drastically reducing staff turnover as well.
A 4-day work week can help you to recruit and retain the best staff
Two key benefits of a 4-day work week are increased employee productivity and higher employee engagement.
Employees are much more likely to come to work focused and engaged if they know they'll be rewarded for their hard work with an extra day off.
However, working four days a week is also an attractive proposition when it comes to recruiting and retaining the best talent.
Working parents often struggle when it comes to balancing a career and being a parent. Having the ability to take one day off a week could be life-changing for many parents, and significantly lessen the struggles they face when it comes to juggling their career and their children.
Employees don't have to have a three-day weekend or a four-day weekend necessarily; they can be free to choose any day within the week that they'd like to have off, and this can change on a weekly basis.
The 4-day work week is a flexible approach to working that appeals to employees and reflects the changing nature of modern working.

What are the drawbacks of a 4-day work week?
Despite the many potential benefits to working four days a week, there are some notable drawbacks to consider.
If you choose to go with the 4/10 method, this means that your employees will be working 10 hour days for four days a week.
A 10-hour day at work is a long day–and you may find that some employees struggle to stay focused, and that their productivity actually drops. This is where using a time tracker like Toggl Track can be instrumental in keeping remote employees engaged.
Some studies have shown that longer working hours can actually be detrimental to employees' productivity levels. It's been shown that employee productivity soars when they do six focused hours of work a day rather than eight or more.
In fact, working long hours has been linked to an increased chance of stroke and poor mental health.
According to non-profit organization New Dream, employees that work for more than 11 hours a day are 2.5 times more likely to develop depression and more than 60 times more likely to get heart disease.
The existing studies that have been conducted into the 4/10 approach are all relatively short-term, so it's hard to know what the long-term implications for your business or employees might be.
Employees may work harder initially, but over time as the 4 day work week will become the new norm and they might start to procrastinate during the 10 hours a day they are working. Only time will tell.
The other approach to the 4-day work week is reducing your employees' weekly hours to 32 hours a week, completely eliminating the fifth day.
Though you might be able to pay your staff less, this approach does have some problems. First, the majority of people work full-time out of necessity rather than choice. Therefore even though reducing their working hours may have a positive impact on their work/life balance, it would have a negative impact on their household income and ultimately, their means to live.
Similarly, many businesses would not be able to afford losing an entire day's worth of their employees' time and labor, especially in certain sectors.
Sectors like online e-commerce, for example, would struggle to function using a 4-day work week, as the business would be expected to be online and functioning 24/7.
When orders need packaging and sending out, customer emails need to be answered and stockists need to be contacted, only working 4 days a week could have a hugely negative effect on overall profitability.
So is a 4-day work week right for your business?
It depends! There is no simple answer to whether a 4-day work week will work for your business because ultimately, every business is different.
However, the way the world works is changing, and the accepted 9-5 pattern of working is likely to soon become a thing of the past.
The concept of working from 9 a.m. to 5 p.m. was introduced at the beginning of the 19th century as a way to stop the exploitation of factory workers. It became mainstream after Henry Ford introduced an eight-hour working day for his workers in 1926.
By cutting the number of hours his employees worked and paying them double, he boosted employee productivity to the extent that his profit margins doubled within 2 years.
In the same way that Henry Ford was seen as a pioneer of shorter working hours in his time, the 4-day work week can be seen as a similarly modern approach.
And while it may not be the best fit for every business, it's important that employers remain open-minded if they want to keep their staff engaged and productive.
If we've learned anything during the coronavirus pandemic, it's that it is possible for employees to work remotely and to manage their workloads from home without being micro-managed.
This means that ultimately, as an employer you should feel some reassurance over allowing your staff to work in a more flexible way without compromising on staff productivity or the overall profitability of your business.
However, we get it–it's very natural to have concerns over your employees' productivity while you're not there physically to keep an eye on them.
Often, working from home comes with a new set of potential distractions–like being sucked into the void of a Twitter drama! But the good news is that there's an app for that, too.
Toggl Track's simple time tracking software can revolutionize the way you and your team work by giving you helpful insights into how they're using their hours at work.
And if you're considering trying a 4-day work week, now more than ever it's important to make every hour count.