"Operations keep the lights on, strategy provides a light at the end of the tunnel, but project management is the train engine that moves the organization forward." — Joy Gumz
… and the project manager keeps the whole train on the tracks.
With the right amount of planning, implementing and monitoring you have the opportunity to complete a project on time, on budget and with high quality results, instead of ending up with a project that doesn't fully meet all the KPIs (key performance indicators).
There are so many reasons why a project might fail – setting up unrealistic expectations, poor methodology and requirements, inadequate resources, poor project management, untrained team members and so on. However, these things can be avoided by adopting effective practices and project management techniques which will help to establish a clear understanding of expectations and processes among all the people on board. 
We gathered and listed 5 best practices for project implementation, outlining the major phases of managing and discussing the key steps for each one.
Start with a clear project scope
Some people (myself included) can get pretty excited when working on a new project and can get carried away with the ideas flow. Although we as a company believe in adapting plans as we go, starting a project without a clear vision can lead to unexpected difficulties. You and your team should invest your time in gathering information, assigning tasks to specific people and having a good overview of your resources. The end result should be a well-rounded project plan with a clear scope, steps, implementation process and a well-defined target.
The project scope is the primary deliverable from the planning process and it describes all the aspects of the project.
Put everything on a timeline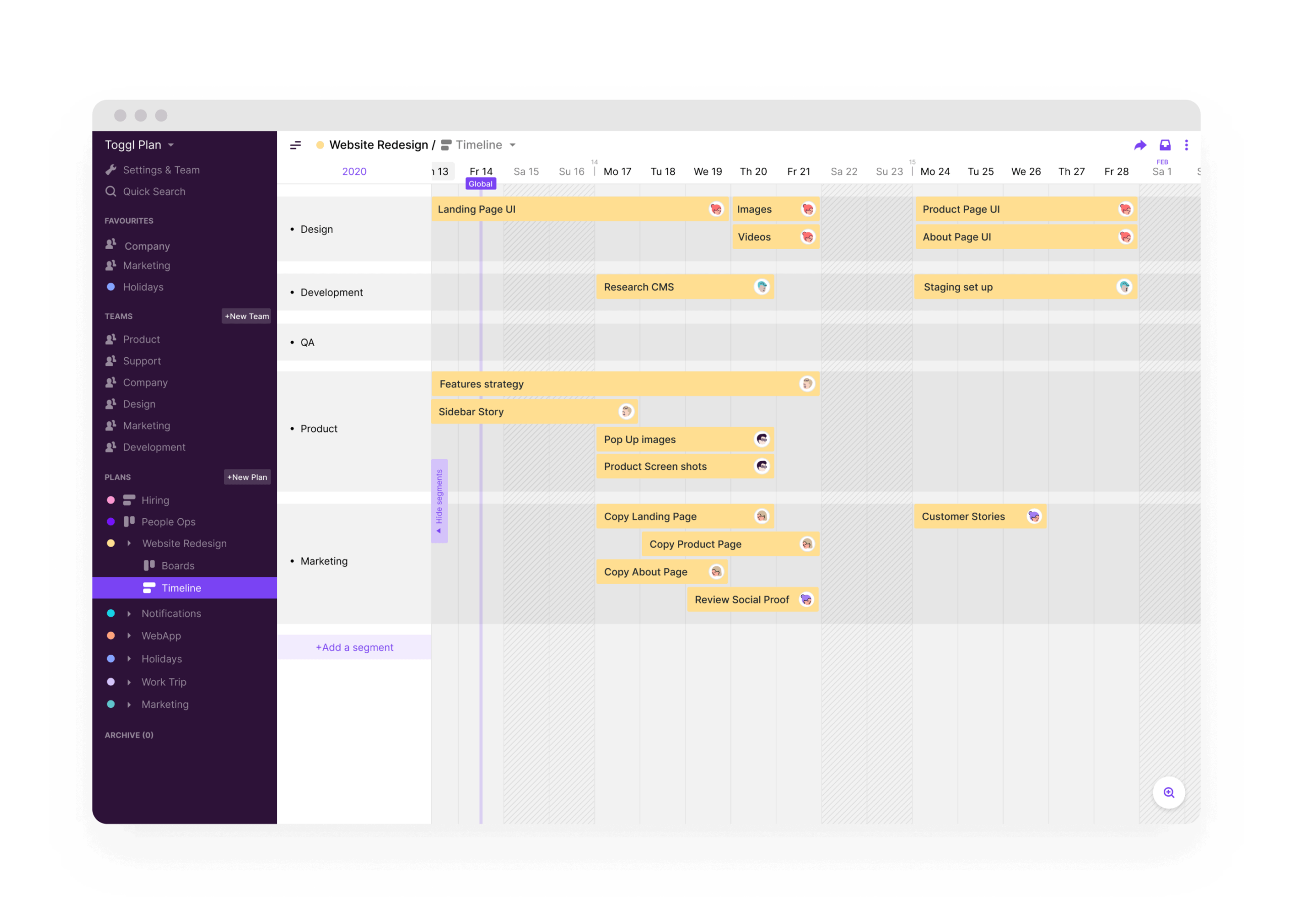 So now that you have a clear idea of what you want to achieve and what you need to do to get there, all you need to do is place all the tasks on a timeline and make sure that each person is on board with the plan.
A visual timeline will give you a bird's eye view of your entire project and resources. On top of that, having a visual understanding of all the steps and tasks needed to be completed can help you figure out if you have set overly optimistic deployment dates. This can keep both you and your team grounded and focused on delivering results by realistic schedules. 
Try Toggl Plan's visual planning software for free to create your first team timeline.
Tip: don't try to stick to the timeline too rigorously. Make changes and adapt when something comes up because plans always change in real life.
Prepare to keep planning
As I said above, changes happen all the time. However, you can always have a basic plan for managing these changes. You have to set some expectations on how the team should manage unexpected issues, scope change, risks, quality, communication and so on. Sometimes projects are smooth and easy to manage and sometimes they are a complete nightmare that wakes you up at 3 a.m. and give you bad flashbacks. 
On some level, this project PTSD can be avoided by planning for blockers proactively and by ensuring that the project team has a common understanding of how to deal with issues if things go south.  
Implement while keeping an eye on the metrics
Once the project has been planned accordingly to its scope and goals, the implementation phase can begin. In theory, since you have already agreed on your project scope and you have a basic backup plan if something doesn't work, the only thing remaining is to implement your plan and processes efficiently. As a manager, there are a few things you should keep an eye on.
Check the project timeline on a regular basis in order to determine how your team is progressing. 

Keep your timeline updated and make sure that you and your team are still focused on the plan. Determine whether the project will be completed within the original effort, cost, and duration estimates. If the situation has changed, you should determine the critical path for continuing and look for ways to accelerate the activities to get you back on track.

Monitor your resources. You should look at the amount of money and time your project has actually consumed and determine whether you have spent more than you have originally estimated, based on the work that has been completed. If so, be proactive, and take smart business decisions that could potentially make the project more effective.
It is also important to look for signs showing that the project may be in trouble. Some of them could be:
Team morale starts to decline.

Deliverable quality starts to deteriorate.

Lack of communication.
Keeping an eye on the quality
Getting a project done on time and under budget is not enough. You need to make sure that you deliver a quality product on top of everything else. Quality means making sure that you build what you said you would and that you do it as efficiently as you can. And that means trying not to make too many mistakes and always keeping your project on track to deliver the expected results.
Feedback is the cornerstone of most successful projects so don't be afraid to ask your team or outsiders to give you their 2 cents on the project. Feedback truly is something we all need, no matter if we're intrinsically or extrinsically motivated to do something. It shows us what we already did correctly and where we need to develop to become better and more successful in helping others and achieving our goals.
Bottom line
Each project is different and some of these tips may not apply to you. Regardless of how you manage your team and what your implementation flow is, don't be afraid to think outside the box and motivate your team while you go. Celebrate important milestones and take your team out for a drink from time to time.
Do your best, don't loose your focus and don't forget to have fun while doing it!  
Andrei is a Growth Hacker on Teamweek's marketing team. He is the person behind most of Teamweek's SEO-driven projects, including the budget calculator and the worst productivity tips generator. He enjoys writing about project management, graphic design, and anything tech.