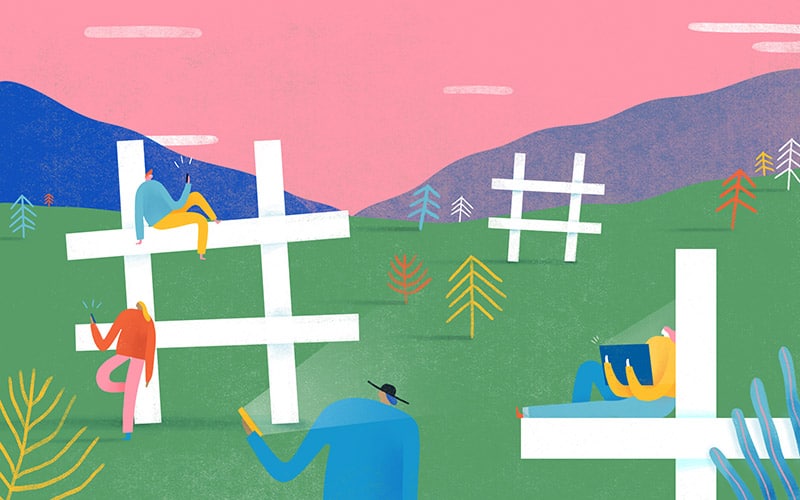 If you need more web traffic and you've exhausted your personal knowledge and your team's expertise, you need a digital marketing consultant.
You want cutting-edge tips and techniques for lasting results across all platforms: websites, apps, social media platforms, online courses, e-book retail sites, browser extensions, etc.
You want to purchase the right media types and present your brand story in the best possible light. You want to cut through the noise and reach your ideal customers in the right places at the right times.
Then more than anything, you need a digital marketing consultancy to help you make the right investments.
Just as a management consultant specializes in organizational decision-making, your digital marketing consultant will help you target your marketing resources and get the biggest bang for your buck.
1) Look for the Right-Sized Digital Marketing Consultant
You may choose to hire a popular digital marketing guru by visiting a site like neilpatel.com.
Alternatively, you may want to compare the digital marketing consultant rates (and results) of lesser-known firms.
A small, hungry marketing consulting agency may work harder for you. A company that hustles for all its digital marketing consultant jobs could bring a level of intensity to your business the big guns don't.
TAKE ACTION: Determine what matters most to you: big-name cache, small-firm attention, and (of course) your marketing budget.
However, you ultimately have to judge online marketing consultants by one factor: results.
2) Use the Right Metrics to Compare Digital Marketing Consultants
With so many digital marketing consultants out there, how do you know you're getting the best bang for your buck?
Of course, if you can afford a top agency, you have some assurance of quality – though you may or may not get the personal attention you deserve.
In addition to firm size, consider a variety of other factors:
Agency Branding
How does this company present itself? The way a marketing company sells its services says a lot about how they will sell your solutions.
Does this agency feature a top-quality website?
Do they maintain a thoughtful, actionable, and high-ranking blog?
Do they curate a comprehensive cross-platform social media presence?
Client Testimonials
Does this digital marketing consultant provide believable testimonials?
Do its reviews feel too-good-to-be-true or over-hyped?
Use your gut and read between the lines; even better, find unsolicited reviews from customers of your prospective agencies.
Case Studies
How deep do these stories really delve into the details of digital marketing?
Beyond good-seeming statistics, can this company prove they were the real reason their customers succeeded?
Or, did these businesses do well despite the efforts of a mediocre marketing agency?
Industry Recognition
Be careful – many organizations exist solely to give awards to above-average (or worse) digital marketing consultants. Look at each company's list of awards and do your due diligence. Find out what other businesses have won these awards in years past – and for how many years these awards have been offered. Look for big, recognizable names and reputable, long-lasting awards organizations.
Client Lists
Agencies love to show off the logos of their big-name clients. Drill deeper and ask the important questions, especially with large digital marketing consultant companies. Find out what work they did for these clients – and for how long.
Ask which teams helped these large companies succeed, and whether you will work with the same experts (versus an inexperienced team of temps and newbies).
Publications/Presentations
Do your prospects have academic credentials?
Have they published articles in reputable journals and news outlets?
How well have their books (and e-books) been received by readers on reputable review sites?
Google Rankings
If a company can improve your rankings, they should rank well themselves, right?
Sure, there's a lot more to the digital marketing consultant game than SEO rankings, but it's one good indicator of a solid marketing company. Since 80% of B2B customers use generic Google searches to begin their research, make sure all prospective agencies have this aspect of digital marketing on lock.
TAKE ACTION: For each agency you consider, list each of the above factors. How do your prospects add up against each other?
3) Focus on One Platform or Go Cross-Platform
If you're trying to maximize your inbound marketing results, consider a website marketing consultant.
Someone who specializes in on-site lead generation, branding, and conversions might be the right fit for you.
However, do you really need this type of help?
Broad-scope digital marketing consultants can help you decide whether or not to hire website traffic consultants – or some other kind of assistance.
This choice depends on your level of experience with online marketing.
Say you manage your company's website, social media presence, mobile app, and browser extension. All of these platforms bring in steady streams of customers – except your website.
In this case, you know you need specific help with your site, not a general perspective. Go ahead and hire a digital marketing consultant who specializes in website development and optimization.
However, in many cases, you don't know what you want. You don't know the best media channels for your specific type of business.
You need a digital marketing consultant with expertise in a vast range of specialties to help you create an appropriate marketing mix. Even better, you may want someone with a comprehensive knowledge of your particular niche/industry.
TAKE ACTION: Ask yourself if you need help with one specific aspect of your marketing infrastructure – or if you need help deciding where to focus your energies.
If you're unsure, make a list of digital marketing consultants who specialize in one approach or the other, and compare/contrast their offerings.
4) Go Broad or Go Niche
You probably want a digital marketing consultant with experience in your specific industry.
If you run a healthcare startup, look for agencies with a long track record of helping medical tech companies increase their valuations and attract investors. The more an agency knows about your particular niche, the better they can help you reach the right investors, board members, market/medical researchers, and consumers.
However, you may have an excellent on-the-ground relationship with your customers.
For example, if you run a local restaurant with lots of foot traffic and small-town appeal, you don't need help reaching customers on a personal level. Instead, you need an agency that can help you attract consumers across a greater geographic and demographic range.
You need assistance scaling your success up to a broader audience – probably with the help of a large national/international marketing agency.
TAKE ACTION: You need a digital marketing consultant who can help you build on your strengths and shore up your weaknesses.
Ask yourself:
How has my company found success so far?
Industry contacts? Grass-roots appeal?
Single-platform outreach?
Broad-scale visibility?
Take a close look at the marketing leaders in your niche but remember you may need a digital marketing consultant with broader expertise.
5) B2B or B2C
If you run a Business-to-Business company, do you really want a marketing agency that specializes in Business-to-Consumer strategies?
Of course, if you plan to step out of your comfort zone and start selling to a new audience, this would be a great plan.
However, in most cases, you want a B2B marketing consultant who understands not just your niche, platform etc.
You want someone who specializes in the type of marketing you conduct.
TAKE ACTION: Get specific about the types of marketing you plan to use – and the audiences you want to reach.
Remember, agencies will try to sell you on the marketing strategies they do best. Have an idea of what you want—and how successful companies in your niche operate—before meeting with prospective advisors.
6) Consider Your Business' Phase of Development
Some digital marketing agencies specialize in early-stage startups.
Others work with legacy corporations to assimilate new ideas/methods.
When searching for prospective digital marketing consultants, examine client lists not just for success stories – but experience with businesses that share your timeline.
For example, if you plan to hire new talent for an operational expansion, choose a digital marketing consultant with experience in reaching out to higher-level workers.
Be sure they know why you're the best at what you do – whether or not you decide to hire them.
Of course, you'll want to maintain good networks with these people in your professional social circle for future collaborations/opportunities.
7) Compare Marketing Consultant Fees/Structures
Some firms, especially large digital marketing consultant companies, charge high rates and promise large returns. However, you may have better results with smaller, pay-for-performance agencies.
Consider the benefits of only paying when an agency gets results.
Remember, the devil is in the details; make sure you understand all the ins and outs of your marketing consultant agreements before signing away a percentage of your profits.
Ask the right questions to each of your prospective digital marketing consultants:
How long have you worked in online marketing?
How much do you charge per hour? (Many companies charge $150-200/hour)
Do you offer per-project payments?
Do accept pay-for-performance jobs?
Do you provide a "points" pricing system so we can customize a plan to meet my company's needs?
How many people work for your company?
How many will work on my project?
Do you have a minimum per-project budget?
Will you deliver the services I need, or just help me create a marketing strategy?
If you provide services, which ones do you offer? PPC, SEO/SEM, Content Marketing, Landing Pages, Social Media Marketing, Web Development, etc.
TAKE ACTION: Ask each of your prospects to define their pay structures.
Consider whether you want an agency to share risk with you.
Do their payment options inspire trust, or hint at a limited client base? Make sure you know exactly what to expect before choosing a digital marketing consultant.
8) Choose a Digital Marketing Consultant
Remember to use personal references (or suggestions from the creators of your favorite software tools) for a gut-check before bringing on a digital marketing consultant.
Ask around on Reddit or Facebook groups dedicated to digital marketing or your niche (and the particular online solutions you use). Look for case studies as similar as possible to your company's current situation.
Remember, if you run a niche business, you may not be able to find someone who specializes in your industry.
TAKE ACTION: Double-check your preferred digital marketing consultants. Do they really offer the experience and niche expertise you require?
9) Gut-Check Your Final Decision
TAKE ACTION: Check with your colleagues (including people above and below you on the corporate ladder) before making this decision.
Present all the facts you've gathered while reading this article and try to sell your peers on one agency or another. See if you can make a case for your favorite prospective digital marketing consultants.
Use plenty of facts, statistics, case studies, and testimonials; if you can convince the people in your office this is a good idea, you'll feel better about your decision.
Even better, your people will be aware of the upcoming change and ready to offer/implement strategy improvements.
When creating a new strategy, your digital marketing consultant will want to know how much time you and your team spend on various platforms. Use Toggl's seamless integrations with 85+ popular productivity tools (Asana, Gmail, Trello, etc.) to create comprehensive time-use reports.
Know exactly where and how your marketing people spend their time (and your resources.) Check out Toggl's free and premium time-tracking and start optimizing your efforts with a digital marketing consultant.