Imagine this: you arrive at work a few minutes early, you take a nice stroll to your desk with a piping hot mug of coffee in your hands, you sit down in your chair, spin it around, and begin your morning work routine. You can already tell that it's going to be a great day.
If your morning routine at work doesn't look like this yet, don't worry. Mix and match the strategies here to create a personalized routine that will help you start the day right, every day.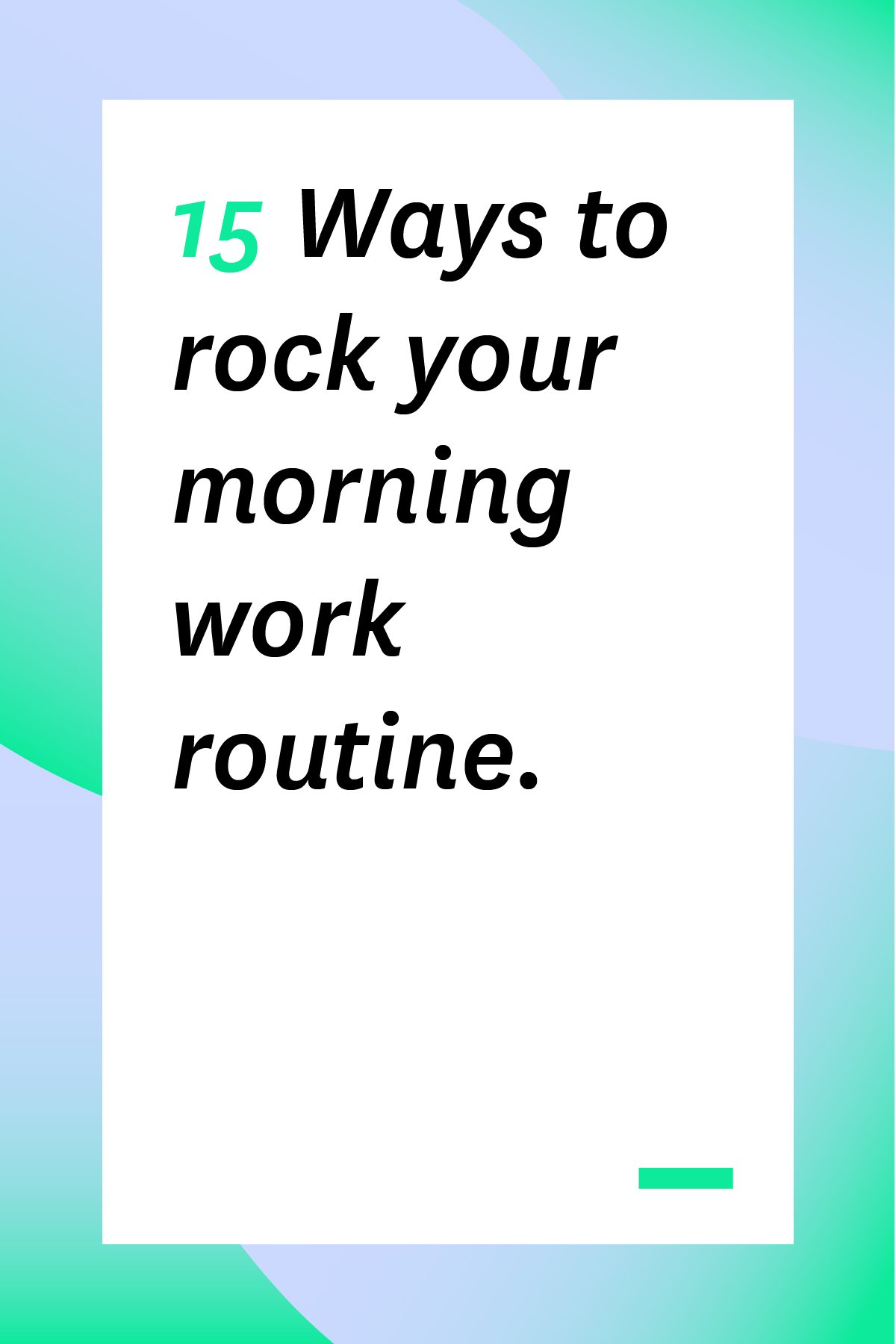 1. Be punctual
The best morning routine should start with you being punctual. Showing up to work on time means that the rest of your day is already on schedule.

Let's talk about the negative impacts being late can make on your day. First, before you even get to work, you might feel encouraged to speed, which could endanger yourself as well as others around you. You stop focusing on being cautious and start worrying more about getting to work.

Of course, your safety is important, but running late can also negatively affect your work day. Regular tardiness can be a big sign to your boss that you're unreliable. Furthermore, you're now behind on that day's work. All around, running late is just bad news.
2. Greet your colleagues
Start the day off on the right foot by greeting everyone around you. You don't have to have some massive conversation, but a simple "Hey, have a great day" will do just fine. It might seem pretty useless, but there are actually many benefits to greeting your colleagues:

It opens up opportunities to have conversations
The best way to get to know the people you work with is having a conversation. You don't want to spend too much time talking, but having a quick conversation is an easy way of humanizing colleagues.

Think of your initial greeting at the beginning of the day as a conversation opener for the rest of the day. Once you've said hello, it's much easier to approach a colleague and ask questions or talk to about work.

You never know what's going on in someone's personal life. A quick hello and smile can really put people in a good mood. It's proven that your attitude rubs off on people. You get back what you put out into this world.
3. Check your emails
You never know who's trying to get into contact with you. Your emails are most likely the primary form of communication you have with quite a few people. As the day goes on, emails will only begin to pile up. Check your emails first thing in the morning so that you can immediately address anything that's important. Here's a quick guideline for morning email checking:

Check your emails as soon as you sit down at your desk
Decide what needs to be read now, and what you can afford to read later
Spend no more than a few minutes on each email. If it takes longer, you should consider finishing up the quick replies first.
4. Tidy up your workspace
Most of us only have one thing in mind at the end of a work day – home. If you left in a hurry, or maybe you just couldn't muster up the energy, your workspace might be a mess. In order to avoid making it an even bigger mess, give it a quick once-over and organize your desk, filing cabinets, and office so that the rest of your day can be productive.

Having a clean desk benefits you in 5 different ways:

It makes you look like a professional
It helps you stay efficient by removing distractions
It gives you room to actually work
It helps keep important information safe
It keeps your supplies in one, easy to reach place
5. Have a coffee
Believe it or not, coffee actually has a lot of health benefits. Of course, we all know that it wakes us up, but it's also has many benefits like increasing brain function. On top of that, it provides health benefits like lowered risk of diseases like Alzheimer's, and much needed fiber. If you didn't have a cup of coffee at home, or maybe you need a little extra now that you're at work, grab a mug and take a few moments to enjoy it and completely wake up.
6. Organize your daily tasks according to urgency
Everyone has a list of daily tasks that they have to accomplish. Some of these tasks are more important than others. Given the situation and the day, you might want to think about completing certain tasks before others. For example, you might have to decide between adjusting the budget for a project in progress and creating a budget for a new upcoming project.
Organize your tasks in order of importance and find time throughout the day to complete each one. There are a lot of factors at play when making these decisions. One of the best ways to help solve issues like this is to use the Eisenhower matrix. The Eisenhower matrix helps you write out your priorities and get a visual representation of the tasks that need to be done, and in which order they should be completed.
7. Carve out a time slot for yourself
All the hustle and bustle of work can quickly overcrowd your schedule. In the morning, once you've gotten a good understanding of what you need to do, carve out a time slot of 30 minutes to an hour just for yourself. Use this time to catch up on your work, make new connections, or maybe just take a breather.
8. Ask if anyone might need help
The morning is also a great time to ask around to see what everyone else will be doing that day. You might find yourself in a situation where you can really help someone out. Ask if anyone has anything they urgently need to do, and try to help them out if you have the time. It shows people that you're a team player, and that your priorities lie in the success of the company.
9. Plan ahead
Planning ahead doesn't necessarily mean just for that day. If you're given the opportunity, look ahead to the schedule for the next week. Now is a great time to make any adjustments or updates that you need.

The best morning routine involves using a tool that will help you prepare yourself for the day ahead. Toggl Plan is the perfect tool for reviewing your workload because it uses a visual timeline, which means it lays all your tasks out on the table for you to see clearly. You can even zoom out of your current work week and get a bird's-eye view of the next month, 3 months, or even year.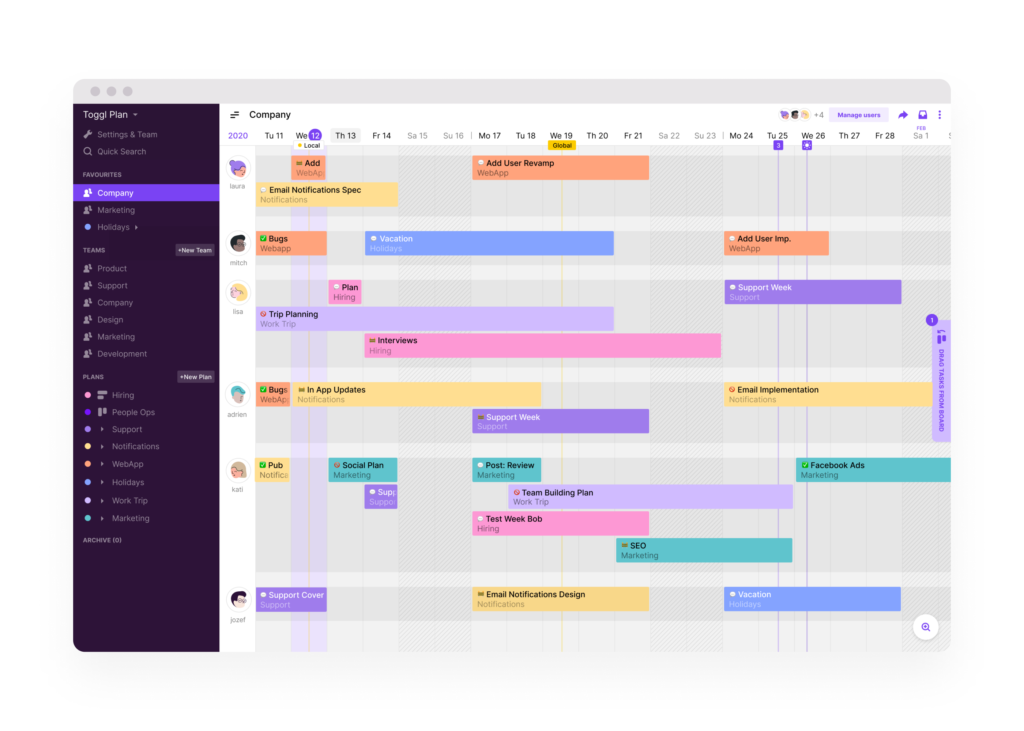 10. Make some business connections
Call your leads and actively seek new business. You could even call previous clients and ask how they're doing, and if they need anything of you. It's admirable to be proactive in a business sense.

Admittedly, this should be one of the very first things you do in the morning, as it's often a tough task. You're essentially fishing for new business potential. You will have days where you get absolutely nothing out of this part of your routine, but it'll balance out when you do make those new connections.

Doing tough tasks first thing is referred to as eating the frog. It may sound strange, but imagine if you actually ate a frog in the morning. You could successfully go throughout the rest of the day knowing that it can't really get much worse. That same idea applies to getting those tough tasks done first.
11. Review your career goals
In order to stay of track, it's always a good idea to review your career goals. Assess whether or not you're on track for reaching those goals. If you aren't on track, make a plan to get back on track. Of course, this might take more than the spare time you have in the morning, but it could definitely be something that you work on over a period of time.

Think about this a little deeper by asking yourself a question: How often do you look at your GPS when you're traveling to a place you've never been? Your goals are essentially your GPS through your career. Each goal is a checkpoint towards your final destination. The reason it's important to review your career goals so often is so that you can make sure you're staying on the right path. If you look away for even just a moment, you can lose sight of your goals, and end up where you don't want to be.

12. Read some helpful articles
If you're working on a specific project, or just want to be more knowledgeable on a work related topic, the morning is a great time to read online articles or books. You can make it a routine to read an article a day.

Reading an article a day can help you stay informed and up-to-date, which can help you greatly in meetings and when talking to clients. There are lots of places you can find helpful material. In addition to online newsletters, you might want to check those business journals that have been collecting dust on the shelves.
13. Move around
Although you want to be proactive with your workload, it's also important that you keep blood flowing. If you don't move or sit for too long, you can easily lose circulation and it will be harder to focus on your projects at hand. In addition to losing focus, sitting for long periods of time has been linked to some pretty serious diseases, and doctors and fitness experts around the world agree that the lack of circulation is to blame.

The best way to combat poor circulation is to get up and move. Take a walk around the office, use the stairs instead of the elevator, walk to your favorite coffee shop, or even just take the long way to the water cooler. It doesn't take much to get your blood circulating.
14. Stay hydrated
Just like keeping circulation is important for your health, staying hydrated is, too. Water is what makes our bodies function. Without water, we're as useful as a car's engine without oil. Water helps our body function, prevents diseases, and removes waste. Ideally, you should be drinking about 2 liters of water per day. It only takes a few seconds to take a sip or two from a bottle on your desk. When you run out of water to drink, make a visit to the water cooler and spark up a productive conversation.
15. Listen to music or podcasts
Listening to music or podcasts in the background can be distracting for some people, but it can also increase productivity for others. Try putting on calming music to help you transition into the day, or listen to a podcast on something new.
The best morning routine is the one that makes you most productive. If you find yourself getting off track, or not focusing on work, it might be time to change up your morning routine. Use our tips to help you customize a new work routine.

Like many other people, Zach McDaniel gained his knowledge of management and project management through research and necessity. He believes that the most interesting thing about project management, management, and productivity is that there are so many different strategies, so there's always something new to learn and share.