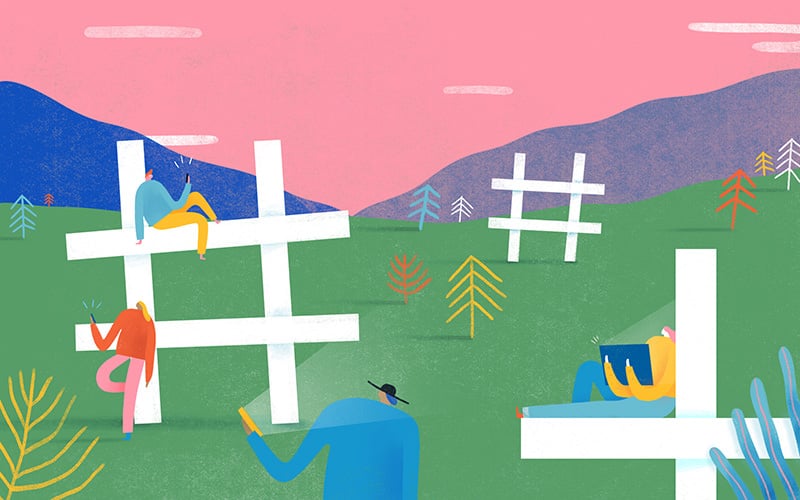 As a marketer, you know there's one tool in your toolbox that you simply can't live without: data. Social media analytics tools help you use those metrics, numbers, and graphs to better understand your audience and craft marketing strategies that will resonate with them best.
While taking a magnifying glass to things like your website visitors, your conversions, and your email list can be powerful, there's one channel that will act as a seemingly endless well of information for your business.
What is it? Social media.
When it comes to your marketing initiatives, social media is a huge piece of the puzzle. And, getting some added insights into who your followers are, what they want to see, and how they're converting can be a major benefit when it comes to mapping out your other efforts and initiatives.
But, let's face it—the act of weeding through all of those statistics can feel completely overwhelming. It's tough to know what numbers you should be most focused on.
What really matters?
Fortunately, a user-friendly social analytics tool can help to remove a lot of pain from the process.
With so many options on the market, which tool should you opt for?
We've rounded up seven of our favourites—along with information about their networks, price tags, and pros and cons—right here for you.
Use Toggl to track the time you spend on social media marketing and maximize your efforts!
All About Social Media Analytics
Before we dive into the actual tools, it's important to first have an understanding of what social media analytics are.
It's a term you'll hear tossed around quite a bit. But, let's go beyond the buzzword and get a grasp on what exactly this represents.
In regards to defining social media analytics, we'll take a page from Buffer's Kevan Lee when he says in a blog post, "We see social media analytics as the gathering of data from social media platforms to help inform us and guide our marketing strategy. By paying close attention to social media analytics, you can measure your performance against your social media goals."
Why Your Social Media Analytics Matter
The second part of Lee's explanation is one that's particularly worthy of note—your social media analytics empower you to understand how your efforts are resonating in comparison to the goals you've outlined.
Many social media experts warn that it's easy to get caught up in various vanity metrics on your social media accounts—those numbers that make you feel great (like number of followers, for instance), but don't directly correlate to success for your business.
Make sure to always keep your core social media goal in mind when looking at your analytics.
Chances are, you're leveraging social media in order to increase sales for your company's products or services. With that in mind, the sheer number of followers you see listed doesn't carry much weight.
After all, you'd much rather have an audience of 500 followers who are highly engaged and end up converting than 5,000 followers who are totally disconnected.
By keeping your finger on the pulse of the correct pieces of your social media analytics, you're able to focus more energy and attention on the activities that actually move the needle for your business—rather than throwing things out there and hoping they resonate.
As they say, knowledge is power.
7 Best Social Media Analytics Tools
Now that you're fully convinced of the importance of keeping an eye on your analytics, you're likely on the hunt for some data analytics tools that will help you do just that.
Fortunately, we've pulled together seven that we love right here. They're user-friendly and chock-full of great information.
Pick one (or even a few!) to try, and you'll be empowered with plenty of those need-to-know statistics.
1. Sprout Social
Works With These Networks: Facebook, Twitter, Instagram, LinkedIn, Google+
Price: Starting at $99 per user per month
If you're looking for an all-in-one solution, look no further than Sprout Social. It's a comprehensive tool for social media management and analytics—meaning you can plan and schedule your posts, while also taking a look at how they're performing directly within the same dashboard.
Sprout Social also has a built-in Customer Relationship Management (CRM) system and provides functionality to manage several different profiles, companies, and departments.
And, unlike many other tools on the market, it integrates with most of the large social media networks that you're already using (meaning you won't need separate analytics tools for each and every social media channel).
The potential drawbacks? While it's well worth the price, it's a rather pricey solution, particularly if you have a larger team that would need access to the tool.
Additionally, Sprout Social doesn't currently have an integration with Pinterest—meaning you'll need a designated tool for those analytics.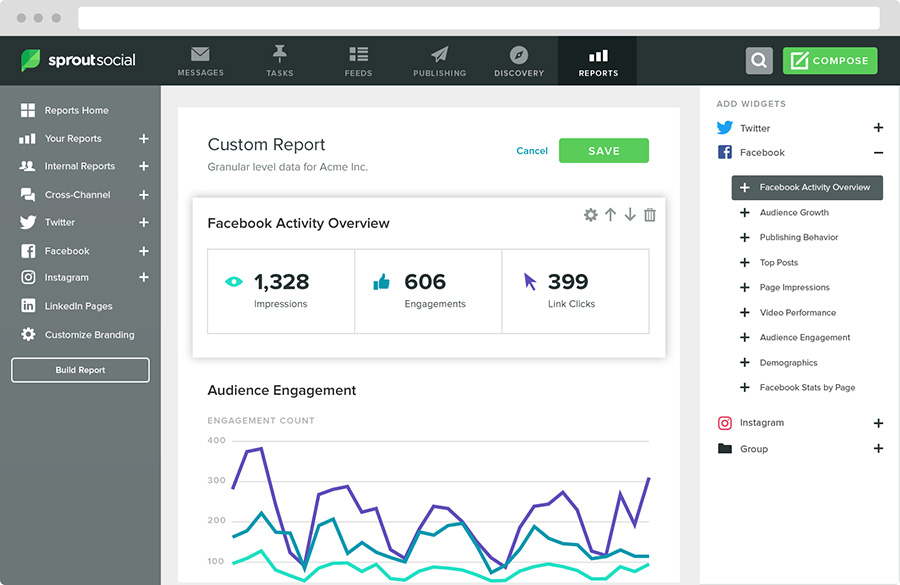 Image Source
2. Simply Measured
Works With These Networks: Facebook, LinkedIn, Twitter, Instagram, YouTube
Price: Simply Measured does not share pricing publicly
Simply Measured is another solution that's fairly comprehensive and covers many of the same social networks as Sprout Social—except this tool replaces Google+ with YouTube.
Simply Measured offers four different products related to social media: listening, social analytics, content share tracking, and conversion tracking. Or, users can purchase the full solution to have access to all of that functionality.
In terms of cons, this is another tool that doesn't integrate with Pinterest, which can provide some inconvenience. And, with Simply Measured keeping their pricing structure close to the vest, it's tough to discern just how cost-effective it is for your business. Your best bet is to request a demo and get in touch with a sales person!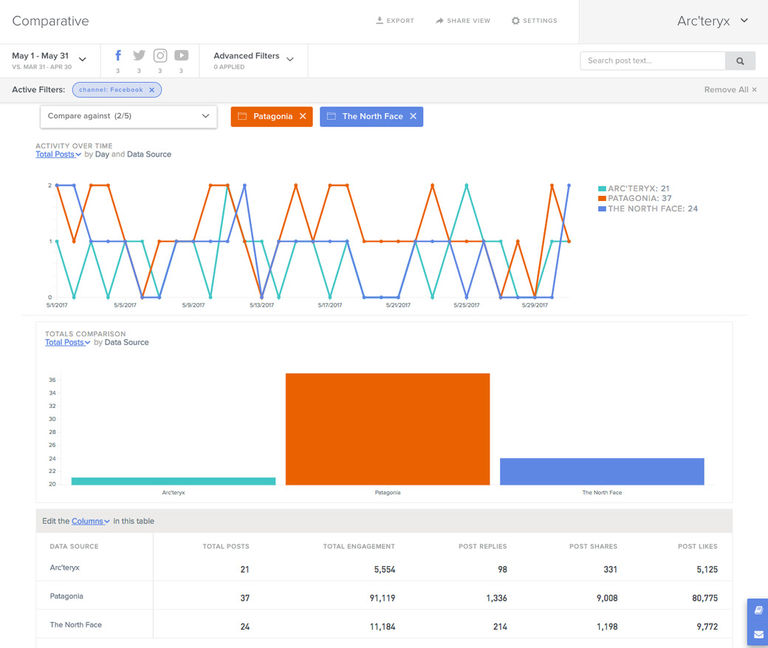 Image Source
3. Rebrandly

Price: Has a free plan and the Starter plan is $29/month.
Rebrandly is a link management tool to brand, track, and share short URLs using a custom domain name. This tool enables you to easily create and share branded short links. As a result, you can improve your brand visibility and increase click trust.
This tool provides in-depth click analytics so you know exactly which links are performing and driving traffic to your site, as well as the links that are not performing. In their dashboard you will get an overview to learn about who's clicking on your links — such as what country the clicks are coming from, the most popular times and days as well as what social media platform that the clicks originated from.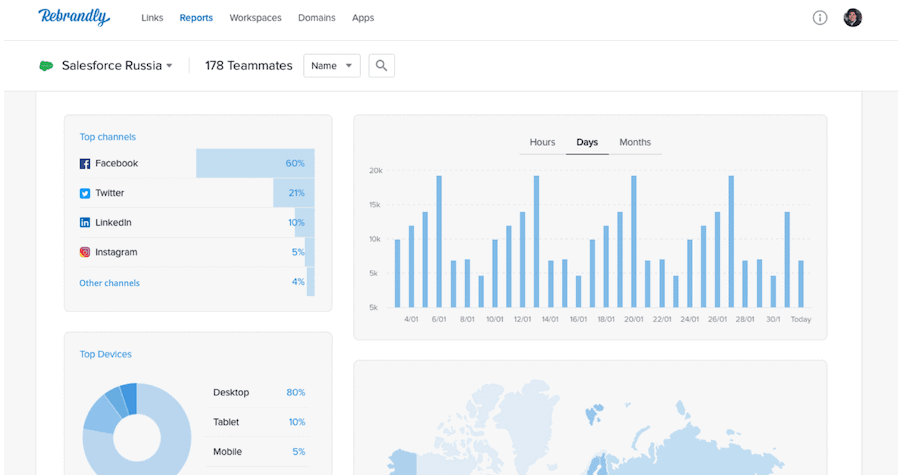 4. Google Analytics
We'll admit that Google Analytics isn't the most robust when it comes to measuring engagement, mentions, increases in followers, and other social media-related metrics. It's traditionally utilized to measure your website traffic.
However, remember when we mentioned keeping your core social media goal in mind? That you want to understand how many people are converting—and not just following? This is where Google Analytics comes into play.
Using Google Analytics' acquisition page, you can see how many of your website visitors are coming over from your social media accounts. That's great information to better understand whether or not your social media posts are doing the job you hope.
5. Tailwind
Works With These Networks: Pinterest and Instagram
Price: $9.99 per account per month
If there's one area where you'll notice many social media analytics tools are lacking, you'll find that Pinterest analytics are a challenge.
Fortunately, a tool like Tailwind can step in and fill that void. With solutions for both visual networks Pinterest and Instagram, Tailwind offers functionality to measure followers, engagement trends, and virality. You can also schedule content and get trending content suggestions through the platform.
While you might not be excited about needing an additional tool just for Pinterest, the price is reasonable and the solution itself is great!
6. TweetReach
Works With These Networks: Twitter
Price: Starts at $29 per month
If Twitter is one of the networks that you leverage most in your marketing efforts, you're likely on the hunt for some designated Twitter tools that will give you powerful insights into your analytics for that network in particular.
You're sure to love TweetReach, which covers pretty much everything you could want to know about your Twitter account.
From hashtag analytics that will help you get your content in front of new audiences to suggestions on when you should post for maximum engagement, TweetReach is a tool that will help you take your Twitter account to the next level.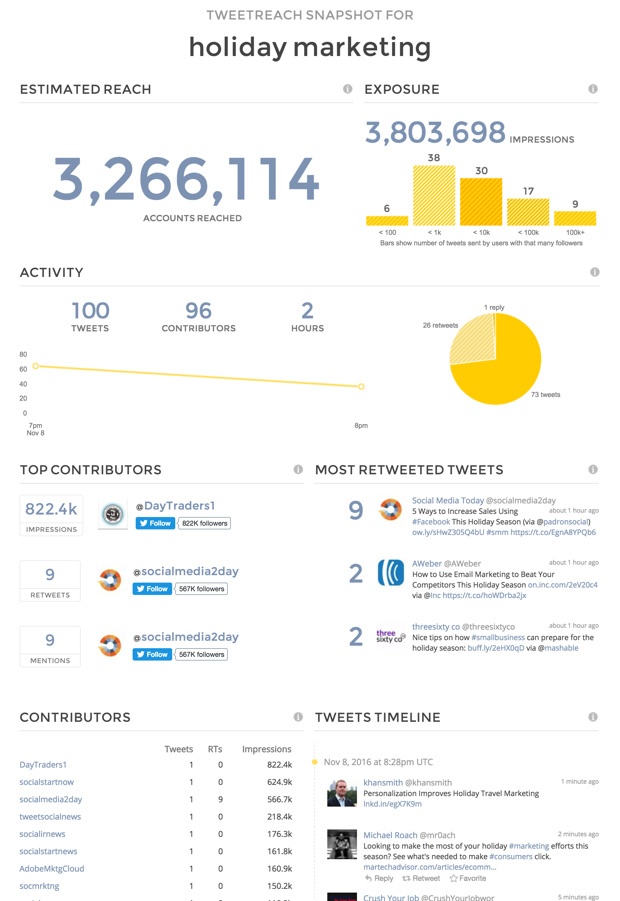 Image Source
7. Brandwatch
Works With These Networks: All of them!
Price: Not publicly available
When it comes to your roster of social media tools, you don't want to forget the important aspect of social listening—meaning monitoring the conversations that are happening around your niche and your brand. Brandwatch is a solution that crawls more than 85 million sites for this exact information.
Additionally, Brandwatch gives you the ability to conduct competitive analysis while also digging up important consumer insights in order to make better-informed moves on social media.
While LinkedIn analytics are often an area where many social media solutions are lacking, Brandwatch can be a huge asset when it comes to marketing and engaging on that platform in particular.  

Image Source
8. Iconosquare
Works With These Networks: Instagram
Price: Starting at $9 per month
Aiming to get a better grasp on your Instagram analytics? Many marketers swear by Iconosquare—a tool specifically designed to extract the information you need from your Instagram posts.
With Iconosquare, you can gain insight into your follower base—including your rate of growth, the languages your followers speak, and where they're based. You can also measure the engagement on your posts, how your filters and hashtags influence your engagement, and even get suggestions for the best time to post to your account.
Iconosquare's plans are reasonably priced. And, if you need a solution that's a little more customized, you can reach out to Iconosquare to find out more about a custom plan.
4 Best Social Media Scheduling Tools
All of the best social media management tools (like the ones we've mentioned above) make it easy to not only gain access to the analytics you need, but also to plan out your content calendar and actually schedule social media content.
And, vice versa. Some of the most popular tools that are mainly known as social media schedulers also offer analytics.
But, if you're eager to get your hands on a platform that will specifically help you queue up plenty of posts in advance, the below four are the ones you'll want to be sure to check out (whether you want to use their built-in analytics features or not!).
1. Buffer
When many people think of social media scheduling, Buffer is typically one of the first to come to mind. With plans ranging from free all the way to $399 per month and up, there are plenty of scheduling options for everyone from individuals to agencies.
While you can pick dates and times for individual social media posts, Buffer's main claim to fame is the fact that it will automatically send out the posts in your queue based on a master posting schedule you put in place.
Buffer frees up the time and thought you typically need to invest in posting content so that you can focus more on engaging with your followers.
2. Hootsuite
Hootsuite is another super popular choice for scheduling social media posts. Users love Hootsuite, as they have the capability to manage all of their company's social media accounts from one centralized dashboard.
In addition to the scheduling features that you'd expect, Hootsuite also has analytics, social listening, and the ability to assign messages to other people on your team—making it a pretty comprehensive social media management solution.
However, because of those additional features, Hootsuite costs a little more than Buffer (and there's no free option). Plans start at $19 per month.
3. Everypost
Everypost is another tool that comes chock-full of features. Along with scheduling, users can gain access to analytics and the ability to curate multimedia content from all sorts of different networks and sources.
Everypost also works with a wide variety of social media platforms, including Facebook, Google+, Twitter, LinkedIn, Pinterest, and tumblr.
There is a limited free plan. But, if you want to have more than one account connected, you'll need a paid plan—which start at $9.99 per month.
4. Later
When it comes to scheduling tools in particular, you'll notice that a lot miss functionality for Instagram. This is where Later comes into the picture.
Built specifically for Instagram posts, Later allows you to plan, upload, and schedule photos to be shared on your brand's Instagram account.
Their free plan will give you the option to post 30 photos per month to one account. Any more than that and you'll want to upgrade to a paid plan, which start at $9 per month.
Over to You
Needless to say, there's no shortage of tools on the market when it comes to social media analytics and scheduling—and, all of them have their pros and cons.
The important thing is to evaluate the needs and goals of your own company and then do some comparison shopping to find the solution that works best for you.
Perhaps that involves investing in one of the comprehensive platforms that enable you to do everything. Or, maybe you'd rather piece together different tools to get what you need.
In the end, it all comes down to personal preference. What matters most is that you find a way to monitor those ever-important social media analytics and then use that information to take your marketing efforts to the next level.