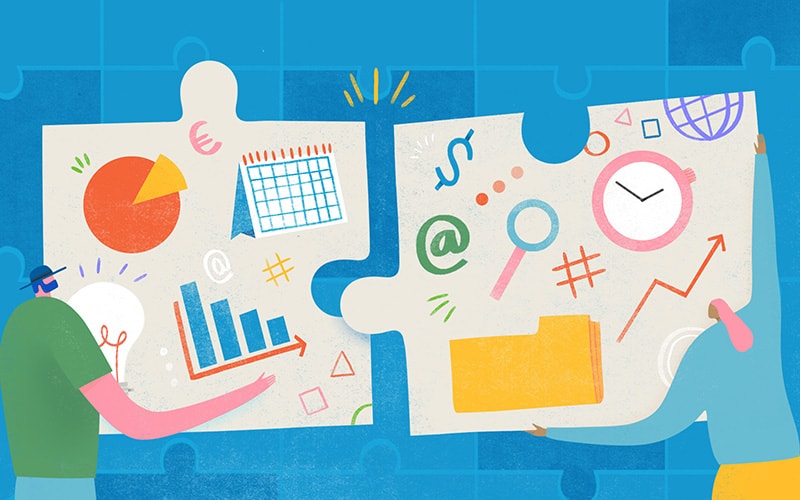 As a business owner/manager, you use your business plan every day. 
You rely on the big-picture milestones you've set to guide the course of your company's growth.
Your team leaders use the specific, short-term targets in this plan to set short-term goals.  When you court investors, you showcase your business plan as the strategic center of your entire operation.
If you want to know how to write a business plan, you may want to start a new company.
However, you can also use this free business plan template to reposition your existing business, set annual goals, or simply reevaluate your priorities.
When your company experiences unexpected success or failure, revisit and revise your business plan.
Avoid feast/famine cycles by regularly reading and updating your business plan. You could easily waste time and energy by creating a plan, ignoring it, and building another from scratch.
Instead, make the most of the effort you're about to make.
Schedule short sessions to revisit and revise your business plan. Not only do you keep it relevant and avoid costly rewrites – you'll have it at your disposal during times of change.
With solid preparation and regular maintenance, you can create a plan to guide your company through the years—and decades—to come!
Your Free Business Plan Template
You'll invest a massive amount of non-writing work into your business plan: data collection, report analysis, market research, product testing, etc. Of course, you also have to write it down!
Before you start, consider the adjustments you may want to make to this business plan outline.
Of course, you can alter the structure as you go. However, it's better to have a firm idea of where you're headed than getting lost in the weeds.
For that reason, I've shaped this plan to include large (mostly-mandatory) sections and smaller, adjustable steps.
With all the thinking you have to do, why reinvent the wheel?
(I've also included links to business plan samples at the end of each section, so you can see what works for other companies.)
Section 1: What People Need to Know about Your Company
Some people will only read your abstract. Others will dig deeper and examine this first section. Save the deep details and complicated equations for Section 2. Here, simply present the most-relevant hard facts – across the entire spectrum of your operations.
1) Description
In this section, you'll describe the current state of your business. If you're launching a new venture, describe the company you plan to start. Keep it brief.
All people want to know, at this stage, is slightly more than you shared in your Executive Summary (see section 6). Tell them what you sell, how, and to whom.
If it helps, write this section next-to-last – before your ES and after everything else.
The following steps in this section will provide more detail about your company. In this first step, simply provide basic information. Share your location, target market, geographical location, incorporation status, and historical data.
2) Mission Statement
Present a short mission statement to all appropriate stakeholders: investors, executives, employees, etc. You want everyone associated with your business to share one, coherent perspective when talking with the public. Keep it brief and memorable – and stay on message!
3) Product/Service
Introduce your product/service, its functionality/options, and what makes it unique. List other products/platforms with which it integrates (or plays well with…). Expand on this information in Section 4.
4) Target Market
You'll expand on this step in Section 4. For now, simply describe your ideal customer and a few of their key characteristics. Include a few of your most-compelling statistics about your ability to serve this population segment.
5) Management
Briefly introduce your management team (and relevant management support companies). You'll say more about them in Section 3 – for now, just drop a few big names, qualifications, and titles.
6) Financial Summary
Briefly describe your assets, expenses, liabilities, etc. You'll share the fine points and detailed figures in Section 2.
Just let your readers know how much you have, owe, and plan to make.
If any positive or negative facts stand out (such as large profits or major setbacks), explain these with a sentence or two. For example, if you show record earnings on an annual report, be prepared to explain the situation.
Remind readers you'll go into greater detail in the next section – and be sure to keep your promises by highlighting these areas in the text.
7) Goals
Present your broad, long-term plans. For now, discuss the "what," and only a little of the "how." Give people a sense of what you'll accomplish after completing this plan. Share a little of your vision and describe the value you plan to bring to the marketplace.
8) Objectives
Break down your long-term goals into objectives. Show, step-by-step, how you'll take this product/service from its inception all the way to consumer purchasing – and beyond. Remember to list your plans for improving consumer loyalty and boosting employee retention.
Section 2: More Detailed Information about Your Business
Provide detailed facts, figures, and statistics to back up your claims in the Descriptions section.
Go into greater detail about where you've been, where you are, and where you plan to go.
This section provides the hard numbers investors and other key stakeholders will look for in your business plan.
9) Financial Details
Flesh out your financial summary from the Description section. Provide charts, lists, and spreadsheets that show the full range of your operations. For example, a prospective investor might want to know your logistical and manufacturing sectors are strong and your sales show promise. In this case, having a shallow marketing budget could be a plus. This person might expect your product/service to sell well after you used their capital to reach a broader audience.
10) Opportunities and Threats
List the market analyses that led you to believe this venture is sound. Describe your competition, their levels of market share, and how you plan to enter this niche. Explain any risks (from inclement weather to production delays and supplier bottlenecks) that might hurt your chances of success.
11) Start-Up/Implementation Plan
If you're starting a new business, describe the funds needed at various stages of the enterprise.
Describe how you plan to use existing funds and early-term test results to show viability and attract more capital.
If you run an existing business, explain how you will pay for the new ventures you're proposing – and still maintain everyday operations.
In cases of transition/change, be sure to provide realistic time-frames for the ramping down of certain operations and the establishment of others.
Section 3: Structure and Systems
In this section, share your formula for success.
Typically, many companies operate in the same niche; what makes you better than the rest? How will you conduct business efficiently and outperform your competition?
12) Corporate Structure
Specify whether you've created (or plan to file for) an LLC, S-Corp, C-Corp, etc. Explain how your choice of corporate structures gives you the most advantages in the marketplace (and how it minimizes liability/exposure).
13) Management Team
If you operate a sole proprietorship (such as a single-member LLC), present your management team. If you run the business yourself, introduce anyone else with influence on your decisions (spouses, relatives, close friends, etc.)
14) Management Support Team
Share a little about the law and accountancy firms you employ. Introduce your insurance company and briefly describe your level of protection. If applicable, present a few words about your mentor(s), and how they will help you in this endeavor.
Section 4: Marketing Plan
15) Unique Selling Proposition (USP)
According to Theodore Levitt, Harvard Business School professor:
Differentiation is one of the most important strategic and tactical activities in which companies must constantly engage.
When you share your Unique Selling Proposition, remember no business can function without one. Investors will want to know precisely how you will bring new value to the market.
Explain exactly how your company stands apart from your competitors' offerings.
What do you do differently?
Do you operate more efficiently, offer better solutions, or market in a way that increases your margins?
16) Product/Service Details
Building on the last step, describe how your product/service will rise above all the rest.
What do you offer consumers that they haven't seen before?
A new offering?
An existing product in a new format?
In short, how will your ideal customer benefit from this product/service?
17) Pricing/Sales Strategy
Tell your audience how you plan to price your product/service.
Do you provide an existing offering at a lower price?
Or, do you present an existing solution at a higher price point – and add value in the form of brand cache?
18) Distribution Plan
Describe your plan for entering the market.
Do you intend to provide your goods to low-cost vendors and compete on volume?
Are you prepared to charge boutique prices for your services and compete on quality?
Be specific.
Let readers know exactly what (brick-and-mortar and/or online) retailers will sell your products and the level of connection you've established with them.
If you plan to sell products/services yourself (and not through conventional channels), explain this distribution plan in great detail.
19) Promotional/Advertising Strategy
Explain the nuances of your ad budget for experienced investors and industry experts. Even though some readers may not understand the complexities of this section, provide enough market data (and complex online marketing statistics) for the people they consult to give you a green light.
Step 5: Financial Plan
20) Bookkeeping
Introduce the person(s) responsible for keeping records at your company.
Explain how you store this data, who has permission to view it, and who can authorize payments.
Explain all other internal controls, such as consumer data privacy measures and employee information storage.
Unless you run a sole proprietorship, set up your accounts so two people must sign each check/authorize each major purchase.
21) Financing Sources
List your past, current, and prospective sources of capital. Take care to understand all the available startup/investment options; investors will want to see you've done a thorough search. Reveal all financing sources you're currently using – and plan to use.
Specify how you plan to acquire more funding, how much you expect to need, and when you anticipate these cash infusions.
If you're running a startup company, pay close attention to the amounts you need at critical phases to avoid pausing your operations (or even going out-of-business).
If you (or anyone else, such as a family member or friend) makes a personal contribution to the company, be sure to list the repayment terms.
Don't risk valuable relationships by miscommunication about personal loans.
Most of all, be realistic.
Many startups (and established businesses, too) make the critical mistake of underestimating the expenses required to get a product/service to market. Include living expenses for the owners of a startup, as well as a substantial emergency fund for unforeseen expenses.
Section 6: Executive Summary (Up-Front)
22) Sum it All Up
As they say, "The last shall be first."
Penn State University says business plan writers should write this section after completing all other steps. Although you should place this section at the top of your first page (just under your letterhead), you have to write it last.
23) Keep it Clear and Simple
Academics write the Abstract section of their research papers at the end of the process, when they know all the results.
For example, the University of Toronto urges medical researchers to keep these briefs concise, self-contained, and accurate. Some people will read only this section and skim the rest. Take care to present all the relevant facts – and nothing else.
The executive summary section of your business plan functions just like an academic summary.
Spell out acronyms and define industry terms (even those you think everyone must know). Include only the most important facts and statistics.
24) Stick to the Facts
Remember, in your executive summary (which may be all some executives have time to read), every word counts. Include as many actionable facts as possible. Relegate all discussion and complex explanations to other sections.
25) Study a Full Example
Read this sample business plan to understand the components of a good presentation.
Section 7: Put Your Business Plan into Practice
As your business grows, you can rely on Toggl Track to provide the tools you need. Our time-tracking software integrates into over 100 popular productivity tools, such as Slack, Gmail, Trello, and Google Calendar.
Use the free templates in the next three "steps" to manage various aspects of your operations.
(No, you don't need to buy something, provide your email address, or sign up for anything. We just want to help.)
Compare assets and liabilities and determine your company's short- and long-term health. Compile Current and Fixed Assets, Current and Long-Term Liabilities, and Shareholder Equity. Print this sheet out in Excel for quick, periodical balance sheet calculations.
Use this convenient tool to create Specific, Measurable, Attainable, Relevant, and Time-Bound goals. With this printable PDF, you can set budgets, determine daily production goals, and set project time targets.
Open this file in Excel or Google Sheets. Describe and share a venture's costs, objectives, scope, potential risks, and timetable. Use this document to makes pitches and gain project authorization. After approval, keep this framework handy to stay focused and avoid mission drift.
29) Enjoy Our Free Support
With Toggl's free and premium time-tracking services, you can quickly track your team's time-use data, generate reports, and create payrolls.
As you push forward and make your business plan a reality, we'll help you step up into increasingly powerful data-tracking and report-generation tools.
Do the work, make your business plan a reality, and rely on us for real-time, cross-platform solutions that take the time out of time-tracking!