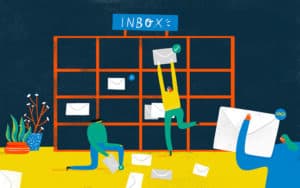 Like so many other marketers or entrepreneurs, when it comes to promoting your brand, you're always on the lookout for the best email marketing services that can get your products in front of more eyeballs.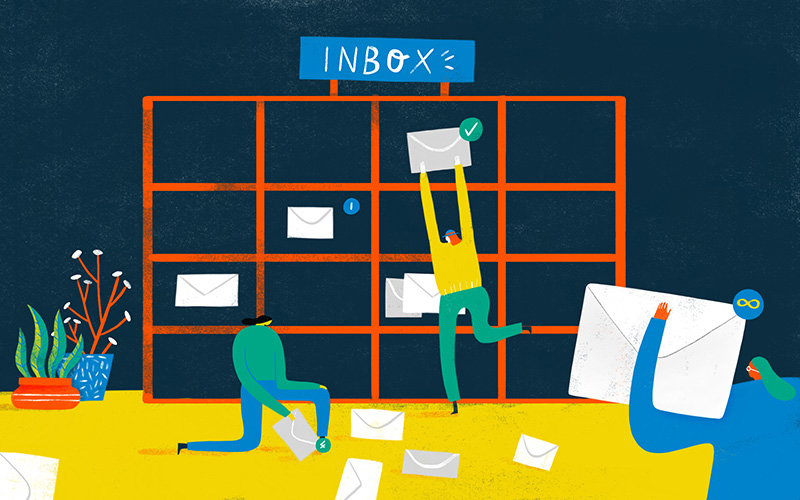 Email marketing has become a tried and true favorite among so many business owners and marketing professionals.
Why?
Well, for starters, it's undeniably effective. According to McKinsey, email is 40 times more effective at acquiring new customers than Facebook or Twitter.
In fact, email marketing drives more conversions than any other marketing channel, including search and social.
Need more convincing?
Email marketing is also easy to implement and incredibly cost beneficial. Believe it or not, email marketing has an average ROI of 3800%.
For all of those reasons (and so many more), email marketing has become an incredibly popular tool amongst businesses and brands in all different industries.
If you're not already using email marketing for your own business, these sorts of statistics might inspire you to bury your head in the sand and cross your fingers that a new marketing trend swoops in soon.
But, take note: It's not too late for you to jump on the bandwagon. In fact, you should—and soon!
Here's what you need to know—including a breakdown of some of the best email marketing services out there—in order to start leveraging the power of email marketing.
Use Toggl to track the time you spend on email marketing and better optimize all of your marketing efforts!
What is Email Marketing?
Even if you haven't already implemented email marketing for yourself and your brand, chances are good that you still at least know some of the basics of all that this marketing tool entails.
But, in the interest of clarity, let's briefly cover exactly what email marketing is.
Email marketing is a form of direct marketing (meaning you're marketing directly to the public, rather than retailers or some other third-party) that utilizes emails to communicate with your audience.
Most people think of strictly pushy, sales-related emails when thinking of email marketing. However, emails could also serve to strengthen a relationship or even just to inform your audience.
There are tons of tertiary goals that businesses could have for their own email marketing efforts.
But, generally, the core objectives of email marketing include growing a subscriber list (those are highly engaged, interested customers!), driving sales (typically through email clickthroughs), and retaining customers who eventually transform into major advocates for your brand.
Email Providers: Choosing the Best Option for Your Business
Understanding the importance of email marketing is one thing.
But, with so many bulk email service options out there, finding the one that's right for your unique business often resembles finding a needle in a haystack—while you're blindfolded.
Before you even begin perusing the various choices that you have, it's best to sit down with a notepad and paper and think about specific criteria.
What in particular are you looking for? Are there any limiting factors that might exclude some options right off the bat?
For example, here are some different questions that you could ask yourself:
What features do you absolutely have to have? Do you need to be able to setup automated campaigns or A/B test your subject lines, for example?

What's your budget? How much are you willing to spend per month on email marketing?

Do you have any experience with email marketing? Or, are you hoping for something that's very intuitive and beginner-friendly?

Do you have an existing list of subscribers? How many?

What level of customer support are you hoping for?
By thinking through questions like the ones above, you'll begin to pull out some key points that your ideal marketing service needs to touch on.
Having those boxes to check will make it much easier to separate the wheat from the chaff when weeding through all of the different email marketing options that are out there.
Email Marketing Software: 7 Solid Options for Businesses
Alright, now that we have that foundation laid and all of the basics out of the way, let's get straight into the good stuff—the list of email providers.
From simple, free email services to advanced ones that pack in all sorts of fancy features, here are seven email marketing tools that are well worth considering when getting started with email marketing for your own business.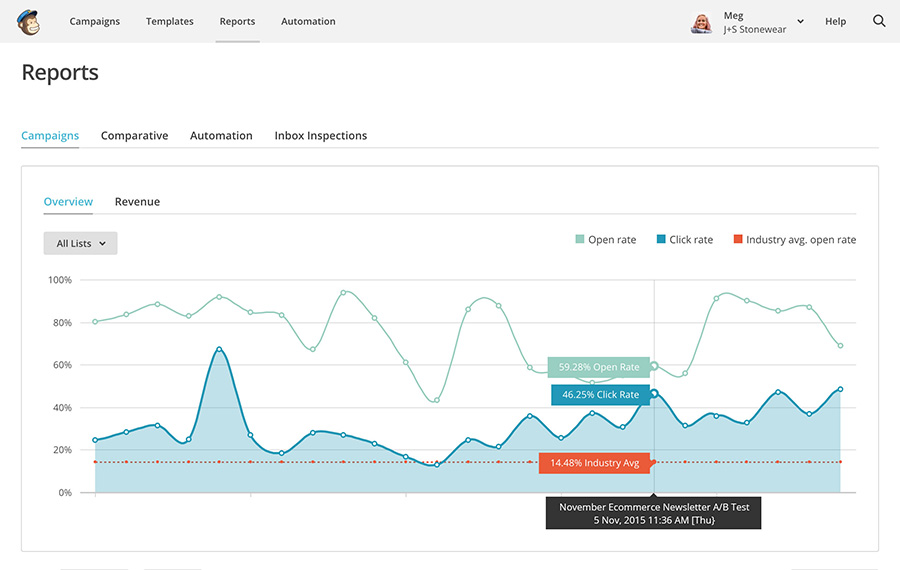 Image Source
For people who are specifically on the lookout for user-friendly, free email providers, Mailchimp usually appears at the top of the list—and for good reason.
One of the main things that Mailchimp has going for it is its ease of use.
There's a helpful email designer and plenty of templates that users can choose from to create beautiful, professional-looking emails without tons of stress and elbow grease.
With paid plans, Mailchimp users can also access numerous automation features (such as setting up a "welcome" email when someone new joins your list) or A/B testing options for your emails.
Mailchimp integrates with tons of apps and services—from Shopify to Salesforce—to help you streamline and coordinate all of your marketing efforts. And, the platform also offers analytics so that you can learn more about your audience and better optimize your emails.
Another helpful feature Mailchimp offers?
A robust scheduling system. You can send emails based on a subscriber's timezone, for example, or even ask Mailchimp to select the best send time based on your previous engagement.
Price: Mailchimp has a "free forever" option, with paid plans starting at $10 per month.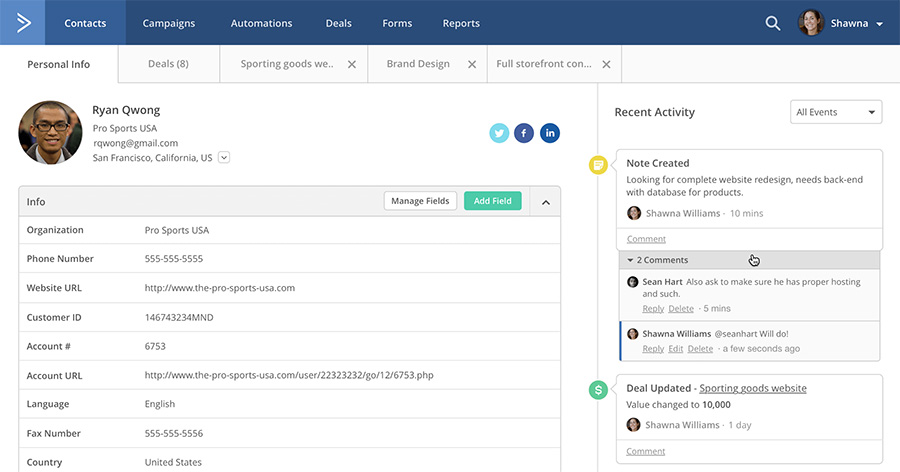 Image Source
While ActiveCampaign might not have as much name recognition as Mailchimp, it's an equally great option for businesses who are eager to get started with email marketing.
A first glimpse at ActiveCampaign might be a little overwhelming.
But, once you make it past that dashboard and start digging into the individual tools and features, you'll quickly see why ActiveCampaign is another platform that gets many compliments for its somewhat intuitive approach.
For those who are interested in automation in particular, ActiveCampaign offers drag-and-drop workflows—which means you can literally move elements around on a map of sorts to create a sequence for specific subscribers.
ActiveCampaign also provides the option to create dynamic content—which means your email can be updated or changed based on a subscriber's unique behavior.
One drawback that many users cite is the fact that ActiveCampaign doesn't offer any native integrations with third-party tools—aside from a Zapier integration, which you could use to access over 150 different tools.
But, doing so would require a paid Zapier account.
Price: Plans start at $9 per month.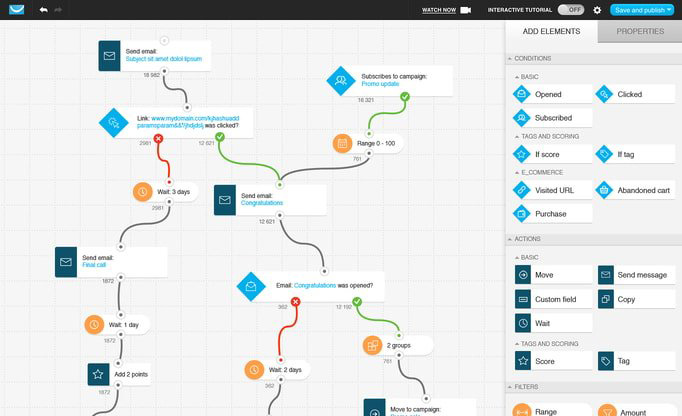 Image Source
GetResponse is packed with powerful features, but that doesn't mean the platform is intimidating or overwhelming. In fact, many claim it's one of the easiest to use tools on the market.
There are all of the things you'd expect from an email marketing service—such as automation, analytics, A/B testing, and a drag and drop designer.
But, then there are those other features that you wouldn't necessarily expect, but will be thrilled to have.
One that many marketing professionals tout?
The ability to use GetResponse to build landing pages—meaning you won't need yet another tool or third-party provider in order to make those happen.
GetResponse also provides the option to preview how your email will look on mobile devices, as well as select stock photos directly from their iStock gallery—which makes building beautiful emails easy.
Price: Plans start at $15 per month.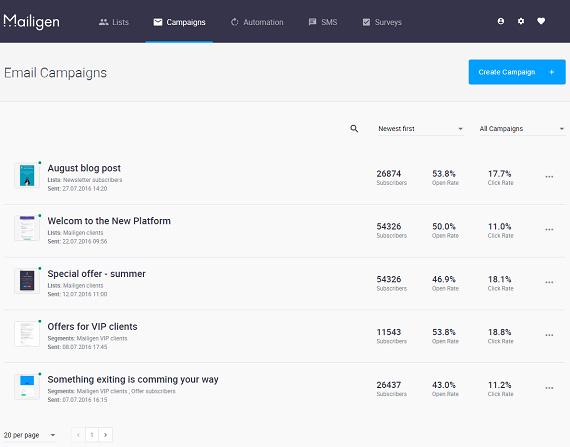 Image Source
When you're utilizing so many different tools and platforms as part of your overall marketing strategy, it's easy for things to get lost in the shuffle.
Mailigen aims to take some of the pain out of the process through innovative features—like a calendar that appears on your dashboard and shows you when all of your different marketing messages will be going out to subscribers.
Again, Mailigen is another service that boasts all of those features you'd expect (plus tons of integrations!).
But, with the ability to manage mobile messaging, social networks, and your email lists in one place, one of the biggest pros of using Mailigen is that you won't feel like your marketing efforts are unsuccessfully juggled through all sorts of different tools and platforms.
Price: Free option, with paid plans starting at $10 per month.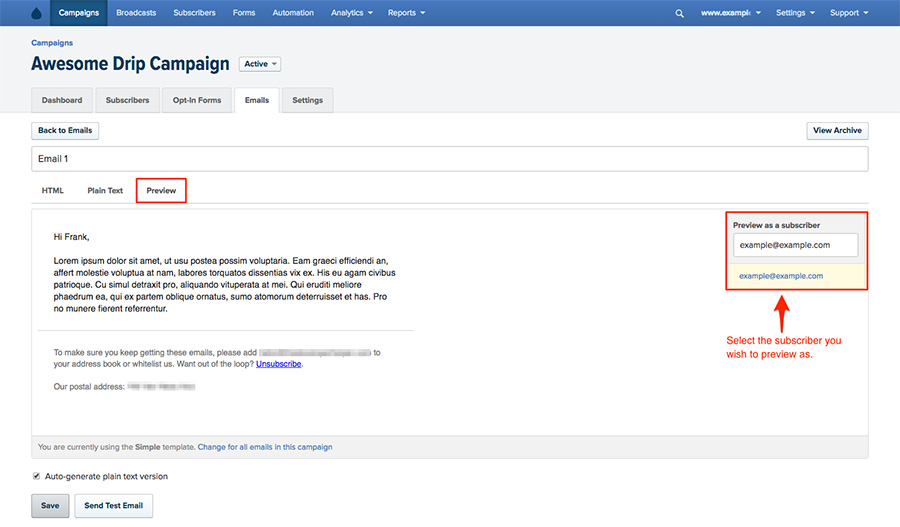 Image Source
In terms of comparisons, Drip is another email marketing tool that shares many similarities with ActiveCampaign, in that it's slightly more advanced—but still easy to use.
Like ActiveCampaign, one of Drip's key features is the option to build visual, drag and drop automated campaigns. That might sound overwhelming, but it's actually an incredibly helpful way to map out your different automations and ensure that you're building things the way you want to.
Drip also offers the option to tag users based on their actions and behaviors, to make it that much easier to reach out to specific segments of people in the future.
And, Drip's lead scoring feature allows you to instantly glean which of your subscribers are most engaged with your content (and, therefore, more likely to become customers!).
Finally, the option to resend emails is a great one. When subscribers don't open your first email, Drip has a feature that allows you to resend the same message with a different subject line—a handy feature that helps to boost your engagement.
Drip isn't the cheapest option out there. But, it's certainly worth it for a platform that packs a major punch.
Price: Free option, with paid plans starting at $41 per month.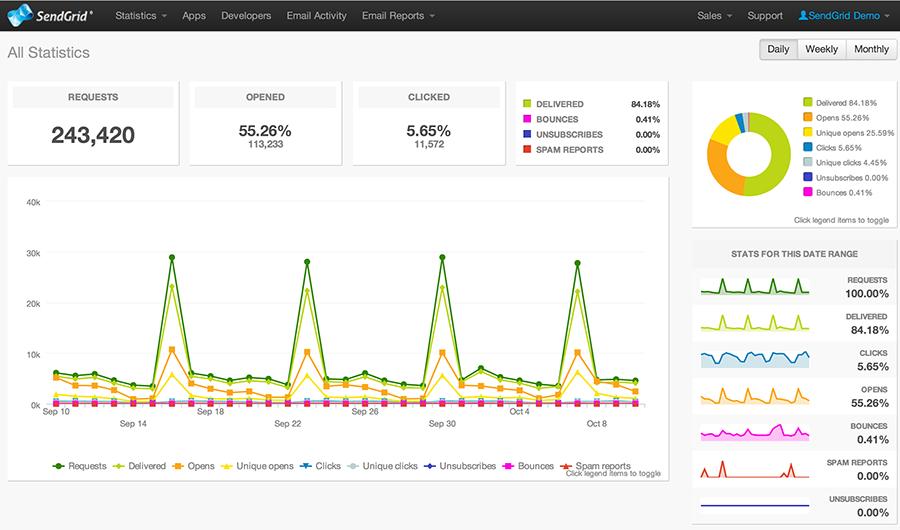 Image Source
Many people say that the number one thing SendGrid has going for it is its email deliverability. SendGrid has a team dedicated to deliverability and compliance, which means you can rest easy that your email will actually land in your subscribers' inboxes.
Users are also quick to commend SendGrid's 24/7 customer support. If you run into an issue or have a question that you absolutely need answered, you can count on SendGrid to help walk you though.
SendGrid also boasts incredibly robust analytics, which will empower you with greater insights into your audience.
With all of that aside, you'll find the features that you've come to anticipate from most email marketing services—including segmentation, design tools, and integrations.
Price: Free option, with paid plans starting at $9.95 per month.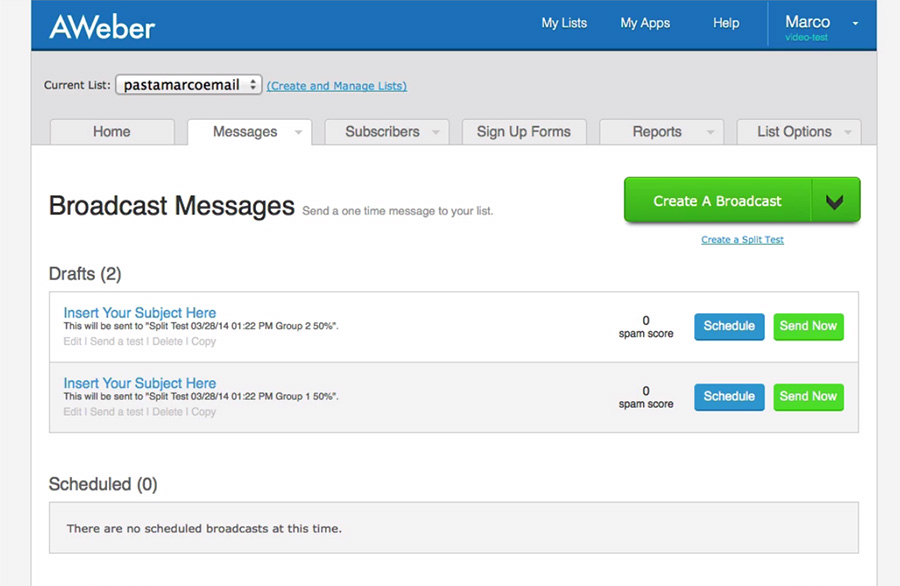 Image Source
Finally, there's AWeber, a name you've probably heard a few times in the marketing world—particularly amongst bloggers who use email marketing as a part of their overall strategy.
Many people choose AWeber for its ease of use. The interface is incredibly intuitive and user-friendly, making it a popular choice for email marketing beginners—despite the slightly heftier price tag when compared with other less advanced email marketing tools.
The numerous templates make it simple to get up and running with your first emails.
But, if you're eager to roll up your sleeves and try other things, you can also use AWeber to create opt-in forms, autoresponders, and pop ups.
Any review can't go without mentioning AWeber's customer support—which is said to be some of the best out there. AWeber even offers support over phone, something that's surprisingly hard to find in an industry obsessed with email.
Price: Plans start at $19 per month.
Over to You
If email marketing isn't something you're already using for your own business, there's no time like the present to get started leveraging its power.
Fortunately, with so many great options available, you have no shortage of choices when it comes to finding the best platform for your business and your own unique needs.
Keep this information handy when weighing your options, and you're sure to land on a tool that not only makes your email marketing efforts easy—but also fun!