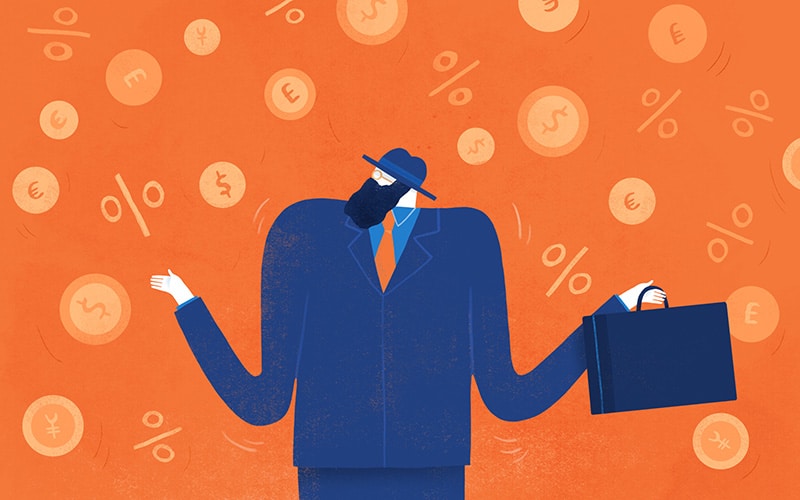 Many U.S. freelancers and online professionals dream of traveling and working overseas – but rarely plan for foreign transaction fees.
Examine the full range of expenses you will incur in a foreign country before taking off on your next adventure. Before buying that plane ticket, compare your revenues to your expenses (including foreign transaction fees). Make sure your net income will definitely meet your needs before venturing far from home.
What is a Foreign Transaction Fee?
Also known as international transaction fees, foreign transaction fees compensate banks for the added hassle of interacting with their foreign counterparts. Remarkably, 90% of the credit cards in service today carry these fees.
However, certain banks have removed these fees from some or all of their cards.
Most banks charge foreign transaction fees of 2-4%.
Typically, your credit card company (MasterCard, Visa, etc.) gets 1%; the bank that issued your card gets the other 2-3%.
Foreign transaction fees hit travelers especially hard because credit cards offer the easiest (and cheapest) avenue of currency conversion to tourists, expats, and digital nomads.
#1 What is a Currency Exchange Fee?
Banks charge currency exchange fees when they convert your dollars into pounds, reals, euros, yen, gourdes, dinars, etc. Sometimes confused with foreign transaction fees, currency fees like DCC (Dynamic Currency Conversion) can quickly add up to unexpected travel costs.
Credit card companies like Visa and MasterCard offer some of the lowest currency conversion rates.
However, if you pay foreign transaction fees every time you use your cards, you'll still pay a significant cost to access money overseas. In fact, you might even be paying these fees as a stateside consumer.
#2 Foreign Transaction Fees at Home
These credit card fees apply to all transactions processed non-U.S. merchants. Yes, this means stateside shoppers pay foreign transaction fees when they make certain online purchases.
When shopping with foreign retailers who process your online transactions in their local currencies, use credit/debit cards without foreign transaction fees. In virtually all cases, decline offers to pay in the retailer's currency via DCC (see #4 below).
#3 Making Foreign Purchases
Always alert your bank before traveling so it will approve all your overseas credit/debit card purchases. Travel confidently, knowing your financial institutions won't assume fraud and block your accounts.
Know your credit card limits, daily debit card withdrawal caps, and any other restrictions before you leave your home base.
Of course, pay your credit card bills on time to maintain a good credit score.
Before traveling, pay down your balances, so you have plenty of room on your cards. With a healthy distance between your balance and your credit limit (experts suggest 80%), you can handle any adventure (or emergency) that arises while traveling overseas.
When dealing with a merchant overseas, you may be asked if you want to see your bill in dollars, instead of the local currency. Merchants are required to ask you before applying the rates of their particular DCC (Dynamic Currency Conversion) provider.
These retailers may charge you as much as 7% for a currency conversion and pocket the difference. Instead, decline these offers and use your credit/debit card; the transaction will still show up on your bank statement in dollars.
#4 Foreign Exchange Rates: Master Card vs. Visa
Not all credit cards without foreign transaction fees feature the same exchange rates. Some industry observers recommend MasterCard because it charges consumers a true same-day exchange rate; Visa waits until the transaction posts a day or two later.
For most currencies, (except the Japanese Yen), MasterCard converts slightly better than Visa. Though these variances only slightly affect balances, they can add up over time.
If you make large foreign purchases or spend many months overseas, take a close look at the currency conversion rates of these two card companies.
#5 The Best No-Fee Credit Cards
In addition to Discover and Capital One, banks and credit unions like HSBC, BECU, PenFed, and Star One offer credit cards without foreign transaction fees. On the other end of the spectrum, Chase, Citibank, and Wells Fargo may charge as much as 3%. (American Express can charge up to 2.7%.)
Many credit cards that offer travel perks and other benefits for globetrotters don't charge foreign transaction fees.
However, you must still do your homework; not every card with travel/airfare bonuses is fee-free. When shopping for credit cards, make sure you aren't gathering points and bonuses you'll never use.
For example, if you prefer cruise lines and easily get airsick, swap out your frequent flyer points card for one with another perk.
#6 The Best No-Fee Debit Cards
Many Americans use debit cards like credit cards; both types of cards offer similar levels of convenience and flexibility. When you're traveling overseas or shopping with foreign merchants, use the same caution with debit cards as you would with credit cards.
Avoid unexpected travel expenses with debit cards that don't charge foreign transaction fees. Big names like Capital One 360 and the Charles Schwab Bank offer "no foreign transaction fee" MasterCards and Visas, as do a number of smaller of smaller banks.
#7 Qualifying for Credit Cards with No Foreign Transaction Fees
The best credit cards offer the greatest perks, especially for travelers.
To avoid foreign transaction fees, earn airline miles, and get cash back on your transactions, you need an excellent (or at least a very good) credit score. Of course, improving your credit score can also qualify you for credit cards with lower interest rates.
To see quick improvements in your credit rating, dispute incorrect information on your credit report (and get regular updates on your score).
Keep current accounts in good standing. You may be tempted to pay off cards with collection agencies first; however, if more cards go into the red, your score will only worsen.
Build fresh credit with a secured, no-annual-fee card. Don't use more than 20% of your available credit – and always pay on time.
A simple way to maximize your credit score is to use your new card only for one set, monthly expense. For example, you could use a credit card only to buy gas – or pay your phone bill.
By protecting this card from your other (more variable) purchases and expenses, you can build better credit and qualify for the travel-perk card of your choice!
#8 Maximize the Chances Foreign Retailers Can Accept Your Credit Card
As retailers across the globe transition from magnetic strip to chip-based credit and debit cards, take care to get the most current cards possible.
For example, many countries use chip cards with PIN numbers. If you have a chip card that requires a signature instead, merchants in certain places may not accept it.
Avoid the embarrassing and expensive hassle of having a retailer decline your card. Instead of rushing to find an ATM in a foreign city while your friends wait at the restaurant, get the best security technology and rest easy on your vacation!
Also, remember that automated systems (subway kiosks, toll roads, parking meters, etc.) in certain cities and countries don't accept chip-and-signature cards. Give yourself the best chance possible of sailing through transportation hubs with a "no foreign transaction fees" card with the most modern technology you can get.
#9 Select the Best Credit Card Perk Package for Your Travel Lifestyle
In the highly-competitive credit card market, lenders offer all kinds of benefits to entice prospective customers. Before selecting a new credit card, make sure it doesn't charge foreign transaction fees.
Then, compare its perks against the competition. Today, more and more companies offer "no foreign transaction fees" cards. If you have very good or excellent credit, you'll discover quite a wide range of options.
Capital One Venture Rewards
For years, travelers have trusted the Capital One Venture Rewards Card. If you spend over ~$3,000 a year on your credit cards and have a credit score of 690 or higher, you may want to choose this industry staple.
This card offers substantial sign-up rewards (~$500) and easy-to-understand flat-rate bonuses. You earn two air miles for every dollar you spend; you can apply these miles (at $0.01 each) for many common travel expenses. However, take the time to read the fine print; Capital One doesn't consider certain charges (tourist attractions, amusement parks, etc.) as "travel expenses." This card offers a ~$59 annual fee, which starts after your first year.
Chase Sapphire Preferred
The Chase Sapphire Preferred Card attracts travel lovers with a massive sign-up bonus (~$500) and excellent rewards transfer options. This attractive metal (not plastic) card lines up nicely against the Capital One Venture Rewards Card (it typically matches with people whose credit scores exceed 690).
If you spend over $4,000 in your first three months with this card, you'll get 50,000 points. That equals a whopping $625 in travel purchases through Chase Ultimate Rewards. Chase makes it easy to use these points for many kinds of expenses, from meals to transportation to accommodations.
However, if you're looking for an airline card with all the bells and whistles, this card might not be a good fit. Like the Venture Rewards card, the Sapphire Preferred charges an annual fee that starts in your second year (~$95)
Capital One Quicksilver Cash Rewards
Another 690+ credit score card, the Capital One Quicksilver Cash Rewards Card offers a smaller sign-up bonus but excellent cash back redemption options.
Designed for frugal and savvy travelers, this card removes the minimum redemption hurdle set by many other cards. If you spend $500 on this card in your first 3 months, you'll get a modest ~$150 sign-up bonus. Unlike many competing travel cards, this one doesn't charge an annual fee.
However, the Quicksilver Cash Rewards card doesn't offer easily-leveraged points like the Sapphire Preferred and the Venture Rewards.
Barclaycard Arrival Plus World Elite MasterCard
This chip-and-pin credit card allows you to pay anywhere, even in places that don't accept chip-and-signature cards.
The Arrival Plus World Elite features many of the perks you'd expect from a 720+ credit score card. You'll get a ~$500 sign-up bonus and 50,000 miles after spending $3,000 during your initial 90 days. (You can redeem these points for $500 in travel credits.
This high-end card offers many of the bells and whistles travelers love, though you'll have to spend well over $4,000 a year to offset the ~$89 annual fee with travel miles. This card also features a high 10,000-mile limit for cashing in on miles, much more than its competitors.
Southwest Airlines Rapid Rewards Premier Card
Maximize your air travel perks with the Southwest Rapids Rewards Premier (Southwest does offer another credit card, but this one doesn't charge foreign transaction fees). The Rapid Rewards Premier can help you save big on domestic, Caribbean, and Central American travel.
Depending on when you join, you could get as many as 60,000 Rapid Rewards points (you'll need to spend $2,000 on the card in your first 3 months to qualify). You'll also enjoy fast-track status towards an astounding goal: a Southwest Companion Pass.
This perk lets your travel buddy fly with you virtually free for two years. With this air-travel focused card, you can avoid certain baggage and change fees – as well as seat restrictions and blackout dates (when you redeem your points). Even better, you may qualify for this credit card with a credit score around 670!
The Bottom Line
If you feel the urge to travel and explore, by all means – do it!
However, take the time to plan out your banking strategies well ahead of your trip. Enjoy the excitement of looking forward to your trip as your points add up, and your new cards arrive in the mail. With the right knowledge and a solid credit score, you can get a credit card without foreign transaction fees.
Avoid the common financial pitfalls travelers face and have the time of your life!
When you and your team members travel overseas, pay special attention to your mileage and other deductible expenses. Use Toggl's simple and powerful mileage logs and time-tracking software to keep the numbers straight while you're on the road. If you manage a team, use our quick and easy report creation tools to stay aware of your colleagues, no matter where you may roam.