Getting work done on time is the number one challenge for agency managers. To meet deadlines, team members often have to work odd hours and sacrifice their off time. As a result, over 50 percent of your team experiences burnout.
In this article, you'll learn about five best practices on how to get work done without overwhelming your team.
Bring clarity to your team's schedule
Plan around your team availability
Monitor team workloads
Keep task-related information in one place
Reduce unproductive work
Let's dive in:
Bring clarity to your team's schedule
Agency teams often use task lists. Task lists are powerful tools that can tell you what needs to be done. Often a deadline is associated with each task in the list. As a result, team members know when a task needs to be completed.
How can timelines help plan your team's schedule?
Timelines or Gantt charts are simple visual charts that plot a team's work on a timeline. The X-axis of a Gantt chart represents the timeline, and the Y-axis represents tasks or task segments.

With Gantt charts:
Your team can clearly visualize tasks, task priorities, and milestones on a timeline. Everyone knows exactly what they are expected to do, when they should start working on it, and when it's due.
Because of this visibility, your team can better plan and prioritize their availability and workloads. 
Finally, knowing that someone else is dependant on them makes a team member more accountable for their work.
How to create a timeline?
You can easily create a project timeline with a spreadsheet tool like Microsoft Excel or Google Sheets. However, spreadsheets are clunky, and things can get complicated quickly as your team size increases.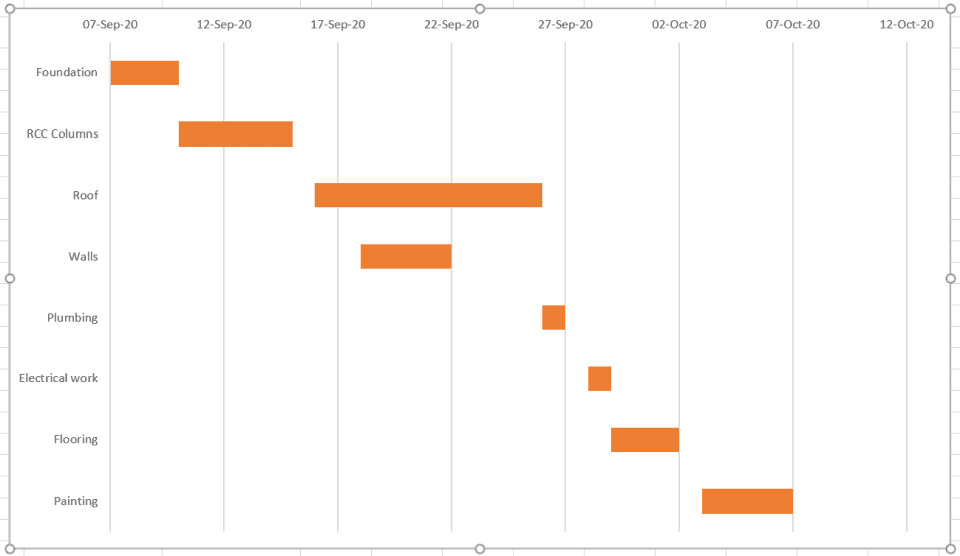 This is where a planning tool like Toggl Plan can help. With Toggl Plan, you can plan your work on a simple drag and drop timeline.
You can assign a task to team members. Also, you can set daily estimated hours team members spend on a task.
Finally, you can add color-coded milestones to help you track the progress of your work.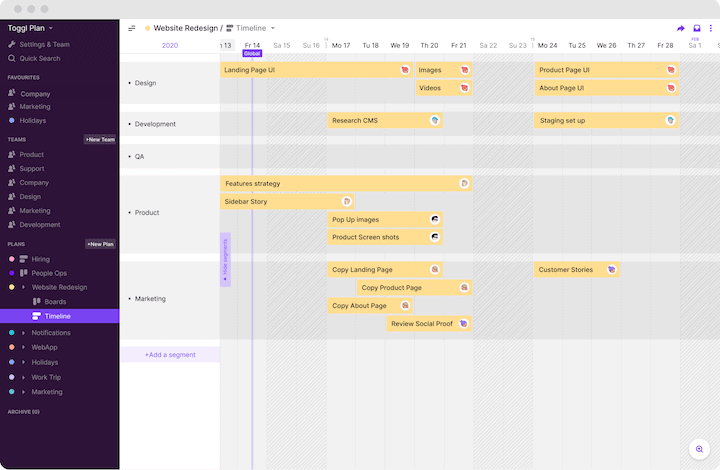 Plan around your team availability
When planning work, managers must consider if a team member is available. A team member may be away on leave, on holiday, or busy with another project.
As a manager, you have to plan work considering these factors. Or you risk overwhelming your team members as well as missing deadlines.
Track your team's availability
Keeping track of every team member's time off can seem like a lot of work.
However, you can use a simple spreadsheet to track your team's availability. Use this simple team availability tracker template to know when someone is unavailable.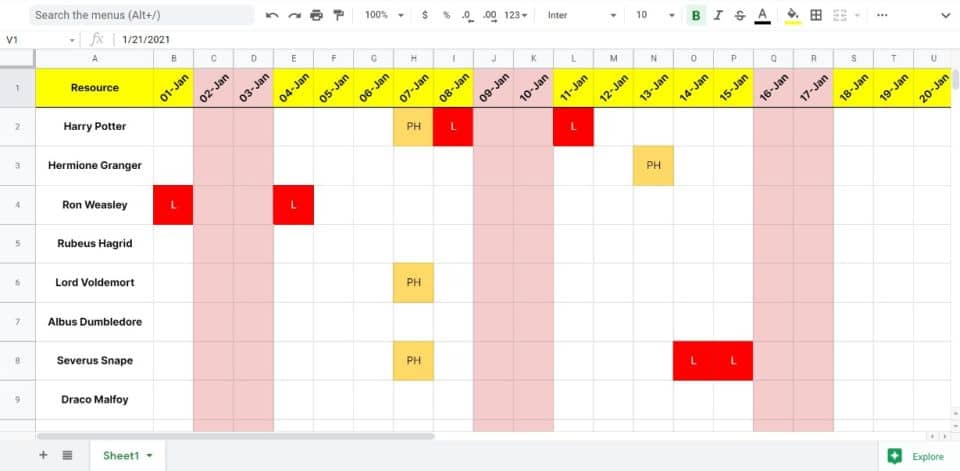 Alternatively, you can also create a color-coded "Time off" plan in Toggl Plan.
Team members can mark the days when they are unavailable. Now when you plan your team's work, you can see who's available and who isn't.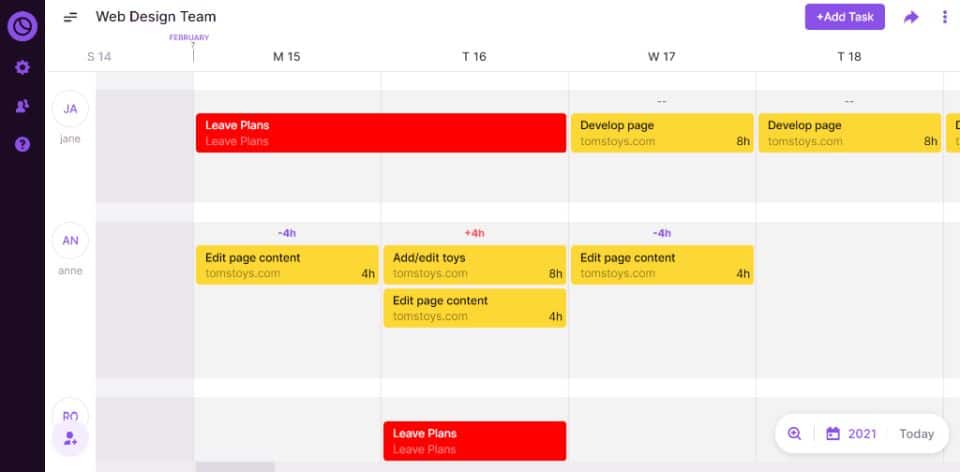 Another tip is to ensure that time off feels like time off. You don't want to call your team members about work and intrude on their off time.
Leaving your team members alone during their off time ensures that your team can fully utilize their off time and feel rejuvenated when they're back at work.
Finally, you also want to consider public holidays in a culturally and geographically distributed team.
Track cross-team availability
Often agency teams have a few team members who work across teams. For example, at a web design agency, a designer may work across multiple projects.
In such cases, as a manager, you want to consider cross-team availability when planning your work.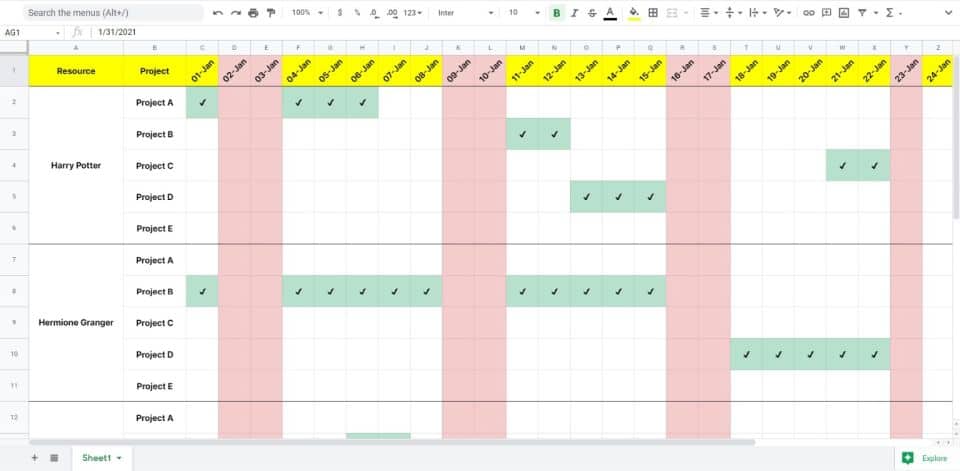 Using a simple project allocation tracker, you can track cross-project availability with other project managers.
Or, you can create a Team timeline within Toggl Plan to visualize if a team member is available or busy with other projects.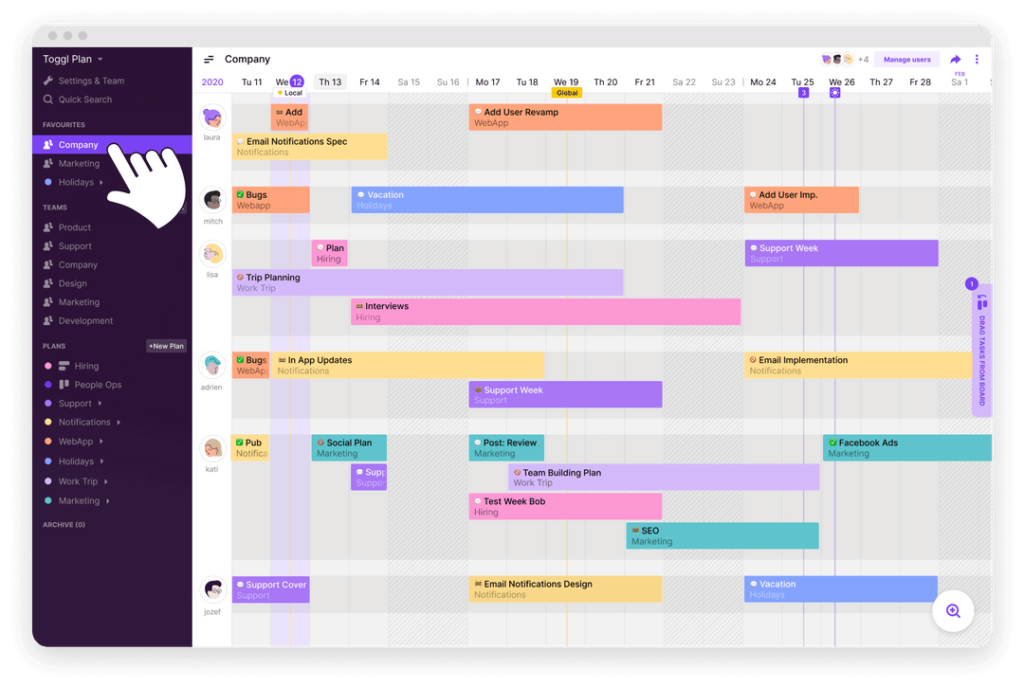 Monitor team workloads
With work-from-home on the rise, team members often work alone. Unlike in-office communication, remote communication relies on asynchronous channels. As a result, it usually takes longer to answer questions and solve problems related to work.
Plus, as we saw earlier, not considering off-time and shared time can result in heavy workloads for some team members.
As a result, team members are experiencing burnout like never before. Burnout causes disengagement. And disengaged teams often experience high attrition.
How to manage team workloads?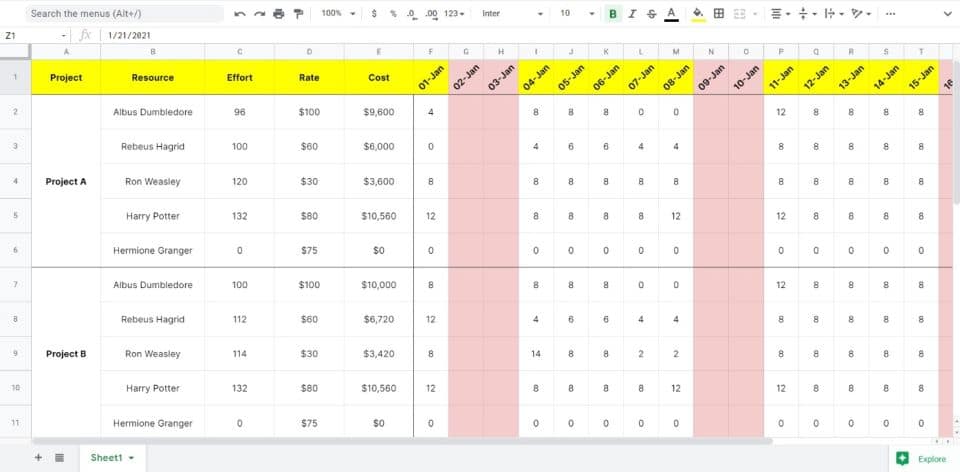 A simple timesheet tracker can show you the hours each team member is working. When you are ready to make work plans, refer to this spreadsheet tracker to ensure, your team members are not overwhelmed with work.
Alternatively, you can use Toggl Plan's task estimates. You can set the total or daily effort estimate for each task.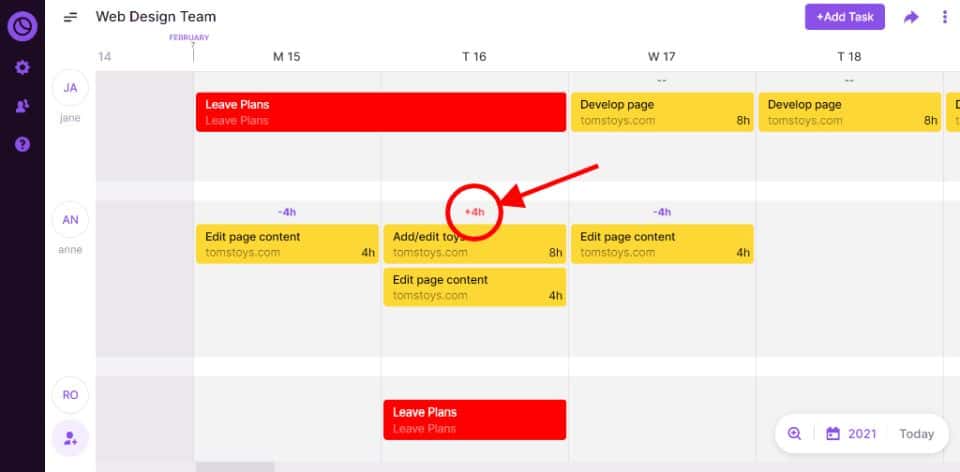 The Team timeline shows the total number of estimated hours a team member is expected to work. And if you see overworked team members, you can quickly rebalance the work by assigning it to available team members.
Also, you can use Toggl Track to track the actual time spent on tasks.
Keep task-related information in one place
Work-related information gets spread across documents, emails, chat messages, etc. It's not ideal, because:
A team member may not use the information at all. As a result, the work done remains incomplete or of inadequate quality.
Even if a team member does look up everywhere, it's a waste of time. Instead, they can spend the time productively doing the actual tasks. Thus getting the projects done on time.
How to organize work information productively?
An easy way to organize project-related information is to use a document management system like MS Office 360, Google Drive, or a tool like Notion. However, if you have a lot of information, finding the right document can be time-consuming and frustrating.
Instead, consider adding all the task-related information to the task itself.
Most work management tools come with task fields where you can store task-related information.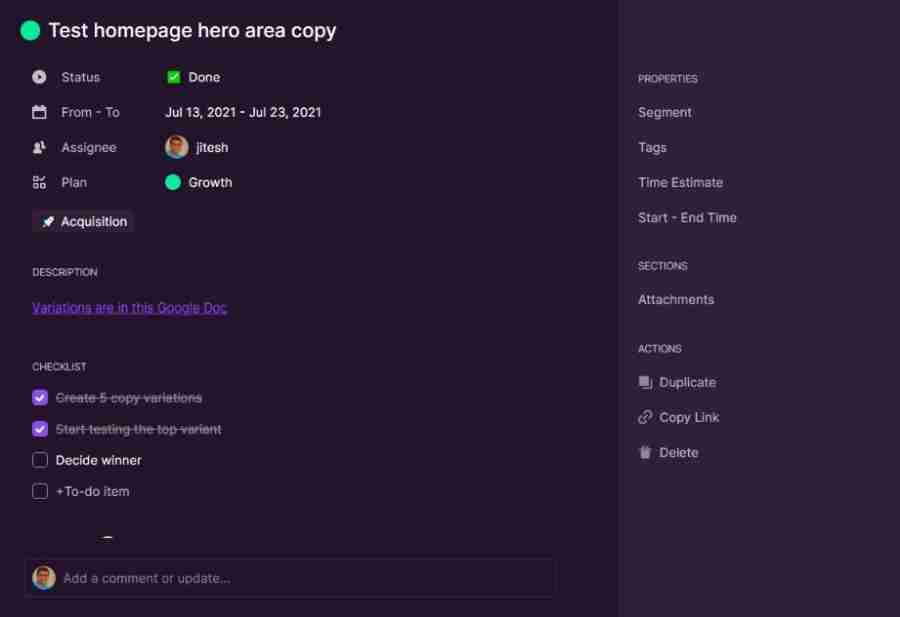 In Toggl Plan, task fields allow team members to tag each other to ask questions or request feedback. Plus, you can attach files and discuss a task using comments.
Also, you can create a checklist for a task. Using a checklist for a task ensures that everything expected is delivered when the task is completed. As a result, you can deliver high-quality work and avoid needing to rework tasks.
But if you don't want to add any details that's okay too. Toggl Plans are flexible enough to just work with a task title.
Reduce unproductive work
Not all work we do is productive.
Every day we do tens of activities that take time away from meaningful work. These activities include searching for information, communicating with your team, following up on status updates, etc.
According to the Anatomy of Work survey, over 60 percent of our time is spent on unproductive activities.
No wonder we end up overwhelmed with project deadlines.
How to reduce unproductive work?
We have already looked at how keeping all the task-related information in one place and using checklists improved productivity.
But there is another work management activity that eats into the time allocated for real work — status updates. Teams can end up spending upwards of 2-3 hours sending updates and attending meetings to report on these updates.
So how do you make your status updates productive?
First, limit status update meetings to a minimum. You can take inspiration from standup meetings that Agile teams participate in. However, for agencies and consultancies, a daily standup might be a bit too much. Instead, you can try conducting weekly standup meetings.
Second, use templates to communicate status updates. Where you use email or Slack, these customer communication templates can help speed up sending written status updates.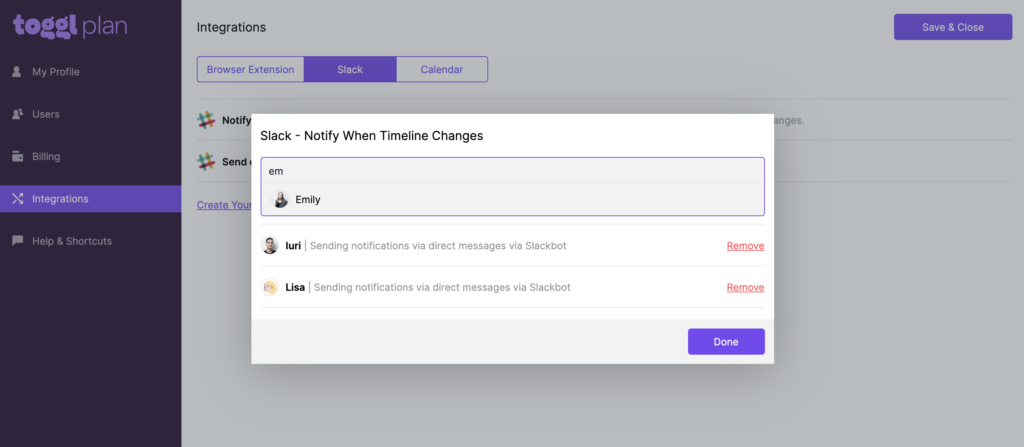 Finally, if you use a tool like Toggl Plan, you can visualize who's doing what and by when. In addition, you get email, Slack, and in-app notifications when things change.
Use these 5 techniques to get work done productively
Everyone wants to finish and to deliver work when it's due. However, the last stretch to meet the deadline often feels exhausting.
So how do you deliver on time, without feeling overwhelmed? Here are five things you want to consider.
Bring clarity to your team's schedule
Plan around your team availability
Monitor team workloads
Keep task-related information in one place
Reduce unproductive work
And instead of struggling with keeping all the spreadsheets updated, using a team planning tool like Toggl Plan.
Get started with your 14-day free trial here.
Jitesh is an SEO and Content Specialist at Toggl. On this blog, he shares actionable tips for professional service teams to deliver projects profitably.