You know what they say, time is money. Any moment you spend not being productive is a moment wasted. As a project manager, you should always be looking for ways to save time. Believe it or not, one of the best ways you can tackle this time crisis is by creating a work plan template. Let's review what a work plan template is, how it can help you save time, and how you can use it.
What is a work plan template?
A work plan template may sound like some sort of elaborate online tool, but it's actually quite simple, and involves all the main elements of your work schedule. A good work plan template often takes the form of a Gantt chart, and clearly defines tasks, who's responsible for those tasks, dates, times, and deadlines.
The work plan template is an important tool to use throughout your projects. At the beginning, it helps you and everyone else get a decent bearing on where the project should take you. During the project, it acts as a roadmap to help guide you. And lastly, at the end of the project, it helps you better estimate time for future projects, but we'll talk more about that in a moment.
Why you should use a work plan template
There are many good reasons to use a work plan template. Perhaps the most obvious reason is that it's a lot easier to log all the information about a project at once, and not have to remember every little detail. Work plans are very visual and after initial setup, they usually require nothing more than a quick glance from the user. One look is all it takes for anyone to find their schedule and understand what they're doing. Honestly, can you imagine how difficult this would've been before the internet? Work plans gather all the necessary information related to completing a project in one place. It's the fastest and most efficient way of tackling projects.
Work plan templates are also a great way to keep everyone on the same page. Online tools such as Toggl Plan update schedules in real-time so that everyone can see the timeline immediately. If someone is out sick, on vacation, or if the direction of the project has shifted, everyone who's attentive to their schedule will know fairly quickly, and adjust their personal schedules accordingly.
Most importantly, work plan templates save time! Instead of creating schedules from scratch and sharing them face-to-face with everyone, you can simply jump on your given online tool, add some information, and everyone will be updated in real time.
When to use a work plan template
As with any tool, work plans were created for a specific purpose. They're designed to bring structure and routine to your schedule, so having a work plan template ready to go at the beginning of a project means that you're already taking the right steps towards success. Here are some great examples for when you should prioritize using a work plan template:
You need to send a simple proposal
Clients are usually looking for a round-up of the details of the project. They want the basics like time frame, resources, and of course, budget. Creating and using a template in this situation saves tons of time, which means you get done with the project faster, and everyone gets paid sooner.
You need accurate time estimates
Time estimates are very valuable for stakeholders and for future projects. Being able to quickly glance at past projects and looking to see how long it took for certain tasks to get done is a massive advantage. Anytime you get a chance, you should be purposefully be looking for ways to give more accurate time estimates, and work plan templates are a great way to do that.
When you're in a pinch for time
This one can sort of play into the first point about sending quick proposals, but it's also about just saving time in general. Think about how many hours you use up every single project simply planning it. Having a structure to build off of can help you make plans faster.
True, work plan templates are useful in almost any situation, but are there any occasions when one wouldn't help? Absolutely. Don't get confused, it's infinitely useful to create a work plan template and use it on any project you can, but there are those special projects that require custom approaches. For example, big, multi-team projects are better off when you take those hours and hours to plan. There are so many little details built into projects like that, that it would be more harm than good to use a work plan template. Projects like that deserve the special care and attention of a custom plan and approach.
A tool for creating your work plan template
Toggl Plan was mentioned briefly above as being an online tool that updates in real-time, but it's so much more than that. Toggl Plan is the perfect tool for creating work plan templates because it's simple, easy to use, and beautiful. Whether you're creating schedules for just yourself or a whole team, Toggl Plan has the power and features to make your job a walk in the park. Don't believe it? Give the free trial a spin.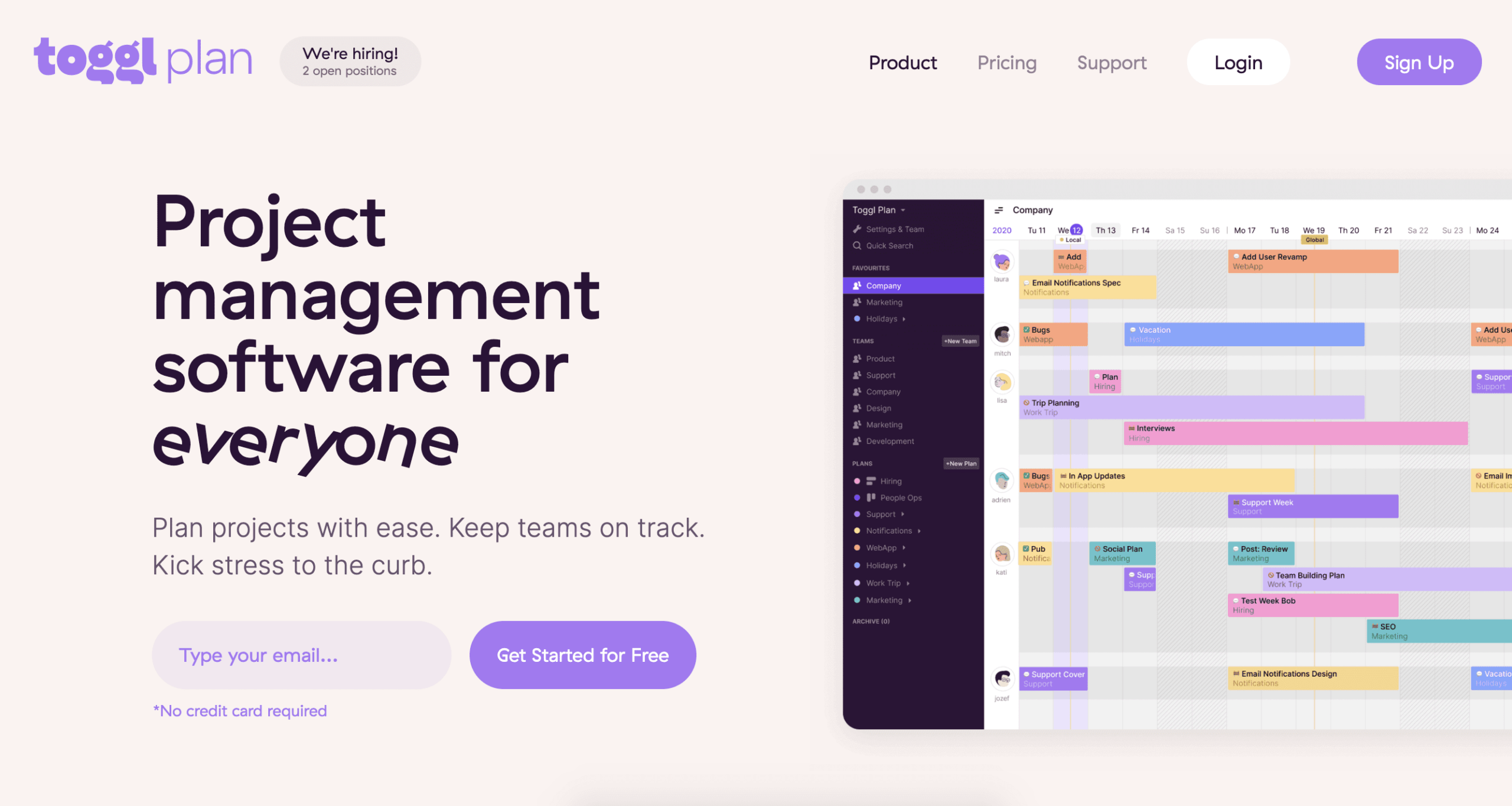 Save time, use a work plan template
We all love saving time, don't we? Of course we do, especially when it comes to work. There are countless ways making a work plan template can save time, but it's up to you to utilize it and make it your own. Not everyone functions the same, and each template will vary slightly depending on the industry you're in, but the facts remain the same.
Creating a work plan template is easy, and you don't have to use complicated tools like Excel anymore. Toggl Plan is here to help you catch your breath. Get started on your template today, and save more time tomorrow.
Like many other people, Zach McDaniel gained his knowledge of management and project management through research and necessity. He believes that the most interesting thing about project management, management, and productivity is that there are so many different strategies, so there's always something new to learn and share.