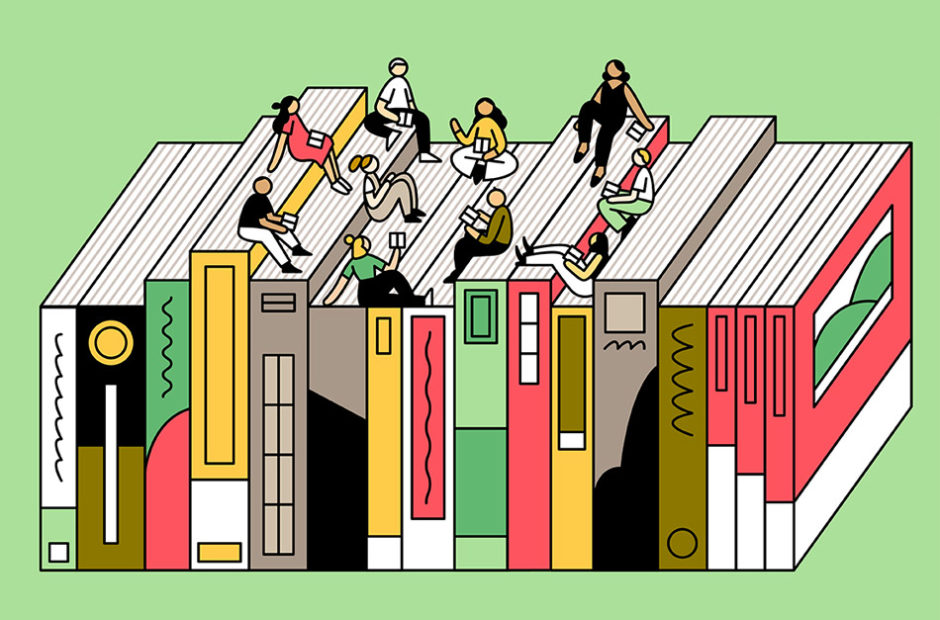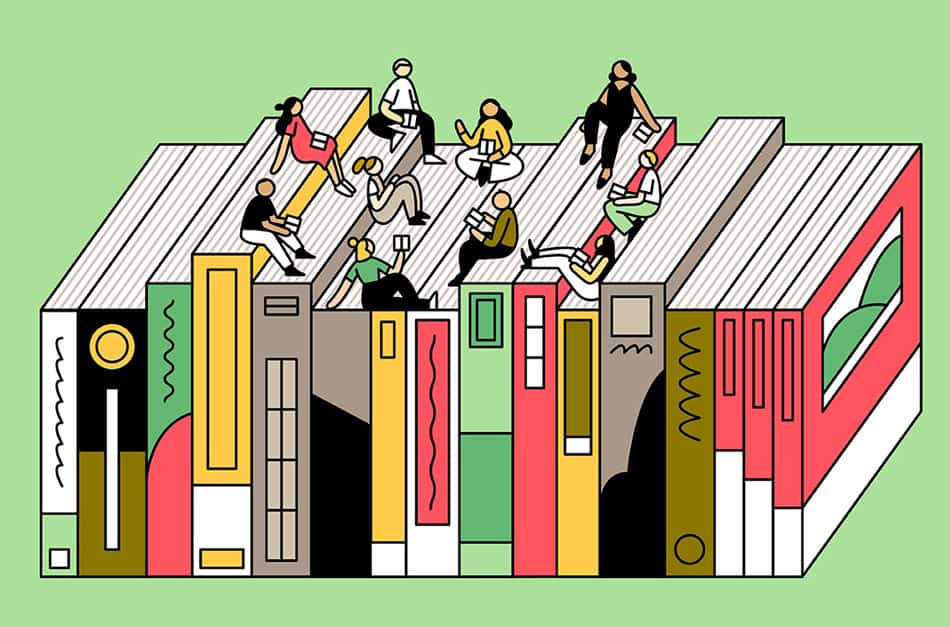 Need a low-investment, high-return way of fostering a work community, bridging cultural gaps, and improving motivation at work? Try a book club.
Illustration: Rose Wong
Slack chats and team meetings, while vital to getting work done, do not a thriving office community make. And team retreats, while definitely an excellent place to bond with coworkers, are expensive and more of an annual affair.
Book clubs are a low-investment, high-return way of fostering a work community, whether your company's employees all work together in the same office or are spread out around the globe. Starting a book club with coworkers can help you better understand each other, build an important sense of camaraderie, bridge cultural gaps, and improve motivation at work.
The fact that you clicked on this article means you're probably already in sync with me that book clubs are a good idea, but in case you're thinking, "Book clubs? What are we, a group of Victorians with no other entertainment options?"—or, less condescendingly, you want to figure out how to get your HR department to cover the cost of the books and need some good old-fashioned proof to send their way—let me take a beat to regale you with book club benefits.
Reading helps reduce stress, which we all know work can cause, and actually does so more effectively and more quickly than listening to music, going for a walk, or taking a coffee break.
Reading provides a mental challenge that can preserve brain health and memory, keeping thinking skills sharp and helping to avoid Alzheimer's.
It also improves brain function and social cognition; reading fiction really can make us more empathetic, which is why I recommend your work book club doesn't just read different variations of 7 Habits of Highly Effective People. But we'll get to that in a minute.
Our takeaway here is that reading is good for our brains, and reading with others helps form connections and build community. So let's start planning yours.
Setting Up Your Book Club
Before diving into book selections and meeting structure, you need to articulate the goal of your work book club. Do you want to focus on professional development? Getting to know each team member? Stress relief? Those are just a few of many possible intentions, and each has an impact on what books you'll read and how you'll dissect them. 
Ask a few of your coworkers what they'd find the most enjoyable, and once you've all decided on a focus for your book club, invite the rest of your team. Create a listserv or a chat group to communicate, and open up the rest of the planning to your newly-formed book club.
You'll need to figure out logistics. I suggest creating a poll asking the following questions, and planning around whatever consensus emerges:
How much time can you dedicate to reading per week? This will inform the length of reading selections and the frequency of your meetings. You might plan to read a mid-sized novel every two weeks or a bigger volume every month. Err on the smaller side to start; you and your well-intentioned team members may think you can find dedicated time to read each week, but that might not be the case, especially if reading isn't already a regular activity for you.
Do you want to discuss books as you read them, on a chapter or section basis, or wait till the end and discuss the whole thing? I prefer the latter approach, as my thoughts about a book are greatly informed by how it ends, but if you've decided on reading at a slower pace, it might be a good idea to have discussions every few chapters as to not lose the momentum of the story and forget what's happened. 
How will you meet? In-person, over video chat, or on a conference call? If you're a mostly-remote team, are there in-person touchpoints where you can be together? Maybe you'll do monthly video chats and supplement that with a special book club breakout session at your annual retreat. If you work together in the same space, can you find somewhere that feels energizing—maybe a local coffee shop versus the company conference room? Wherever you do it, there should be some food.
And if you haven't already, create a general budget for books based on your estimated group size and reading schedule and ask your HR department if your company can cover the cost of the books.
Choosing Your Books
Do you want to have a democratic book club, where everyone submits book ideas, votes on them, and then books that win the most votes are the books you read? Or do you want to have a rotating dictatorship, letting a different member decide the book that the club will read for each meeting? Both are valid; if your goal is to get to know your coworkers, giving each club member the chance to unilaterally decide can be great, though that system can also put a lot of pressure on the decision-maker and might not be the best option for a huge group.
Do you want to organize selections around a quota of fiction and non-fiction choices? Maybe you'll decide to alternate between something work-related and something that's just for fun.
Whatever you decide, keep in mind that this is an activity happening at work and that you need to ensure you're inclusive. That may mean considering whether titles are too inflammatory for the workplace or whether your selections include a diverse array of perspectives and authors. This is not an argument for censorship, but it is a warning to keep it professional.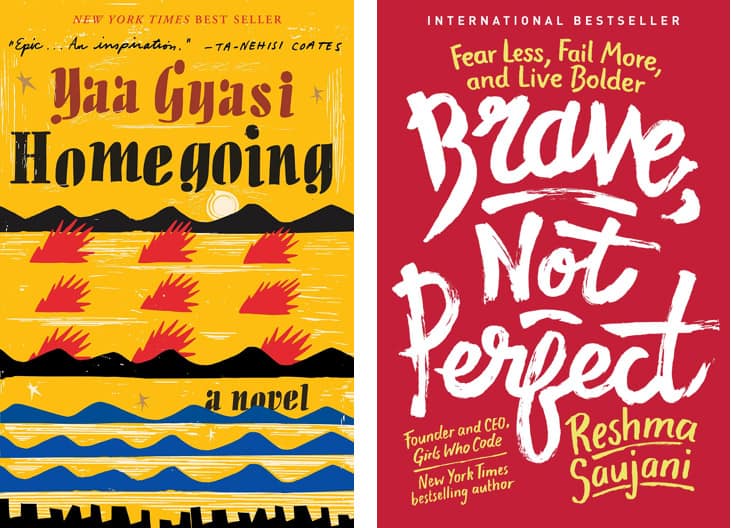 Some of my recommendations, depending on what your book club is focused on:
Enjoyment of literature/fun:
 

Love and Other Ways of Dying

by Michael Paternity. This essay collection from one of America's great journalists covers almost every topic you could imagine—extreme loss, food culture, inclusion, parenthood, Albert Einstein's brain—all through bigger-than-life characters (sometimes literally; one of the essays focuses on one of the world's tallest men) and beautiful writing. Essay collections are a great pick for a book club short on time, too, since you can assign just a few of them at a time.

 

Homegoing

by Yaa Gyasi. A beautiful and intense novel telling the story of a family unfolding over generations, starting with the slave trade on the Gold Coast of Africa and extending into modern-day Stanford. Told by an extremely talented young writer of color, this work of fiction will captivate your readers and give them plenty to talk about.
Professional development: 
 

Principles

by Ray Dalio. Full disclosure: I used to work for Dalio's company. That being said, I truly believe his way of looking at the world—determining the principles by which he wants to live his life, including how he wants to manage his business, and applying them logically to his decisions—is one worth adopting. Whether you agree with every one of his hundreds of principles or not, discussing them makes for a fruitful debate on business and personal ethics.

 

Brave, Not Perfect

by Reshma Saujani. This book, written by the founder of Girls Who Code, is geared towards women but is applicable to everyone. It explores the gender discrimination that's often behind certain cultural values, including some common to the workplace, and encourages readers to pursue fulfillment, not perfection or popularity.
If my work book club had a goal of us getting to know each other better, I'd nominate some of my all-time favorite reads, including Vampires in the Lemon Grove, A Little Life, Less, and the classic A Princess Bride. What would yours be?
Structure Book Club Discussions
You know what, when, and with whom you're reading. But what will your book club meetings actually look like?
Think about the makeup of your group and, again, about its goals. If your group has chosen to focus on professional development, a great idea could be assigning each member a meeting to lead so they can practice their presentation skills. If you just want to have fun, though, that could put uncomfortable pressure on more introverted coworkers, in which case sending out a pre-meeting poll (ideally one that's short enough so that it doesn't feel like homework) could be a good way to kick off a discussion and give structure to your conversation.
Make sure your discussion starts with basic questions like whether everyone enjoyed the book, why (or why not), and what their favorite sections or elements were. From there, you can either see where the conversation goes naturally, or you can use these book club questions from BookRiot to guide your meeting. 
Start Reading!
You've done all the planning, the reading, and the discussion-leading, and now you've got the hottest book club in town—or at least in the office. Make sure that as it continues, you're growing it by including new hires (and old hires who missed out the first time around) and evolving it based on your needs and desired outcomes.
Happy reading