Changing your outcomes often necessitates changing your self-perception. Setting New Year's Resolutions helps start that process.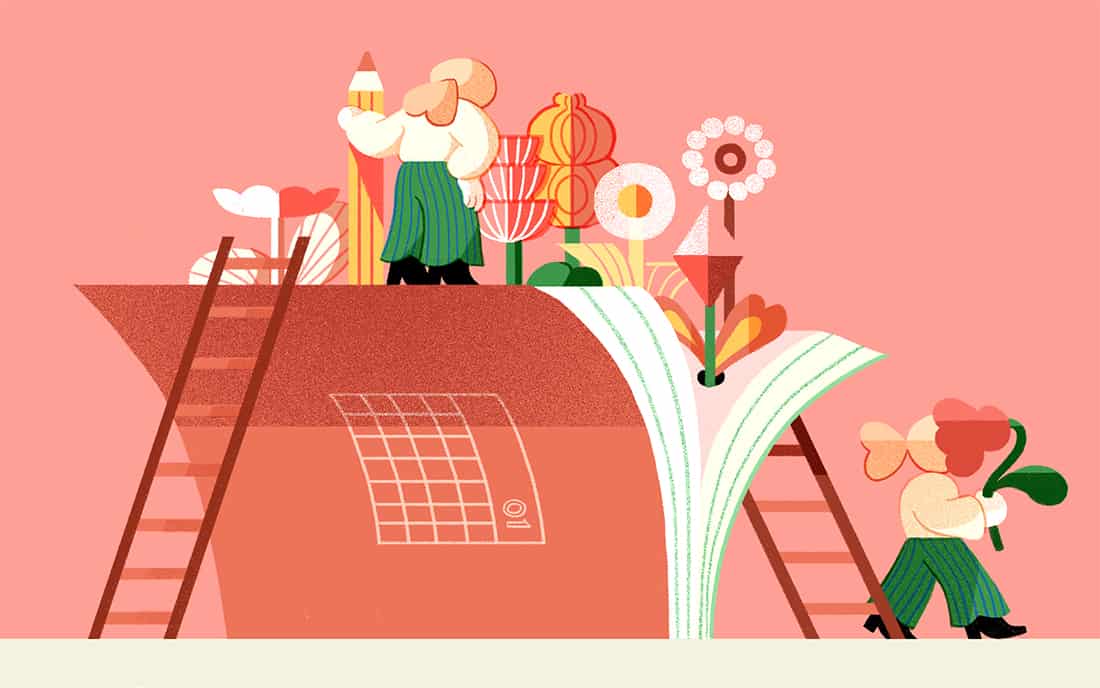 Illustration: Wenting Li
As you've probably heard, "the journey matters more than the destination." Thousands of signs, totes, and t-shirts bearing variations of the cliché litter online marketplaces. You'd be pressed to find an accessory proclaiming the reverse. But I'm here to tell you that that popular saying is not, in fact, quite true. Sometimes the most important thing is to decide where you're going.
New Year's Resolutions: I'm convinced that whether or not we complete every one of them isn't what matters most. Resolution-setting is a way to articulate values, and going through a process to confirm and publicly share them is an extremely helpful framing exercise that can guide our actions and improve our lives, whether or not we make certain progress on specific articulations of them.
What does that mean? If you go through a value-driven resolution-setting process and come up with a resolution like "leave work by 5 pm every day to see my family," you've just articulated that family is important to you and, in fact, more important than work. Entering the year with that framework in mind is valuable—it'll help you decide to log off even when you haven't finished the big presentation early like you wanted—even if you end up failing that specific resolution because your average office-leaving time is 5:30, not 5.
What are New Year's Resolutions, Anyways?
Human beings have been resolving to be better on an annual basis for a long while. According to The Economist, the first New Year's resolutions were made more than 4,000 years ago in ancient Babylonia. Locals believed that by offering and fulfilling promises to pay off debts and return borrowed objects, their gods would show them favor in the following year. The Babylonians' resolutions were reportedly focused on money and wealth, values that still pop up in today's New Year's resolutions, along with health, wellness, career, productivity, and relationship goals.
Today's practice of setting self-improvement goals on an annual basis is usually a secular one, but the roots of the practice remain clear: use a natural breakpoint, like the new year, to reflect on your life and resolve to be better going forward.
Why Values-Driven Resolutions Work
Values are articulations of where you get meaning from in life. A 2018 Pew Research Center survey found that Americans are most likely to identify with values of family, career, money, spirituality and faith, friends, activities and hobbies, and health, in that order.
Other values include community, doing good, peace, loyalty, home, or continued learning.
In his book, Atomic Habits: An Easy and Proven Way to Build Good Habits and Break Bad Ones, James Clear explains why it's so important to understand our values if we want to live within them. "With outcome-based habits, the focus is on what you want to achieve. With identity-based habits, the focus is on who you wish to become," he writes.
Clear says that behavior change has three layers to it: outcomes, processes, and your identity. Knowing our identity and knowing what kind of person we want to become allows us to create habits and processes that are in line with them. Even if the outcomes are slightly off, we can hone the ways we make decisions, which in turn reinforces our identity.
And if we don't like the values we realize we have? Those can change, too. Clear says that each of us is required to "continuously edit [our] beliefs, and to upgrade and expand [our] identity."
Failing to live within our stated values can have catastrophic effects. On an individual level, not living within our values can cause cognitive dissonance, which can create feelings of discomfort, anxiety, and risk to goals and growth.
And if an individual happens to lead a group of people or a company, failing to live up our values can hurt our credibility and growth. Look what happened with Away.
Luggage company Away made headlines last month for failing to live up to their stated values. Co-founder and now-former CEO Steph Korey had spoken publicly about the culture and values of her company. She'd talked about empowerment and inclusion to jobs site The Ladders: "Something I've heard from a number of people when they first join the team is how surprised they are by the extent to which we empower decision making at all levels of the organization" and "Our customers are global and diverse, so we want the team that we're building and the brand we create to be as well," Korey said.
And Away's website stated, "We believe in making connections: on the road, online, and in person. We value access over aspiration and exploration over escape. For us, all time away is time well spent."
A deep dive on what really happened at the company showed that those values—Korey's and her company's—were just talk. The article exposed Korey's Slack bullying and hypocritical practices, like limiting employees' paid time off, and captured how employees felt about the doublespeak: "[it was] like the mission was just a smokescreen to get employees to work harder and longer."
Knowing what our values are isn't enough—we also have to live within them. But using resolution setting as a way to define them is the first step towards growing in ways that bring us fulfillment.
Setting Values-Driven Goals
If I asked you right now what your top five values were, what would you come up with?
Would you know? Would it be easy to rattle off the things that drive you, make you happy, or factor into your decision-making?
I asked myself that question a few years ago, and I had no idea what to respond. Money, maybe? Independence? Community?
It wasn't until I was setting my goals for 2019—something I'd done every year for over a decade—that I realized my goals-setting process was, in fact, a roundabout method to determine my values.
Let me explain how.
Last January, I wrote out a list of 20 or so things I wanted to accomplish over the course of the year. Everything from "Keep travel a part of my life" to "Build my freelance writing and editing career" to "Improve my Spanish" to "Have enough free time to make travelling while freelancing worth it."
From there, I got specific with my goals, determining a measurable outcome that would mean I succeeded or failed at those initiatives: "Spend three months of the year backpacking," "Make $800/month from new clients," "Read a short story in Spanish per week and write in Spanish an hour a week," and "Work 20 hours or less a week."
After I'd explored all of the things I wanted to do and all of the ways I planned to do them, I realized a few were repetitive, too easy, or too ambitious. (I wanted to find that just-right, Goldilocks sweet spot between impossibly simple and just impossible.) I culled the list down to about 15 items and realized they fell into five major categories.
I clustered my goals by those five categories: travel, taking care of my body and mind, writing and creating, financial independence and safety, and communities and relationships.
I'd, by accident, articulated the values by which I want to live my life. Those are the values that drive my every choice. I tried to live 2019 in line with them.
And mostly, it went well. I did spend three months of the year on the road, and I did meet (and later exceed) my financial goals. While I had a hard time balancing work and travel in the beginning of the year, I started using Toggl to track my work activity halfway through 2019, and from then on was able to manage my freelancing and my travel with ease.
But I failed a lot of goals, too. I didn't read a short story in Spanish every week. I didn't stay in good touch with my friends while I travelled. I didn't give away 10% of my income.
But looking at my resolutions and applying a simple "goal met / goal failed" lens misses the arc of my year.
Because I had taken the time to articulate my values to myself and to the world, I was constantly aware of them in all the choices I made, from the simplest—what podcast to listen to as I get ready?— to the most complex—what kind of people do I want to spend my time with?
For example: even though I failed the exact goal I'd set out about improving my Spanish because I didn't regularly read or write in Spanish, I did engage with Spanish a lot more in my day-to-day. Having that value of "take care of my mind by learning new things" as an explicit part of my decision-making helped me choose to download Spanish language podcasts to instead of English ones and follow more Latin@ accounts on social media to explore their viewpoints and ways of expressing themselves.
Let's go through the same process for you.
What are your New Year's resolutions? Write them down. I'll pretend they're the following, for the sake of this exercise:
Spend more time with family

Work out more

Grow business
Those are good initiatives. To be resolutions with a shot of success, you'll need to drill down a bit and be specific with yourself about how you're to achieve them. Let's say your next draft looks like the following:
Spend more time with family. How? I will leave work at 5pm every day and plan a family outing every weekend.

Work out more. How? I will hire a personal trainer to come 2x/week and walk or run 10,000 steps every day.

Grow business. How? I will send five new proposals a week to prospects and go to two new conferences this year.
Those seem both aspirational and possible, right? Time to abstract away from what you're going to do and how you're going to do it to the big question: why do those things matter to you?
Ask yourself what drives those resolutions. Why would accomplishing those things make you feel good? What would your life look like, and how is that different from what it looks like now?
Maybe your answers are:
I value family. I don't want anything to get in the way of me spending time with the people I love.

I value health. I want to have the energy to do the things I love with the people I love, and for that, I need to take care of my body.

I value professional accomplishments. I want to make a mark on my industry, continue to prove the validity of my services, and keep learning.
As you go out and live your year, it really doesn't matter whether you actually hit 10,000 steps/day, or whether your family outings happen twice a month or every week. Knowing your values will help you choose to take the stairs versus the elevator to eke out a few more steps or see a sign for the state fair and decide to bring your family.
Life is just a large collection of small decisions. Having your values in mind as you navigate the minutiae of daily choice will drive your life in the direction you want, even if the final destination isn't quite where you'd intended it to be.
Good Luck, Resolvers
New Year's resolutions aren't sure things. Deciding that you want to change your life is, unfortunately, not enough to actually change it. (An oft-cited 1988 study of New Year's resolvers found that less than a fifth of people who set resolutions had kept them two years later.)
But that people who set concrete resolutions were ten times more likely to succeed versus those who wanted to change but didn't commit to a goal.
I think that's because really digging into what you want to change and understanding why you want to change it—that is, identifying your values and articulating them to yourself and others—allows us to live our lives with purpose. And that purpose drives us to take more agency of our choices and to improve our lives.
Whether you hit the mark on each of your New Year's resolutions or not, I'd encourage you to spend the first few days of this new decade thinking about why those are the things that matter. Then, during all the days to follow, lean on those whys when you're at a crossroads. You'll get to where you need to go in the end.
BY KATHERINE PLUMHOFF
---
This article is part of our series on change: why do we care so much about it, what do we get wrong about it, and is it really as great as we make it sound?
In our series, we've chronicled personal change, change in the workplace, and a handful of experiments on changing behaviours. In so doing, we hope to elucidate why we care so much about change.