The old Toggl will be completely phased out before the end of this year.
The updated webapp, based on years of feedback from the community, is designed to make time tracking simpler than ever before.
But with every change comes a bit of confusion – so here are answers to the top 5 questions people have been asking:
1 – Why are my time entries grouped together?
If you were using the "continue mode" in the previous Toggl version, you'll notice that your time entries look a little different.
The new Toggl groups together all your similar time entries to give you an instant overview of how much time specific activities have taken you. You'll also be able to view the individual time entries in these groups by clicking the circled number next to the time entry name.
OK, how can I ungroup my time entries?
If you'd rather see all your time entries listed in a chronological order, you can uncheck "group similar time entries" under your profile settings.
2 – How can I enter time manually?
There are two ways you can add time manually. You can switch between the two modes using the small icons next to the timer button:

When in timer mode, you can add a chunk of time – like 30 minutes, 2 hours, etc. and save it by pressing "enter".
The manual mode lets you manually enter the start and end times/dates for an entry.
3 – Why can't I add hours using decimals?
In the old Toggl you could add hours using decimals – entering "2.5" automatically became 2 hours and 30 minutes, etc.
In the new app, only using decimals interprets the time as minutes – to turn decimals into hours, you'll need to add 'h' at the end of it.
Example:
2.5 = 2 minutes 30 seconds
2.5h = 2 hours 30 minutes
Alternatively, you can still add hours using the colon as a separator (e.g. 2:30 is two hours, 30 minutes).
4 – Where can I change my workspaces?
We've moved everything related to your account into one place – just click your name in the bottom left of Toggl to bring out a list of workspaces you are a member of.
Also, you can access your profile settings from the same menu: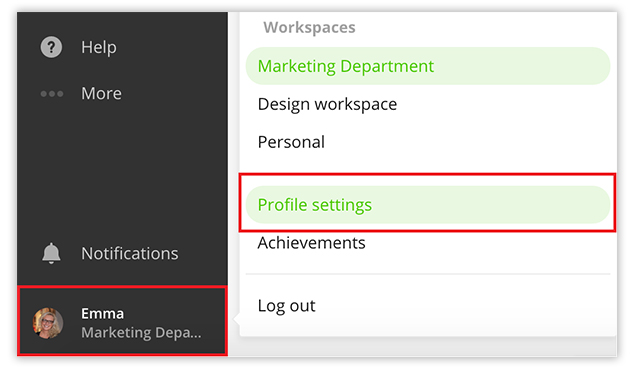 5 – Where is the compact mode?
Sadly, the old compact mode is gone.
However, you can resize your browser window and the timer page will adjust to squeeze things closer together.
***
As always, if you notice something that isn't working as it should, do drop us a line at support@toggl.com. We'll continue working hard on improvements and updates to make sure your toggling runs as smoothly as possible!
Mart has a background in anthropology - a discipline which has turned people-watching into a science. He most enjoys working on projects that make you go from "that's stupid" to "hmmm".