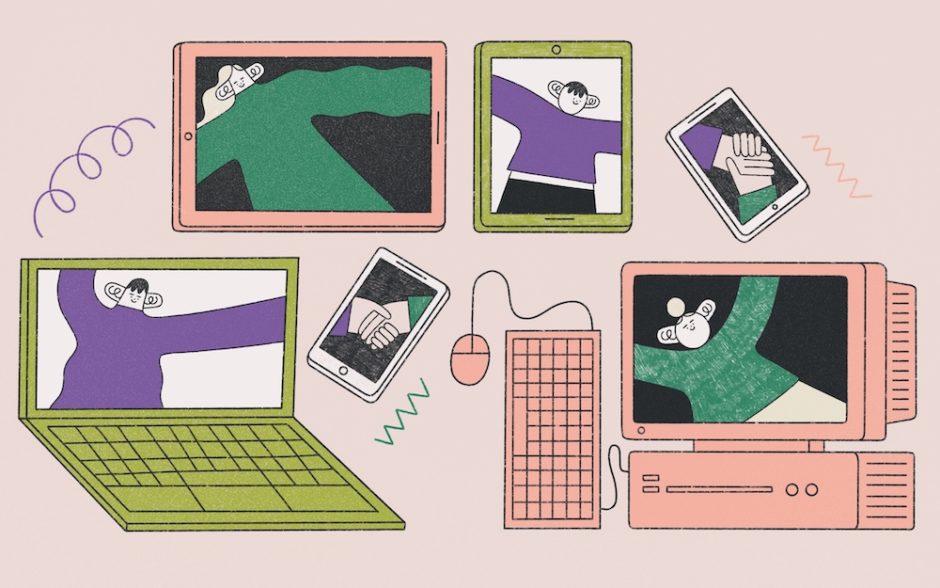 Illustration: Hollie Fuller
Every year, students flock to summer and term-time internships to explore their professional interests. For many students, these internships provide valuable opportunities to network with managers and employees, explore new locations, and discover niche industries and specialty projects.
Due to the coronavirus pandemic, however, this internship season is unlike other years. Just before the start of summer, companies faced a difficult decision: cancel summer plans for their interns or transition internships to remote work.
For the companies transitioning to summer internships, there was much to be considered in this unprecedented situation. Could interns stay accountable at home? Would these remote internships last the whole summer or be cut in half?
Despite the ongoing uncertainty, many interns have quickly adapted and contributed to summer projects in meaningful ways. I talked to interns publishing daily bylines in The Texas Tribune, brainstorming machine learning models on OECD Data for the Federal Reserve, andd teaching kids how to read at an online Chinatown summer camp. As work from home policies continue to shift and a new batch of college students enter the workforce, remote internships may just turn into a thing of the future.
Before starting my remote internship with The Washington Post, I remained skeptical of how much I could accomplish virtually in a limited amount of time. And yet, by my first week, I realized I could still explore my company, get to know my team, and publish valuable work on an election forecasting model.
Not all industries are the same, so I've also included advice from interns working in journalism, tech, and finance. Here are six ways you can make the most of your remote internship:
1. Find a designated mentor
During my internship, I've been supported by amazing mentors and managers. These relationships alone have improved the quality of my remote internship. Within the first week of your internship, be sure to ask your manager for a mentor and schedule weekly or bi-weekly meetings with them.
Julianna, an intern with Nua Group LLC, recommends that you should "be clear about your expectations and goals with your mentor and communicate regularly." Ultimately, this mentor should regularly check up on your progress and future aspirations. If your interests develop during the course of the internship, you should feel comfortable communicating this openly. While some mentors may proactively initiate these weekly meetings, there's nothing wrong with reminding your mentor.

2. Schedule informal coffee breaks with employees
Working in an office means that you can connect with other employees in random meetings, events or parts of the office. You can still foster these relationships while working remotely, but it will require more effort. After brainstorming your professional areas of interest and potential contacts at the company, take the next steps to invite an employee to a one-on-one virtual coffee break. Think of these informal coffee breaks as opportunities to learn about other roles within your company and projects you could potentially work on.
In my time at The Washington Post, I've reached out to graphics reporters, food critics and product managers for career advice — all of whom were more than eager to chat. Keeping my schedule in mind, I try to plan for one or two virtual coffee breaks every week. With online video calls now the norm, it's easier than ever to virtually connect with employees.
3. Cultivate an intern community
Even while remote, you can still foster a strong cohort dynamic with your fellow interns. Within your first week, ask your recruiter or manager to connect you with other interns at your company. Set up a regular time during the week to chat, play games or eat meals together.
If your company has the time and resources, you can also suggest that the company host a virtual intern Make-A-Thon or Hack-A-Thon. Collaborative challenges and projects such as these can help strengthen the intern community from afar and inspire interns to branch out into different teams.
4. Normalize overcommunication in your conversations
Learning to overcommunicate in your online conversations rather than assuming bad intent will help you progress on your summer project and keep a positive attitude. Unlike an in-person office, your coworkers cannot walk over to your desk or communicate how busy they are with body language.
They might respond to your message with a simple "Yes" but not elaborate on what it means. They might take more than an hour to respond to your question. This has certainly happened to me. If you experience this, don't feel discouraged! You should assume that your coworkers are busy but want to ultimately help you succeed. Similarly, if you are busy with a project, communicating your busyness in explicit terms will help your team avoid disastrous miscommunication.

5. Communicate your working habits
If you happen to work in a different time zone from your team, which is a common scenario for remote interns, make sure to relay your daily schedule to them through status updates. Letting your coworkers know changes in your scheduling ahead of time, such as starting work later or taking an extended computer break, sets a good standard in case they need to hear from you.
My team's workday starts work three hours before mine, but they've pushed back our daily stand-up meetings to accommodate interns. If your company has a Slack channel, you can also set your status to "Away," or inform your manager about your breaks ahead of time.
6. Set yourself up for distraction-free success
At the home office, there are many potential distractions to keep you from working efficiently. To mitigate distractions while interning from home, try creating clear dividers between your home and work life.
Andrew Zeff, a software engineering intern at Amazon, notes that even something simple, such as changing from pajamas into fresh clothes, can boost your work from home attitude and impress your team.
I've also found that timekeeping apps such as Toggl Track have increased my accountability while working on long summer projects. App in hand, I'm confronted with the number of times per day I spend on specific work tasks or allocate towards personal breaks. If I see any irregularities, I can change my schedule. I can modify my work from home habits and set new timekeeping goals to keep me accountable.
Read more: The Toggl guide to Working from Home