We're excited to announce our latest native integration for Toggl Track, Salesforce Sync.

Your Salesforce setup might be complex and your workflow opaque, but time tracking shouldn't be. Salesforce Sync is easier to set up than Salesforce is—making time tracking accessible for the entire team, and time tracking insights accessible to any stakeholders.
What is Salesforce Sync?
Salesforce Sync is a streamlined and customizable native integration for Toggl Track that connects two universes of data: Salesforce and Toggl Track.
With Sync, you don't need to rely on complicated workarounds or hours of manual admin moving data from Salesforce to Toggl Track. Now you can accurately capture time spent in Salesforce in a Toggl Track Workspace that's been automatically filled in with your Salesforce data. Our integration links Salesforce objects to Toggl Track Projects, Tasks, Clients, or Tags according to your specific needs.
Why a new integration?
A better way to sync your Salesforce data to Toggl Track has been one of our most requested features. We built Salesforce Sync for users who want the following things.
(Even) easier time tracking
Salesforce Sync creates a data highway between Toggl Track and Salesforce. This means no more workarounds and no more manual transfer of data.
This integration is a one-way street for now (from Salesforce to Toggl Track) but the point is that you don't have to take multiple detours via Excel and hack your way through an undergrowth of pivot tables or third-party software just to create a readable time tracking report.
Team members can also track time more easily in a Toggl Track Workspace with their relevant Salesforce data filled in. No need to create new Tasks or Tags. Just pick from the list and hit the start button.
New Salesforce Account? No problem. As long as your Salesforce Account is synced to Projects on Toggl Track, whenever you create a new Account in Salesforce, it'll automatically show up as a new Toggl Track Project.
Once again, you never have to do the manual work of keeping your Track Workspace up to date. Just pick from the list and start tracking.
Painless and customizable setup
Many Salesforce setups are complex and highly customized. This integration with Toggl Track ensures that you can easily track your time no matter how complex your Salesforce setup is.
You can map any object (including custom objects) onto any of the following Toggl Track Workspace entities: Projects, Tasks, Clients, and Tags in a combination that works for you.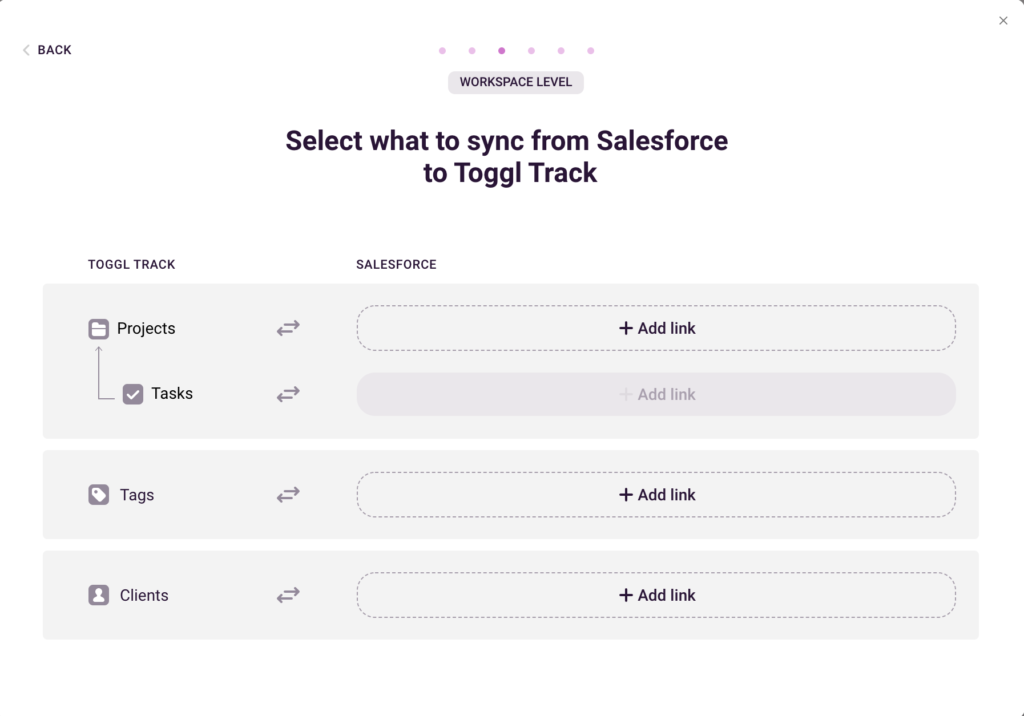 What if you have thousands of Salesforce Accounts, but only want to track time on about half of them? Our integration enables filtering, so you can add exactly the Accounts you need—and no more.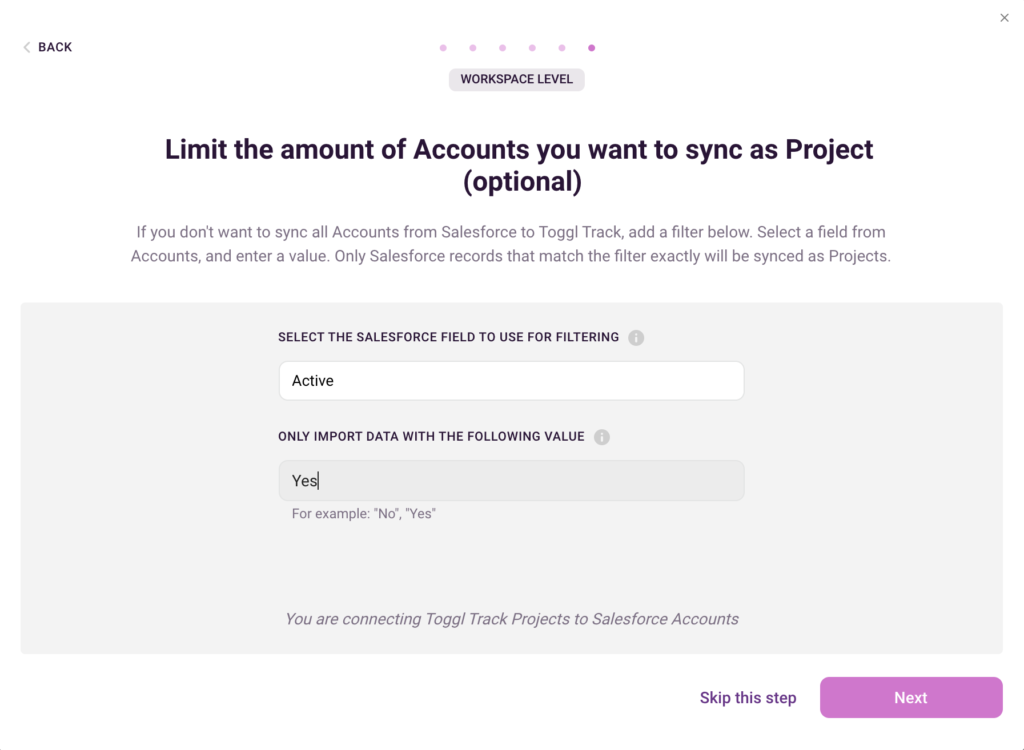 Is it as customizable as a spreadsheet? Maybe not.
But complicated workarounds almost always involve extra admin. They've also been described by our users as "painful," "horrible," "a pain in the rear," and "awful." We aim to make the process painless for all.
Accurate, consistent timekeeping
No more flawed data, time tracking gaps, or the growing pains of a burgeoning client list or team, and consequently chaotic time tracking records.
Because Salesforce Sync updates the Toggl Track Workspace automatically with the linked data, it ensures that time tracking is in lockstep with work processes within Salesforce.
Accurate time tracking means actionable time tracking data. Actionable data means happy stakeholders, increased efficiency, and improved profitability.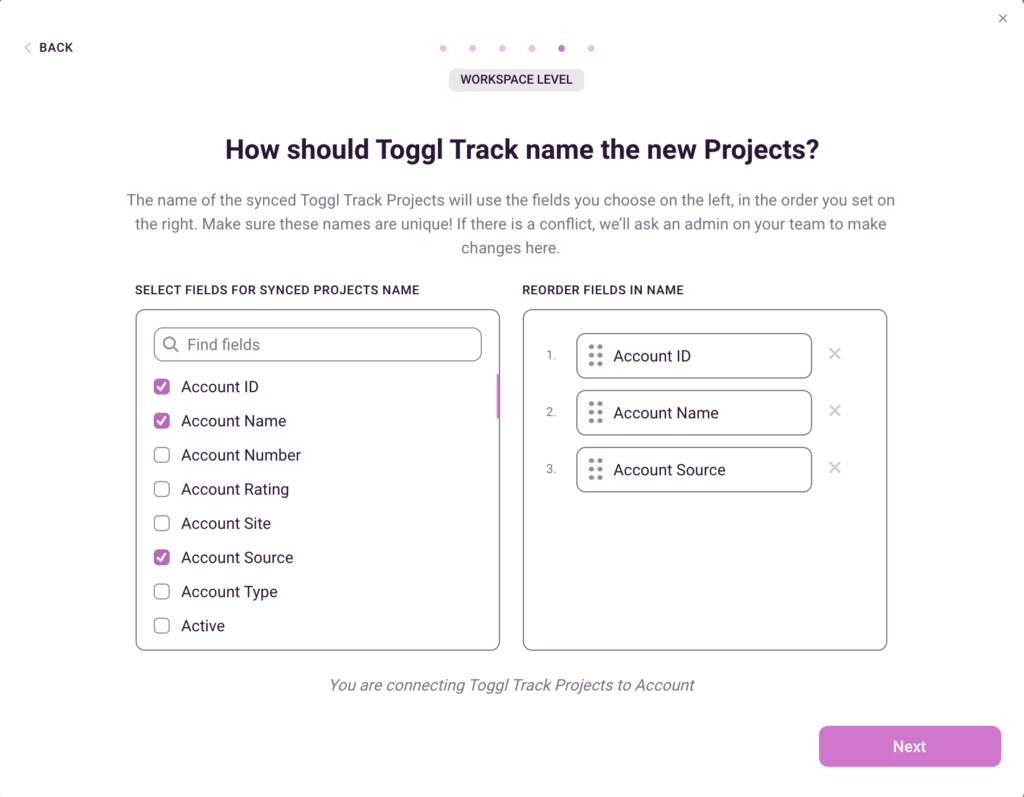 Customized setup, automated everything else
Salesforce Sync was built to make time tracking easier and more effective for our Salesforce users. So it makes sense that the Sync itself is relatively effortless.
One setup and you're set—the data syncing then happens automatically.
How to start using Salesforce Sync
Just check out our 7-minute video demo to get started.
If you prefer text, we also have a comprehensive guide on Knowledge Base.
Salesforce Sync is currently available for users on our Premium plan, which also gives you access to other neat native integrations, like Jira Sync. Find out more about our Premium features here.

Toggl Track Marketing Team