The pitch deck is an essential element for any startup that's aiming to state its case, highlight its potential, and secure outside funding from potential investors.
But, while this pitch deck is undeniably necessary, any startup founder will be quick to tell you that creating one that's creative, concise, and impactful is one of the biggest challenges of getting the ball rolling.
What do you need to know to create a pitch deck for your own business?
Let's dive into all of the details—from what you should include to examples of decks that have succeeded in the past.
What is a Pitch Deck?
We'll get started with the basics. If you're totally green and new to the startup world, some of the lingo might be a little overwhelming, leaving you wondering something like, "Hey, what is a deck? What on earth is everybody talking about?"
A deck is just another word for a set of slides—you might also hear it referred to as a slide deck or a presentation deck.
Put simply, it's a visual presentation.
Now, how does this apply to startups?
Well, startups typically require a pitch deck in order to share a brief and impactful overview of their business.
This presentation can be given to customers, potential partners, or other stakeholders. But, in the world of startups, the pitch deck holds the most importance when it comes to prospective investments.
For this reason, you might also hear the pitch deck referred to as an investor deck or an investor pitch deck.
Startup founders will use this powerful presentation to share the highlights of their business and the potential that it has to be be big in attempts to secure their funding (oftentimes early stage funding) from startup investors.
There's a good reason the word "pitch" appears in the name—much like you'd give a personal elevator pitch at a networking event, your pitch deck is your chance to elevate the reputation of your business and garner interest in order to raise that essential outside funding.
Needless to say, for early businesses who are already bootstrapping and tight on cash, the pitch deck is a necessary weapon to take their companies to the next level financially.
With powerful business intelligence data at your fingertips, Toggl Track can help you get your new business off the ground!
Best Pitch Decks: What Does it Take?
Now that you understand the importance, there's another looming question you need the answer to: When a pitch deck is so crucial, how can you create an impressive startup pitch deck for your own business?

Fortunately, there are a few things that all of the best decks have in common that you can take note of:
1. Understand Your Goal:
When you're tasked with summarizing your entire business (something you could easily ramble on about for ages!) into a few concise slides, it becomes easy to lose focus.
But, when working on your pitch deck, it's important to always keep the core goals of your deck in mind.
If you're sending the deck to prospective investors remotely, then your main goal is to get them interested enough to want to schedule a meeting with you.
If you're giving the presentation in person?
Then your objective is to either get them to schedule the next meeting—or, if you're lucky, make an investment. "Some investors will commit after one meeting but that's uncommon," advises Mark Goldenson in a post for VentureKit.
Keeping your main goal in mind will help you to focus your efforts and only include the information that serves that purpose—rather than getting clouded and overwhelmed with all of the other stuff.
2. Create Different Pitch Decks:
Speaking of remote versus in-person pitch decks, Goldenson also advises that you might want to consider having different pitch decks for these different situations.
In-person, the pitch deck is a visual aid to complement what you're saying, not a script to be read,
-Goldenson says within that same VentureKit post.
However, if the potential investor is reviewing the pitch deck without you there, he or she would require more detail in order to understand your business.
Those are important distinctions to keep in mind when creating your different decks.
3. Keep it Short:
You have a lot of information to share. But, the smartest thing you can do is whittle it all down and focus only on the most important, need-to-know things.
Why?
Well, one study indicates that the average investor only spends three minutes and 44 seconds reviewing your pitch deck.
For all of the work that you put into your presentation, that's hardly any time at all. So, you need to ensure that they're seeing your most important statistics and highlights within that time.
For some context, the same study indicates that the average pitch deck length is 19.2 slides.
With some simple math, you'll see that this means that investors will only review each slide for an average of a little over 11 seconds.
Make your best effort to keep things short and draw attention to your most important highlights.
4. Start With a Bang:
You only get one chance to make a first impression, and you want it to be a good one. For that reason, many of the most successful pitch decks start with a catchy tag line that summarizes the business.
Get to your pitch's core by introducing your company with a tagline and short explanation,
-explains Robert Neivert in an article for 500,-
Right out of the gate, you want investors to know what they're looking at and why they should care. A good tagline should be seven words max, and should hint at your company's vision in a memorable way.
While you want to be memorable, you also want to be simplistic.
AirBnB provides a great example on the opening slide of one of their previous pitch decks: "Book rooms with locals, rather than hotels."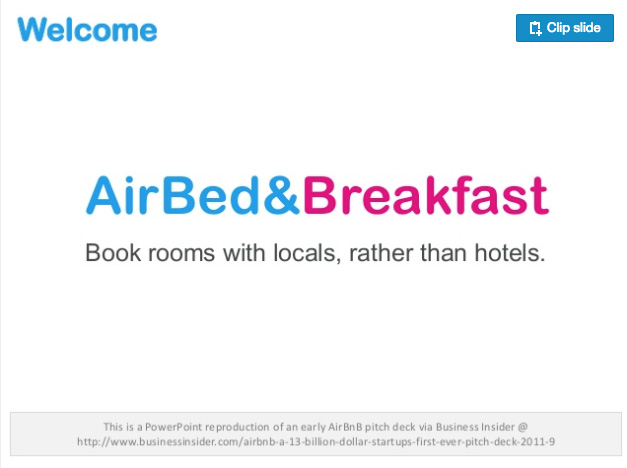 5. Answer the "Why":
Within many presentations, business can easily fall into the trap of becoming too focused on the "what." They emphasize all of the things that their business does, without ever touching on the impact of those efforts.
Investors care about results, which means the "why" deserves far more emphasis within your deck than the "what."
In a post for Piktochart, Iris Leung explains that successful pitch decks address the following important factors:
Why the business matters to the world and to the entrepreneur

What the story is behind the idea and the startup's creation

What the motivation is behind the business

What problem it's trying to solve
By touching on those things, you're sure to make a more memorable impact on potential investors than if you got too far "into the weeds" and rambled on about a bunch of irrelevant details.
Pitch Deck Template: What Should You Include?
The above elements can help you create a stronger pitch deck, but they still don't dive into the specifics of what exactly needs to be included within your slides.
Of course, there will always be some variance. But, generally, experts agree (just check out these tips and this resource) that potential investors will expect to see the following covered within your presentation:
Introduction:

Who you are and why you're here.

Mission:

Exactly what you aim to do in one simple, concise sentence.

Team:

Explain your existing team members as well as their roles.

Problem:

What specific problem does your business aim to solve?

Solution:

How your business addresses this problem.

Advantages:

What makes you unique? How does your solution stand out from other similar businesses that already exist?

Market:

What is your target market? Share any stats, including the potential market size, to demonstrate who you'll focus your

marketing efforts

on.

Traction:

A set of customers that can prove your potential as a business.

Competition:

What other solutions to this problem are already out there?

Business Model:

The details of how you intend to earn revenue—including a prospective schedule.

Use of Funds:

Your expected budget, as well as what additional funds you need to raise and why you require that money.

Contact:

A conclusion slide that shares your contact information for those who are interested in getting in touch with you.
If you touch on each of those important elements, your pitch deck is sure to include all of the need-to-know information that potential investors are after.  
Inspiration: Pitch Deck Examples
We've covered a lot of information already. But, nothing serves to add some clarity and get your creative juices flowing like some solid examples. So, let's look at some sales pitch examples from some world-renowned startups that you can model your own business pitch after.
These various decks and PowerPoint presentation examples all represent different years, stages of funding, and amounts raised. There's no denying that they set the bar high, but at least it gives you something to shoot for.
1. Airbnb
Year: 2009
Stage: Seed
Raised: $600K
Why it Works: Airbnb's pitch deck has a lot going for it. It's short and streamlined, without too much information cluttering up the pages. Airbnb made smart use of different graphics and plenty of white space to make sure their presentation was easy to look at.
But, many state that the highlight of Airbnb's deck is the second slide—which grabs the audience and then concisely and impactfully explains the problem that the business solves.
2. YouTube
Year: 2005
Stage: Series A
Raised: $3.5M
Why it Works: This is the deck that was used to pitch YouTube to Sequoia Capital, a venture capitalist that's often touted as the industry's best.
Needless to say, nailing this presentation was a big deal for YouTube, which they did through a deck that adequately highlights the solution that they're offering, as well as details the strides they had already made in becoming the dominant source for video on the internet—a fact that would be sure to catch the attention of any investor.
3. Front
Year: 2016
Stage: Series A
Raised: $10M
Why it Works: While the above pitch decks are from years gone by, this is one of the best modern decks you can get an example of. Used to pitch Front, a collaborative inbox, this more recent pitch deck does plenty of things right.
One standout slide from this deck is the competitive landscape. Obviously, this is a space where there are already numerous other solutions at play. So, using a graphic chart, Front was able to show how their own platform differs from the rest.
Front also made a smart move by including logos of some of their existing customers—many of which are recognizable names—which gave the startup some added legitimacy.
4. LinkedIn
Year: 2004
Stage: Series B
Raised: $10M
Why it Works: LinkedIn might be a household name in the business world now. But, that wasn't always the case. And, coming to the scene when online business networking wasn't really a thought, LinkedIn required some explanation in order to get potential investors to understand exactly what it was all about.
Fortunately, this is one of many things that LinkedIn's pitch deck did incredibly well. By using an analogy that described Alta Vista as "Search 1.0" and Google as "Search 2.0," LinkedIn was able to draw parallels and describe itself as "Networking for Businesses 2.0." This was a surefire way to increase understanding from audience members.
5. Moz
Year: 2011
Stage: Series B
Raised: $18M
Why it Works: This pitch deck is slightly different from the rest, as Moz had already been in existence for five years when they used this presentation to raise over $18 million more in funding.
Because Moz already had some history behind it, this pitch deck was able to become even more impactful by including information about revenue and other important metrics that are otherwise tricky to share with investors when a business is just getting started.
6. Buffer
Year: 2011
Stage: Seed
Raised: $500K
Why it Works: Buffer's pitch deck is straightforward and simple, but still packed with information. Buffer did a great job with their traction slide, which broke down tons of statistics and important metrics using just a few bullet points.
Additionally, their use of a milestones slide enabled them to highlight how the business had already grown and progressed—making the company that much more attractive for potential investors.
7. WeWork
Year: 2014
Stage: Series D
Raised: $335M
Why it Works: Raising a whopping $335 million in Series D funding, there's no denying that this WeWork pitch deck was effective.
Perhaps one of the things WeWork did best is setting up the problem it addresses. By explaining the change in work culture, it was able to position itself as a must-have solution for workers all over the globe.
Over to You
When it comes to taking your startup to the next level, your pitch deck is crucial. For that reason, coming up with one that's powerful, memorable, and effective can seem like a completely overwhelming undertaking.
But, it doesn't need to be that way. Put these best practices and examples to work for you, and you're sure to come up with a slide deck that's just as impressive as your startup. Good luck!