At the end of the year, our team decided that we wanted to write case studies to share on our website. When we started out our case studies project, I felt nervous. I usually work alone, and it had been a while since I'd had to make sure other people on my team were informed of our plans and had everything they needed in time to do their best work.
Outlines and deadlines
In my experience, the best projects come out of tight schedules. Setting deadlines and creating a dedicated time-frame for each stage of a project forces people to stay accountable. Plus, the time pressure is usually enough to make people move fast.
I used Toggl Plan's visual timeline to set deadlines and create the schedule. This visual timeline communicates expectations and lets people plan their workflow in advance so that everything can get done in time.
There's no substitute for actual communication, so I also set up a dedicated Slack channel for the project. That was a perfect place to share all relevant information, provide feedback, set team meetings, and agree upon and discuss project details.
Successful project management: step-by-step
I asked each team member for input on how long their stage of the project would take (writing and editing, design, or development). Once I had that information, I also had to make a few educated guesses and bets – like how long it would take to set up the customer interviews and how many interviews we would turn into case studies. I planned extra time for each stage of the project, just to be sure small hold-ups wouldn't influence the project's movement between departments or the final deadline.
I started outlining the project stages using our tool Toggl Plan. But you can use any of these visual project management tools, but I didn't assign tasks to anyone at first. I just wanted to give others an idea of what had to be done and how long it would take. I confirmed that outline with everyone involved.
Then it was time to contact our users. Each interview that was scheduled got assigned to two people: myself and one more interviewer. We did almost every interview with two people to make sure the interviewee would feel comfortable and so that as interviewers we could cover ever angle.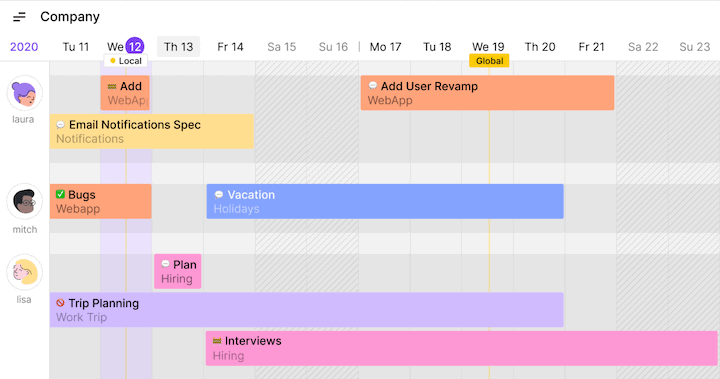 When we all had the written content, it was time to brief the design team. They outlined the web pages, drew illustrations and disguised all information that our users couldn't share publicly, due to NDAs. And then, the design team handed the project over to development.
Reflection time
After we were done with all of it, it was time for a recap. I try to reflect with each team member separately, just to allow them to give feedback on the process and make sure we define what went well and what could be improved.
Here are some of our key takeaways from reflecting on this project:
In the future, the design team would like to have a bit more time for initial explorations.
We now know what kind of information and assets we need from interviewees–things like high-resolution headshots, screenshots of their timeline, and information on NDAs. With our next round of case studies we will ask for these things upfront so we don't have to chase people down later.
All in all, the project was a success. We postponed 2 intermittent milestones but managed to deliver everything in time. And most of all, we are proud of the use cases we managed to uncover.