It's been some time since we last wrote anything about the Toggl Track Desktop app. But as they say, there's no time to talk when all hands are on deck. Today we come bearing great news: our first update in a long time! Meet the brand new, redesigned Toggl Track Desktop Mac App.
The old design had been outdated for some time, and we knew it. When the chance to freshen up came, we jumped on the opportunity.
What makes the new Toggl Track desktop app shine?
With the new look, we wanted the design to resemble the Toggl Track Web app, in part because it's pretty and in part, because it would make switching between web and desktop easier for users.
The new design is clean, uses space more effectively, provides a better overview and presents more elegant workflows when adding in data. We also now support Mac's dark and light theme setups, so the app always feels like a solid part of the MacOS experience. Let's go over all the parts that make us proud of this release:
Bye-bye grey border – It's a small change but has a big effect. We wanted a more minimalistic look, and the grey color just did not fit into the overall look of the app.
Better separation for days – Days are now visually grouped to separate sections, so it's easier to get an overview of how much you've tracked.
All new project and client adding flow – Here we took major inspiration from the web app, as we felt that version of Toggl Track addressed the task more intuitively and had a speedier flow. If you've worked with the web app, you'll feel right at home here.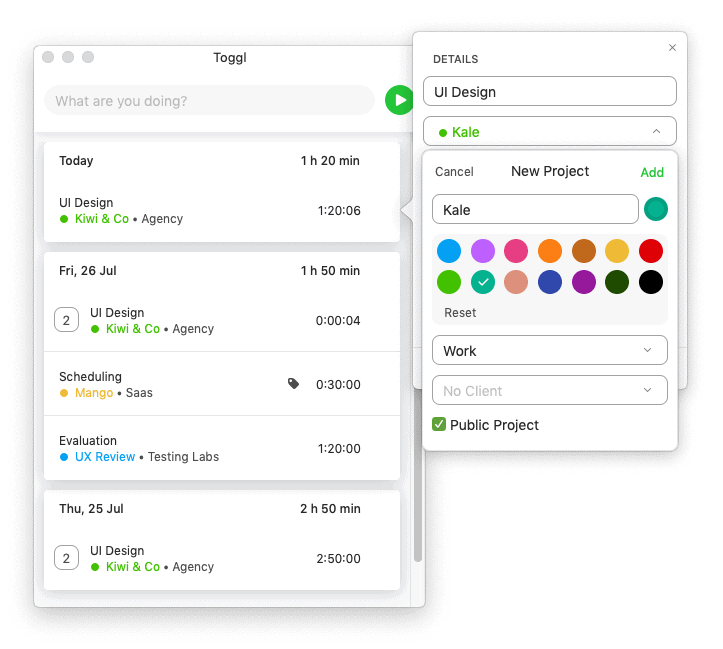 Welcome to the dark side
As the latest MacOs provided us with the opportunity to go dark, we wanted to take full advantage of that. We've added full support for the dark mode, so all the fans of the darker palette can enjoy their time tracking the way they prefer it.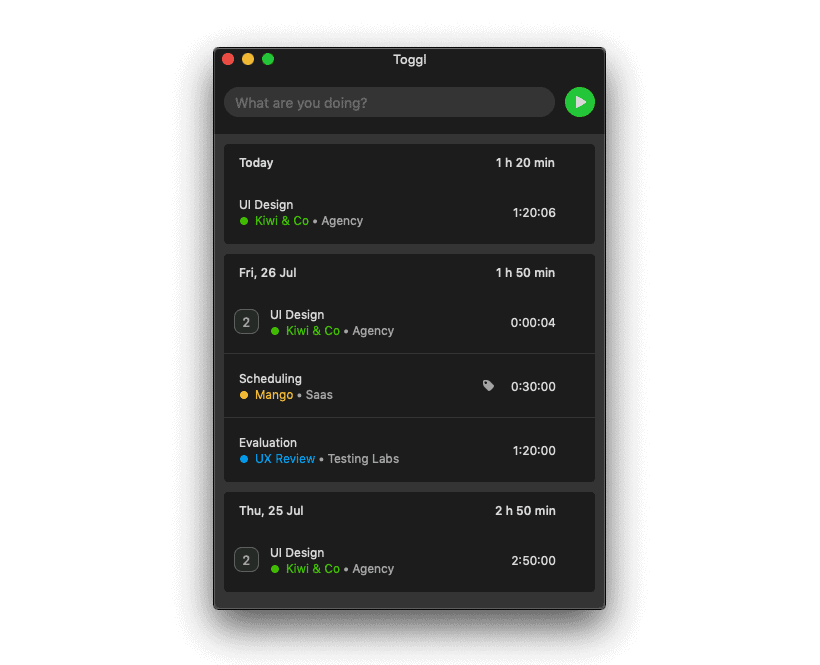 More improvements in the latest release
Improved offline support – The desktop app has alway worked offline, however, when a user was constantly moving between offline and online or had a slow connection, the app ran into a bit of trouble. We've reworked our data handling and syncing logic so the sync will be as effective as possible without interfering with the user and their work within the app.
Notification system settings support – We've added support for system settings, so it's possible to mute the app if the user does not want sounds played with notifications.
What's to come in the near future
We're currently on a roll, so there will be more great features coming your way soon. We've upgraded the Linux app, with added features and new theme support. We're working on windows improvements, including bringing the app up to 64bit and releasing on Windows Store and Chocolatey.
The biggest update will be related to the Timeline. We're creating a totally new timeline visual view, which enables users to get a helicopter overview of their days, making it easier to find time gaps and analyze the timeline data.
We hope all the hard work will pay off and take your productivity and time tracking to new heights.
Thank you from the whole Desktop team for using the app, writing us when anything is off, and inspiring us to aim higher.
Get the latest MacOS version here
He's Mister Code, James Code. He likes to lift heavy weights and dig into hard problems. He doesn't drink coffee and he has three screens on his desk which is too little if you believe him. Also he likes to code them Indie games and mobile apps (http://drik.eu).