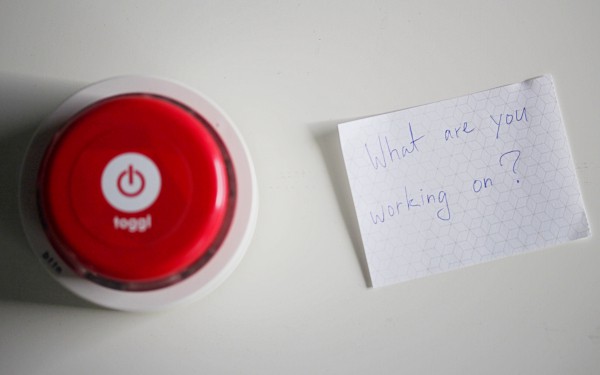 Yes, we made it even simpler to track your tasks.
If you don't know what the Toggl Button is, you can read about it here. Basically, it's a browser extension for Google Chrome, allowing you to track your time without switching tabs or apps.
More importantly – it also works inside 40+ other tools, including Trello, Asana and Google Calendar.
It's one of our most successful experiments-turned-feature, with over 50,000 users. What's more amazing, is that most of it's integrations are developed by you, the Toggl community.
If you don't have the button yet, you can grab the extension here.
How to edit the description field
Once you've added it to your browser, you can open it to see your running timer and access settings: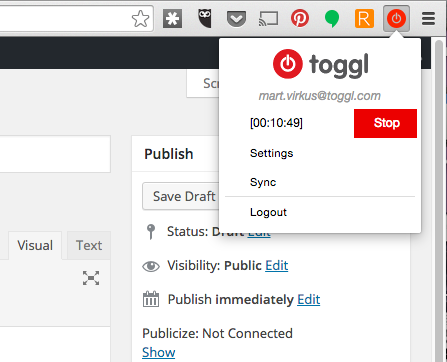 To open the time entry description field and project/tag selection, simply click on the running timer. Now you've got this: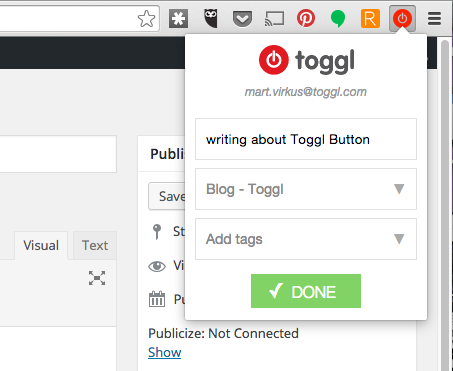 Voila! It doesn't get easier than this, does it?
The description field alone is a pretty big addition, opening up an array of possibilities, but in case you're wondering what else is new, here's the full change log for this release:
– Added Edit form to extension popup
– Added support for Waffle.io
– Added support for Assembla
– Fixed Basecamp "Start timer" link issues
– Fixed Any.Do description issue
– Fixed Google Drive "Start timer" link
We'll of course continue working on the Button, but as mentioned before, a lot of the inspiration and actual functionalities come from you, the users. So if you feel like you want to contribute, simply head on over to the Toggl Button Github repo.
Want a quick overview of how the Button works? Here's a quick demo, featuring Google Calendar.
Want to know what's up with other Toggl apps? You can read about the most recent Toggl mobile plans here and Desktop news here.