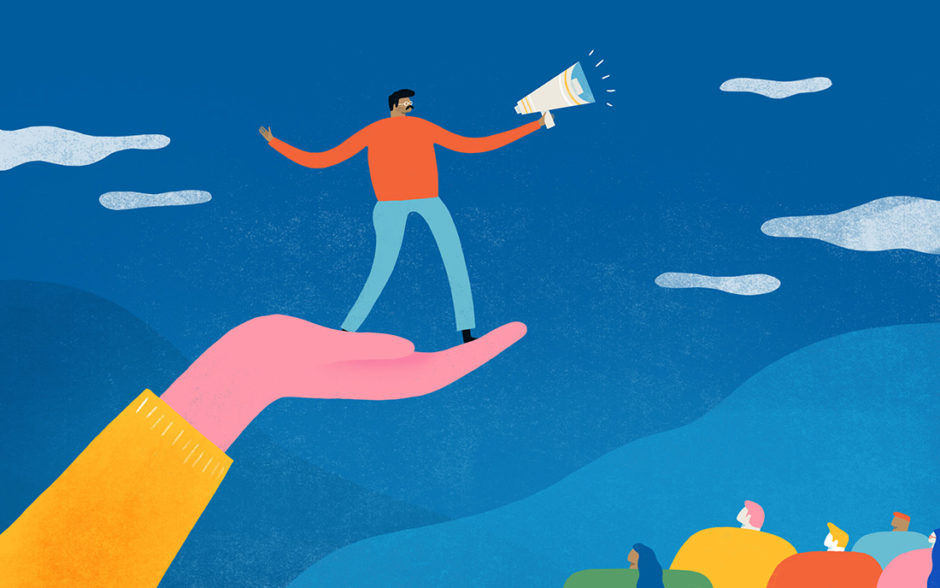 Learn what transformational leadership is, how it inspires positive change within organizations, and how you can adopt this leadership style yourself.
As a leader, you want your team to achieve big things — to reach beyond the status quo and know that they're capable of accomplishing more than just the minimum standards. You want to inspire ownership — of individual projects, team collaboration, and company-wide initiatives — because when employees take ownership of their work they are more motivated, creative, and take more initiative.
But, exactly how do you motivate your team to think this way?
Detailed directions, strict rules, rewards, and reprimands have their place in some work scenarios, but they can also be too restrictive and limiting when it comes to pulling the very best out of those you lead. You don't want to micromanage — you want to motivate.
So, how can you inspire your team to take ownership over their work and strive to be truly innovative and creative?
Well, it all comes down to a leadership style known as transformational leadership.
What Exactly is Transformational Leadership?
Transformational leadership is a leadership style that's focused primarily on creating change on a team or in an organization — hence the name "transformational."
Transformational leaders channel their efforts into inspiring, encouraging, and motivating their employees to be autonomous and pursue different (and better!) ways to get things done. Employees who are empowered to take ownership over their work are more engaged and productive, leading to higher performance.
Transformational leaders don't fall into the common "we've always done it this way" trap and instead promote creativity and adaptability in the workplace.
"It's a management style that's designed to give employees more room to be creative, look to the future, and find new solutions to old problems," writes Sarah K. White in an article about transformational leadership for CIO.
Additionally, transformational leaders build trust with their team. Low trust translates to poor productivity. Employees who don't feel trusted are less likely to take initiative or put forward new ideas. A workplace built on trust, however, can lead to increased productivity, profitability, and lower turnover, as found by Gallup's State of the Global Workforce report.
Empowering employees with greater levels of trust and freedom only works if coupled with effective accountability. If team members abuse their leader's trust and freedom by not doing their fair share or producing low quality work, it undermines group trust and cancels out all of the benefits otherwise gained. Alternatively, the US Office of Personnel Management has found that fairly enforcing accountability leads to increased employee morale, higher job satisfaction, increased commitment to work, and higher overall performance.
Transformational leaders build high-performance teams by empowering employees to take ownership, fostering accountability, and cultivating trust between all levels of the organization.
There's one more key behavior of transformational leaders: They motivate employees by showing them how their work has a purpose. They don't view employees as just another cog in a wheel, and instead empower them to see how their individual tasks lead to something greater.
"Think about those times in your career when you've looked back and said, 'Wow, I was a part of that,'" explains Sara Applin, Chief of Staff at Namely, an all-in-one HR software company.
What Are the Key Characteristics of a Transformational Leader?
Transformational leadership sounds pretty powerful, right? But, here's your next question: What exactly makes a transformational leader?
While there's no tried and true recipe, there are a few qualities that these types of leaders have in common. Here are 10 characteristics that transformational leaders possess.
1. Transformational leaders are inspirational.
When it comes to transformational leadership, "inspiration" is a word you'll see crop up again and again. These types of leaders motivate people to do great work — not because they're dictating that they do so, but because they make their teams see the greater purpose behind their efforts and truly invest themselves in what they're doing.
2. Transformational leaders are visionary.
Because transformational leaders are associated with spearheading change at an organizational level, they have to have a clear vision for where they want to go. They also need to be able to communicate that vision in a clear and effective way.
"By getting every person to buy into the common vision, transformational leaders are able to strongly guide the organization in the direction that they want," writes a post for Y Scouts.
3. Transformational leaders are trusting.
Micromanagement is a dirty word in the world of transformational leadership. Trust is the opposite of micromanaging. Rather than dishing out demands for the way things need to get done, these types of leaders give their team members autonomy to be innovative, pitch new ideas, and encourage them to take ownership over their own tasks.
High-trust workplaces commonly cultivate a culture of accountability by creating a transparent environment where all views and opinions can be expressed openly and honestly, and where everyone understands how their actions impact others. In a workplace built on trust, if a team member is not going to be able to deliver a project as promised they are more likely to communicate about their obstacles early and without fear of punishment or retaliation. This provides the opportunity for transformational leaders to provide coaching and support, leading to future success.
4. Transformational leaders are helpful.
While transformational leaders are careful never to micromanage or breathe down their employees' necks, they're still willing to step in and provide guidance, advice, and encouragement whenever necessary. They're there to support their teams and help them achieve their best work.
One way leaders can be helpful is by establishing expectations and defining what success looks like. By articulating their expectations for the finished project, leaders can set-up their employees for success while still allowing individuals to decide exactly how they want to get to that end goal. Empowering your team to take responsibility for their own path demonstrates your trust in them and encourages your team to become invested in and take ownership of their work.
5. Transformational leaders are self-directed.
Transformational leaders lead by example, and they know that they need to demonstrate the behaviors that they want their followers to embody. This means that they're highly self-directed and able to manage themselves and their priorities, while doing work that's aligned with their own values.
6. Transformational leaders are open-minded.
Remember, pursuing change is at the heart of transformational leadership, which means that transformational leaders need to be open to new ideas and ways of doing things. Not only are they receptive to these suggestions, they make an effort to pull them out of their team members and foster a culture where creativity and boundary-pushing are actively encouraged.
7. Transformational leaders are moral.
While transformational leaders aim to improve and transform a business, they always act with integrity and high moral standards. They know that their followers are watching them for an example of how they should conduct themselves, and they take that responsibility seriously.
"Transformational leaders can articulate their vision, motivate people to achieve it, and model the types of behaviors expected of all team members," adds Applin.
8. Transformational leaders are encouraging.
Transformational leaders are often thought of as the antithesis of transactional leaders — meaning they don't lead through rewards and reprimands.
However, they do still make an effort to recognize wins and celebrate successes. They understand that recognition is a powerful motivator, and that their team members feel even more inspired to do great work when they feel valued and applauded for doing so.
9. Transformational leaders are humble.
Despite the fact that transformational leaders lead the charge for needed change within an organization, they still keep their egos in check. They demonstrate humility and accept that they don't have all of the answers.
10. Transformational leaders are ambitious.
Being a transformational leader requires a certain amount of ambition. It's often far easier to stick with the standard way of doing things, but that's not what these leaders do. They work to identify and inspire change, and that involves a high level of commitment and effort.
What Are the Benefits of Transformational Leadership?
Of course, transformational leadership isn't the only leadership style — there are plenty of others that have their appropriate time and place in the workplace.
But, this particular approach brings along numerous benefits.
For starters, employees agree that it's an effective approach for leading and inspiring a team. In his dissertation for the University of Central Florida, Hassan Karaca concluded that "each dimension of transformational leadership has a positive effect on employees' perceptions of leadership effectiveness, with intellectual stimulation having the highest effect."
Additionally, because transformational leaders are so passionate about the work that they're doing, that excitement trickles down to the rest of the organization, resulting in a far more positive and enthusiastic company culture.
By empowering employees to take ownership over their work, demonstrating trust, clearly defining expectations, actively listening to ideas, offering appropriate recognition, encouraging creativity, and connecting people's work to a greater purpose, transformational leaders can boost morale, improve the quality of work, and even increase the retention rate of their employees.
Need proof? Check out these stats:
Additionally, you can't discount the fact that transformational leaders are able to vastly improve organizations, due to their desire to expand horizons and inspire positive change for everyone in the business.
Transformational Leadership in Action: Examples of Well-Known Transformational Leaders
There have been plenty of examples of transformational leaders throughout history—some famous and others lesser-known.
In fact, Applin shares that Namely's own CEO, Elisa Steele, is a fitting example of a transformational leader.
"When Elisa Steele came on as CEO, she became actively involved with our Namely leaders," Applin explains. "She listened to what had been done before and led with a vision that inspired our leaders to think even bigger. Since then, we've launched a #SpeakHerMind series, assigned C-level sponsors for each ERG, and rolled out internal training programs."
"Elisa also led by example and shared her own personal stories in an authentic and inspiring way, talking about experiences from earlier in her career," Applin adds.
Of course, there's no shortage of other amazing transformational leaders from numerous other well-known companies. Some you may have heard of include:
Transformational Leadership Can Ignite Change and Transform Your Team
Particularly when it comes to inspiring a team, sparking innovation, and initiating change, transformational leadership can be an undeniably powerful approach to use.
Transformational leaders believe in uniting their followers around their vision for change and then giving employees the autonomy to do their best work and support that progress.
Change within an organization can be difficult to adjust to, but the transformational leadership model is a great way to not only spearhead that necessary shift, but to increase understanding of the change and actually get employees excited and invested in making it happen.
As Applin concludes, "Your enthusiasm is contagious. It's not a matter of just telling people what to do, but having them genuinely want to be part of the change."