There were long, sleek wooden tables with built-in outlets. Concrete blocks stacked in zig-zags around booths were lit by gold-capped lamps. Floor-to-ceiling windows were lined with low-backed sofas. Beer bottles stacked in mesh cages separated the kitchen—with its Dos Equis taps and unlimited coffee—and the work stations.
That was what I saw when I walked into the WeWork at the Torre Latino in Mexico City. A friend with a membership had invited me for the day. And after weeks of working from a makeshift home office in my subleased apartment, I was thrilled. It was thrilling to write in a beautiful space. It didn't hurt that it was filled with people whose public show of productivity would help keep me off of Twitter, I hoped.
I wrote more that day than I had in weeks. I had to wonder: what was it about the space that made me so productive? The amenities? The aesthetics? And how could I channel that same thoughtful and functional design into my own office space?
I called Colleen Arce, interior designer at WeWork, to find out.
WeWork's business strategy has faltered, but its design has stayed
It would be disingenuous to write about WeWork without acknowledging the company's struggles. A botched IPO in late 2019 revealed growing losses. This was followed by significant layoffs, with WeWork founder Adam Neumann stepping down as CEO. The company redefined its strategy by focusing more on enterprise clients and scaling back initiatives unrelated to real estate. The coronavirus pandemic has presented yet another set of challenges to the real estate company; the last thing we need right now is a workspace shared with strangers.
But before all that WeWork was known for its focus on office aesthetics. The WeWork philosophy was that a space could influence how people felt: welcome, supported and connected to a community. Their design team took this idea seriously, digging into neurological studies for creativity-inducing spaces with optimized lighting. They invested in warm lighting for kitchens and common spaces to promote networking. There was cool lighting in spaces designed for "hyper-productivity," like private offices and brainstorm rooms, to foster alertness and energy. WeWork was very much invested in the "office of the future." The idea behind this concept is that pleasing spaces make for productive work. In WeWork this future included Instagrammable nooks for its millennial clients.
But regardless of its circumstances, WeWork's commitment to design has remained front and center. Last December, WeWork opened 52 new buildings, including its first Tampa Bay location, featuring a kombucha and coffee bar. WeWork members weren't the only fans of its interior design. WeWere was also commissioned to design the SoHo office of health insurance startup Oscar and the Brooklyn headquarters of Rent the Runway.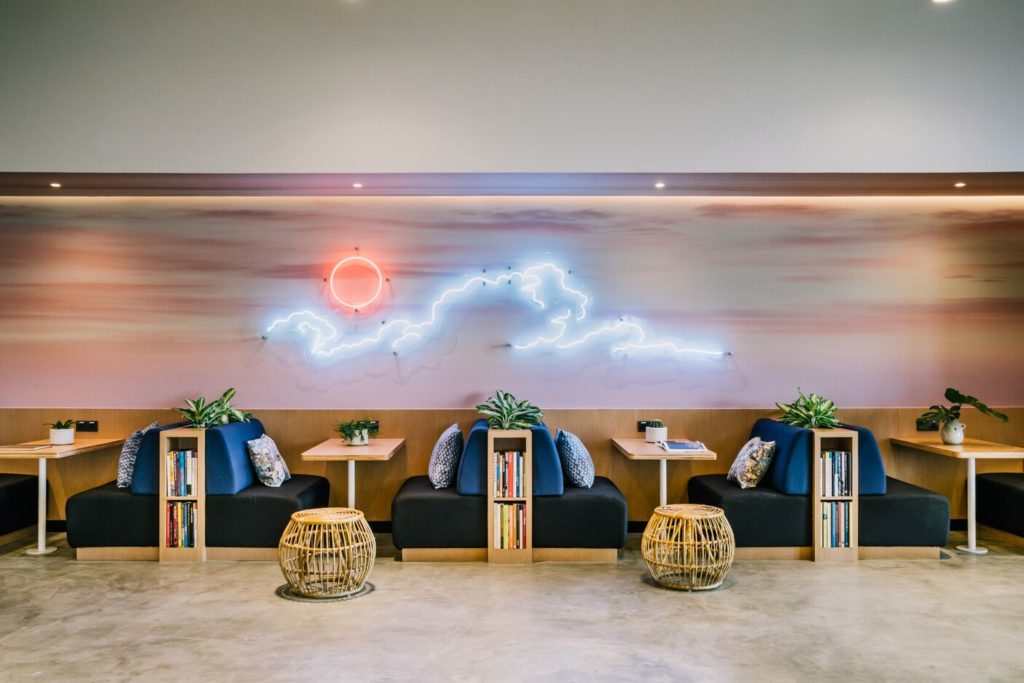 Lessons from the WeWork design process
Arce has been an interior designer at WeWork for over two years. Recent projects include new builds and redesigns of several WeWork properties in New York. Arce was also involved in the overall design of the Waterloo building in London. Some days, Arce is designing unusual amenities like auditoriums, yoga studies or speakeasies. Other days she works on bread-and-butter projects like setting standards for WeWork lounges or developing custom carpeting for conference rooms.
The core of WeWork's design philosophy is "comfort and ease of use" above all, according to Arce. "We're trying to make the best use of all of the square footage we have." Arce's approach to design is both practical and aspirational. More importantly, it is applicable to many kinds of offices: a home office, a corporate building or something in between.
Throughout our conversation, several key design principles stood out:
1. Comfort over beauty
"It's not so much about creating the most beautiful space, though of course that's important. There are parts of aesthetics that make people feel more comfortable. It's more about creating a more humanistic approach," said Arce. "People are spending more time at work. We want to create experiences to make their workflow better, but also their human experience better."
What does that mean in practice? It means that WeWork design is about more than just high-end furniture and fancy plug-ins. Rather, it means creating spaces for people to gather, whether lounges and game rooms. It also includes spaces to support non-work activities that nonetheless support work, such as well-equipped kitchens.
The perfect wallpaper, color-coordinated to your desk chair, is only worth it if that desk chair is already comfortable.
2. Anchor your space with one key goal
Before any specific design decisions, whether on color or accessories, Arce first considers the goal of the space. All of the design elements are built around that priority.
For example, when she's designing a lounge, Arce's goal is to create a welcoming atmosphere. Everything from the positioning of the community manager's desk to the smell that greets members as they enter can contribute to this goal. "A comforting smell for a lot of people is coffee. So if the space has a barista, we'll have the barista right in front when you walk in front of the door. If not, an espresso machine or coffee bar within steps of when you walk in," said Arce.
For a library, on the other hand, silence anchors the design. "Design choices like having the desks set up in rows or using carpet rather than wood can dictate a change in the environment that becomes a change in behavior," said Arce.
The first question to ask is: What's most important for your space? If it's having productive meetings, according to Arce, you should design everything else around that. Whether this means movable whiteboards or a table that can fit your entire team, the space should be set up for collaboration.
3. Listen to users and embrace iteration
Before WeWork, Arce worked as an interior designer for an architecture firm. The difference between her current job and previous job is the users and how vital they are to the process, according to Arce.
"At a typical architecture job, you make the space look really beautiful. But you don't really hear from the client once the product's done. You come in, develop a physical brand, then voila, the space is done, pictures are taken, and that's it. The client doesn't have anywhere to give their feedback on the space," she said.
Now, her design processes includes multiple points of feedback from users. For example, once Arce and her team had finished a design for a new WeWork office. Members sent in feedback about the subpar acoustics weeks within the opening, noting that they could hear meetings happening in adjacent rooms. That prompted her team to redesign the way they built the walls of meeting rooms.
Perhaps you're your own interior decorator in a home office situation. Or perhaps you're a professional interior designer with an entire floor of office workers to design for. Either way, it helps to approach your office design with an open-minded attitude that allows for change.
4. Art matters
WeWork has an art and graphics team, but you don't need a deep bench to add art to your workspace. "Art works for anyone at any level. Don't be too curated about it. Add a layer of things you or your team personally likes. Make it feel like people actually spend time there," said Arce.
5. Lighting, lighting, lighting
But given the choice between expensive art and good lighting, Arce claims she would probably go with lighting. "If there's the opportunity to invest in good lighting, it makes such a huge difference. LED lighting is so worth it in the long run," said Arce. "You're already starting at screens all day, so making sure you have adequate lighting seems may seem so basic. But it makes a huge difference."
The working world agrees with her: research shows that good lighting can contribute to employee engagement, wellbeing and productivity. And companies are taking note.
6. Pay attention to the entrance
"Entering a space sets the tone for the whole experience of being in it," said Arce, emphasizing first impressions. Even if you don't have a community manager desk and a coffee bar flanking your doorway like WeWork does.
Enliven your doorway with plants, which can "tone down the formality of your space," suggested Arce. (We know that to be true, and suggest trying one of these low-maintenance options. Then you can also avoid the decidedly not-lively vibe created by a bunch of wilting stems.)
Try to maximize natural light and welcoming colors. That can be as simple as buying a new rug for your closet-turned-home office.
7. Cubicles can work if you do them right
WeWork transformed the idea of an open office from cubicles with half-height walls to truly open spaces. But if you're stuck with cubicles—and with the coronavirus pandemic, it looks like cubicles may be back—don't lose hope.
"Cubicles are a funny thing. Their intention was to be highly adaptable to the individual user, that they'd be really dynamic and user-friendly," said Arce. What they actually ended up being was the opposite. Managers filled entire offices with identical cubicles, effectively forcing people into little boxes. Cubicles work best when they're used the way they were originally intended to be used. They must be adaptable and there should also be separate spaces for interacting, according to Arce. This means conference rooms or lounges, which provide a space for people to meet outside of their individual cucibles.
Putting WeWork design theory into practice
I'd worked in a lot of spaces—everything from a big cubicle farms to a closed-door home offices. Yet I'd never thought about my workspace with anything resembling the level of purpose described in the above approach. A flat surface to write on and a chair with minimal wobble, and I was good to go.
But going forward, I intend to design my offices with my needs in mind. My priority is fostering creativity. I envision changes such as an accessible space to brainstorm and inspiring art and books. Perhaps I will have a colorful entryway that gets me excited to sit down and create.
Unfortunately, I'm not sure a beer tap would contribute to my ultimate goal, but I kind of want one anyway. I wonder if WeWork would let me borrow one of theirs?